Under the Promotions tab, users are able to see all suppliers and associated cost prices tagged to this product.
Prior to assigning a supplier, users will need to create the suppliers. For more information on creating a new supplier, refer to Creating a New Supplier.

1. Edit Product Button
Displays the Edit Product window.
2. Add Another Supplier
Allows users to tag other supplier(s) to this product. Pops up a "Add Supplier"
window.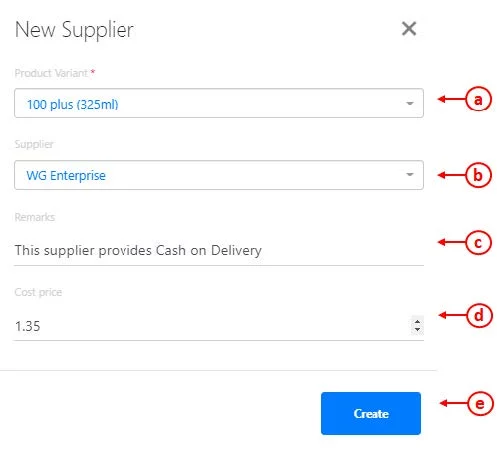 a. Select product vatiant (if this product is a multi-variants product)

b. Select a supplier to be tagged.

c. Insert remarks for this particular supplier.

d. Insert cost price from the Supplier

e. Once done, click on Create.
For more information, refer to assigning an active supplier after you have added a new supplier to the product.
3. Tagged Supplier(s)
Shows the details of suppliers tagged to the product.

● Product Name

● Supplier

● Supplier Code

● Remarks for the supplier

● Cost Price from the Supplier

● Profit and Margin

● Last Edited time
4. Edit Tagged Supplier
Dropdown menu will be shown.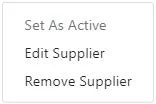 ● Set As Active – Will enable active status for the supplier

● Edit Supplier – refer to point 2 above

● Remove Supplier -removes this supplier from the product.