EPOS KNOWLEDGE BASE
Shopify Configurations
Release Changes
Sep 2023: Added the option to sync stock on either the organisation level or store level
---
⬇ Explore the functionalities of the shopify page by toggling between tabs below.⬇ 
configurations
configurations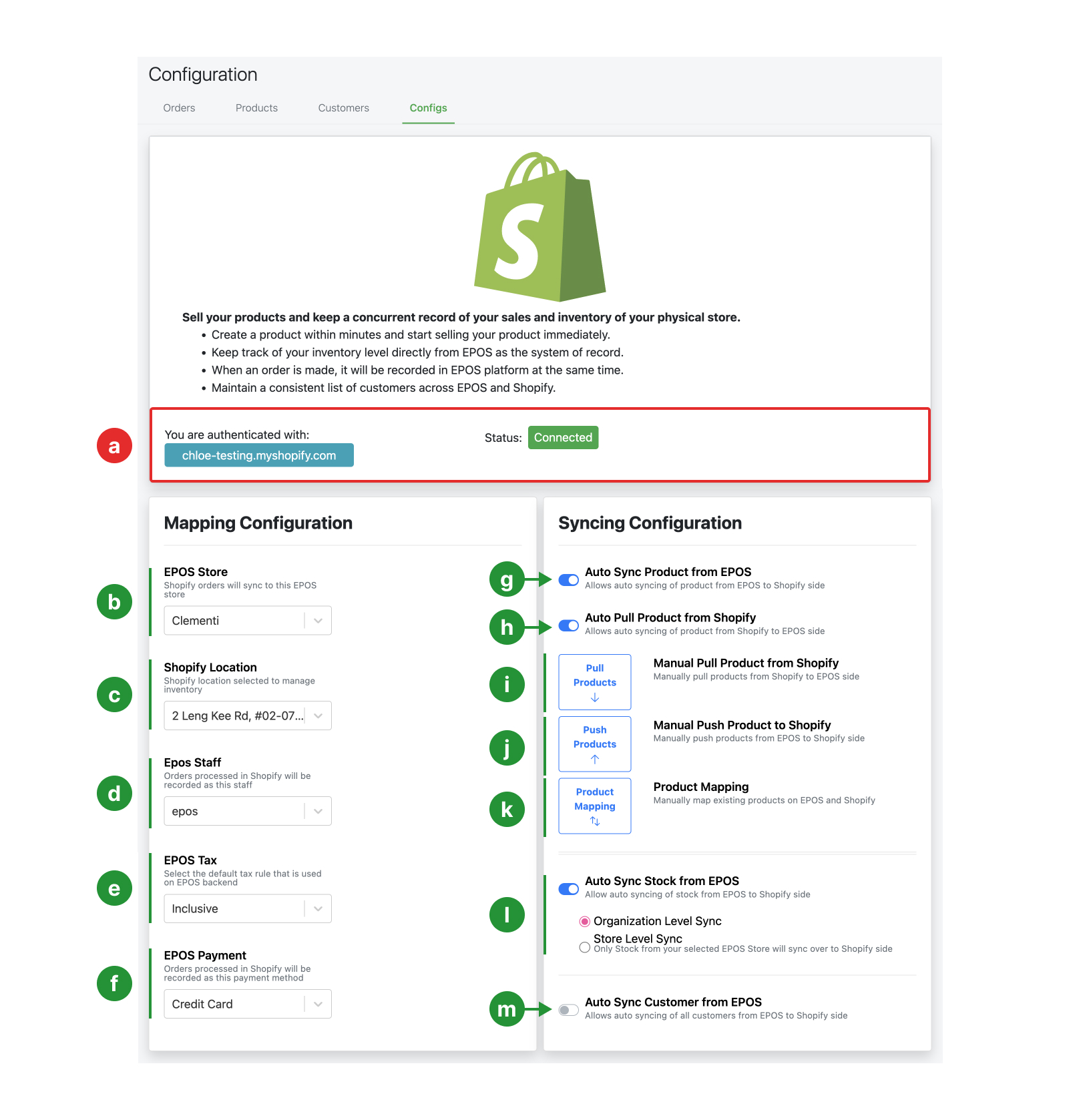 a. Authentication and Status
Your Shopify store URL will be displayed only when the Shopify store has been successfully connected. 
💡 If your URL is not showing up, check that the status is showing "Connected". 
b. EPOS Store
💡 Ensure that a EPOS Store/outlet has been created, refer to Creating A New Outlet or Edit at Outlet Management Overview 
c. Shopify Location
💡 Ensure that a Shopify Location has been created, refer to to Setting up Your Locations
d. EPOS Staff
💡 Create new staff at Outlet Management – Permissions
e. EPOS Tax
Indicate if the product price in Shopify is tax-inclusive or tax-exclusive
f. EPOS Payment
💡 Create Payment Options at Create Payment Methods or Edit Payment Method
g. & h. configurations
Toggle accordingly to allow syncing of products between EPOS and Shopify. 
💡 The appropriate toggle needs to be on to perform manual pulling/pushing of products in (i) and (j).
i. Manual Pull Product from Shopify
Clicking on button would pull ALL products from Shopify to EPOS.
This function would be useful for New EPOS & Existing Shopify Users or New EPOS & New Shopify Users
j. Manual Push Product to Shopify
Clicking on button would push ALL products from EPOS to Shopify.
This function would be useful for Existing EPOS & New Shopify Users or New EPOS & New Shopify Users
k. Product Mapping
This function would be useful for Existing EPOS & Existing Shopify Users
l. Auto Sync Stock from EPOS
Once enabled, you may select the organisation- or store-level synchronisation of stocks from EPOS
💡 store-level sync would sync to the EPOS Store identified in "Mapping Configuration" – part b
m. Auto Sync Customer from EPOS
Add new customers at Adding new customer or Bulk import customer