Error messages shown while importing products list via csv file :
1.  [Error] Content is invalid: Row #3: SKU is duplicated with SKU in row #2
↳ This error shows that there are duplicated rows in the CSV file. To resolve it users may discard the import and remove the duplicates from the fill. Otherwise, click on Merge Duplicate SKUs and Import to proceed. Duplicated SKUs will be imported as a single line item with the quantity added together.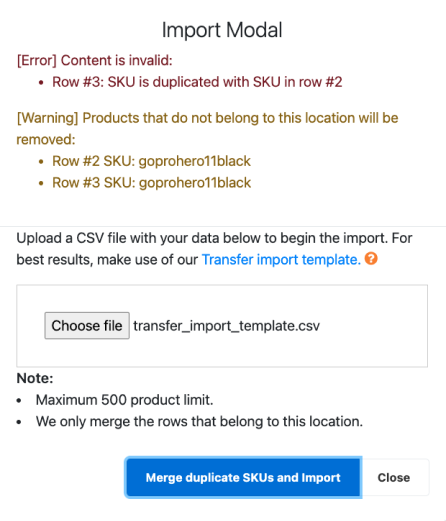 2. ● [Warning] Products that do not belong to this location will be removed: Row #2 SKU: 000001
↳ This error shows that Column B of row two is filled with an invalid store name that is not the same from the originating location for the particular transfer. To resolve this, user may discard the import and revise the store name in column B for the particular row.