⬇ Explore the functionalities of the product page by toggling between tabs below.⬇
Product Page
Add Single Product
Edit Product
Bulk Import Product
Product Override
Product Page
This section provides a detailed description and step-by-step guide related to managing products in the backend portal.
Users are directed to the Products main page, where all registered products will be shown.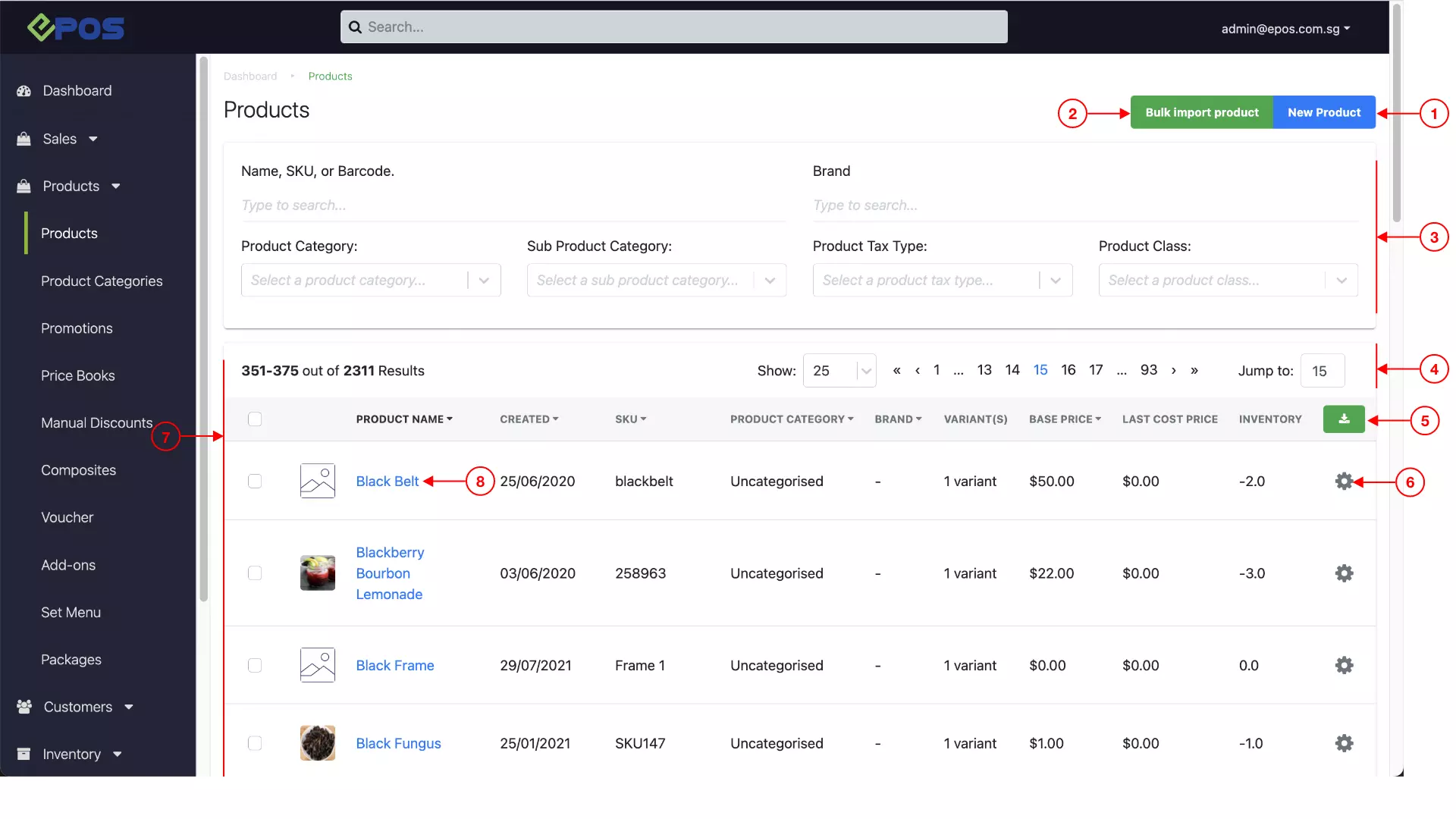 1. Adding a New Product
Enable users to create a single new product into the portal. For more information, see Adding a New Product.
2. Bulk Import Products
Users can create multiple products simultaneously into the portal. For more information, see Importing Products via Bulk Import.
3. Filter & Search
Provide users the ease to search for a particular product with specific criteria.
Name / SKU / Barcode

Brand

Product Category

Sub Product Category

Product Class
4. Pagination
Allows users to select page number. Users can also type in the page number that they would like to access in the "Jump to:" field.
5. Export Product List
Download the selected products in CSV format.
6. Product Settings
Enable users to access quick settings of a particular product.
7. Product List
Shows the entire list of products registered into the portal based on the filter or search criteria defined by users. Contains information like:
Product Name & SKU

Created date and time

Product Category

Brand

Number of variants

Last Cost Price (based on Stock In and Purchase Orders) <insert hyperlink>

Inventory level
8. Product Configurations
Enables users to access product details i.e., Overview, Inventory, Performance, etc. For more information, see Product Configurations
Add Single Product
Edit Product
Bulk Import Product
Product Override