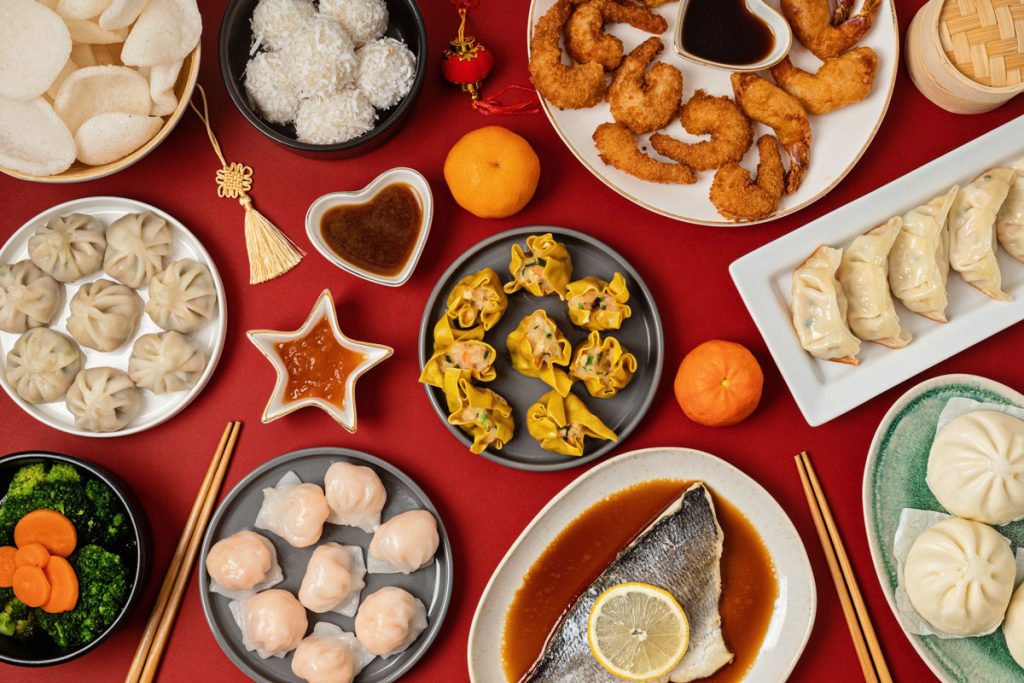 There's no better way of bringing in the Year of the Rabbit than spending it with friends, family and a lavish feast fit for the occasion. Irresistible goodies, tempting treats and a delish dinner to boast about. But if you haven't started on your grocery list for CNY, here's a handy place to start! Set your table with a feast found at wholesale prices in Woodlands! We've scouted out these 5 stores that'll make your CNY reunion dinner just that much better. So ready, set, go!
Best Shops in Woodlands to Buy Chinese New Year Food
1. Perfect Five Food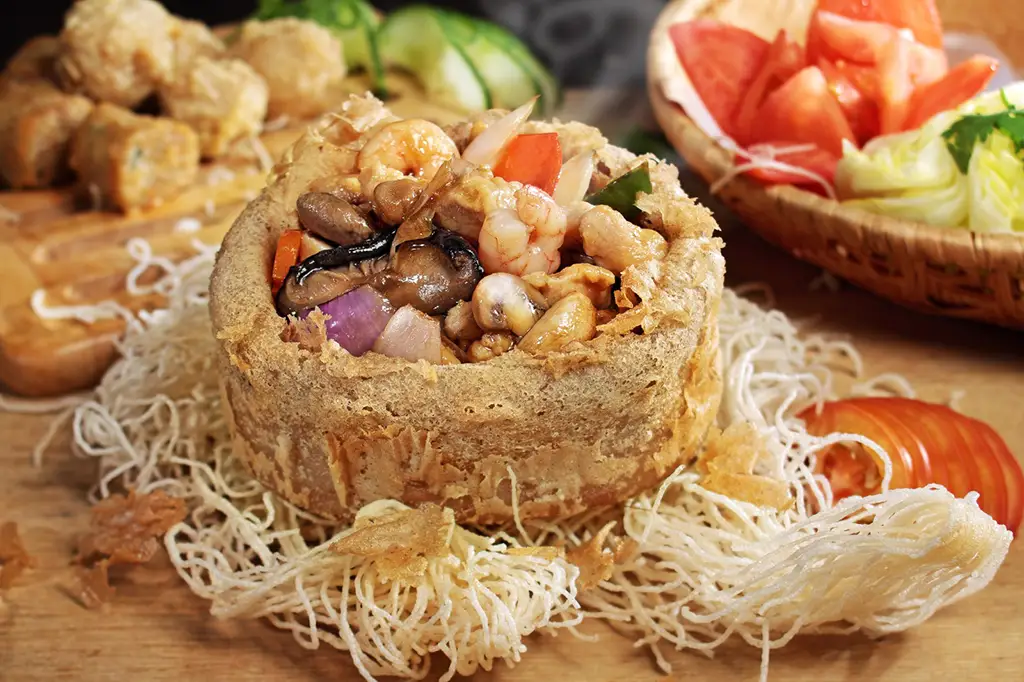 Source: Perfect Five via website – Chinese New Year Food
Facebook: Visit Here
Instagram: Visit Here
Website: https://perfectfivefood.com/
Address: 15 Woodlands Loop, Singapore 738322
Operating Hours: Mon-Fri, 9am-5pm | Sat, 9am-6pm
If you're celebrating Chinese New Year at home this year, Perfect Five will take care of your reunion dinner with its delectable offerings. Be filled with nostalgia as you experience the tastes of handmade traditional Chinese New Year dishes. With authentic recipes just like Grandma used to make, you and your family can tuck into delicious nosh that'll bring you back.
Mix and match Perfect Five's inviting signatures—Prawn Rolls, Pork Hocks, Pork Balls and Yam Rings—to your heart's delight and create your own perfect reunion dinner menu! You will taste nothing but high quality food because Perfect Five insists on producing only the best handmade products with no preservatives or food additives added. Stuffed to the brim with flavour, these Chinese New Year dishes are perfect to share as you surround yourself with friends, family and cultural traditions.
Shop now to use Code "CNY10off" and get 10% off everything except bundles!
2. New Peng Hiang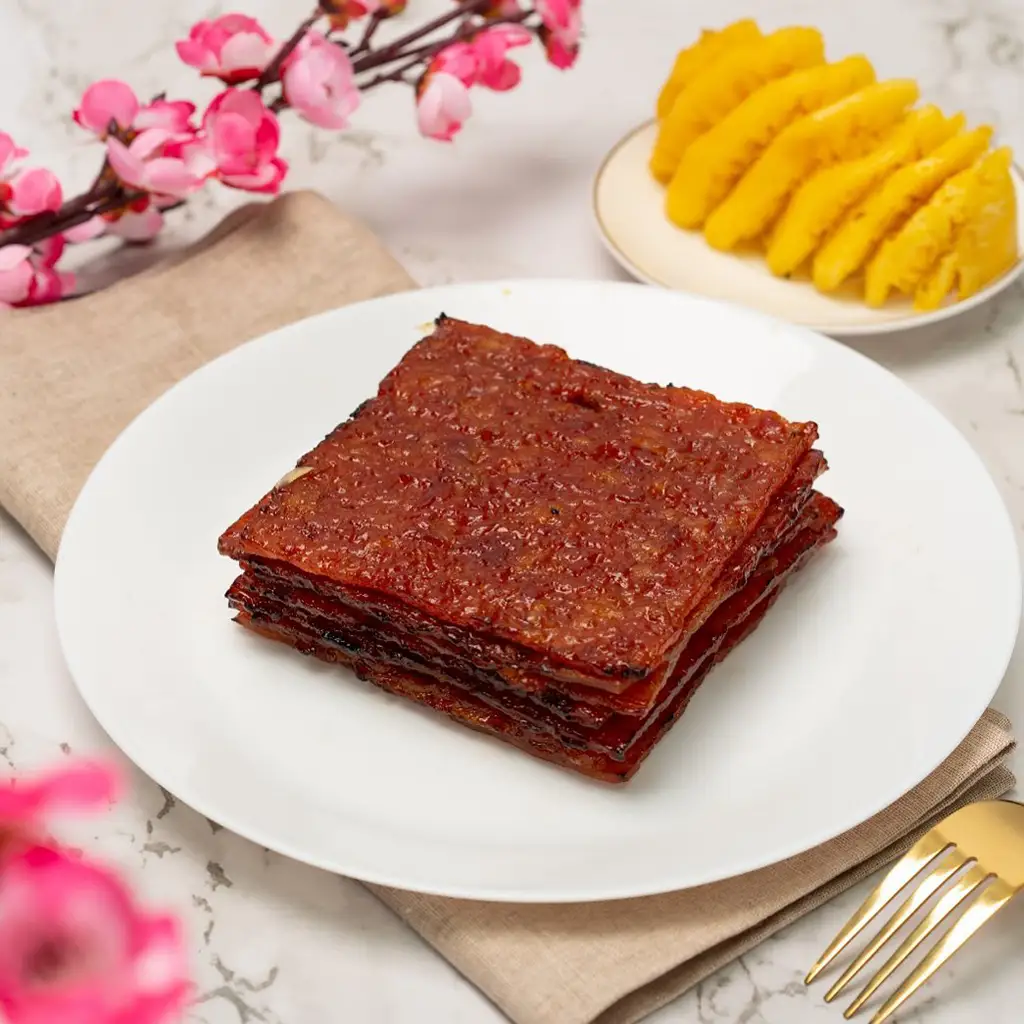 Source: New Peng Hiang via Facebook – Chinese New Year Food
Facebook: Visit Here
Instagram: Visit Here
Website: https://www.newpenghiang.com/
Address: 15 Woodlands Loop, Singapore 738322
Operating Hours: Mon-Sat, 9am-6pm
Keen on adding bak kwa to your Chinese New Year menu? There's no better place to buy your quality barbeque than New Peng Hiang! These meats are smoked over charcoal, accentuating the natural aromatic flavours that your taste buds will enjoy. Plus, they have no added preservatives or artificial flavouring! Experience decadent, fatty cuts of thick meats that'll make you and your loved ones salivate at your Chinese New Year dinner. Think sesame, coffee, chilli, even pineapple and durian flavoured… If you love variety, you'll love New Peng Hiang's bak kwa!
3. J&C Bakery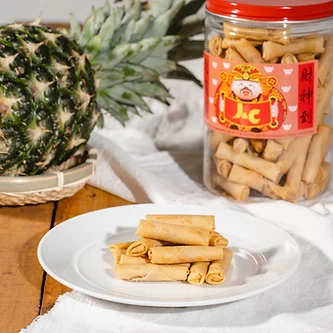 Source: J&C Bakery via website – Chinese New Year Food
Facebook: Visit Here
Instagram: Visit Here
Website: https://www.jncbakery.com/
Address: Locations
Operating Hours: Locations
J&C Bakery was founded in 1983 and spends its days crafting classic bakes that are baked from the heart. These bakes are full of quality, freshness and flavour that aim to satisfy any sweet tooth. So if you're on the hunt for desserts and sweet treats that'll brighten up your CNY dinner table, you're in the right place. Choose from brownies, cakes, cheesecakes, puffs, cookies, chiffon and kueh Nyonya! They've also got a special Chinese New Year selection that includes prawn rolls, Love Letters and pineapple tarts! Nothing finishes off a good CNY feast than sweet goodies!
4. Soon Huat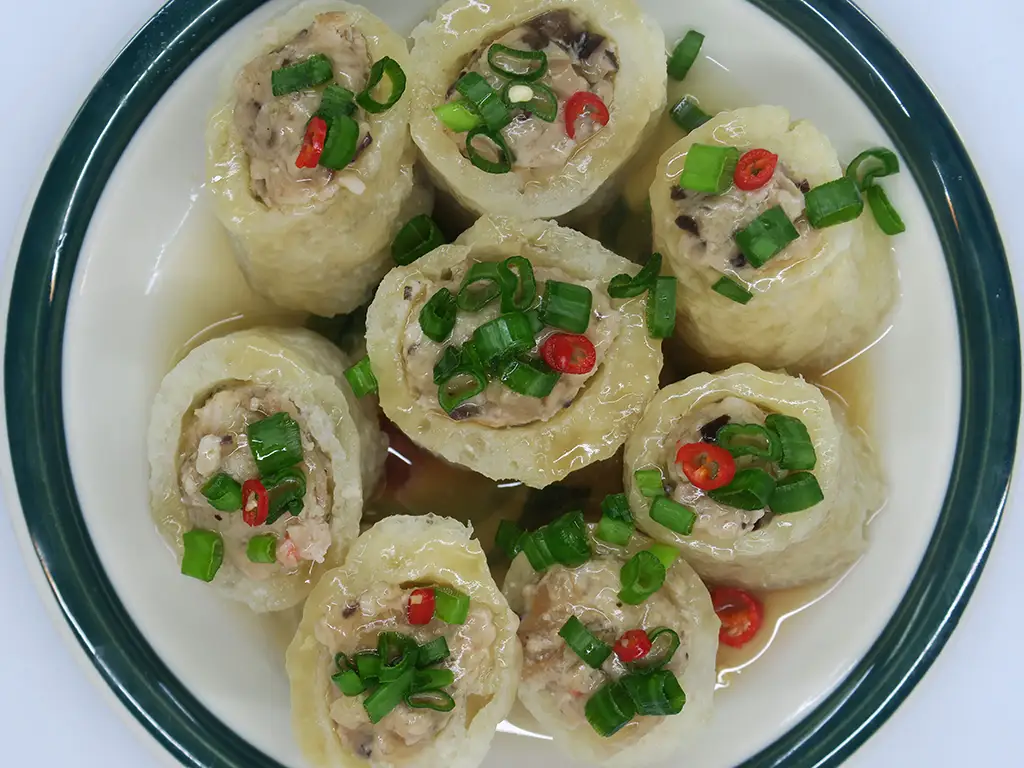 Source: Soon Huat via website – Chinese New Year Food
Facebook: Visit Here
Website: https://soonhuat.com/
Address: 15 Woodlands Loop, Singapore 738322
Operating Hours: Mon-Fri, 8am-5pm | Sat, 8am-12pm
Are you a big fan of seafood? Well, you're in luck! Literally. Fish is a lucky Chinese New Year dish, so explore a plethora of marine options at this store in Woodlands! After more than 20 years in the business, Soon Huat is an expert at producing quality seafood products at competitive prices. Soon Huat's favourites include Shark's Fin, Fish Maw and Sea Cucumbers and also for an additional delicacy, Pig Tendons. Plus, you can explore their CNY goodies to stock up on your traditional snacks for the month. Add onto your CNY feast with some tempting delicacies that'll make your family's mouth water just looking at the fully set dining table!
5. Jia Jia Foodstuff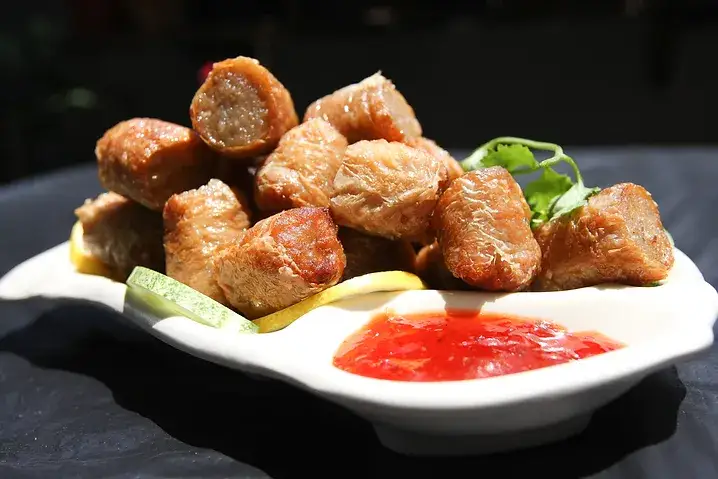 Source: Jia Jia Foodstuff via website – Chinese New Year Food
Website: https://www.jiajiafoodstuff.com/
Address: 15 Woodlands Loop, Singapore 738322
Is your Chinese New Year dinner too much of a hassle? Founded by busy parents, Jia Jia Foodstuff was created as a way to provide hassle-free, ready-to-cook food that can still wow the crowd. Discover appetising, heartwarming handmade dishes for your Chinese New Year feast that'll make it easy and fuss-free, but still entirely delicious. Savour the tantalising tastes of Jia Jia's flavourful Chinese New Year dishes in true feasting style. You and your loved ones are sure to love their yummy bestsellers like the Tempura Fish Fillet, Fish Cutlets and Shrimp Chicken Chips! Shop their store to order your classic Lunar New Year feast today.
Conclusion
Ready to get your fill of delicious and traditional Chinese New Year foods? Celebrate the holiday with these 5 shops in Woodlands!
Now that you've got your food settled, why not stock up on CNY goodies? Here are 10 amazing places to buy Chinese New Year goodies. Or grab unique CNY gifts for your relatives that they definitely won't expect!
• Written by Adrija Chakravarti
Frequently Asked Questions (FAQ)
Where is Woodlands?

Woodlands is a town located in the northern part of Singapore, bordering Malaysia. It is a popular residential area known for its affordable housing and its proximity to the Woodlands Checkpoint, which is the main land entry point for travelers coming into Singapore from Malaysia. Woodlands is also a hub for commercial and industrial activities, with many businesses and factories located in the area. The town is well-connected to other parts of Singapore, with several MRT stations and bus services available. Woodlands is also home to several shopping malls (Causeway Point, 888 Plaza etc), supermarkets, and food courts, making it a convenient place for residents to live and work.

What is Traditional Chinese New Year?

Traditional Chinese New Year, also known as Spring Festival or Lunar New Year, is an annual festival celebrated by Chinese communities around the world. It typically falls between January 21st and February 20th and is based on the lunar calendar. The festival is marked by family gatherings, feasts, gift-giving, and traditional rituals and activities, such as cleaning the house and decorating with red lanterns and couplets. The holiday is a time to honor ancestors and deities, wish for good fortune and health, and welcome the arrival of spring.

What traditional food is commonly eaten during Chinese New Year?

During Chinese New Year, it is customary to eat certain foods that are believed to bring good luck and prosperity. Some of the most popular foods include:
– Dumplings: symbolizing wealth and good fortune
– Fish: symbolizing abundance and surplus
– Nian gao: a sweet sticky rice cake symbolizing a better future or higher status
– Spring rolls: symbolizing wealth and good luck
– Tangerines and oranges: symbolizing wealth and good fortune
– Whole chicken or duck: symbolizing togetherness and unity
These foods are often served during large family gatherings and reunions, and are an important part of the celebration. It is believed that the more traditional foods one eats during the holiday, the more good luck and prosperity they will have in the coming year.