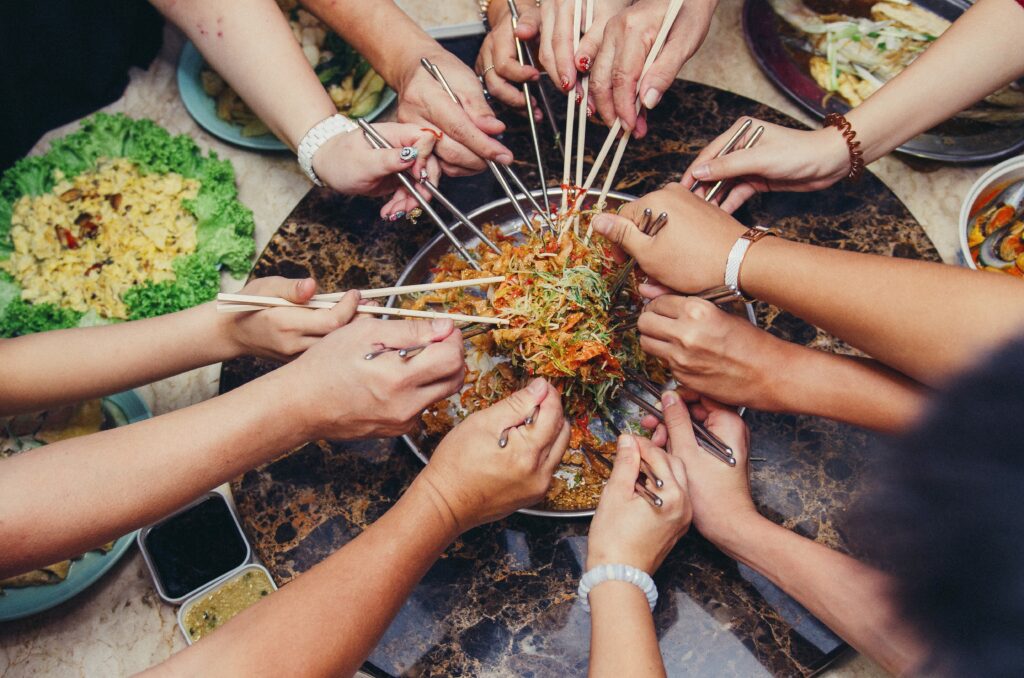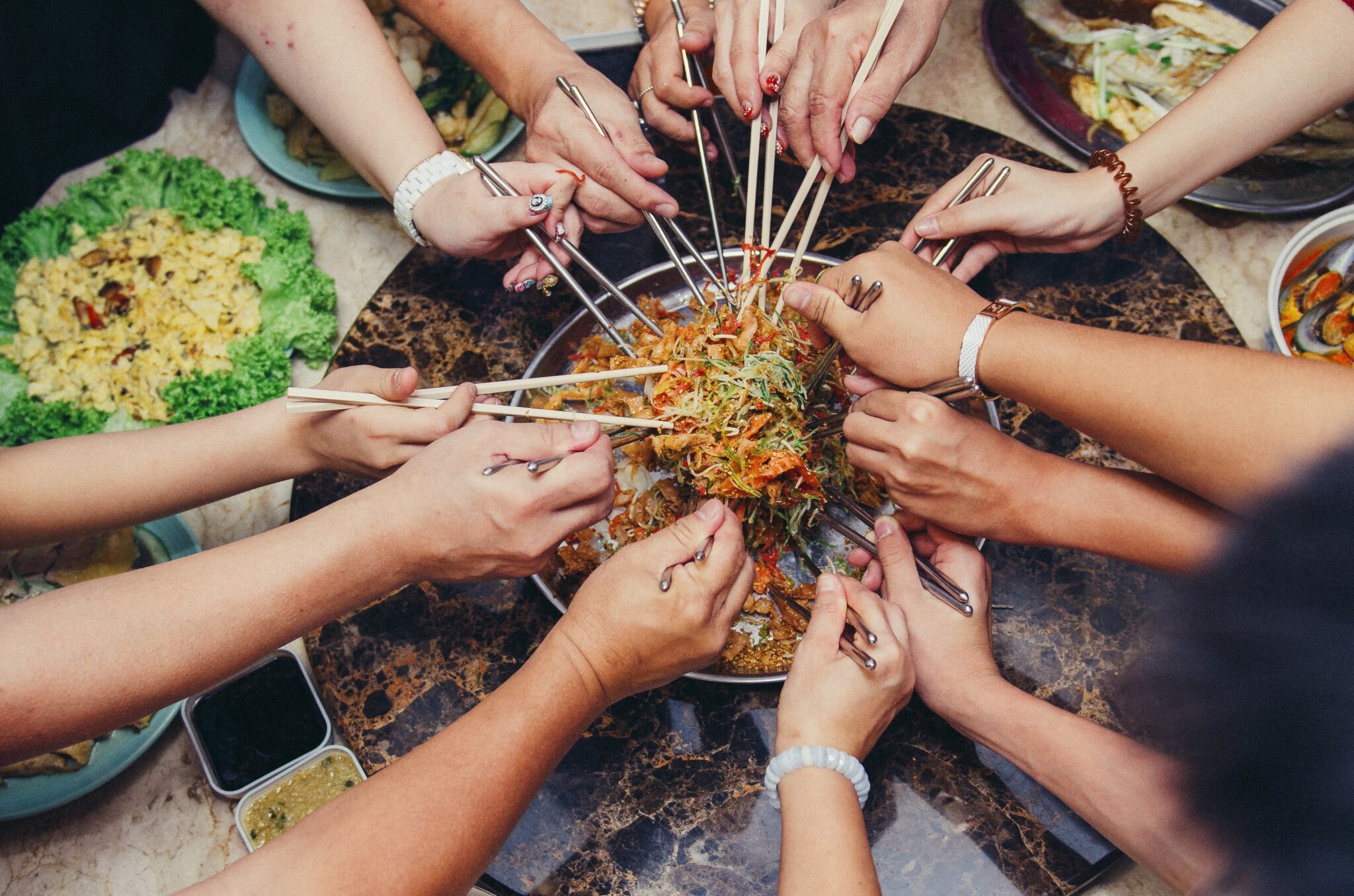 "We wish you a Merry Christmas, we wish you a Merry Christmas, we wish you a mer…" Wait a minute, is it just me or wasn't Christmas just a few weeks ago? I'm sure some of you were taken aback by some shopping malls and retail stores switching the festivity decorations and music just a day after Christmas has passed – so was I.
Some of you might be freaking out: "My Christmas tree is still up, and now I still have to prepare and order in advance for Chinese New Year?" Relax! That's why I, Marketing Intern of EPOS, have selected the best of the best, the crème de la crème of places to buy Chinese New Year food to kick off the Year of the Tiger, so you don't have to!
I'm sure some of our readers are worried about not being able to enjoy the luxury of eating out with their family due to the current COVID-19 situation, which is why we've included food that can be brought back or delivered to the comfort of your own home to enjoy with everyone! So sit back, pop a pineapple tart into your mouth and enjoy these recommendations!
1. Hot Pot – Beauty In The Pot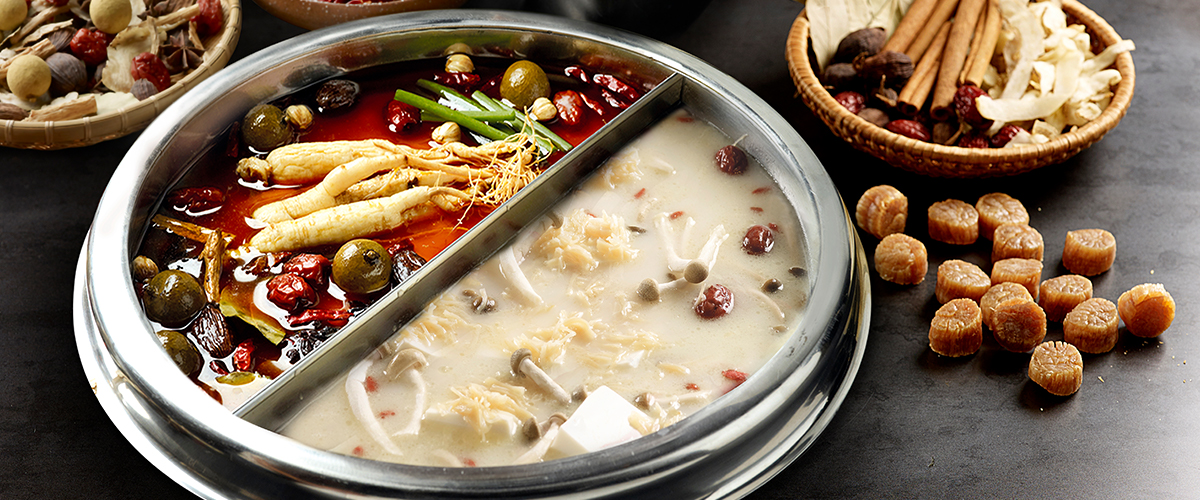 Source: Paradise Group's Website
Facebook: Visit Here
Instagram: Visit Here
Website: Click Here
Address: Click Here
Operating Hours: Refer to the respective address' opening hours as they may vary during the festive season.
Has the Cai Png aunty not been calling you Shuai Ge or Mei Nu lately? Here's the solution to that: Beauty In The Pot! (I've been saying it as Beauty In A Pot all this time). Known for their famous beauty collagen broth, which takes more than a whopping 8 hours to be prepared freshly.
Beauty In The Pot offers an extensive array of menu items and broths, such as meat, paste and fresh seafood platters, ball platters, dumplings, beancurd, mushrooms, vegetables and sides. And about their meat…don't get me started on how they offer high quality meat flown in from the USA such as the US Wagyu Beef and the US Kurobuta Pork.
Dubbed as "One of the Best Collagen Steamboats in Singapore" by renowned food blog SethLui, I'm sure you'll be the best looking amongst your relatives after having a hearty hotpot meal!
2. Yu Sheng – Regent Singapore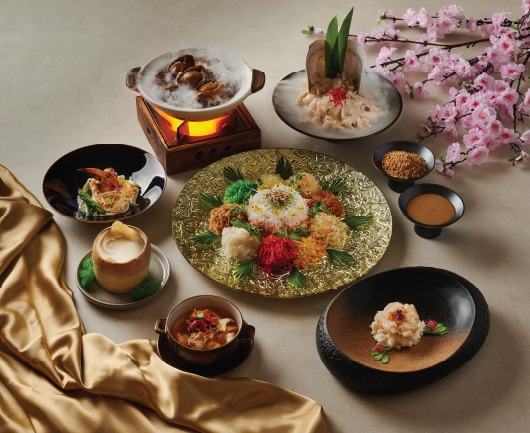 Source: Regent Singapore's Website
Facebook: Visit Here
Instagram: Visit Here
Website: https://regentsingapore.com.sg/cny2022/
Address: 1 Cuscaden Rd, Singapore 249715
Operating Hours: 12pm – 2:30pm, 6pm – 9:30pm
If you're feeling a little atas, Regent Singapore is a possible option for you to consider to Lao Yu Sheng at! They have two options for you to choose from: Summer Palace (Cantonese Cuisine) and Basilico (Italian). "Wait a minute Marketing Intern, what does Italian cuisine have to do with Chinese New Year?" Well, Basilico decided to have a twist at the contemporary Chinese Yu Sheng with shredded vegetables and salmon and, wait for it, offer an Italian Yu Sheng!
Available only from 31st January to 15th February 2022, Basilico's idea was to "(Prove) that the Italians have ingredients that are harbingers of spring too". What's thrown into the mix is young asparagus, porcini mushrooms and baby scallops, prized olive oil, aged balsamic vinegar and sashimi-grade tuna loin! Interesting isn't it?
But if you're sticking to the traditional Yu Sheng, Summer Palace offers set menus (Pen Cai included!) with takeaways available too!
3. Pen Cai – Putien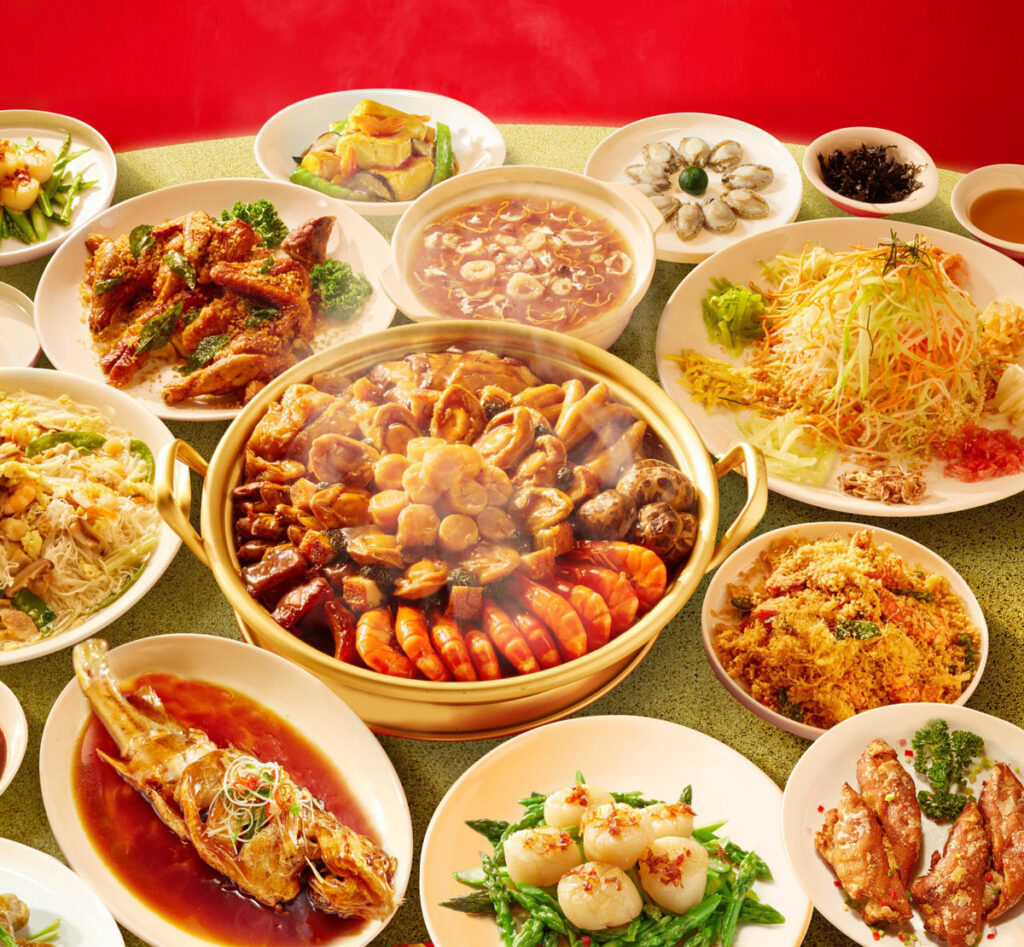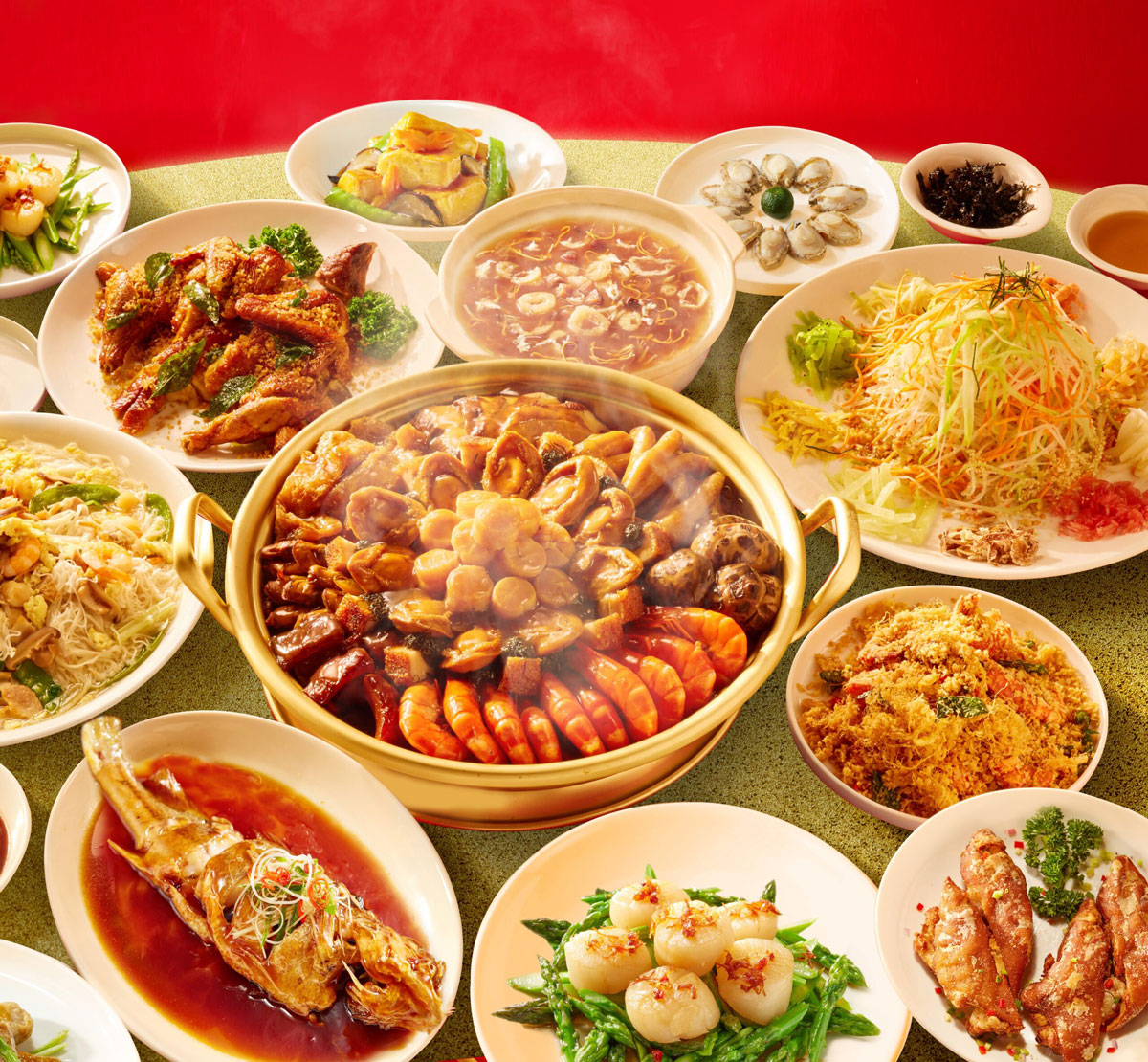 Source: Putien's Website
Facebook: Visit Here
Instagram: Visit Here
Website: https://www.putien.com/
Operating Hours: Refer to the respective address' opening hours as they may vary during the festive season.
From the picture alone, I'm sure we can't wait to Putien (put in) our mouths these scrumptious-looking dishes! (Marketing Intern spent 5 minutes laughing to himself at a pun he made up) Putien is well known for being a five-time winner of the One Michelin Star Award, and this Chinese New Year, they are offering a wide variety of options to choose from! You can choose between the Prosperity set or the Fortune set; each one comes with its own distinct platter and variety of dishes depending on the number of pax it's for!
But let's talk about their Pen Cai; 12 delectable ingredients from abalone, fish maw, to sea cucumbers! And complimentary Mazu Mee Sua with every takeaway order! Now that sounds like a Pot of Goodies to me!
Putien offers takeaway and delivery as well, but should you be dining in, do take note of the specific time slots and make your reservations beforehand!
4. Roasts – 88 Hong Kong Roast Meat Specialist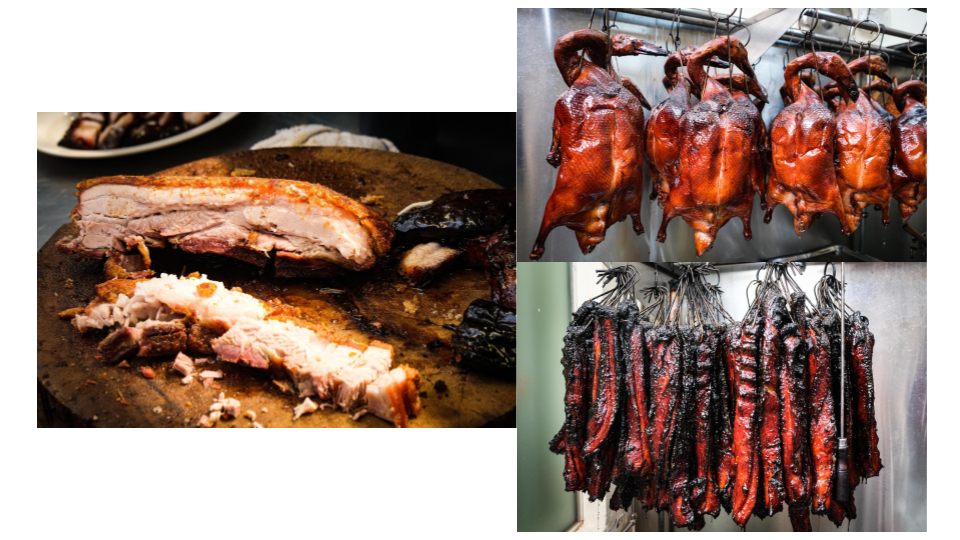 Source: Miss Tam Chiak
Facebook: Visit Here
Instagram: Visit Here
Website: https://m.facebook.com/88-Hong-Kong-Roast-Meat-Specialist-1676968165892481/
Address: 308 Lavender St., Singapore 338814
Operating Hours: 8:30am – 9pm, closed on Mondays (Non-festive period), 6am -12pm (Chinese New Year Eve collection timing), Closed on first day of Chinese New Year
Here at EPOS, lies the Roast Meat connoisseur, with an exquisite taste for top notch roast pork: moi, the Marketing Intern, and he never goes wrong with his roast recommendations. And we LOVE roast pork, so trust us on this one.
This isn't like the regular roast meat you find at a coffee shop, which is usually grilled using electricity or gas. What 88 Hong Kong Roast Meat Specialist do that makes them stand out from any other roast meat shop is that they use charcoal – the best way to roast meat.
The essence of charcoal lingers with every bite – especially the burnt bits (we all love the burnt bits), which gives the meat their smoky flavour. The owner, Martin Ong, in an interview with Miss Tam Chiak food blog, wanted to give his customers the "Bak Kwa effect", which he has done so perfectly.
Make your way down to their store to place an order now and collect on the 31st of January 2022!
5. Bak Kwa – Peng Guan Bak Kwa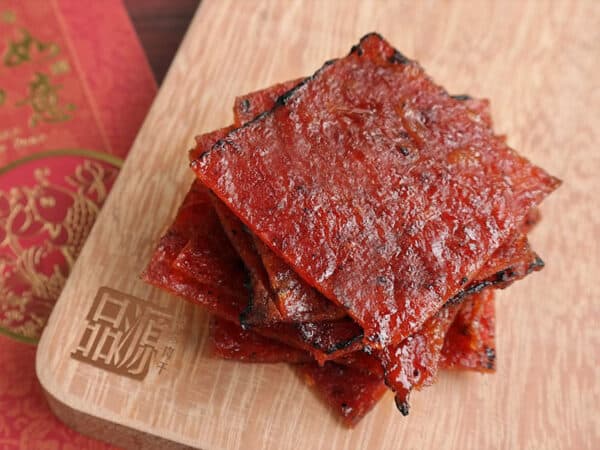 Source: Peng Guan Bak Kwa Website
Facebook: Visit Here
Website: https://pengguan.com.sg/
Address: https://pengguan.com.sg/store-location/
Operating Hours: https://pengguan.com.sg/store-location/
Yes, I was that one kid who finished all the Bak Kwa at my relatives' house, but you can't blame me: it's just so good! Bak Kwa is a staple for Chinese New Year, and it is probably the only time that people usually buy them. You might be familiar with the Bak Kwa giants like Bee Cheng Hiang and Fragrance, but this Chinese New Year, let's try something different, shall we?
What makes Peng Guan Bak Kwa the Bak Kwa that it is (a little tongue twister there) is that it's handmade traditionally from Premium Air Flown Brazilian Pork! Peng Guan Bak Kwa's minions hand-mince and weave their bak kwa using traditional bamboo sieves, and thereafter grill them on charcoal (we really love charcoal grilled food) to provide you, their hungry bak kwa loving customers, with what you gnaw on while awkwardly entertaining that one relative that pokes about when you're getting married.
Delivery and walk-ins are available! Give their website a visit to find out more!
6. Love Letters, Pineapple Tart and Kueh Bangkit – Pineapple Tarts Singapore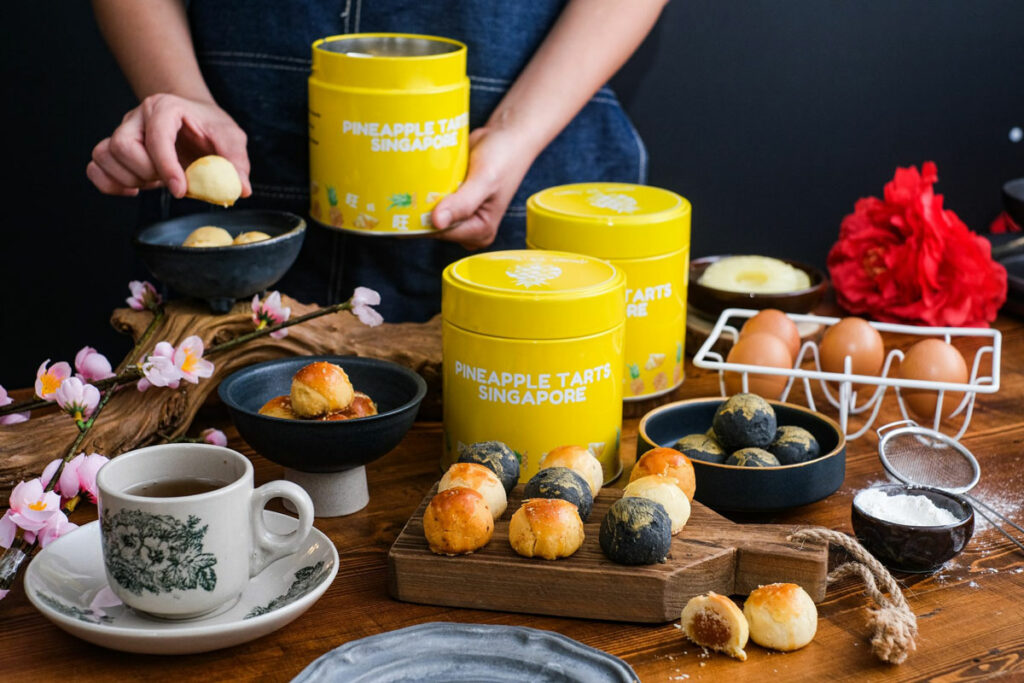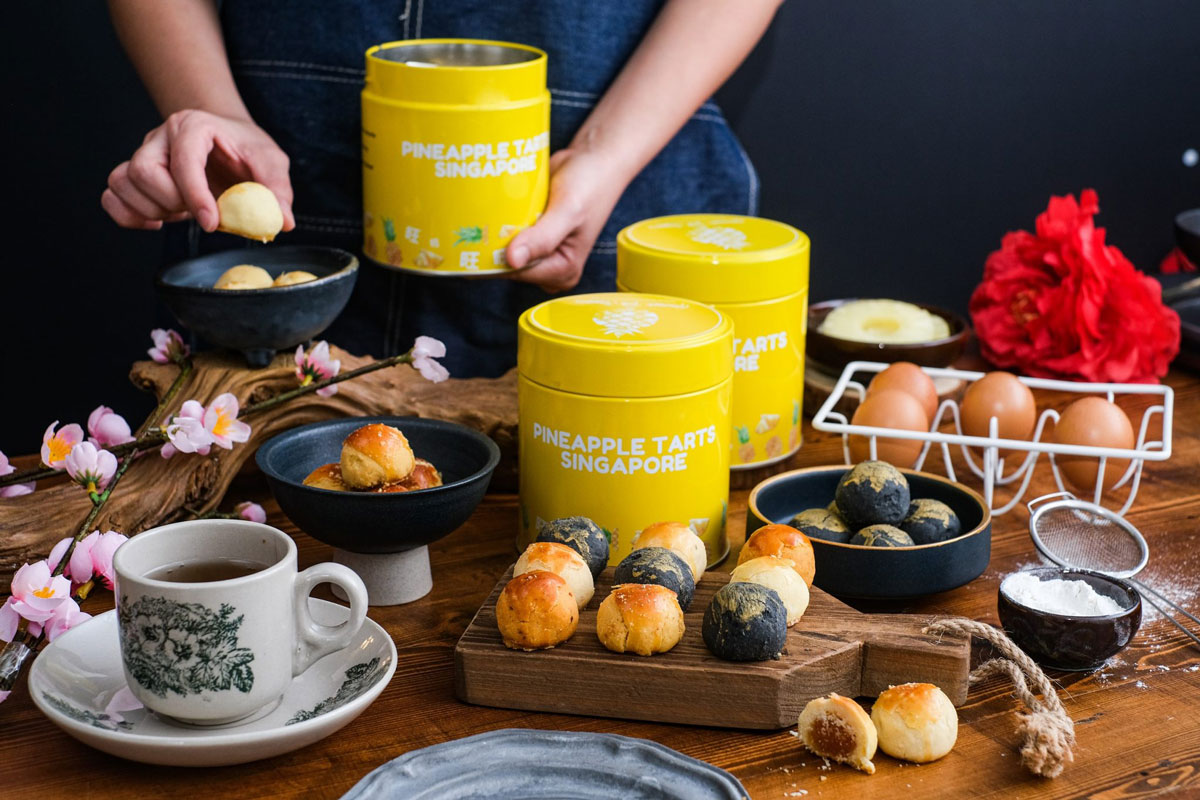 Source: Pineapple Tarts Singapore Website
Facebook: Visit Here
Instagram: Visit Here
Website: https://pineappletarts.sg/
Address: 22 New Industrial Road, Primax, #03-15, Singapore 536208
Operating Hours: 10am – 7pm Daily, 24 hours for Online Purchase
Pineapple Tarts Singapore sells…well…pineapple tarts, but they also do an assortment of Chinese New Year goodies like Love Letters and Kueh Bangkit! They are highly rated by recognised reviewers and food bloggers to be the best pineapple tarts in Singapore! Not only that, their Kueh Bangkit is an award winning one (at least you have something you can show off to that one aunty that boasts about her son becoming a lawyer)!
These goodies are 100% homemade and handmade, and baked with the finest of the finest ingredients, which aims to convey the traditional and authentic local flavours onto your palette. Once you have one, you can't help yourself but reach for another! Which is maybe why it's time to put our New Year resolutions to good use and hit the gym…
7. Assortment of Cookies and Crackers – Ding Bakery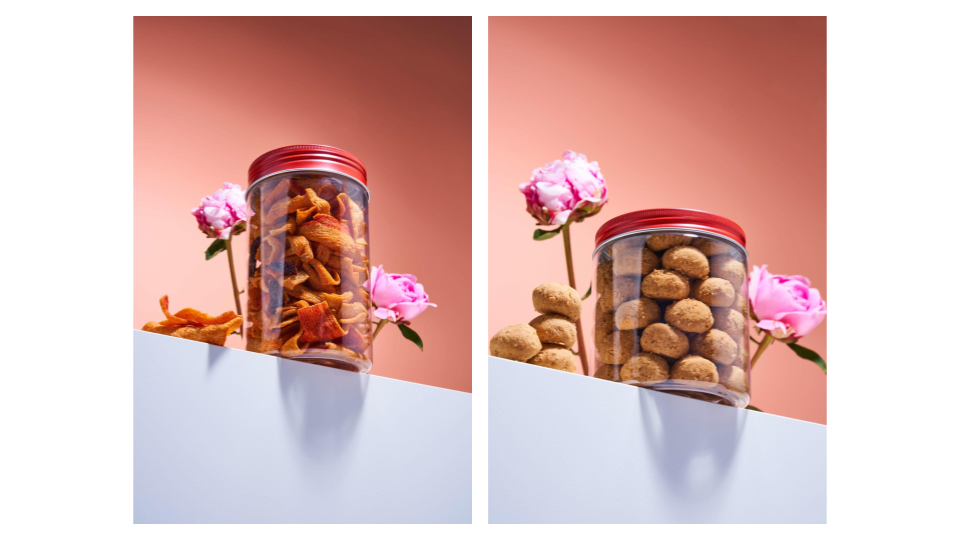 Source: CNY Goodies Website
Facebook: Visit Here
Instagram: Visit Here
Website: https://cnygoodies.sg
Address: AZ @ Paya Lebar, 140 Paya Lebar Road, #03-13, Singapore 409015
Operating Hours: 11:00 AM – 06:00 PM Daily
Here at EPOS, we provide the best of the best. Which is why we're recommending the award-winning CNY Goodies such as their premium peanut cookies, premium hae bee hiam, honey chicken floss love letter and crispy mala crab sticks, amongst many other flavours. Yet again, Ding Bakery's Chinese New Year Goodies have been awarded perfect scores by renowned food critics and food blogs for their evolved and unique recipes. They also offer tasting, and there is free delivery right to your doorstep for orders above $100!
Conclusion
Wow, this is a truly exhaustive list that is bound to give all of us a kilogram or two more on the weighing scale after the festivities. But hey, good things must share, right?
Do keep in mind the safe-distancing measures and COVID-19 regulations in Singapore during this time when heading out and about to run your Chinese New Year errands! Wouldn't want to give a hefty ang pow to the safe distancing officers now would we?
That's all folks! Happy Chinese New Year from all of us here at EPOS!