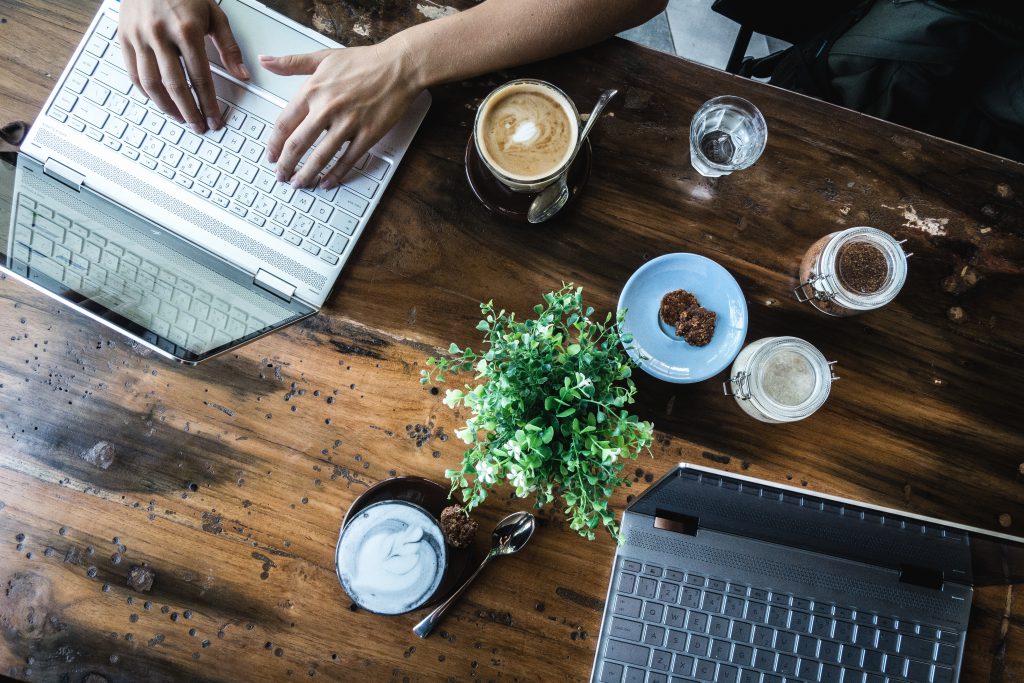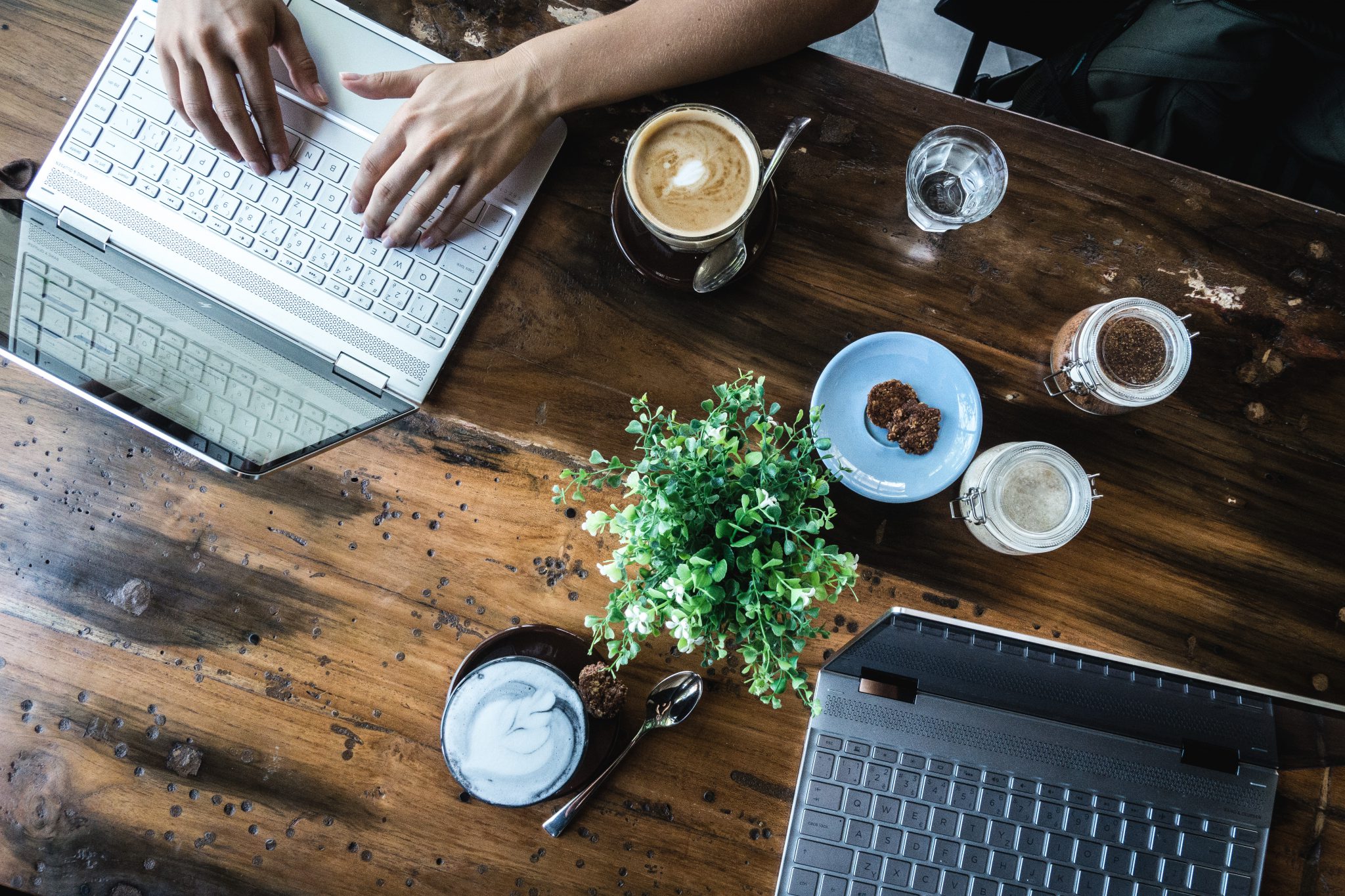 Oh, so you've enjoyed Part 1 of our Digital Marketing Strategies series? We've come up with another 5 Digital Marketing Strategies that could help you reach out to even more customers to help grow your F&B business!
Without a doubt, there has been a paradigm shift in the way Marketing is done in the modern era; businesses have shifted from traditional methods of marketing to a more digital approach to conform with the constantly evolving technological environment that we live in. The digital marketing approach has proven itself time and time again to produce the best outcome for businesses. The following 5 Digital Marketing Strategies can be utilized to its full potential, especially during the COVID-19 pandemic that we are currently experiencing.
1. Engage with your Customers
Difficulty: ★☆☆ (Easy)
"Happy Customers, Happy Life"
Customer engagement, to put it simply, is any form of interaction between a customer and your business either online or offline. In today's reality, it is uncommon that people spend up to 2 hours on social media, possibly even more. Having a customer engage in your business' social media posts is a clear indicator of their interest in what you have to say, and their overall interest in your business. Not only that, it can serve as an outlet for your customers to leave constructive feedback, and potential customers are able to positively associate with your business upon seeing the way you interact. A relationship is established when a business interacts with their customers.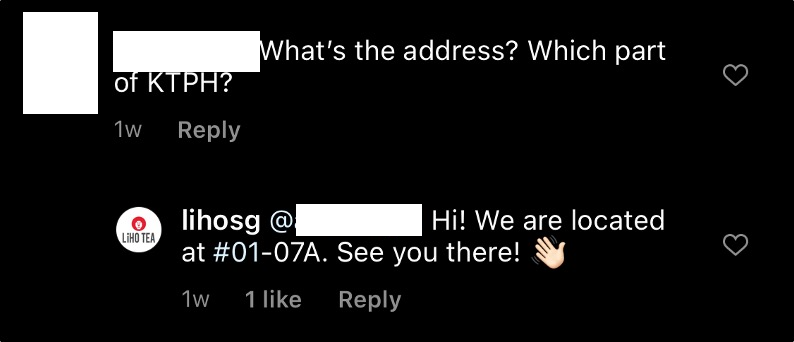 Source: LiHO TEA's Instagram Post
What can you do?
Ergo, it's as simple as liking their comment, or to take it a step further, reply to them! This develops a stronger relationship between your brand and your customers, providing more opportunities for you to build a community, establish brand loyalty, leading to increased word-of-mouth referrals and eventually, increased sales! Furthermore, it leaves a good impression on other members of your audience to see a business engage with their customers!
Don't we just love being validated?
2. Customer Loyalty / Retention
Difficulty: ★☆☆ (Easy)
"Who's a good customer? You are!"
Remember the days where you'd get your daily dose of Starbucks coffee, and you'd use your Starbucks card to earn points just so you could get that oh, so glorified Starbucks Gold Card? Yes, you got roped into Starbucks' loyalty programme. But hey, what's better than the instant gratification when your friends go green with envy when you get a free drink for every 10 stars that you collect? Now take that example, and apply it onto your digital platform.
As human beings, referencing the Incentive Theory of Motivation (ooh we're psychologists now), we are attracted to doing tasks that lead to rewards, fueling our dopamine crave. According to Semrush, it is observed that "57.4% of customers join loyalty programs to save money, while 37.5% do so to receive awards." These incentives alone are enough for your customers to stay and continue patronizing your business!
What can you do?
As F&B Business Owners, encourage your customers to leave reviews on your platforms or "check-in" to your physical outlet and reward them with discounts to be used on their next purchase. Additionally, there are website trackers like HubSpot that can monitor when someone revisits your platform. Likewise, reward them! They're more likely to stay and even engage with the services you offer!
Did you know? EPOS' System has an in-built Customer Relationship Management function! Utilize it to your advantage to attract and retain your loyal customers!
3. Ride the Wave – Social Media Edition
Difficulty: ★★☆ (Medium)
Forget about being different and standing out from the pack. Trends are an in thing now! Remember when the Netflix hit series, "Squid Game" was released, everyone started to make references to the series. Till date, there are more than 9 million social mentions by over 8 million people who have posted something related to "Squid Game" on their socials.
Essentially, Riding the Wave is an example of keeping up to date with the current trends and utilising them to your advantage.
Likewise, "Riding the Wave" and incorporating "buzz" words on your social media will most likely result in increased traffic, due to algorithms and other technical details that I shall not bore you with. Not only is this strategy cost-effective, it also allows your audience to see the "human" side of your business.
What can you do?
Stay updated! TikTok is a good place to start, given the increase in their popularity in the past year. Many businesses have moved onto TikTok to market their business! Utilise trending hashtags and sounds to your advantage to reach a larger audience! However this does require some knowledge in simple video editing and knowledge of the works of social media. However if you're worried about not being as tech-savvy as our Gen-Z readers, fret not! TikTok has a dedicated Business Learning Center for you to utilise their tools to start creating digital content!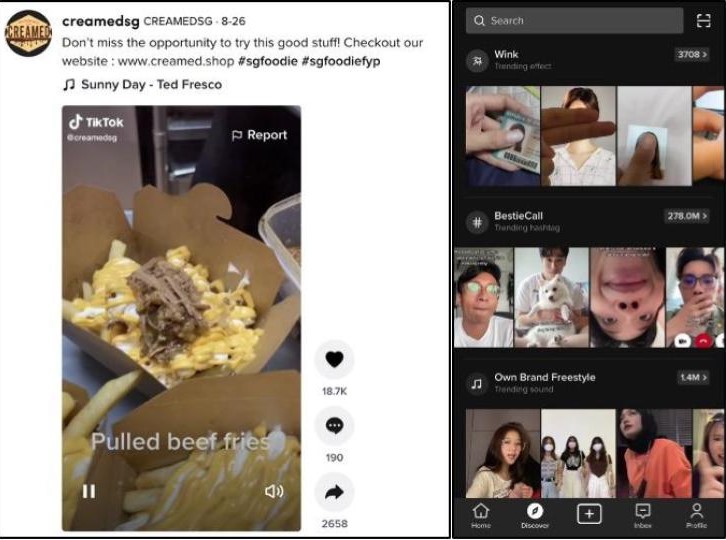 TikTok's trending "Effects", "Hashtags" and "Sounds", Example of creamedsg's marketing campaign using all 3 aspects, which has garnered over 18K likes and over 2600 shares!
The point is, keep an eye out for current trends that you can jump on the bandwagon with, but a word of caution, it can be a double edged sword if your content is not thought out properly; it can do more harm than good. Trying too hard to appeal to your audience will drive them away faster than I can say EPO-
4. Create a Well-Designed and Engaging Website
Difficulty: ★★★ (Hard)
Your website, also known as a "Digital Shopfront", is one of the first places your customer will drop by to get to know more about what's cookin'! Your website should encompass functional, user-friendly features, and most importantly, be professional! Not only will having a website strengthen your digital presence and your brand identity, you can educate your customers about your offerings as well! (Less questions asked, am I right?)
Remember – your customers get an overall sense of your business just from your website alone. Make it as alluring as possible! Here are a few tips as to What Makes a Good Website!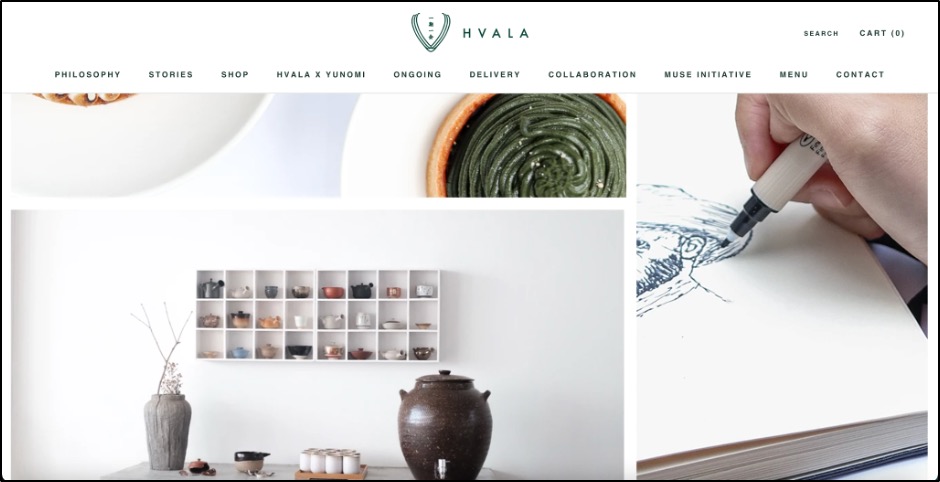 Source: Hvala Singapore's website
What can you do?
Creating a website doesn't come easy. The time and cost required to craft the perfect website can be used elsewhere (I'm sure we all don't have the time for it). Lucky for you, websites like Wix are a good starting point for you to create your own website, with templates and user-friendly features to guide you along the way! There are many videos and courses online that guide you every step of the way as well. Another option to consider is hiring a freelancer to create a website for you, if you have the budget, of course.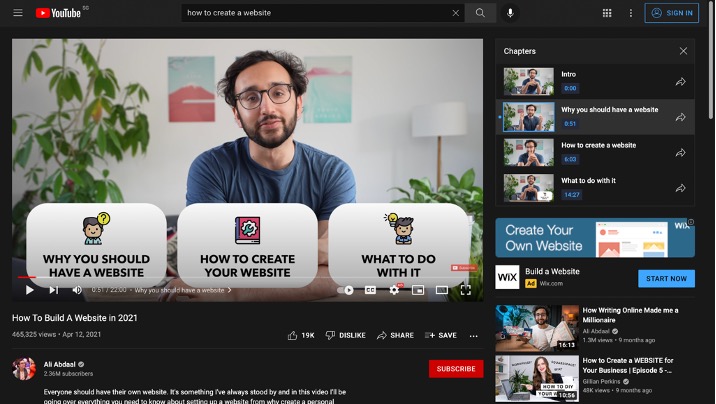 How To Build A Website in 2021 by Ali Abdaal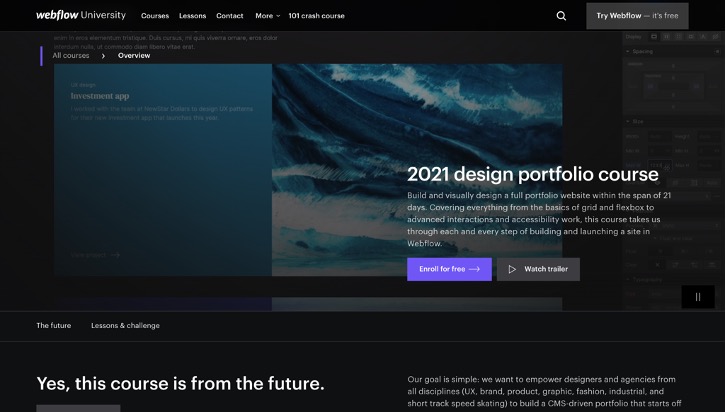 Webflow University's Free Website Design Course
5. Food Bloggers and Influencers
Difficulty: ★★★ (Hard)
Utilising Food Bloggers and Influencers is one of the growth strategies that a business can take on, and has the largest potential to become viral mostly due to what we call in the Marketing world, through "Word-of-Mouth" Referrals. Consumers tend to trust other personal recommendations because they are real opinions from real experiences that someone else has experienced.
Take SethLui, one of the more influential food bloggers in Singapore. Many F&B establishments have been featured on SethLui's food blog and the results just show how much more traffic is driven to their platforms, let alone their physical outlet! Food blogs like these can garner over 200,000 views per month! The publicity you can get from Food Bloggers and Influencers can be greatly beneficial to your business; as Singaporeans, we are always on the lookout for great food recommendations.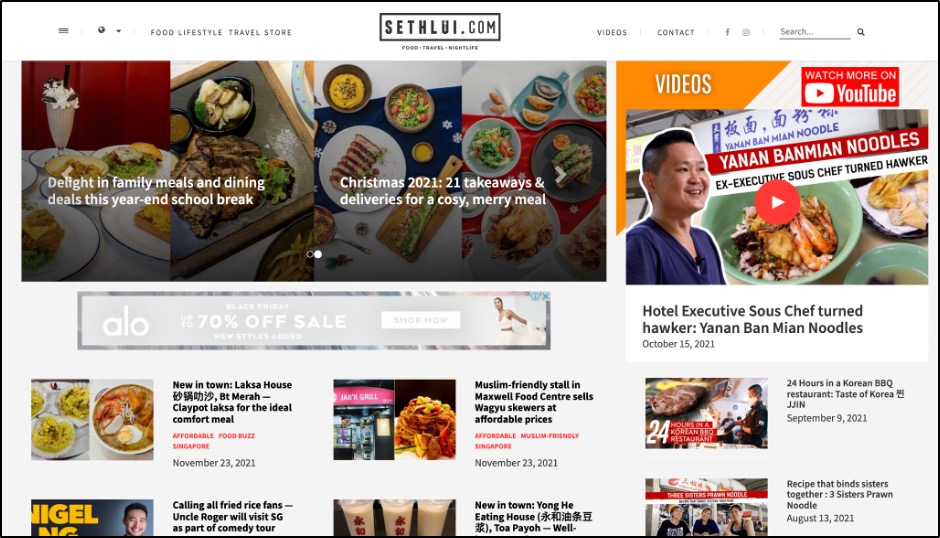 Taken from SethLui's Website: https://sethlui.com/
What can you do?
Sadly, this isn't cost-friendly. Unless you're willing to spend a bomb on boosting your business' traffic, this strategy is a sure-fire way to enhance your digital marketing and it has been proven beneficial! You can contact the respective food bloggers and influencers under "Contact" to ask for a quotation, and see whether it fits your budget!
But wait! Unless your dishes or beverages are eye-rolling-back-into-their-socket spectacular, they will definitely speak for themselves and drive organic traffic to your business.
Conclusion
There you have it, 5 Different Digital Marketing Strategies for your F&B Business! Stay tuned for Part 3!