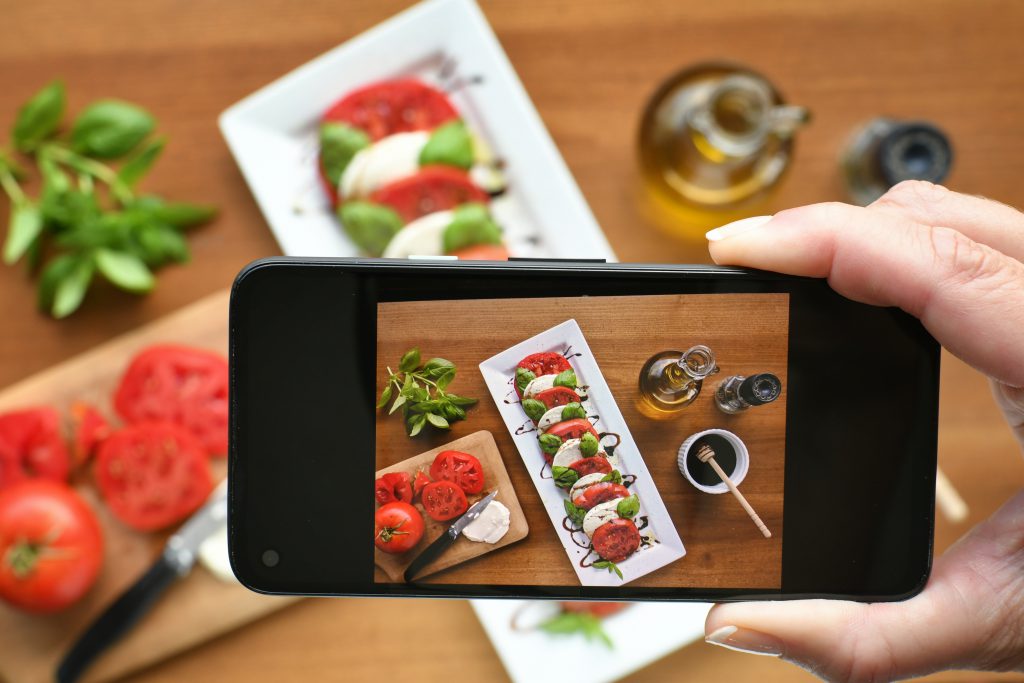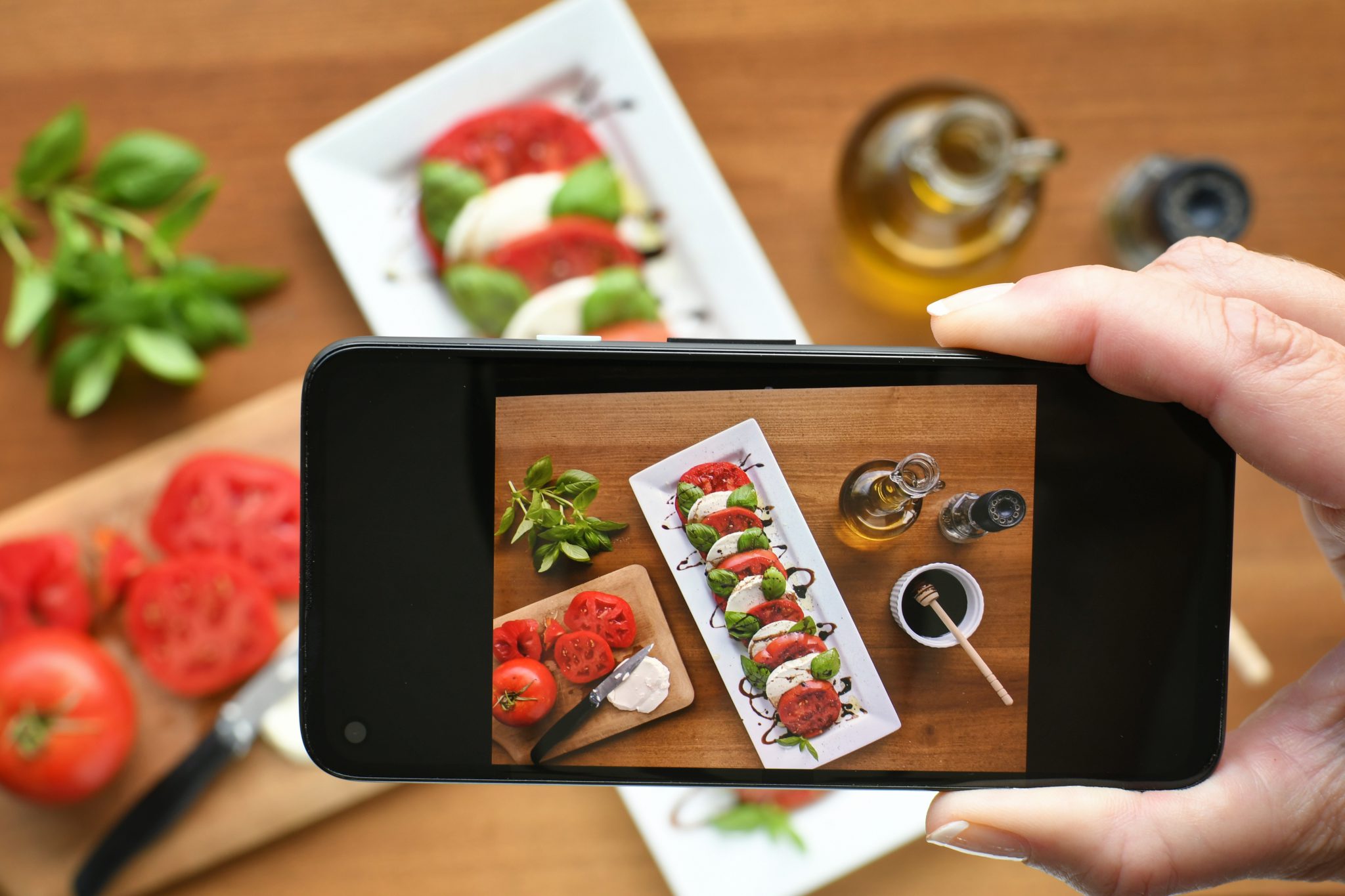 With rising costs and a lot less diners, COVID-19 has transformed the F&B industry in Singapore! Changes to the government regulations and uncertainty about whether or not you can dine-in has caused many potential diners to postpone or even cancel their reservations.
So how can F&B businesses stay relevant, attract and retain customers? Well, with about 5.18 million users in Singapore on the Internet by the end of 2020 (with figures expected to rise!), digital marketing is a crucial part of any business' marketing strategy.
If you're looking for a place to start, we've got you covered. Take a look through our list of 5 different digital marketing strategies that could help you reach out to potential customers and grow your F&B.
1. Promotions, Coupons and Discounts
Difficulty: ★☆☆ (Easy)
Finding it difficult to attract new customers? Use promotions! Whether that's giving out coupons or discounts on your website or social media, people like rewards. Who doesn't like a cheaper price tag?
Likewise, generate some buzz with user-generated content (UGC) to build a community and boost customer relationships. Encourage them to share photographs when they order your food in order to win a reward, like a discounted meal.
Check out Gong Cha in June 2021 when they held a Father's Day contest to generate UGC, where people could stand to win a limited edition Taro bbt keychain and 2 Gong Cha drinks just by sharing a photo of their favourite moments with their dad.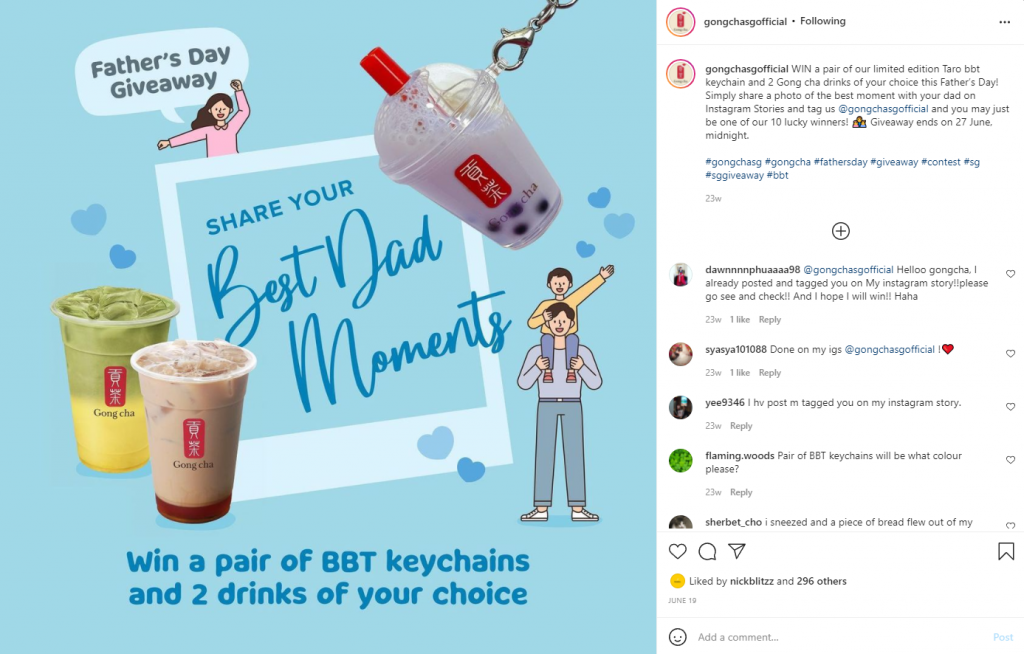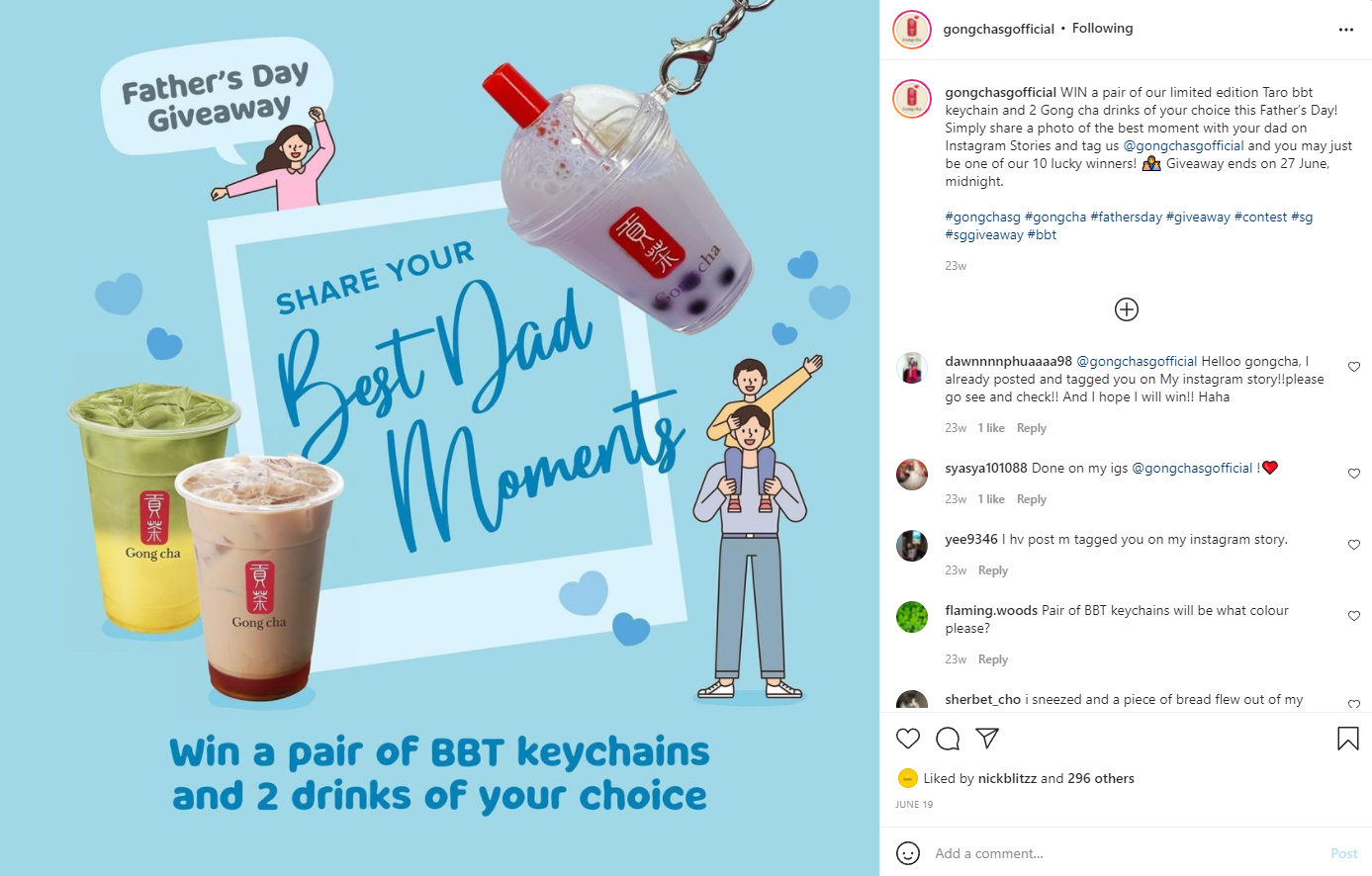 Source: Gong Cha on Instagram
Remarkably, Grab observed that F&B businesses with photos on their marketplace had up to 2x the number of sales! Their GrabFood Bank campaign in 2020 sought to help out small F&B businesses who were unable to get professional photos. With 1,200 posts under #grabfoodphotobank, people posted Instagram photos of food ordered on Grab from these businesses and had a chance to win a $30 Grab voucher. A successfully cost-effective way for small F&Bs to get user-generated photos to populate their menus!
What Can You Do?
Create promotions like 1-for-1, 10% off your next meal with this promo code, or discounted prices on a specific day/period of time. Or set up prize pools, games or surprise offers to boost engagement and outreach even further!
2. Take advantage of online reviews
Difficulty: ★☆☆ (Easy)
Positive word-of-mouth marketing is one of the strongest strategies for F&B businesses. Tip: people trust other consumers' opinions more than yours!
So ask your customers to post their reviews on Google, your website or your social media profiles. Reposting their positive reviews and testimonials can even establish good relationships with your customers and increase your own credibility.
Remember – people like being heard! Having their feedback acknowledged can appeal to their sense of loyalty (or at least, their ego!).
Unfortunately, online reviews are not always positive. But turn that frown upside down! Good customer service recovery is essential for your reputation so send positive vibes to negative reviews. You just might be able to turn around the customer's opinion or convince them to return. Or show other potential customers that you genuinely care about customer feedback.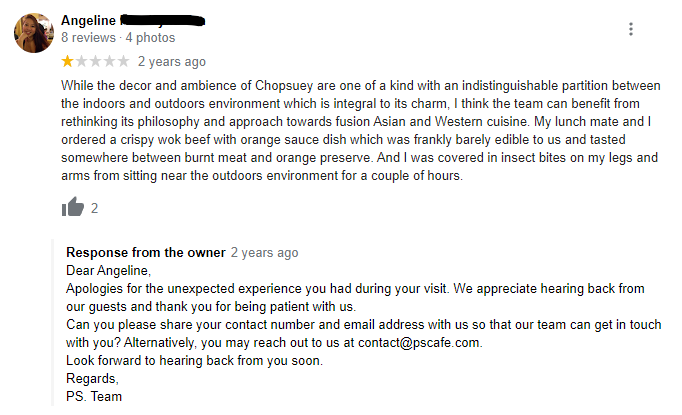 Source: Chopsuey Cafe at Dempsey, Google Reviews
What Can You Do?
Incentivise your customers to leave reviews with discounts or coupons on their next meal (or any other promotions). Also put a positive spin on negative reviews by responding with good customer service! Remember to validate their feelings, ask questions and try to solve their problems.
Tip: never respond rudely to negative reviews. It doesn't end well. You'd be better off not responding at all.
3. Utilise Google My Business
Difficulty: ★★☆ (Medium)
Google My Business is a powerful free tool that will improve your local SEO and increase business visibility. With essential information readily available, potential customers can then have a better understanding of your business, find directions and see what you have to offer.
Benefit from advanced features like review management, insights and bookings. Online reservation tools can help you be easier to access as people can book tables online. And boost your search performance with both high quality and high quantity photographs!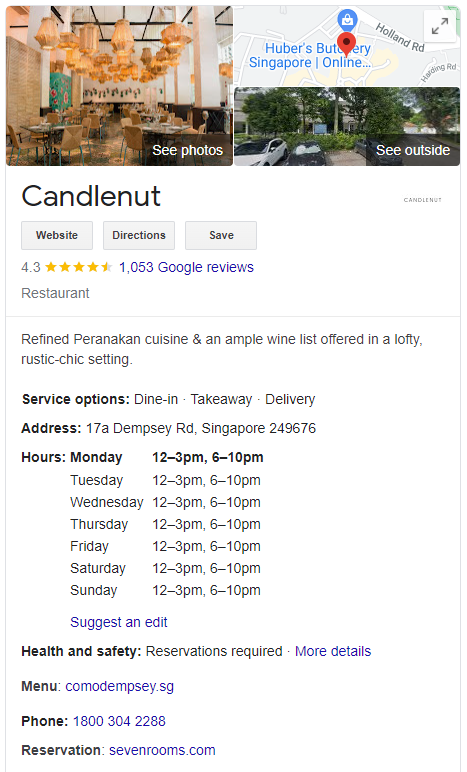 Source: Candlenut, Google My Business Profile
You may even be able to appear in the local 3-pack search (aka the three relevant suggestions that appear just under paid ad searches on the first Google page). This feature gives you high visibility and taps into a very large potential customer base. Value for no money! We don't see any downsides.
What Can You Do?
Just register an account on Google My Business, claim your business, fill in information and that's the basics done! It's that simple. Definitely include information like your website, phone number, operating hours and location. And make sure these are consistent! Don't want to confuse anyone, do we? You can also enable reviews or integrate a reservation feature to increase accessibility and credibility.
Still confused? Here's a "Complete Guide to Google My Business" for a bit of help.
4. Social Media & Food Photography
Difficulty: ★★☆ (Medium)
Social media marketing is a large part of digital marketing. So post on your social media channels, specifically of the food you serve at your F&B. After all, good food photographs are worth a thousand words! Appetising images can effectively boost the appeal of your business because people retain more memory of images than they do of words (and because they're drool-worthy).
Tie your brand image with your delicious food photographs! Plus, images can also be re-used over your website, social media platforms and physical collateral and more! It's a 3-for-1 deal, thank you very much! You can also take the opportunity to create Instagram Stories to engagingly showcase your food or promote new posts.
Look at Taiwanese Fusion restaurant, Tai Feng Wei, who take their own photos of their dishes to post on their Facebook and Instagram pages. They also repost photos and testimonials from their customers.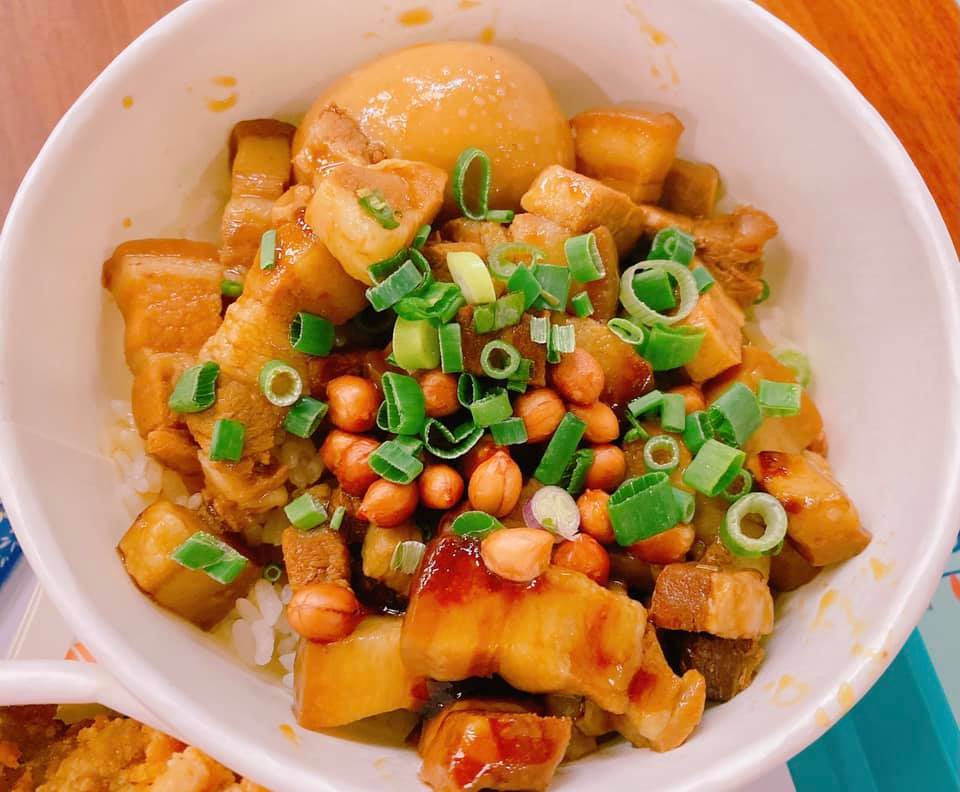 Source: Tai Feng Wei on Facebook
What Can You Do?
There are a few ways to create food photographs to post on social media. First, DIY-it! Take a pic using your own camera or smartphone and attract the interest of potential customers (and cost-efficiently, too!). Just remember that there's some limitations on quality.
Or, as we've mentioned before, use the content your customers create! Reshare or repost their delicious looking photos (with their permission) to engage with your community!
If you're able to put a little budget behind it, hire a Studio or a Food Photographer to take professional food photos. On the downside, external assistance and higher costs… but check out the finger-licking high quality! It is worth noting that normally prepared dishes that look delicious in-person may not translate well on camera. Professional food photographers will know the right angle, lighting and style to showcase your food in the best light.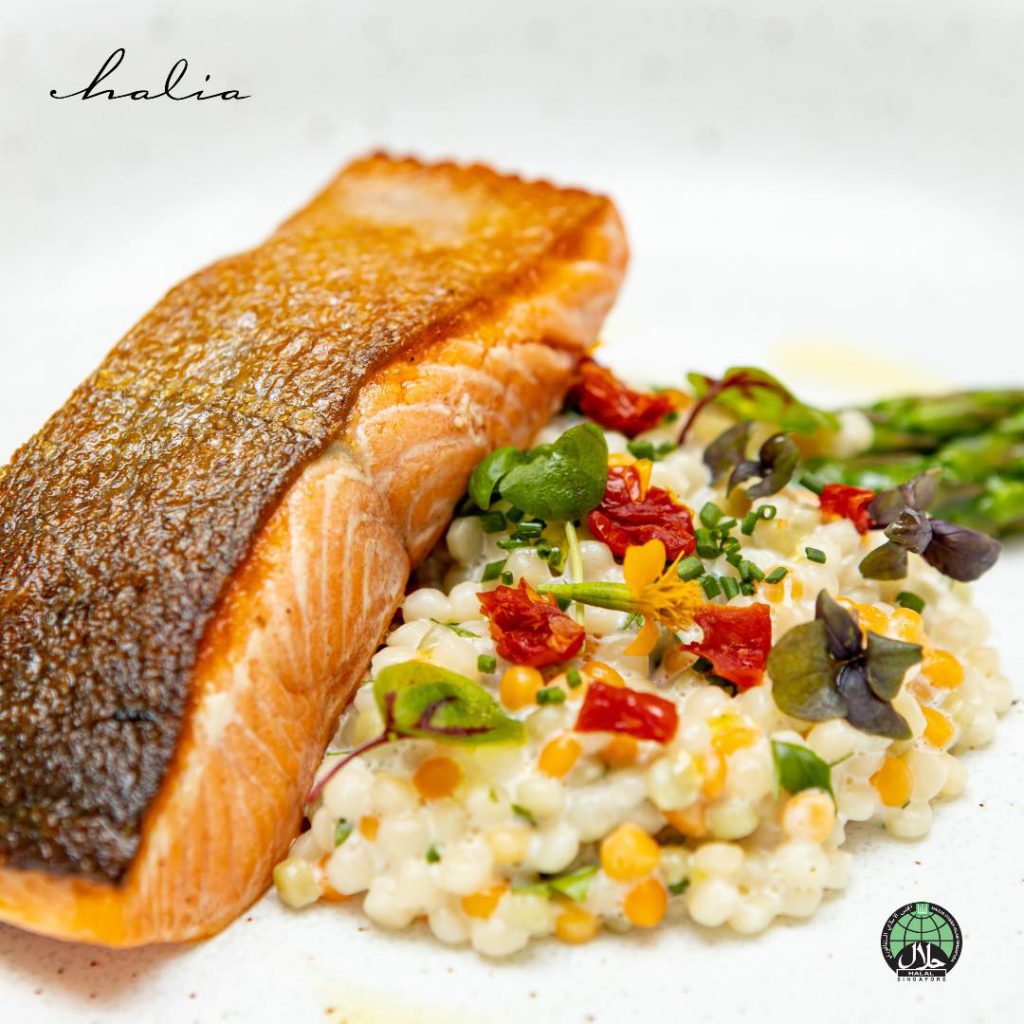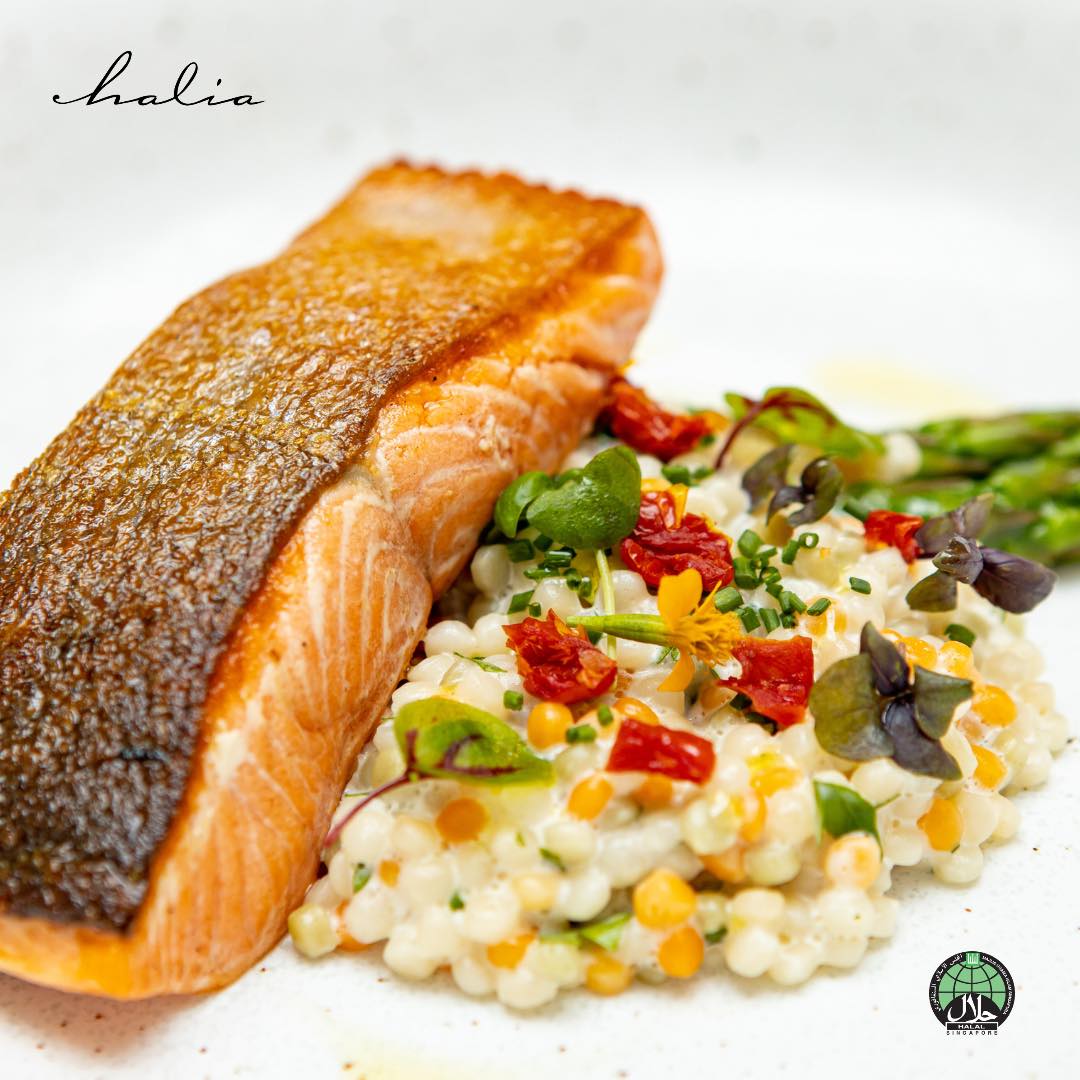 Source: The Halia on Facebook
5. Partner with Food & Promotions Apps
Difficulty: ★★☆ (Medium)
Partner with 3rd party food and promotional apps so you can distribute your discounts and promotions very easily. Apps like Fave, Chope, Eatigo, Grab, Foodpanda and Deliveroo provide customers with additional promotions and/or delivery options. With COVID-19 and many restrictions still in place, people are looking for delivery options (convenience is great, isn't it?).
Tap into an already existing customer base without exhausting many resources (hooray!). And if you are eligible, you may be able to get featured on top charts within the app, increasing your visibility. For example, GrabFood's 5-Star Merchant Program rewards eligible businesses by putting them on a dedicated carousell.
By the way, did you know that EPOS' systems can integrate with GrabFood for optimised business processes?
What Can You Do?
Contact the third-party app(s) of your choice, sign up a business account and get started! It's fuss free and straightforward. Send out promotional campaigns, manage your online ordering and see what insights these apps can provide you!
Here are some links to Grab, Foodpanda and Deliveroo to get you started.
Conclusion
The key is to be consistent! Don't just use these strategies for a period of time and forget about them. When it comes to digital marketing, it's important to consistently engage, otherwise you'll risk losing customer relationships.
We hope these 5 different digital marketing strategies will help you when growing your F&B and your community! If you want to learn more digital marketing strategies, look out for Part 2 of this series, coming soon!
• Written by Adrija Chakravarti