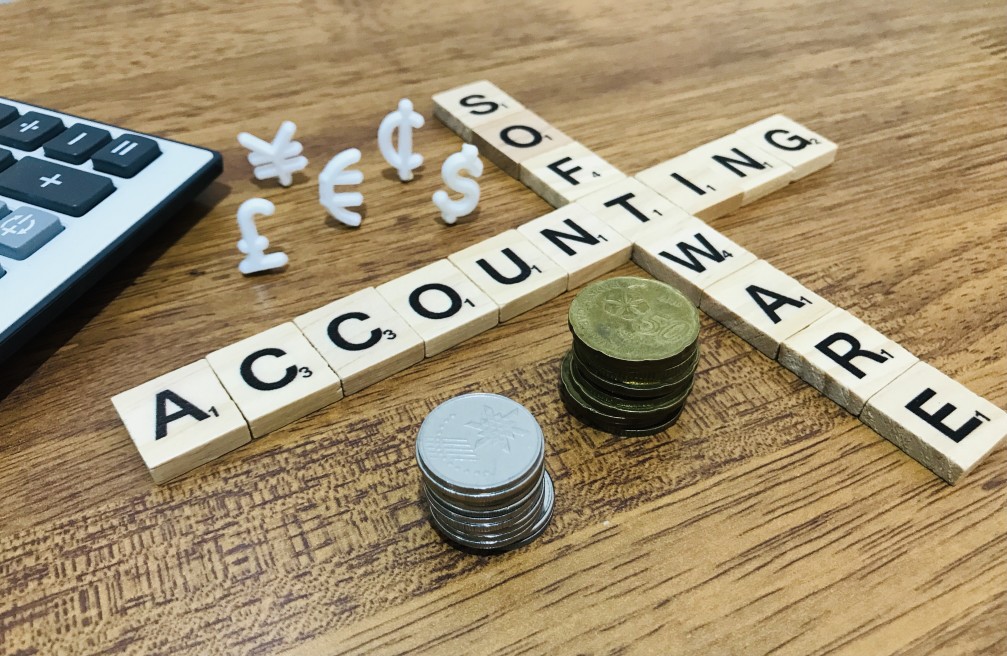 Whether you're a small, medium or large business, managing finances can be taxing and time-consuming. Therefore, finding the right accounting software for your business can save you time, energy and money when it comes to invoicing, monitoring expenses and tracking transactions. That way you can avoid calculation errors that often come with manual entries and be rewarded with automated reports and updates.
With features ranging from powerful finance tools to project management to full ERP services, accounting software can be varied in what they offer.
So we've come up with a list of the 6 best accounting software in Singapore, so you can explore which one will help you better manage and grow your business.
1. Xero Accounting Software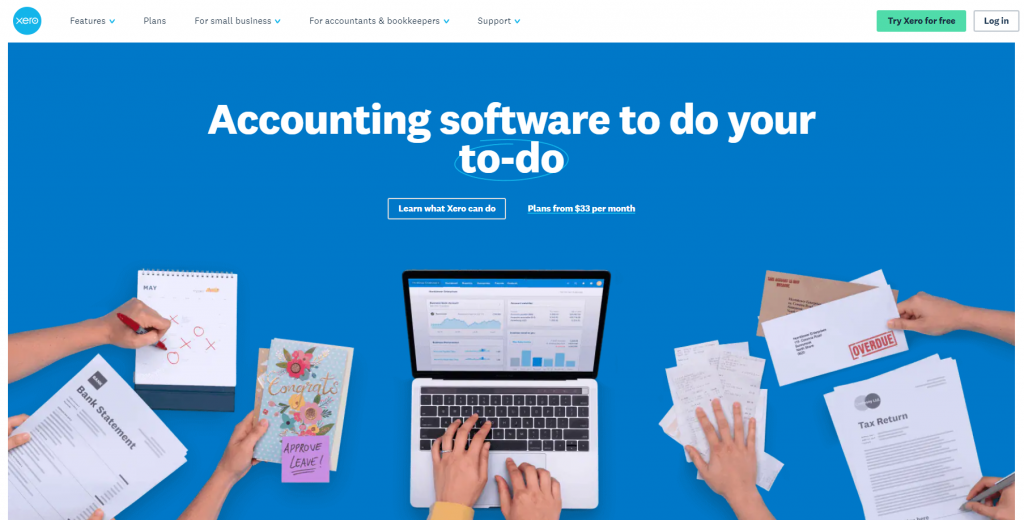 Pros
+ Intuitive and easy to use, even if you're new to accounting
+ Secure, well-built mobile apps for on-the-go
+ Hundreds of integrations for extra features
Cons
– Limitations to invoices and bank transactions in the basic plan
– Added costs if you work with multiple currencies
Xero is a well-designed, intuitive and easy to use accounting software that provides finance and business functions with security and flexibility. With sturdy mobile apps, you will have the flexibility to view and manage your business transactions and productivity on the go.
Their most popular plan is the Standard plan, which is suitable for growing small businesses. With this plan, you can send unlimited invoices/bills and reconcile bank transactions. Xero also automatically adds tax calculations based on IRAS regulations, so you will always be ready for tax season. Unfortunately, their Starter plan has restrictions so you can only send 5 invoices/bills and reconcile 20 bank transactions.
If you work with multiple currencies, you can choose to upgrade to the Premium plan. With multi-currency accounting, you can pay or get paid in more than 160 currencies and with instant currency conversions. However, this is the only new feature added in the Premium plan, which means you will have to pay extra costs just for this multi-currency handling.
Looking for integrations to better utilise the features offered or add new ones? Xero Expenses can track expenses from claims to reconciling transactions, while also receiving up-to-date analysis reports on your expense history. Xero Projects adds project management, allowing you to track time and monitor projects through budgets, purchase payments and deposits.
Or you can try out Analytics Plus which is free until 31 January 2022, after which the subscription fee will be added onto your existing plan. With this, you can better track your short term cash flow and see predictions based on the data inputted.
Xero also provides integrations with hundreds of third-party applications for enhanced inventory management, CRM, payroll, payments, invoices, time tracking and more. These integrations include Zapier, PayPal, Square, Shopify and Hubspot, just to name a few.
Integrate with EPOS: When you integrate Xero with EPOS' POS systems, it seamlessly creates a sync between software for product, inventory and transaction information. So when you process orders through the POS, it tracks the same difference in inventory in Xero. Similarly, any tax or payments made through either system will be reflected, so you won't have to worry about any discrepancies.
Also, If you're looking to buy a subscription for Xero, EPOS can provide DISCOUNT COUPON codes. Call us at 84821888 to find out more.
2. Quickbooks Accounting Software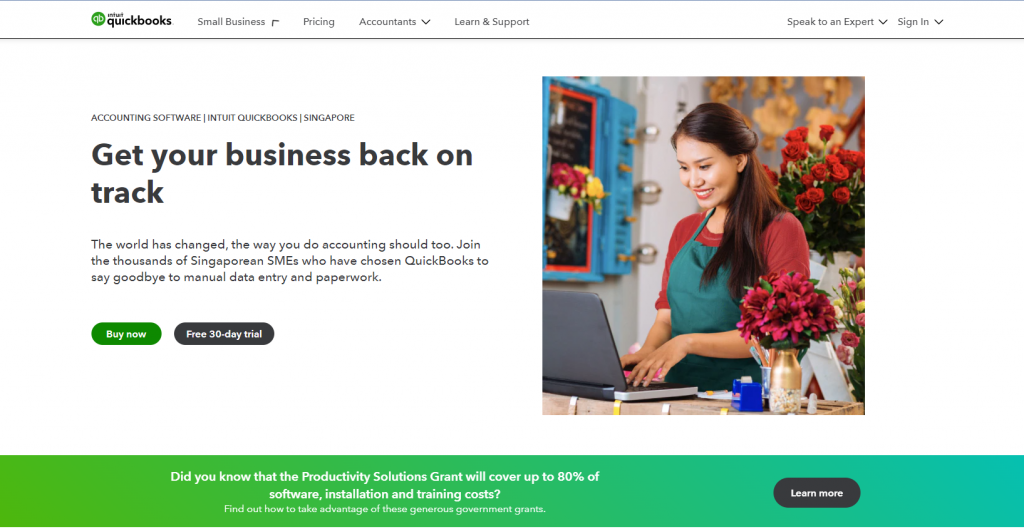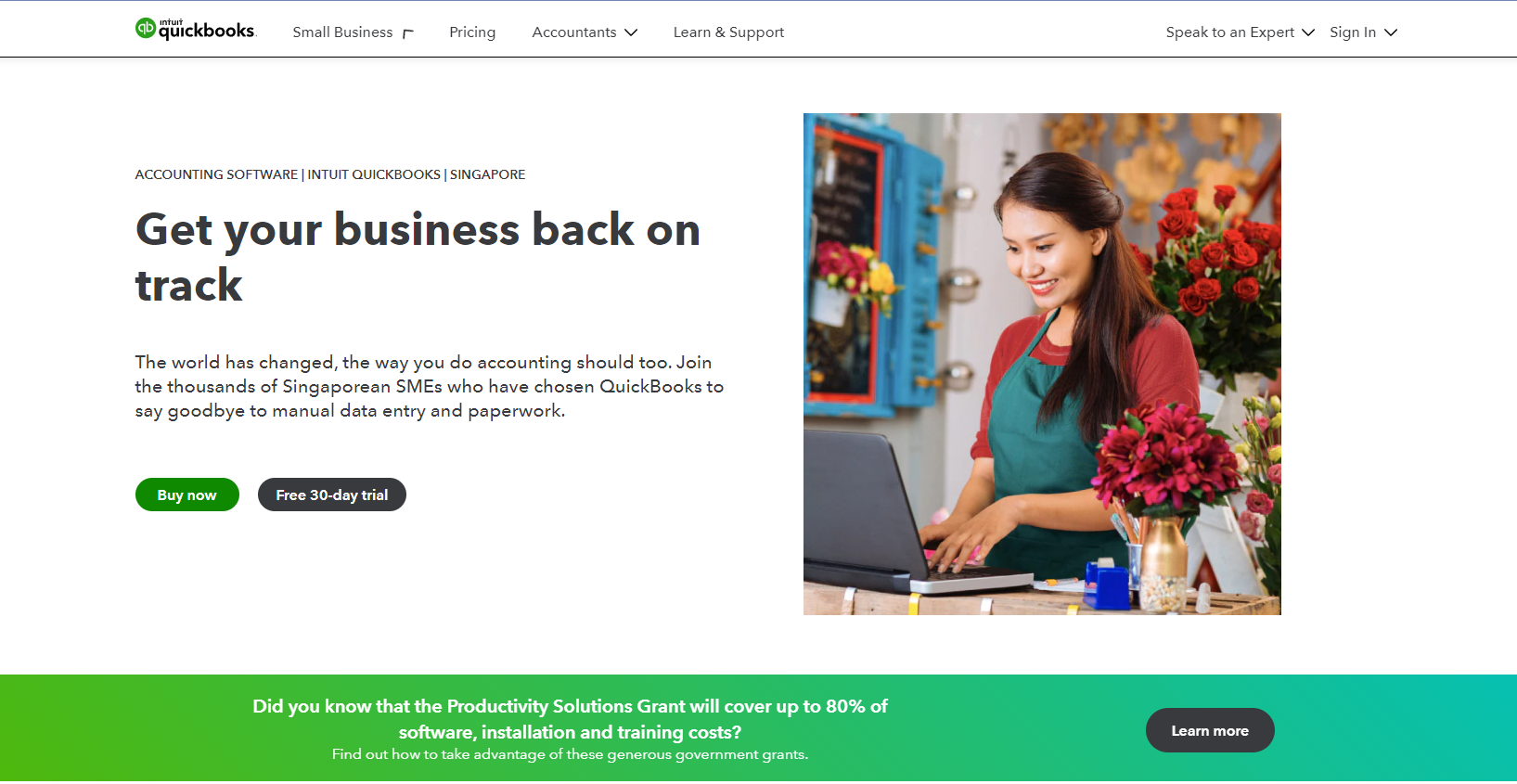 Pros
+ Robust reporting and insights
+ Strong project and inventory management features
Cons
– Several versions for Quickbooks Desktop
– Steep learning curve if you are new to accounting
– Limited number of users on one account
Quickbooks is one of the most well-known accounting software used by businesses of all sizes. With it, you can store and analyse financial data, manage employees, inventory and projects/locations easily. Upgrade and downgrade plans on Quickbooks as you need, so you'll have access to the features you require the most.
For very small businesses or freelancers, the Simple Start plan allows you to send unlimited custom invoices, track income and expenses, and track tax.
With a simple upgrade to the Essentials plan, you get additional features such as generating robust insights and reports, like balance sheets and cash flow charts, and managing employees through project management and time tracking. You can also buy and sell in over 145 currencies with automatic currency conversions.
Popular features from their Plus plan include budget tracking, inventory management and project/location tracking. With these features, you can filter your data by project and/or location to how each of their expenses, invoices and payments are doing.
Quickbooks also provides their own integrations with Quickbooks Payroll, Quickbooks Time or Quickbooks Payment to supplement additional features. They also offer integrations for a large variety of third-party apps like Shopify, WooCommerce, MailChimp and Paypal.
As with any software, Quickbooks has a few downsides. With one user plus an accountant on their Simple Start plan and up to a maximum of 5 users plus an accountant on the Plus plan, there is a strict limit to the number of users you can have accessing one account. And unlike other software, like Zoho Books and Freshbooks, which also restrict users, Quickbooks does not offer more users for an extra fee.
Additionally, with several versions of Quickbooks Desktop available, it can be difficult to find out the right one for you. Each version caters to specific industries and even adds extra industry-specific features, so you'll have to check them out on the Quickbooks website for more details. Yet, this can be a good thing once you figure out which version is right for you as it will provide you with the features best suited for your industry needs.
For users who are new to accounting or the software, Quickbooks can be a bit of a challenge to learn, but after getting more familiarised, it's an intuitive and easy to navigate accounting software. Fortunately, with its popularity, there are countless experienced accountants and bookkeepers who are able to provide any assistance required. Similarly, there are many helpful communities where you can ask any queries.
Integrate with EPOS: Like Xero, you can seamlessly integrate Quickbooks with EPOS' POS systems for information syncing of product, inventory and transaction information. You can even sync customer profiles so when you are managing orders or invoices from either system, you can have customer information readily available. Or connect outlets in EPOS to locations in Quickbooks to better organise your business. With no need to manually enter or transfer information, you can rest assured that your data is accurate and secure.
3. Sage Accounting Software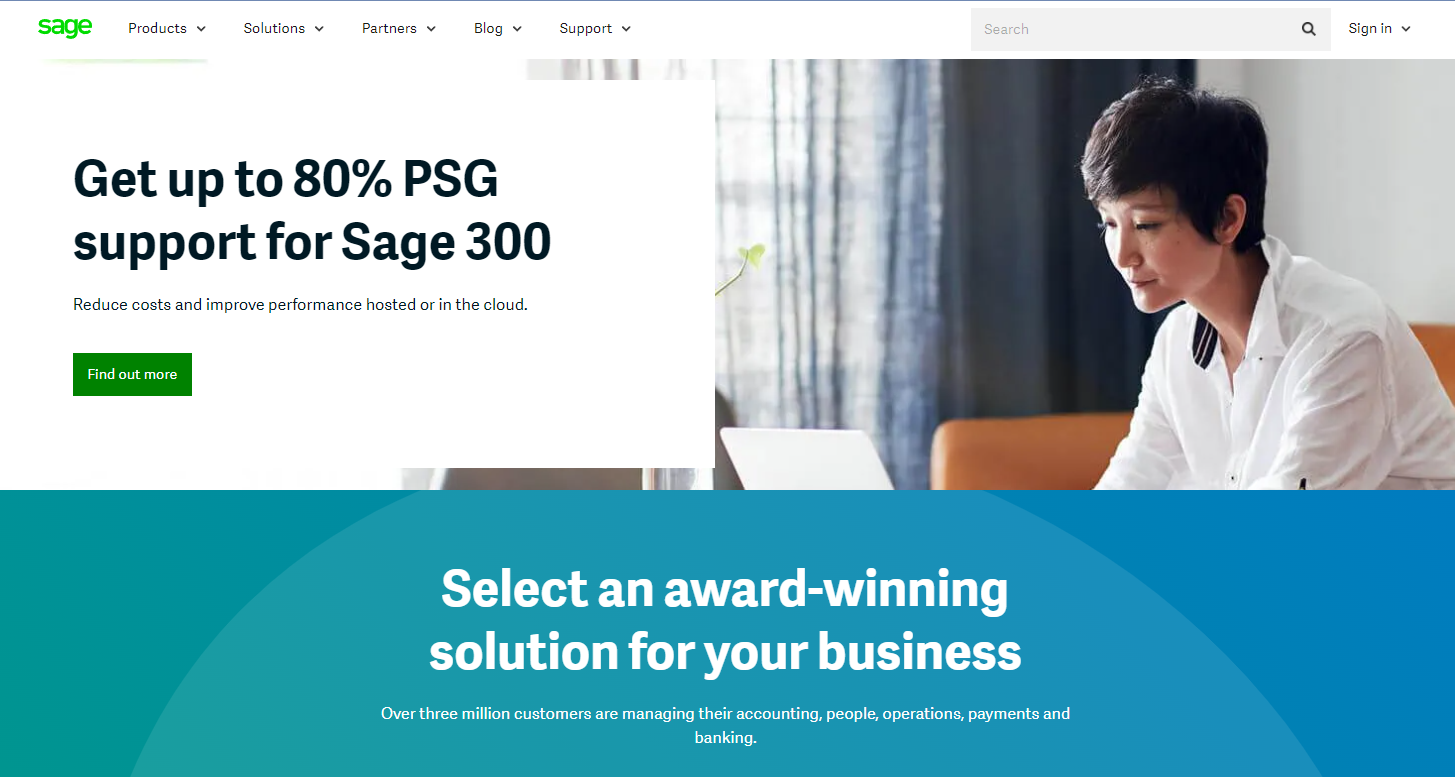 Pros
+ Robust, in-depth analytics
+ Well-rounded and scalable
+ Secure cloud-based software
Cons
– Limited dashboard visibility with only 6 modules
– Can be expensive
– Steep learning curve, requires some training
Sage 300 is a full service ERP software best suited for mid-sized businesses or businesses that are looking to scale up. With advanced modules for accounting and finance, human resources, project management, procurement, manufacturing and more, you can run your business end-to-end with Sage 300.
You can easily track your accounts, sales invoices and inventory, and view your business and productivity growth through a single customer view. Their accounting module provides you with budgeting, financial reporting and easy tax reporting features. Powerful Accounts Receivable (AR) and Accounts Payable (AP) modules also make it easy to insert and retrieve information.
Or you can reduce the amount of admin work with Sage 300's PEPPOL ready software so you can send e-invoices to customers with no fuss. Integrations with Sage CRM and Sage Intelligence provide you with better customer service, visual data charts and customisable reports to get better insights into your business.
However, though customisable, Sage 300 allows you to only view 6 modules on the dashboard. This limitation may be an issue if you want to view multiple overviews on one page without generating reports.
An important thing to consider is that Sage is on the higher end in terms of the pricing list, in comparison to the other software in this list. This is why it is geared towards businesses who are medium sized or scaling up. To know more about the price, you'll have to contact Sage as the packages are by quote.
Sage also has a steep learning curve, especially for more advanced features. View their courses designed to fit into your busy schedule, and attend webinars to learn more about their features and new advancements.
4. Zoho Books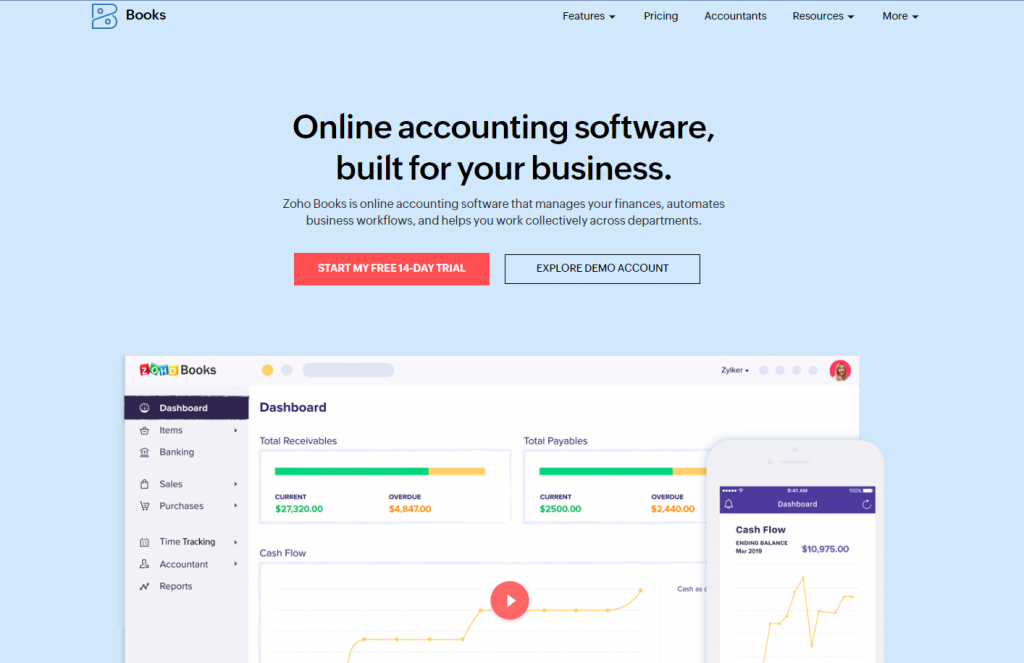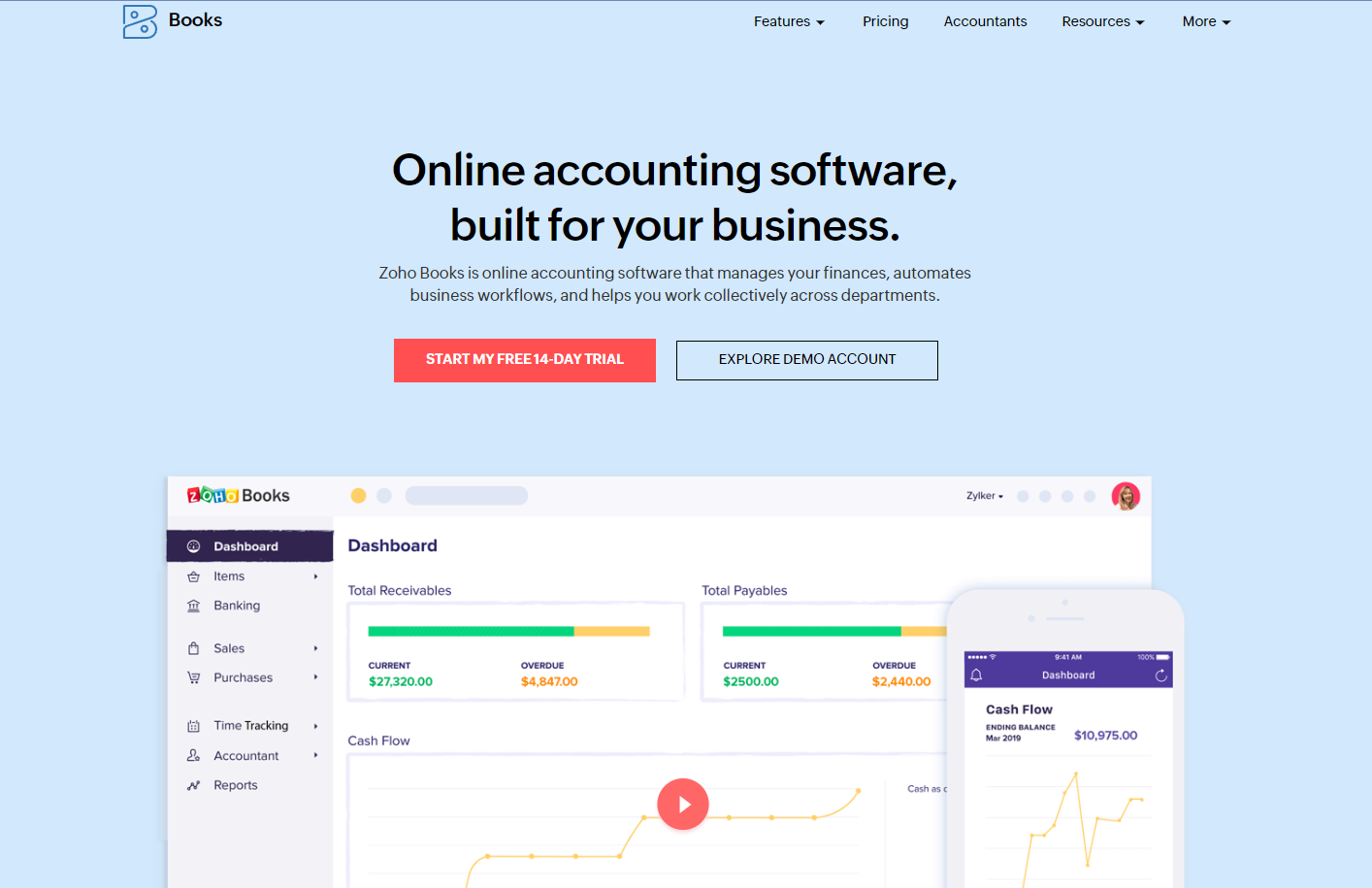 Pros
+ Robust free plan available for eligible small businesses
+ Customisable invoices to fit your brand identity
+ Easily generate reports how and when you want them
Cons
– Restricted number of users, even in the Premium plan
– No payroll services offered
– Limited third-party integrations in comparison
Provided by Indian based SaaS company Zoho Corporation, Zoho Books is an end-to-end online accounting software that will help you automate your business workflows and manage your finances.
If you're a very small business and earn under 50K USD per annum, you may be eligible for the free plan. This plan has a variety of the essential features and allows up to two users to access the account, usually you and your accountant.
With sturdy mobile applications, Zoho Books supplements your accounting needs on the go so you can manage your business off-premise.
Automated data entry and document tracking is also made easy with the auto scan feature. This feature will scan and take the relevant information from documents you attach, so you don't have to manually enter data.
Additionally, with customisable templates, you can take invoicing to the next level. Send professional looking invoices with your brand logo, preferred fonts and colours. You can also set these invoices to be sent on loop for recurring payments.
With Zoho Books, you can generate various types of reports from tax reports, cash flow statements to balance sheets. There are countless templates to choose from and you can even customise the types of information you want to appear. Depending on your needs, you can also schedule reports, whether that's weekly, monthly or quarterly. If you're looking for deeper insights by a dedicated analytics program, you can try Zoho Analytics for seamless integration.
However, Zoho Books does have a few disadvantages. For one, Zoho Books limits the number of users that can access the account. Even with the Premium plan, that number is capped at 10 users and while you can pay a monthly fee to add additional users, it could be problematic and the costs can add up.
Also unfortunately, unlike its competitors, Zoho does not offer payroll services in any of its offered plans nor any official third-party integrations. This can prove to be problematic for many businesses that want to manage payroll under one software.
In a similar vein, in comparison to the other software in this list, Zoho Books have a limited number of third-party integrations. The ones they do have include Zapier, Paypal, Stripe, Office 365, GSuite and Twilio. However, they do provide an array of their own Zoho apps which can seamlessly integrate into Zoho Books and provide a variety of additional features.
Want to learn more about what Zoho Books offers? Take a look at their Demo account or explore all the offered features through their 14-day free trial.
5. Fresh Books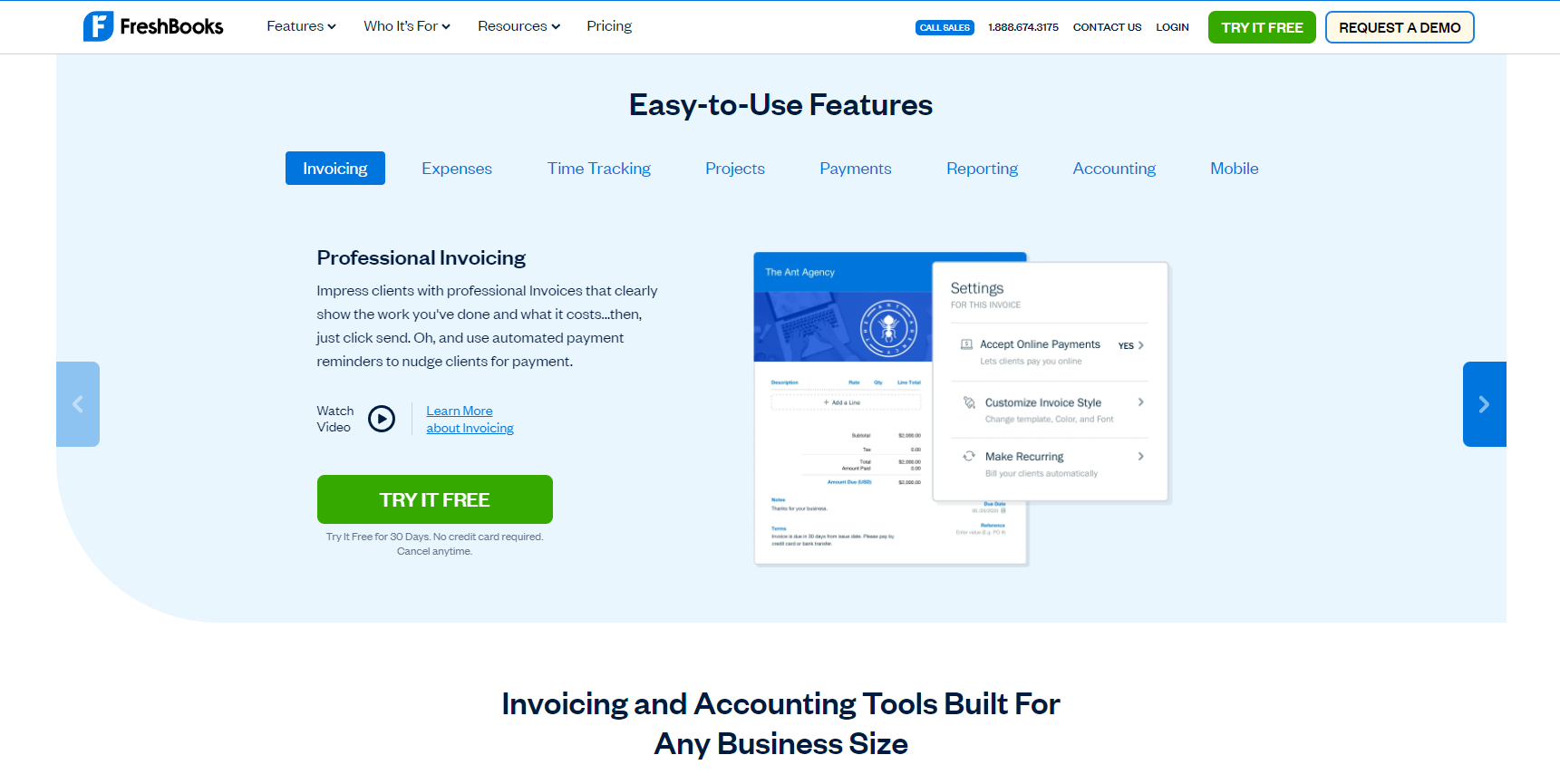 Pros
+ Unlimited, customisable invoices even in the basic plan
+ Easily add integrations
+ Powerful project management capabilities
Cons
– Limited number of users and clients
– No payroll or multi-currency services
Freshbooks is suited best for freelancers, self-employed professionals and very small businesses. Being both user friendly and intuitive to learn, Freshbooks provides several features that make accounting easy.
One advantage of Freshbooks over its competitors is the ability to send unlimited, customisable invoices even in the basic Lite plan. This is a huge plus because even other competitors like Xero either do not offer this feature in their basic plans or have invoice limitations. Additionally, you will have free, unlimited access to numerous customisable templates to easily create invoices that fit your brand identity and business.
With Freshbooks, you can also receive payment 11 days faster through credit cards online so you don't have to chase clients for cheques. Or streamline your processes much easier with Freshbooks' excellent project management features created to help with productivity. Plus, unlike Xero and Quickbooks, mileage and time tracking are offered on all plans if you don't want to purchase separate add-ons or integrations.
If you are currently using third-party apps or require them, Freshbooks supports over 100+ integrations including Shopify, PayPal, Google Suite and HubSpot.
Unfortunately, as it is created for small businesses and self-employed professionals, Freshbooks limits on user per account unless you pay an additional $10/user/month. Due to this, if you require more than one user to access the account, the costs will add up.
Freshbooks' limitation on the number of billable clients you can have is also quite restrictive. For example, if you have just a few more than 5 clients, you will still need to upgrade plans, even if you do not require the additional features in the Plus plan. Also, in the case of the Plus and Premium plans, the only difference is the number of clients it can accommodate and yet it is twice the price.
Thinking about using Freshbooks but still unsure? Take a look at their 30 day free trial with no credit card input to explore their features and see if it's the right accounting software for you.
6. ABSS (Formerly MYOB)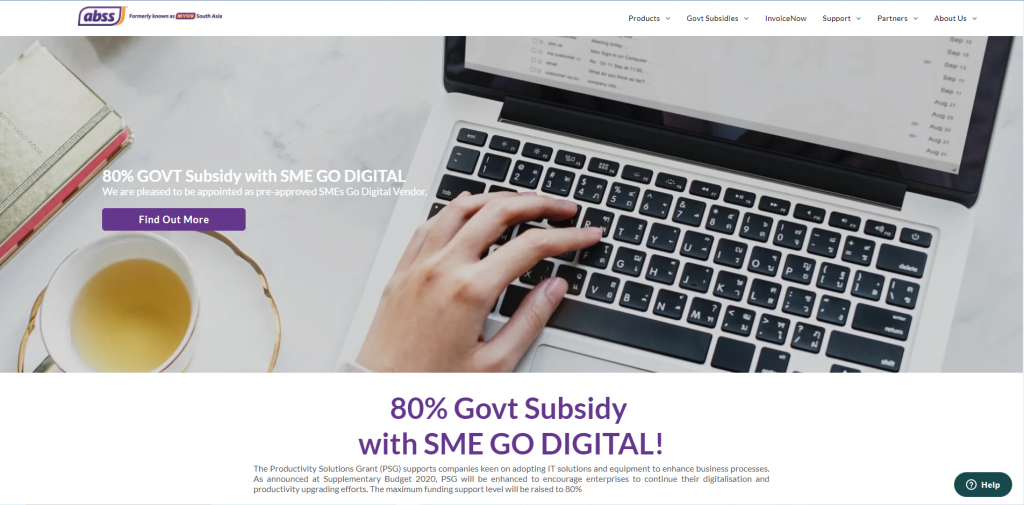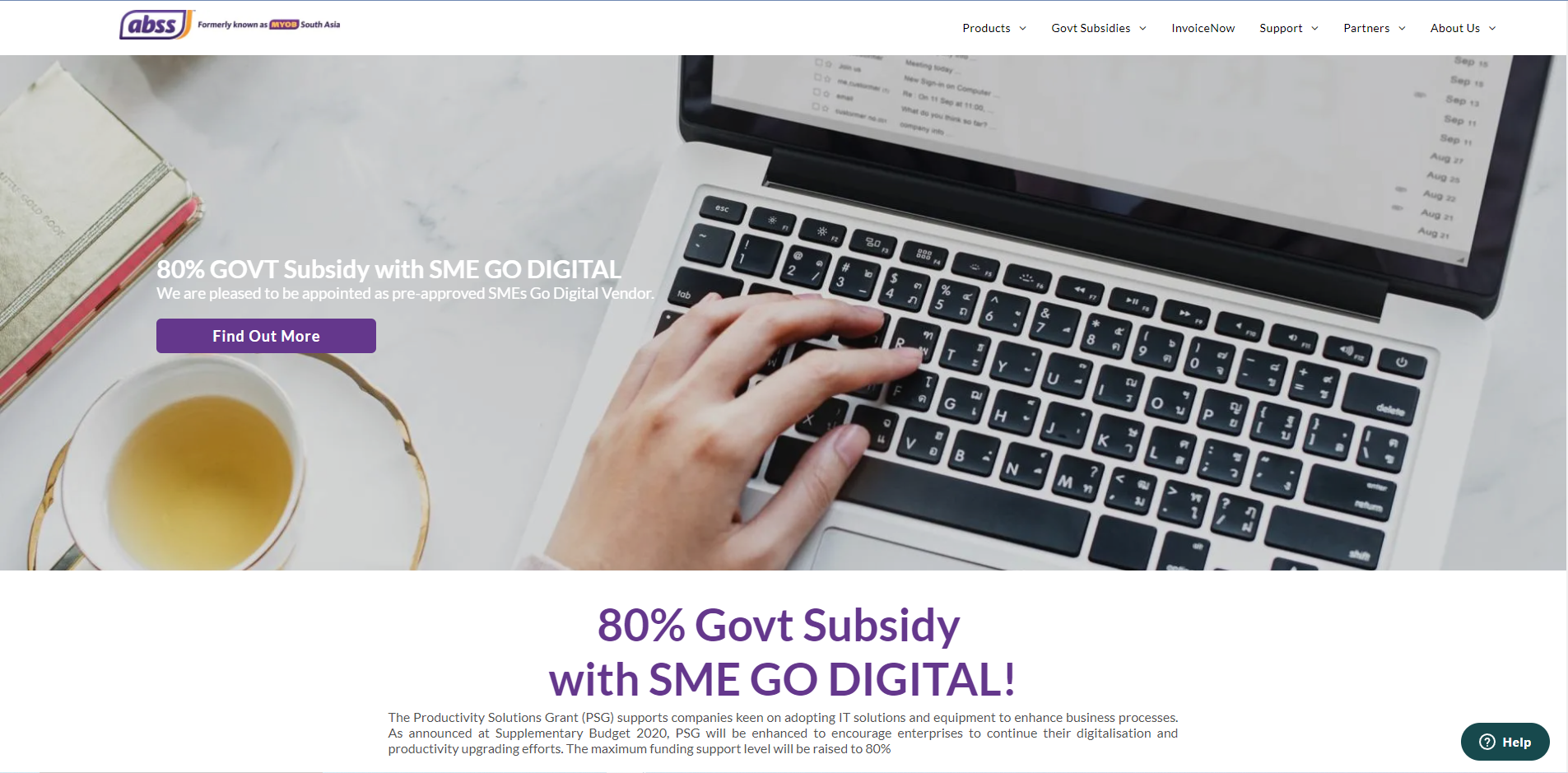 Pros
+ Easy to use
+ Robust selection of features
+ IRAS and ACRA compliant tax return automation
Cons
– Limited users with 15 users maximum
– No mobile app for easy access
ABSS, formerly known as MYOB, is best for owner-operators or small business owners since it is limited to one user for ABSS Accounting with upto a maximum of 15 users with ABSS Premier. ABSS Accounting is simple and easy to use with no complicated jargon, so you can spend less time figuring out your accounting and more time on your business.
With a robust selection of features including inventory management and powerful reporting options, ABSS is able to handle your business accounting needs with no issues. ABSS also provides a refined pricing matrix with five quantity breaks & six pricing levels so you can analyse and improve your inventory management by mapping pricing and sale strategies.
Improve cash flow visibility and ensure accuracy when you integrate your DBS bank accounts with ABSS Connect. You can also get IRAS and ACRA compliant tax return automation with ABSS Premier so you can easily keep track of your GST and automatically file your Form C-S and Annual Returns.
Unlike the other software in this list, ABSS is not subscription based, instead having a one-time payment for the license, which can be both a pro and a con depending on your requirements. Unfortunately, they also do not currently have a mobile app which can make reviewing your business on the go much more difficult.
If you're considering ABSS, explore their free trial now to discover the features offered and get a feel for the interface.
Conclusion
Well, there we have the 6 best accounting software in Singapore. Each of the software we have listed have features that provide ease and cost-efficient methods of accounting.
All in all, when choosing the right accounting software for your business, remember to take into consideration factors such as ease of use, scalability and cost. You will save a lot of time and money in the long run if you do so.
We hope it has helped you decide which software might be best suited for your business. If you have used any of the software listed above or know any other software, we would love to know your experiences.
• Written by Adrija Chakravarti