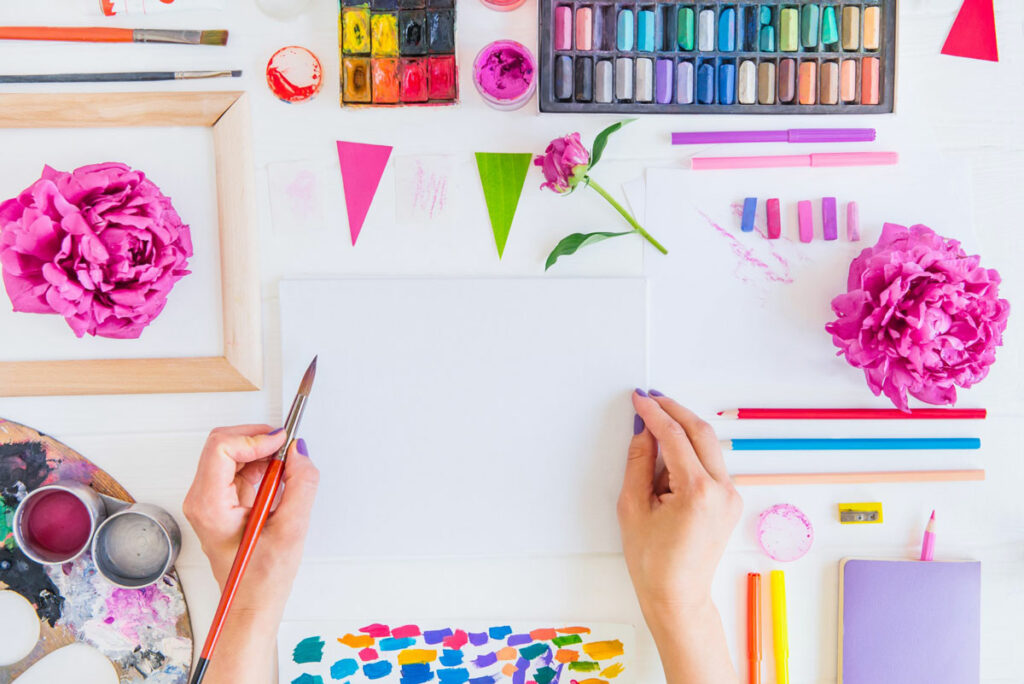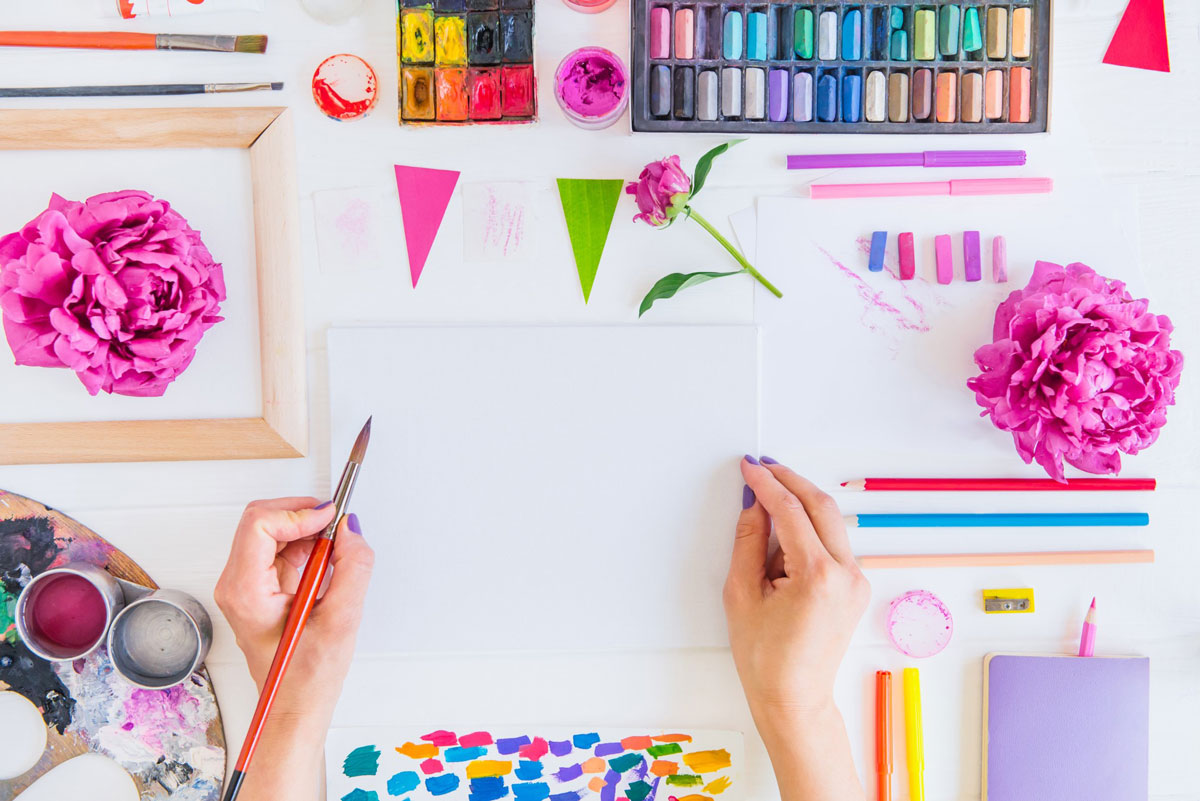 Creating art is a great skill to have; learning art is great for child development and even as an adult, it's a way to relax and give you a sense of accomplishment. But! In the end, what makes art really amazing is the freedom to create whatever you want with no boundaries, to unleash your creativity! It is your individual identity to create, your imagination to put down into the physical world.
So whether you or your kids want to draw a realistic portrait, create abstract art like Picasso, or just splash paint on a canvas, you can make that happen! To help you out on your artistic journey, here are 8 of the best art classes in Singapore!
1. Achiever's Arts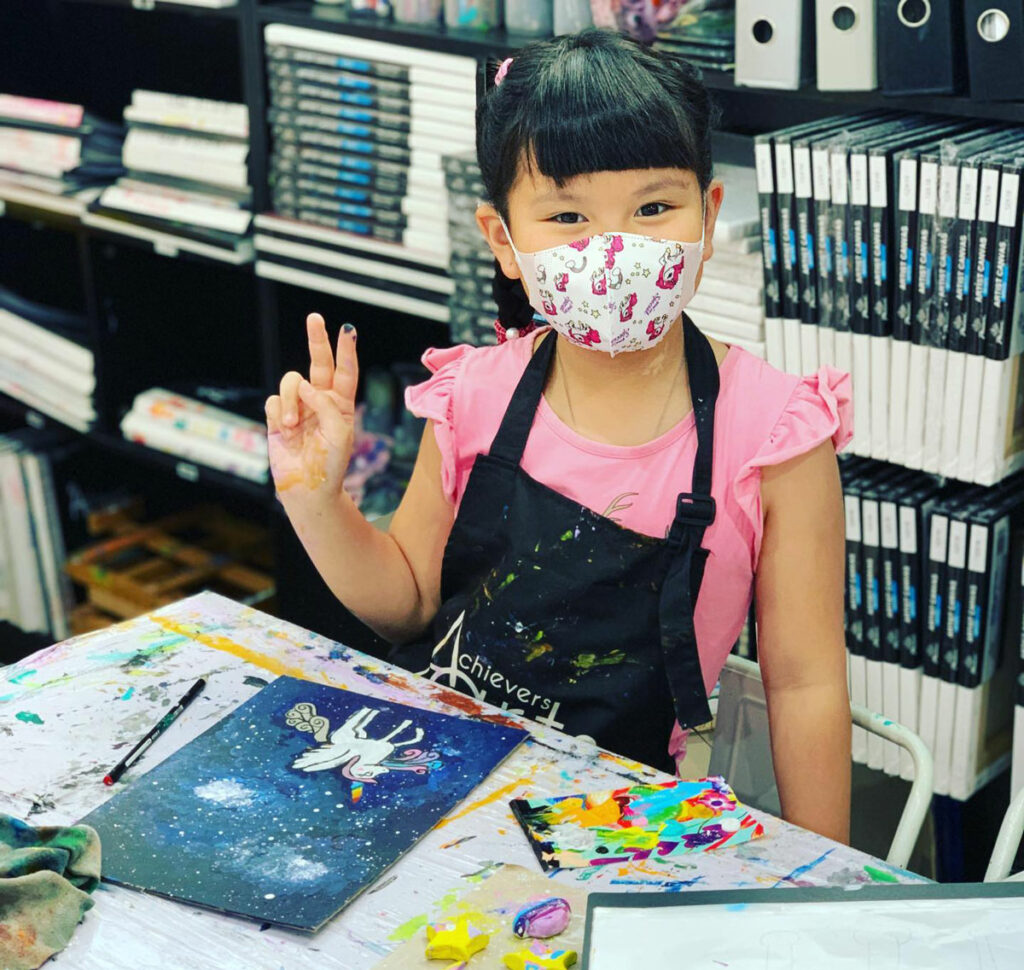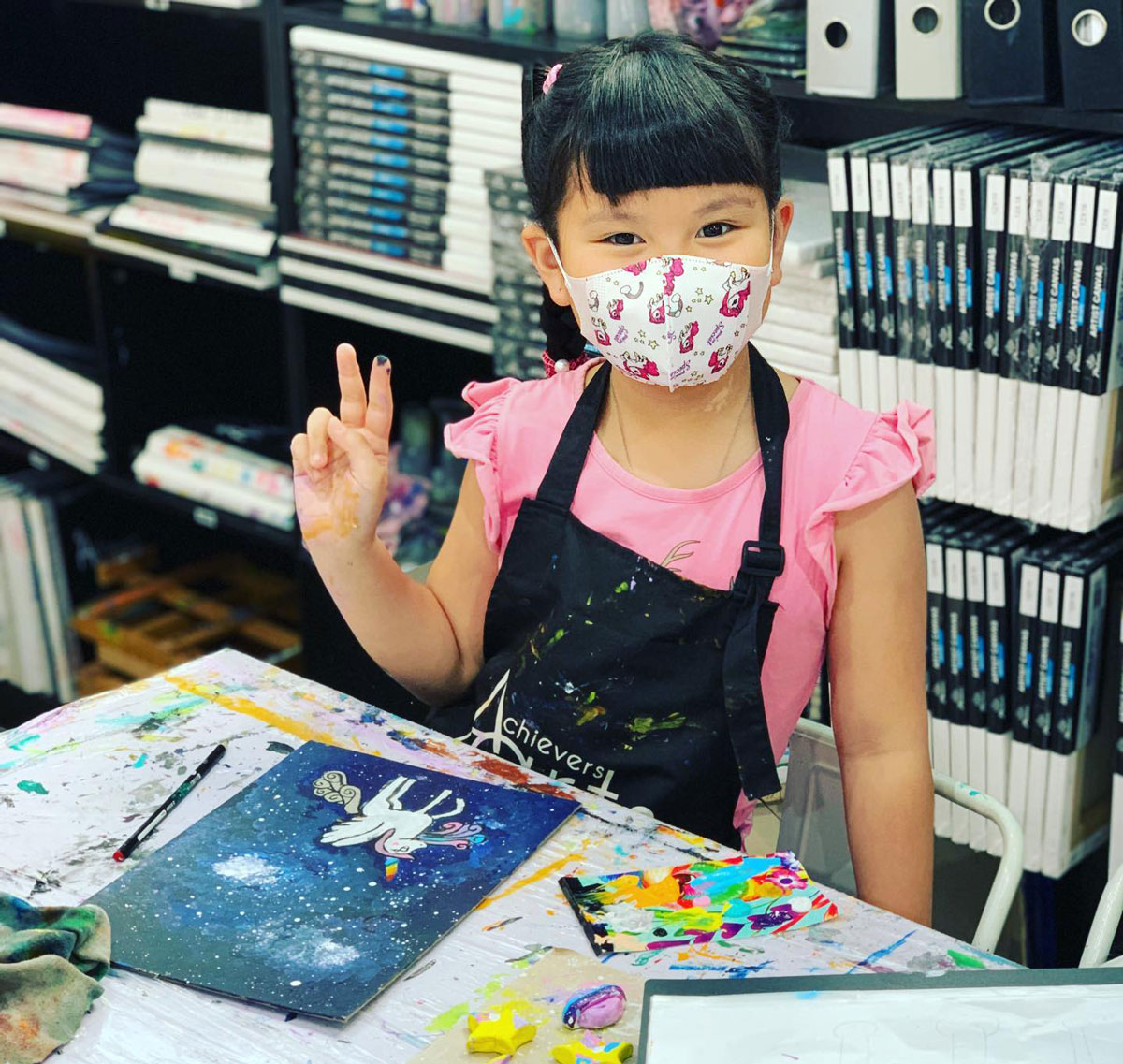 Source: Achiever's Arts via Facebook
Facebook: Visit Here
Instagram: Visit Here
Website: https://www.achieversarts.com/
Address: Locations
Operating Hours: Wed-Fri, 12pm-9pm | Sat, 9am-6pm | Sun, 9am-5:30pm
Achiever's Arts is the best place for young artists to join different art classes in Singapore. They can learn acrylic painting, brush lettering, clay sculpting, crafts, watercolour painting, even digital art and fashion illustration! Are your kids interested in manga? They can have a taste of being a mangaka with a manga drawing course! What's more, toddlers as young as 3 years old can become "artventurers" at Achiever's Arts Studios. They can also go for art camps and craft camps to further surround themselves in art. There's no shortage of creativity and fun here with these art classes!
2. Happy Art Loft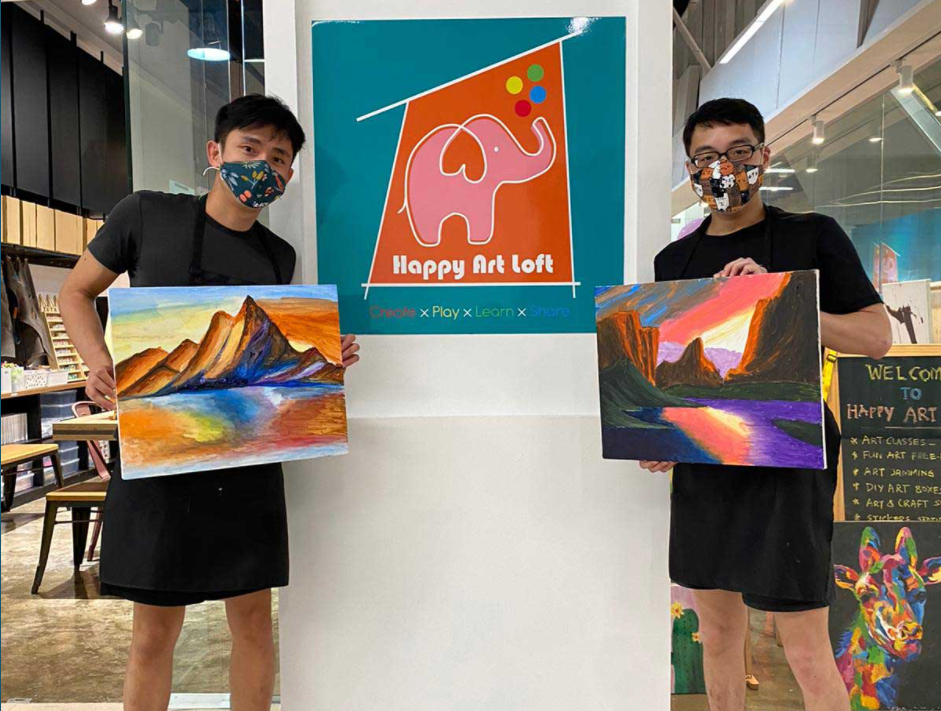 Source: Happy Art Loft via website
Facebook: Visit Here
Instagram: Visit Here
Website: https://happyartloft.com/
Address: 896 Dunearn Rd, Singapore 589472
Operating Hours: Daily, 11am-9pm
With well-designed, progressive art lessons, artists will learn how to express their creativity through various media and techniques. Happy Art Loft aims to be a welcoming place for any artist to produce their masterpieces in a safe learning environment. With art classes and DIY craft sessions for both children and adults, everyone can have a great, crafty time! Most importantly, Happy Art Loft wants people to "create, play, learn and share through art & craft". A great motto for artists to live by!
3. Artgrain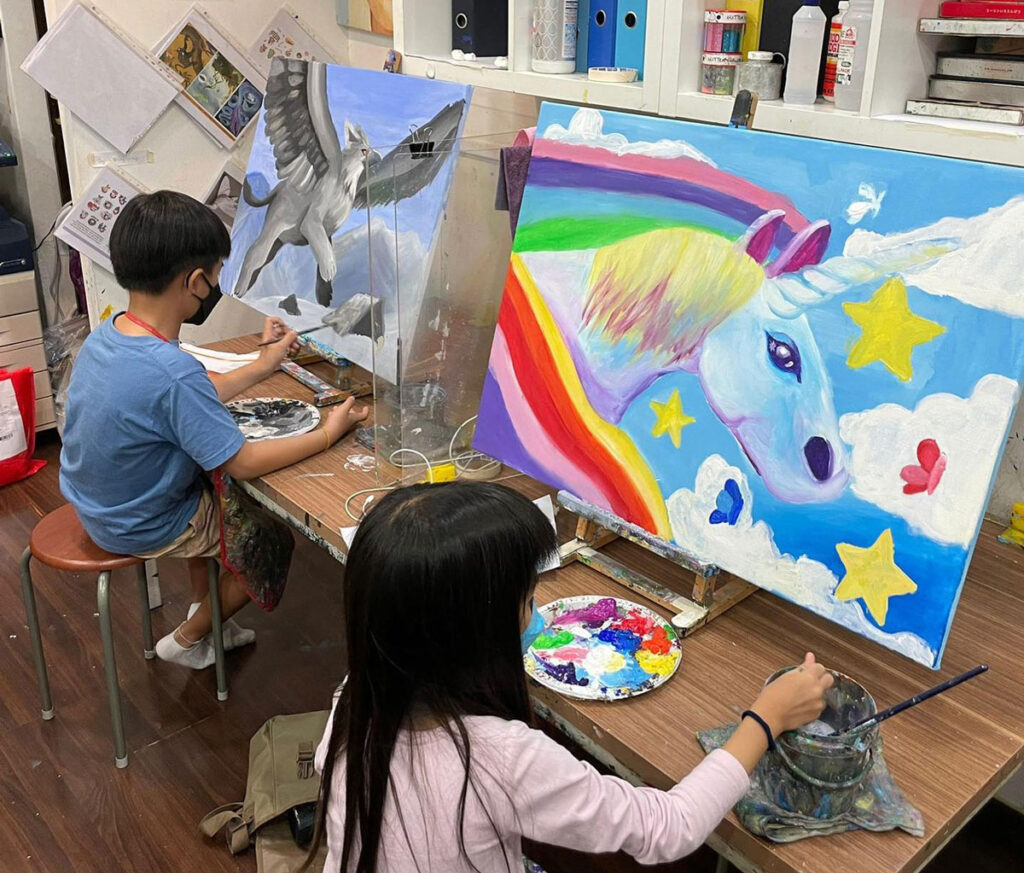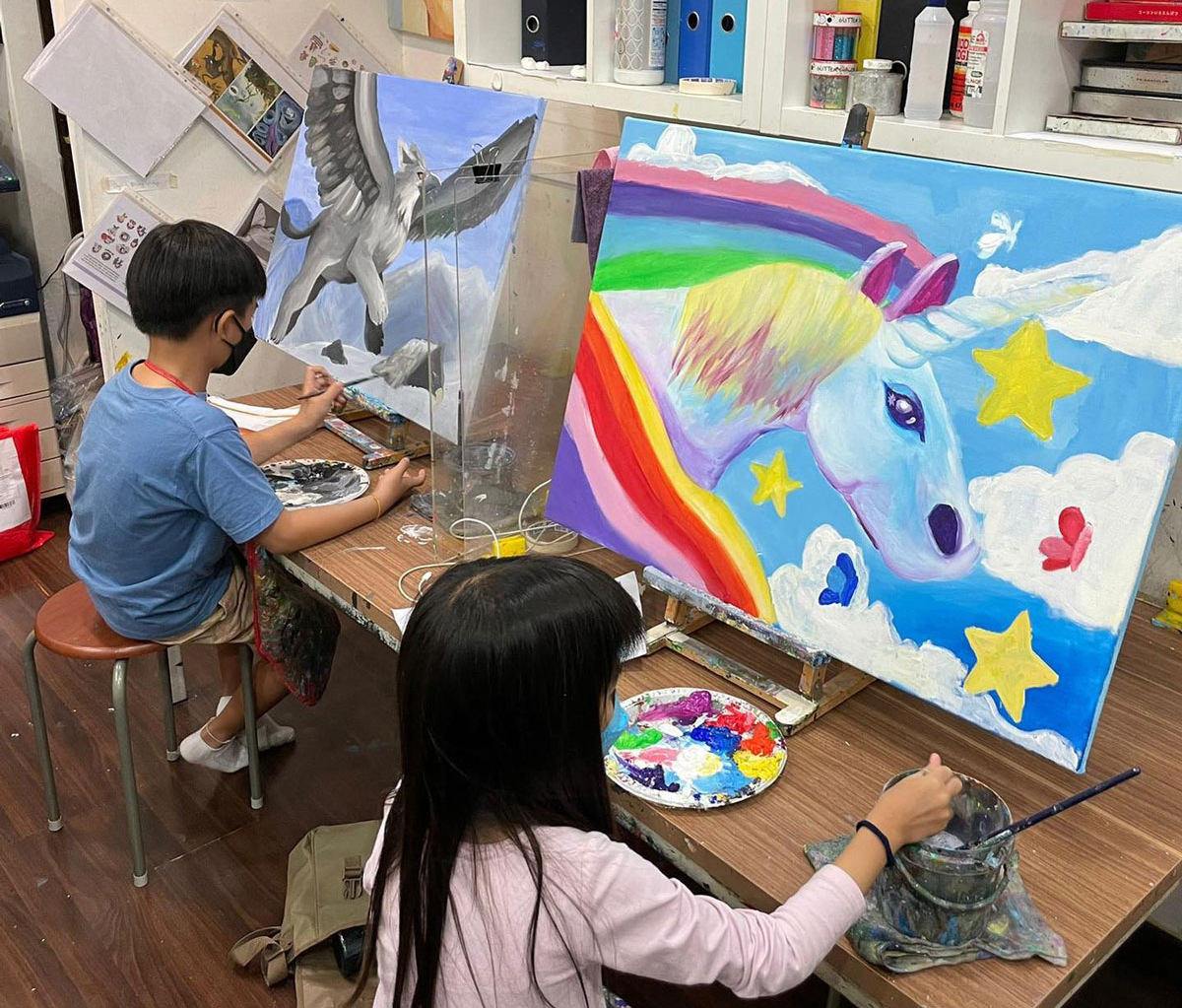 Source: Artgrain Studio via Facebook
Facebook: Visit Here
Instagram: Visit Here
Website: https://artgrain.com.sg/
Address: Locations
Operating Hours: Locations
Looking for art at your own pace? A challenge beyond your comfort zones? Artgrain believes art education is essential for a fulfilling life, and so they cherish children's ideas and thoughts. They push their students to try new things and explore their artistic potential in order to cultivate a sensitivity towards art. With clay and drawing classes, foundational and developmental art programs, creative classes and more, there's something for everyone. They even have adult art classes for you to embrace art in your life! With small classes, each student has plenty of opportunities and attention to grow as an artist. No wonder Artgrain has some of the best art classes in Singapore!
4. Little Artists Art Studio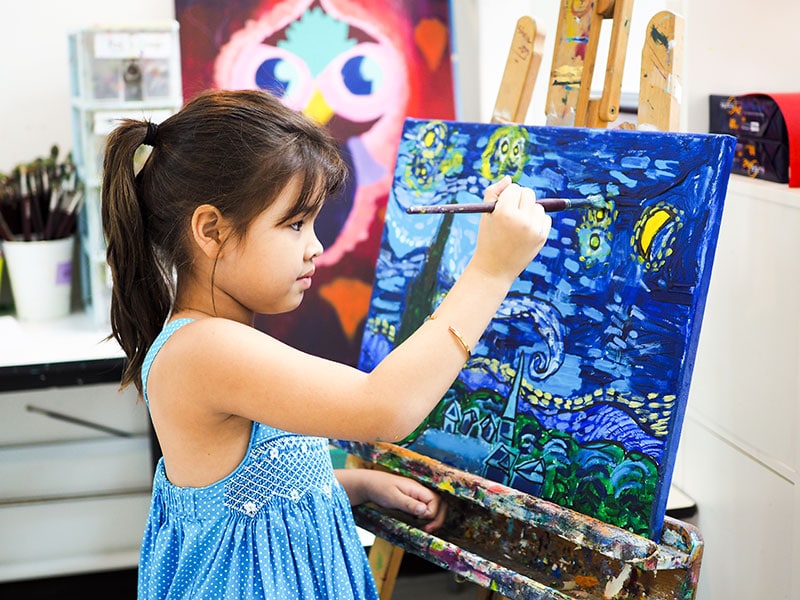 Source: Little Artists Art Studio via Facebook
Facebook: Visit Here
Instagram: Visit Here
Website: https://little-artists.com/
Address: 15 Siglap Road, Singapore 448912 | 55 Siglap Road, Singapore 455871
Operating Hours: Mon-Thu, 9am-7:30pm | Sat-Sun, 9:30am-5:30pm
Founded in 1997, Little Artists Art Studio embraces creativity and nurtures both young and mature artists. Kids as young as 2.5 years to adults of all ages learn how to use various mediums and techniques… Learn sketching, painting, clay sculpting, even 3D art, photography, and digital art! They even have a program for children with mild special needs to develop motor skills and concentration beyond creativity.
Little Artists makes sure to have a small student to teacher ratio so each student has enough attention to succeed. It doesn't matter what the skill level or ability, you'll always have fun and express your creativity in a pressure-free environment!
5. Abrakadoodle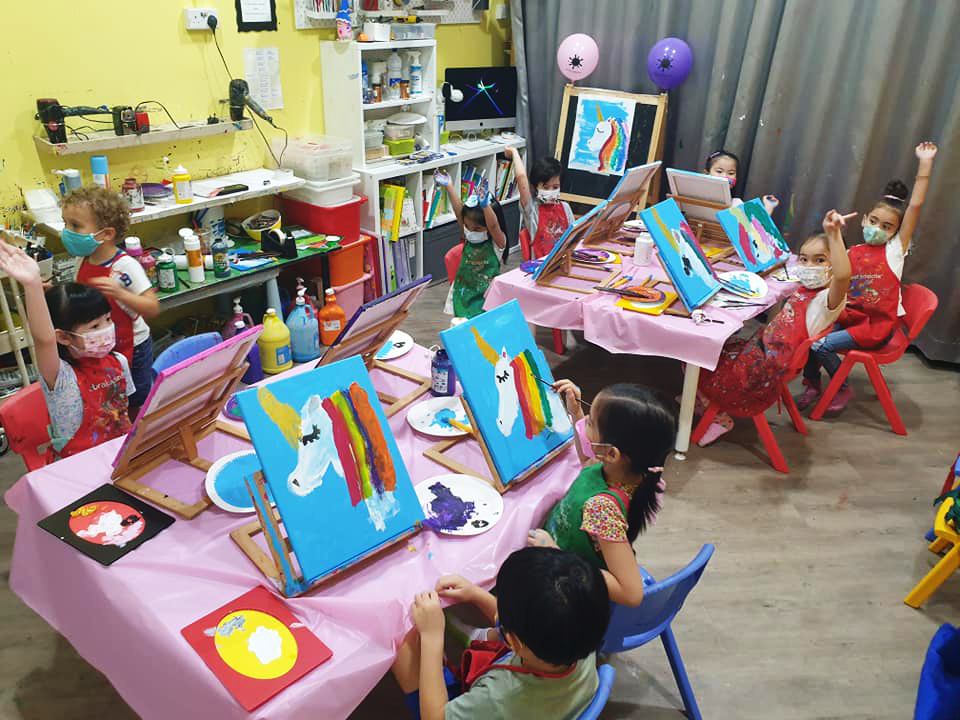 Source: Abrakadoodle via Facebook
Facebook: Visit Here
Instagram: Visit Here
Website: https://www.abrakadoodle.com.sg/
Address: Locations
Operating Hours: Locations
Abrakadoodle was founded in 2002 and has over 50 franchises in the USA . They are registered with MOE to provide you with the best art classes for children you'll find in Singapore. Abrakadoodle is one of the rare art studios that even your tiniest tots can learn in. With art classes for toddlers aged 20 months to 12 year old kids, your little artists will explore, learn and have fun! Painting classes, craft sessions, special events, art jam birthday parties, at Abrakadoodle, young doodlers will be able to develop their skills and express their imagination. They even have art classes for adults – Art Splash – to splash (ahem, pun intended) your creativity onto canvas, relax, have fun and enjoy artistic expression!
6. The Fort Studios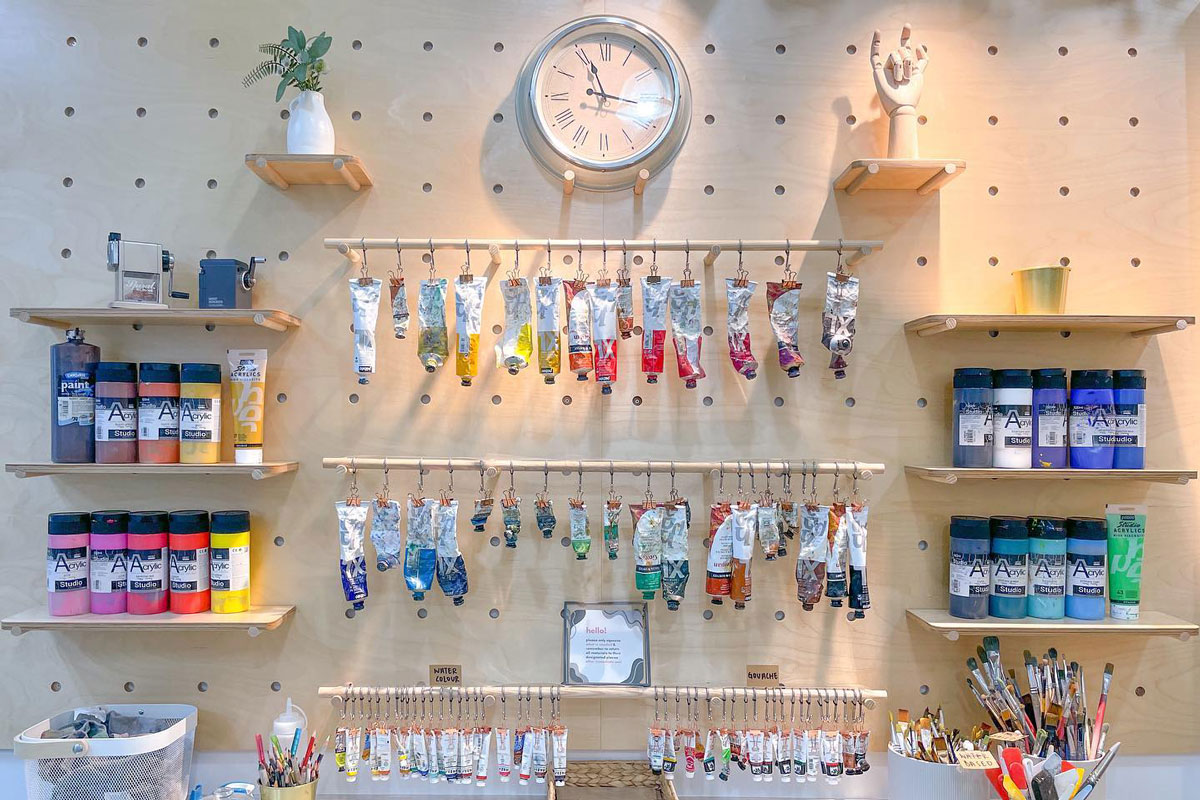 Source: The Fort Studios via Facebook
Facebook: Visit Here
Instagram: Visit Here
Website: https://www.thefortstudios.sg/
Address: 56 Kallang Pudding Road, Singapore 349328
Operating Hours: Tue-Sun, 10am-7pm
With skilled artists at the helm, ready to help art enthusiasts feel comfortable with expressing creativity, you're sure to find the best art classes in Singapore here at The Fort Studios. Enjoy flexible adult group lessons where you can explore a variety of mediums and art styles for your own enjoyment! Kids can learn soft skills, build up an art portfolio and splatter their imagination onto canvas for a creative explosion! The Fort Studios also has several fun workshops you can choose from, for both kids and adults! Don't want instructions, but just a nice studio to work in? Join their DIY art jam sessions! No matter what, you and your kids will have a great time!
7. Souldeelight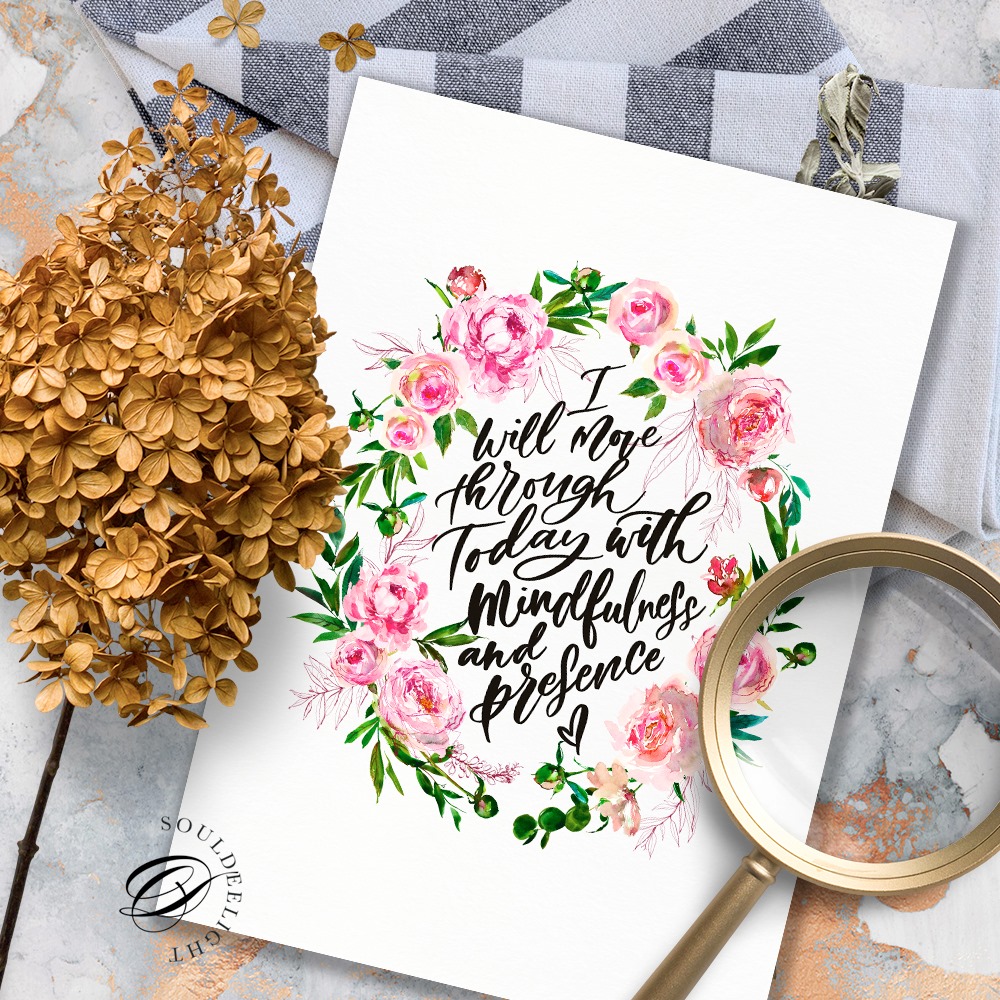 Source: Souldeelight via Facebook
Facebook: Visit Here
Instagram: Visit Here
Website: https://www.souldeelight.com/
Address: 19B Hillview Avenue, 669555 Singapore
Operating Hours: Mon-Sat, 10:30am-6pm | Strictly by appointment only
Drawing and painting aren't the only artistic things you have to do! Explore other mediums and techniques of art! After all, it's about creativity, not following the rules. Everyone ages 8 and up (including adults!) can learn calligraphy (and watercolour and design) here at Souldeelight Studio! Dee, the creator behind Souldeelight is a dedicated artist, happy to share her passion for art and design through her workshops! She's also a Certified Art Therapist for one-on-one consultations. Her happy, sunshine-y nature helps you bring some light and colour into your life! You'll find an expression of creativity that takes patience, but is worth the pretty designs you'll take home!
8. ARThaus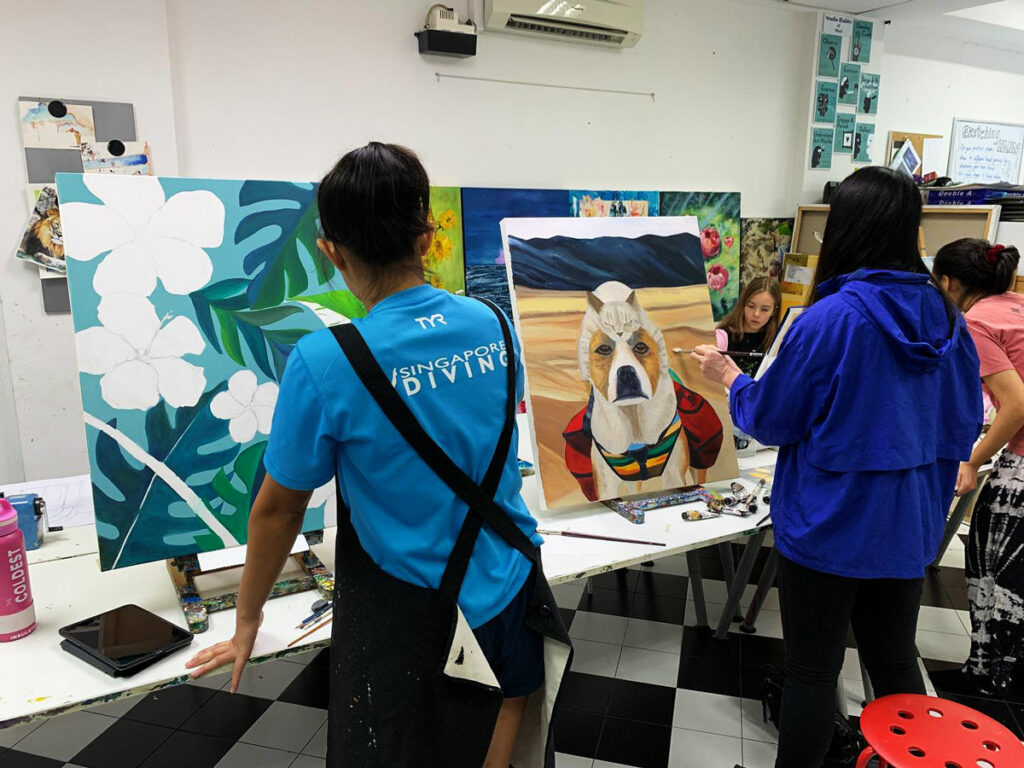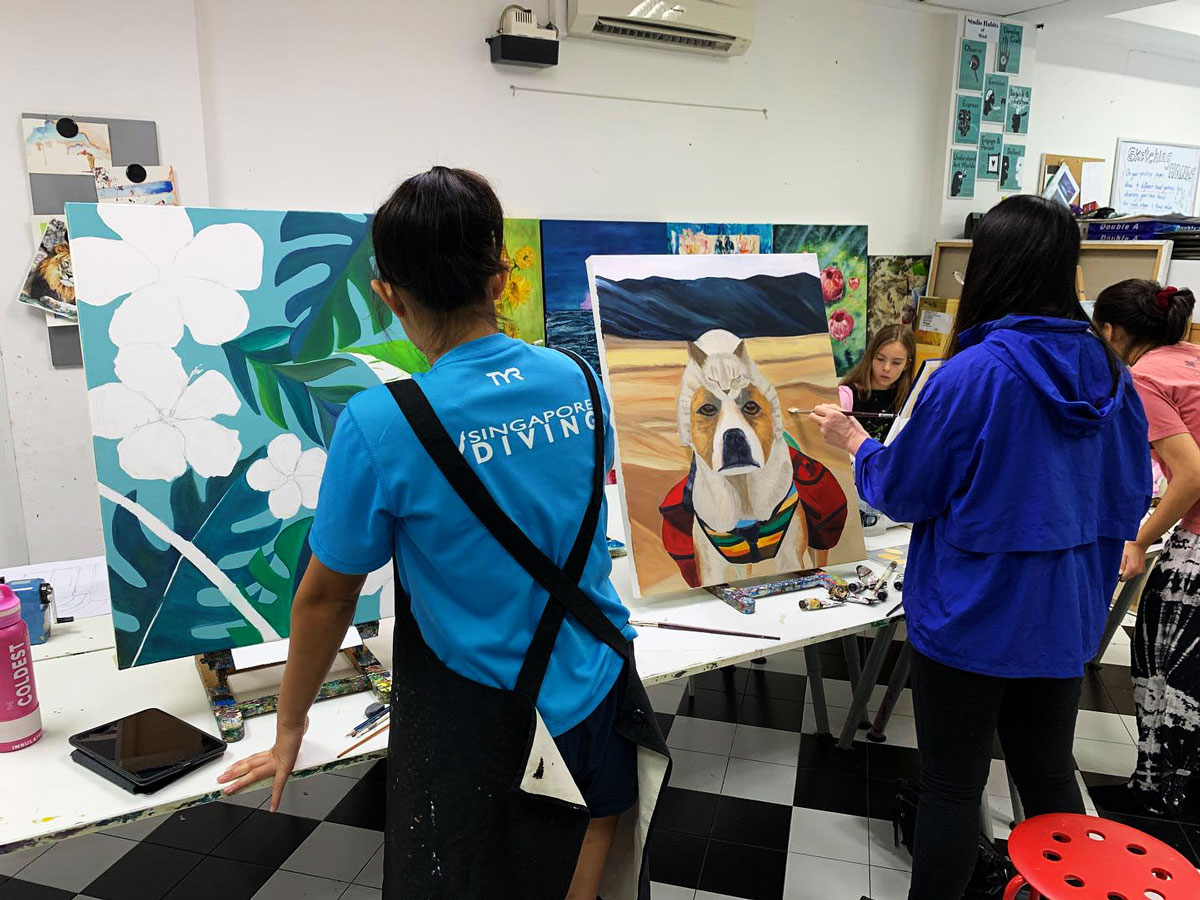 Source: ARThaus Singapore via Facebook
Facebook: Visit Here
Instagram: Visit Here
Website: https://www.arthaus.com.sg/
Address: 901A Bukit Timah Road, Singapore 589619
Looking for art classes in Singapore that let you express your creativity without limits? ARThaus creates a non-judgmental space for both kids and adults to explore infinite possibilities. Creativity is a source of inspiration and can flow freely at ARThaus! Attend art jamming workshops or fine arts courses. Have fun at kids' holiday programs. Throw a birthday party for any age group at ARThaus. Looking into art schools? They even have portfolio preparation courses so you can get help with creating your portfolio! Throughout art classes at ARThaus, you'll learn more about yourself as an artist!
Conclusion
Artists, little or big, are sure to enjoy the learning experience, a chance to put what they want onto paper or a canvas. Express yourself, explore your imagination and creativity, and most importantly, have fun at these art classes in Singapore!
Looking for other things to do in Singapore? Grab a froyo after your art class! Or maybe spend some time outside with these outdoor activities (plus some for kids, too!).
• Written by Adrija Chakravarti