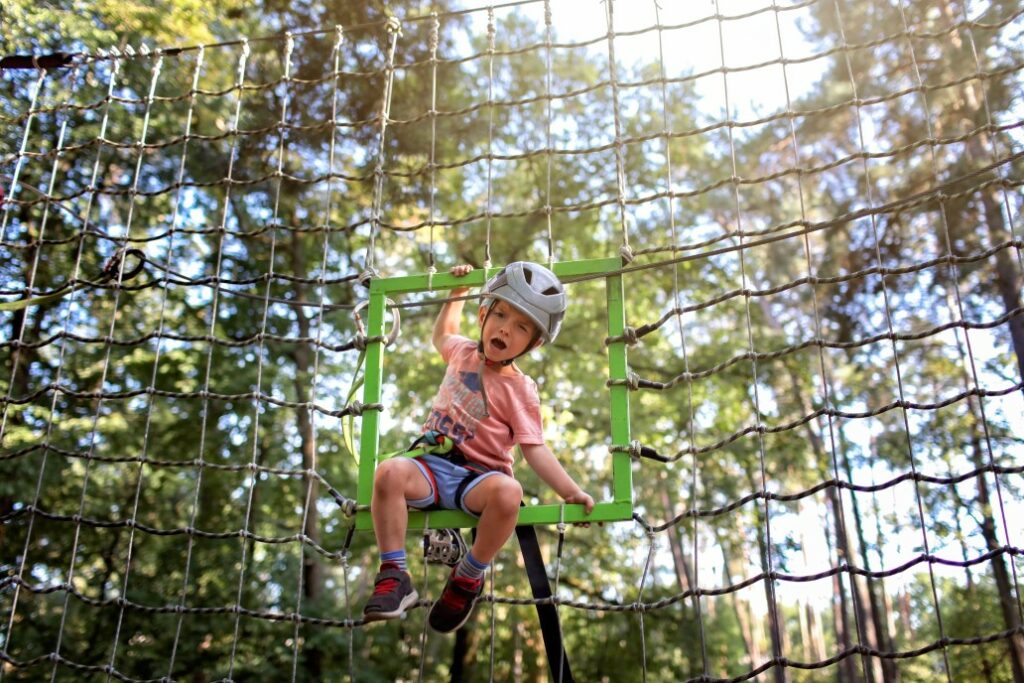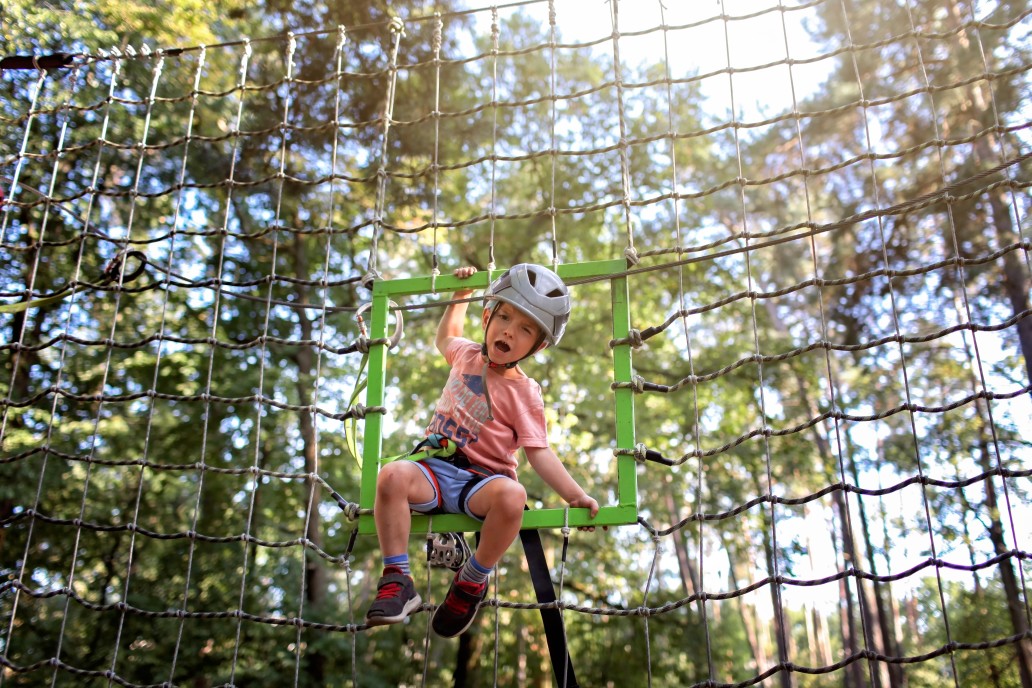 There's nothing better than stepping outside your home into the outdoors and breathing that fresh air. And what's better than spending that quality time with your family with some outdoor activities in Singapore? Everyone needs some sunshine (get that essential Vitamin D!), exercise and maybe a little bit of adrenaline to get that blood pumping.
There's plenty of places for outdoor activities in Singapore so the whole family can have a great time. So get ready to check off that bucket list of great outdoor adventures to have! Without further ado, here's 10 amazingly fun outdoor activities you can do with your kids!
1. Admiralty Park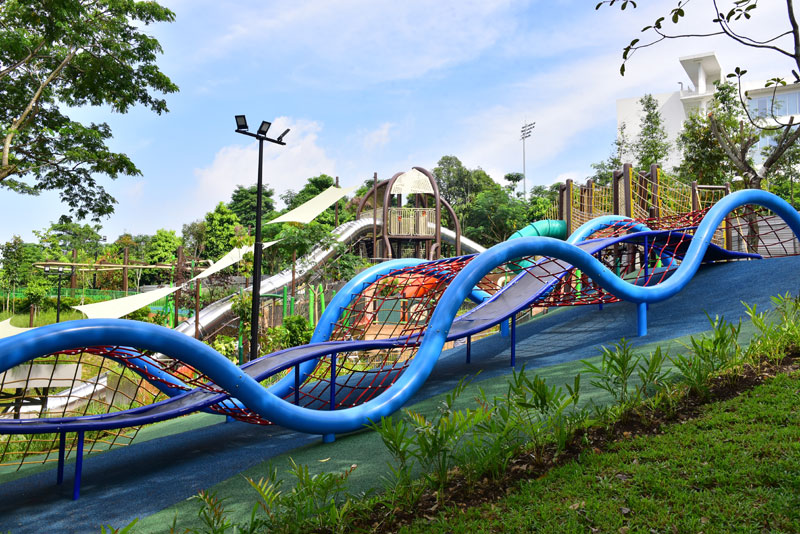 Source: NParks website
Website: https://www.nparks.gov.sg/gardens-parks-and-nature/parks-and-nature-reserves/admiralty-park
Address: 31 Riverside Road, Singapore 730000
Operating Hours: 24/7 | Lighting hours at 7am-7pm (no lights in forested areas after dark)
Admiralty Park is the largest park in the North of Singapore, expanding over 27 hectares of land split into two sections: the 7 ha urban area and the 20 ha nature area.
The Nature Playgarden houses 3 main play areas – Junior Play, Adventure Play and the Family Terracing Play – which support play for children of all ages. There's even an inclusive playground for children with and without special needs. But despite all that, the main attraction of Admiralty Park's Nature Playgarden is the 26 slides! Slide down the widest and longest slides to ever be in a public park here! Not only that, there's even slides for adults!
Or delve deep into the forest for a family trip to do some bird-watching or hiking. It's a great way to get some exercise for the whole family and be completely encompassed in nature!
2. Diggersite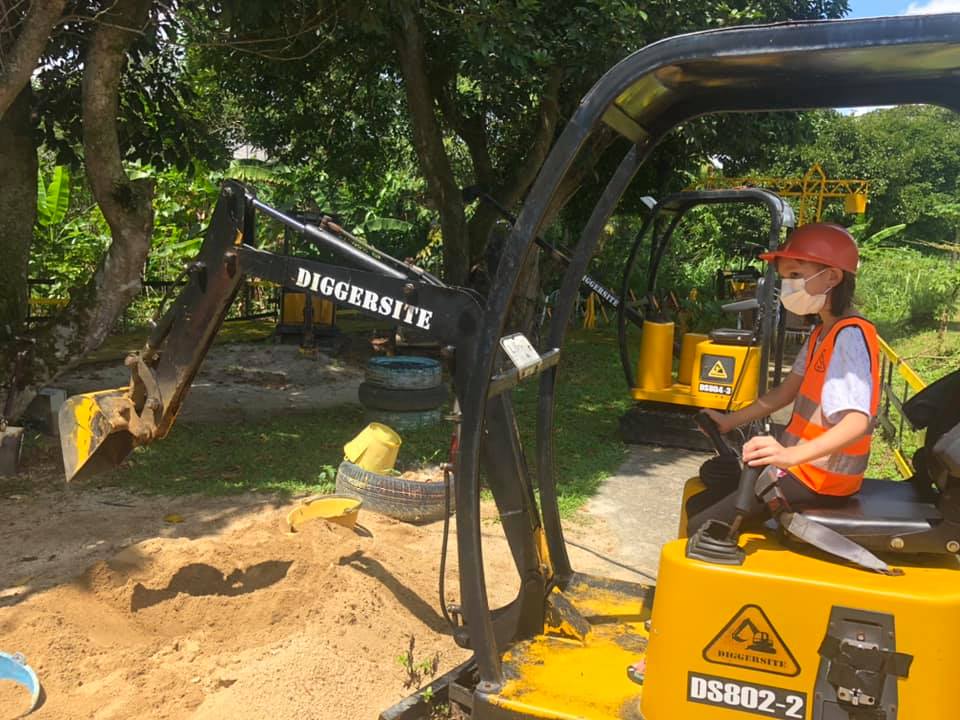 Source: Diggersite via Facebook
Facebook: Visit Here
Instagram: Visit Here
Website: https://www.diggersite.com/
Address: 91 Lorong Chencharu, Singapore 769201
Operating Hours: Sat & Sun, 11am-6pm
Unleash your child's inner construction site worker with the diggers at this edutainment-filled theme park. Here, your kids will get to dress up like real construction workers with construction safety helmets and hi-vis vests. What's more, they'll be able to operate a construction digger and build small blocks! So they'll get some hands-on experience! They'll develop hand-eye coordination, have loads of fun and learn life skills! What more could you ask for at a theme park?
3. Forest Adventure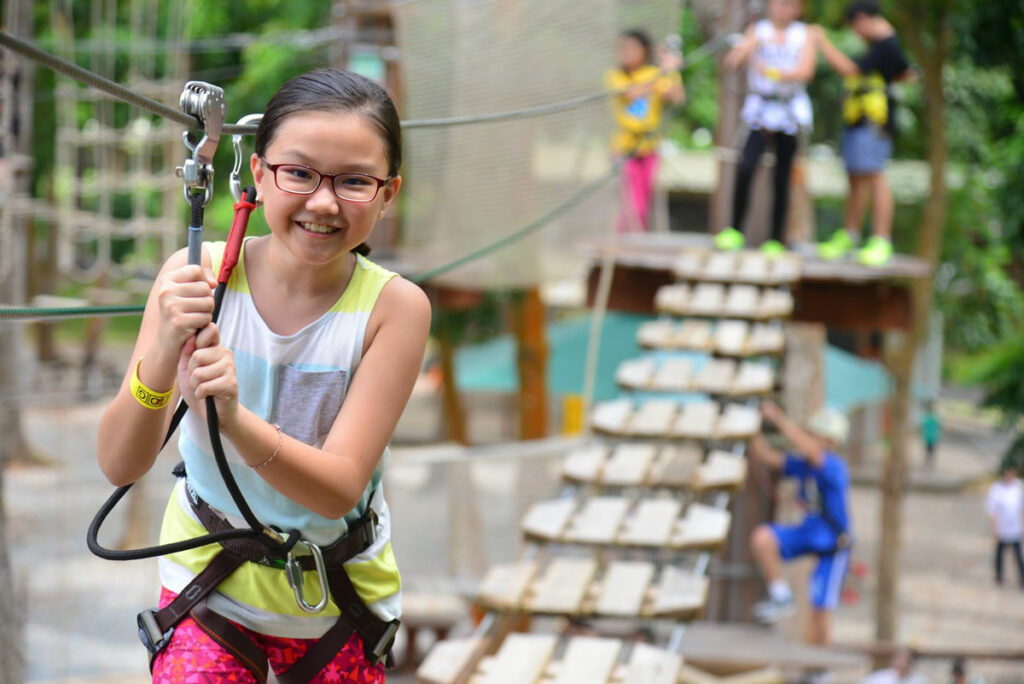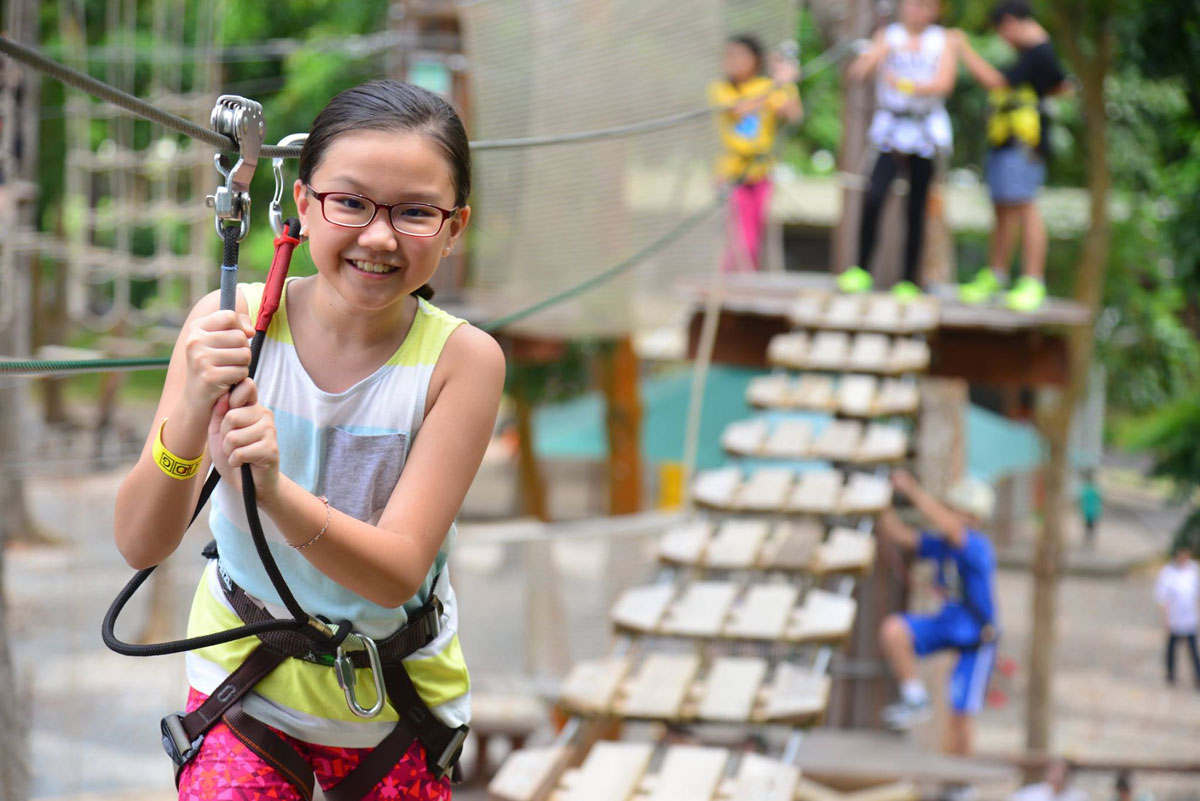 Source: Forest Adventure via Facebook
Facebook: Visit Here
Instagram: Visit Here
Website: https://forestadventure.com.sg/
Address: Bedok Reservoir Park, Singapore 479244
Operating Hours: Mon, 9:30am-2pm | Tue-Fri | 9:30am-6pm | Satu-Sun, PH, 9:30am-6:30pm
Want a challenge? Go down to Forest Adventure for an exhilarating experience for the entire family. With 3 different courses – the Grand Course, Junior Course and Kids Course – there's something for everyone (well… unless you're terrified of heights or dangling on a zipline, sorry). The Grand Course has 44 obstacles across 3 loops and 3 different giant ziplines to bring you back to earth. The Junior Course (for older kids), however, shares a loop between the other 2 courses, with 26 obstacles and 2 ziplines. And now, for the younger kiddos, you've got a 22 obstacle challenge across 2 loops and 2 ziplines. And, of course, there's the Big Zip, a 300m zipline that is completely across the water. It's an amazingly breathtaking and refreshing experience!
4. Marine Cove Playground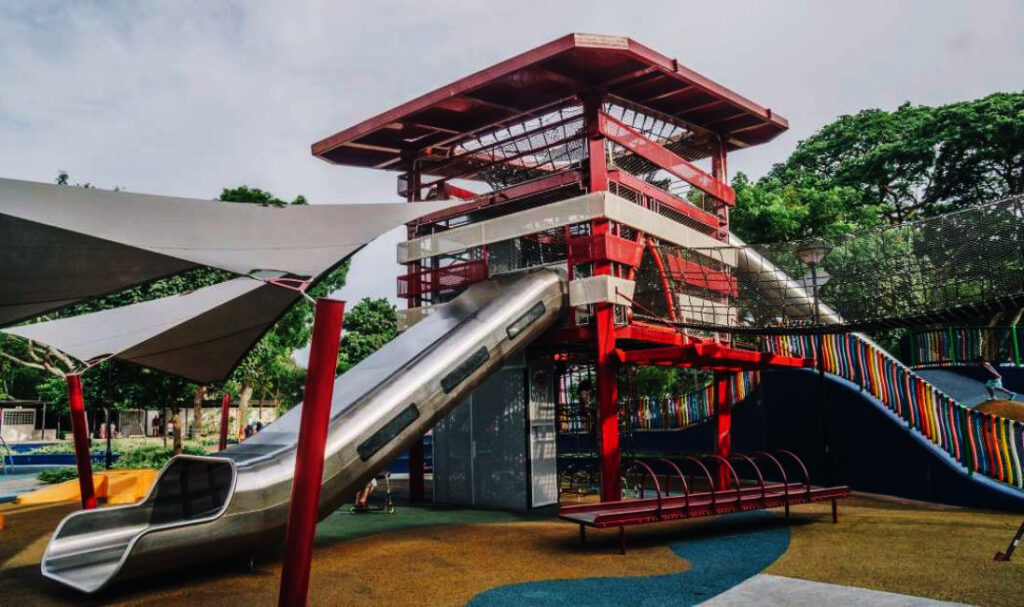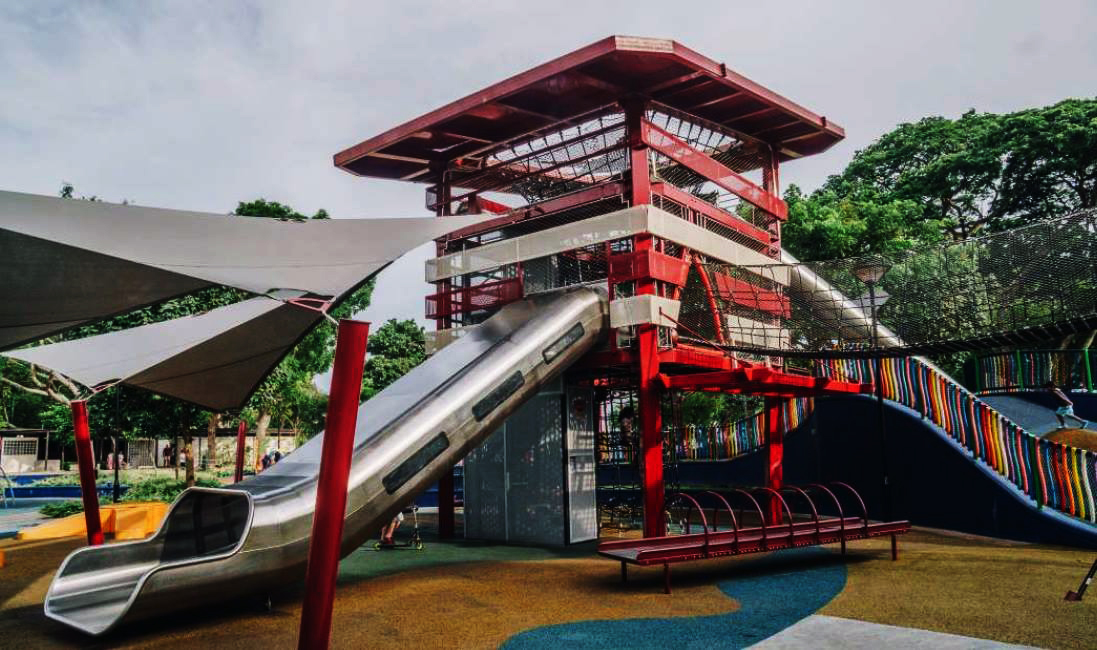 Source: Ministry of National Development via NParks' Facebook
Address: 1000 ECP, Singapore 449876
It's playtime! Swings, tube slides, climbing frames and nets and rope bridges… This 3,500 sqm playground has everything to help your child develop their skills and play! The main tower is shaped like a lighthouse, inspiring your child's imagination, especially as the playground is right near the beach. And your littlest toddlers won't be left out either! Marine Cove has special toddler-friendly sections so they can play to their heart's content. What's more, inclusive playground equipment like sensory panels and special swings let every child join the fun!
5. Singapore Zoo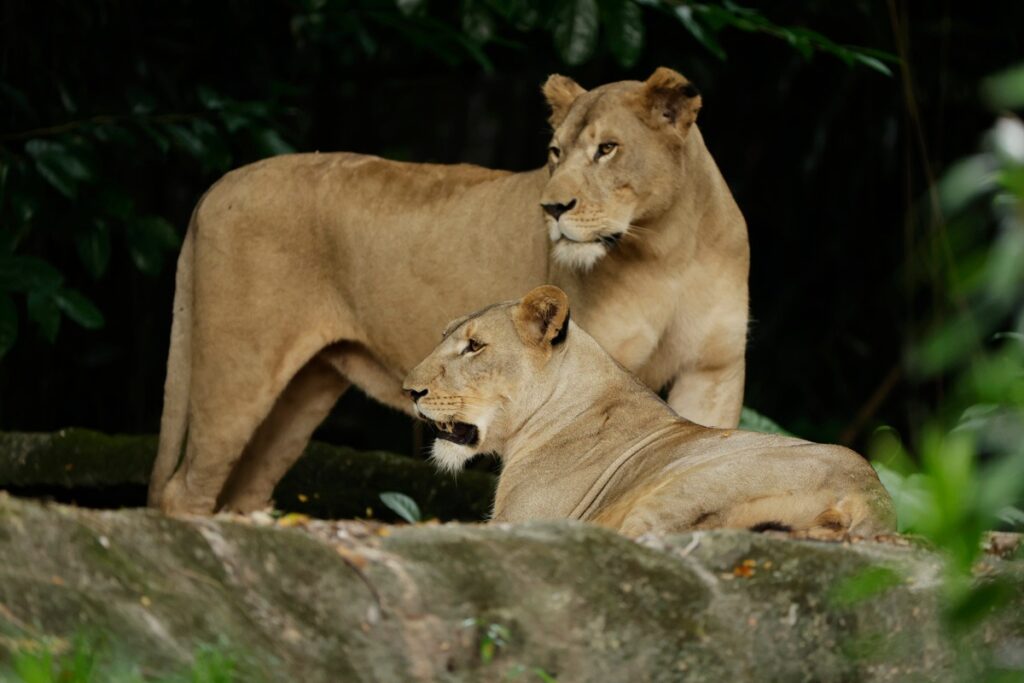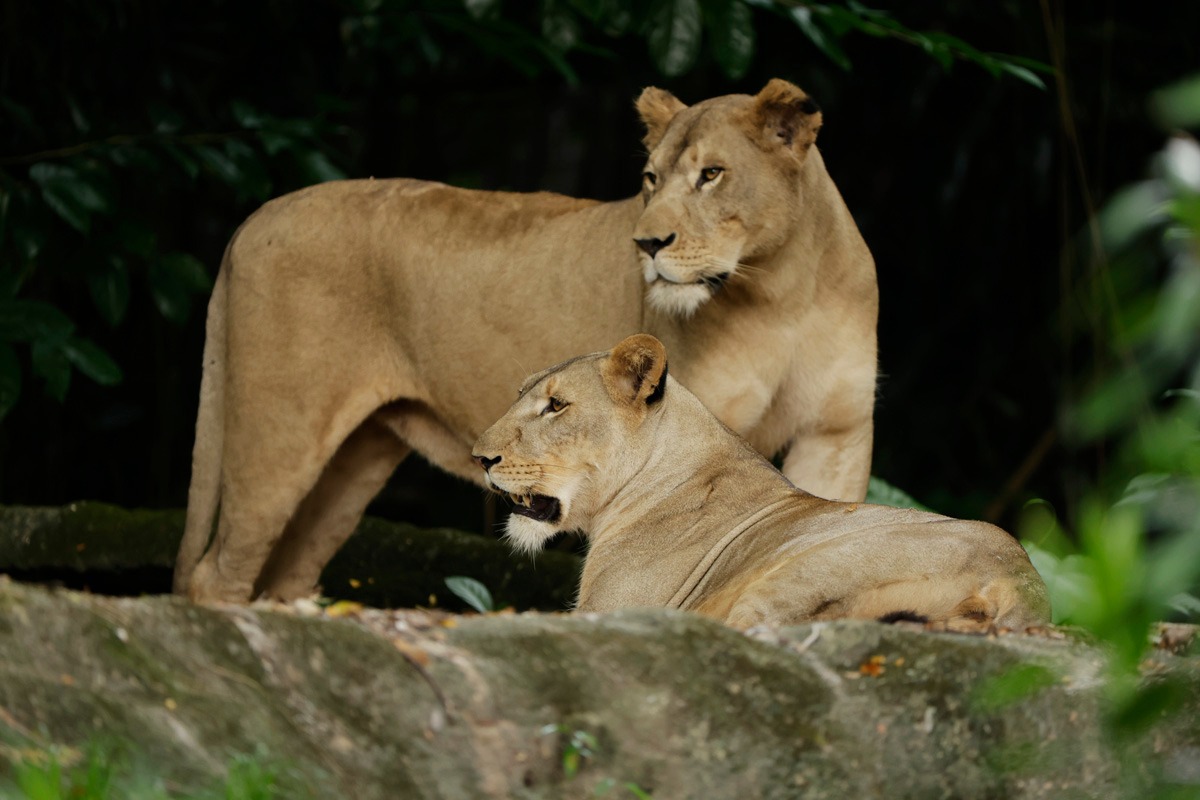 Source: Mandai Wildlife Reserve via Facebook
Facebook: Visit Here
Instagram: Visit Here
Website: https://www.mandai.com/en/singapore-zoo.html
Address: 80 Mandai Lake Rd, Singapore 729826
Operating Hours: Daily, 8:30am-6pm
Singapore Zoo is still a must-see, a staple in any child's bucket list. With exceptional walking trails, shows and gardens, you'll be able to see so many animals and enjoy a nice stroll across the park. And importantly, the animals are well taken care of with space to roam freely.
Plus you can visit the adorable babies! Le Le, the first giant panda cub born in Singapore, Izara, the first Grevy's zebra foal, and Simba, the first lion cub conceived through assisted reproduction. Aren't they so precious? With so many animals, there's always something to see! So get your little animal enthusiasts out there to explore, learn and have a great family outing!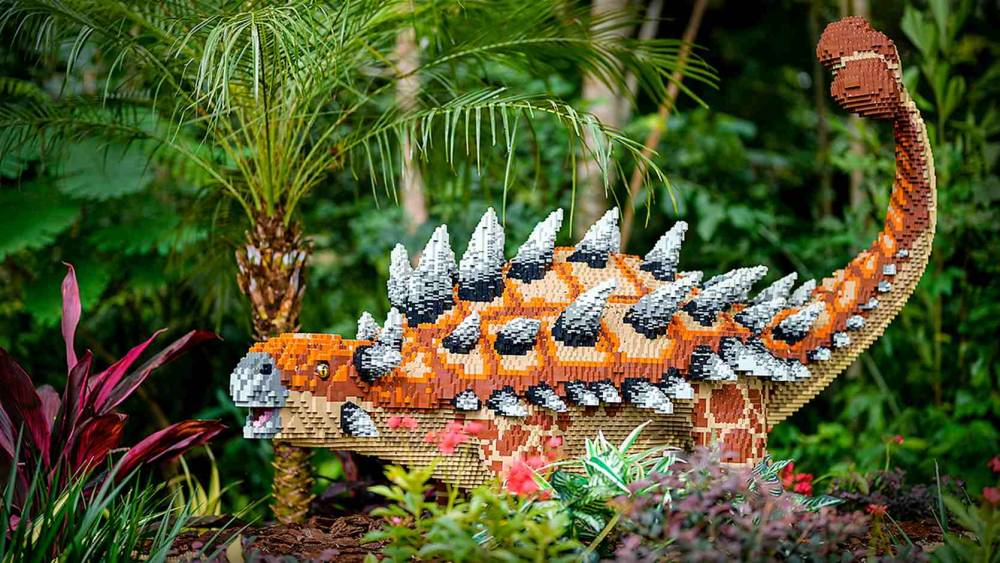 Source: Source: Mandai Wildlife Reserve via website
Brickosaurs: Land Before Time
Furthermore, you can discover the prehistoric era with Singapore Zoo's Brickosaurs World! Complete the trail with your kids to explore 60 different Brickosaur structures that took 8,548 hours to build! From the tiniest raptors to massive T-Rexs, this exhibition is sure to blow your children's minds. It's only there until 3 May 2022, so be sure to visit while you can!
6. Jurong Bird Park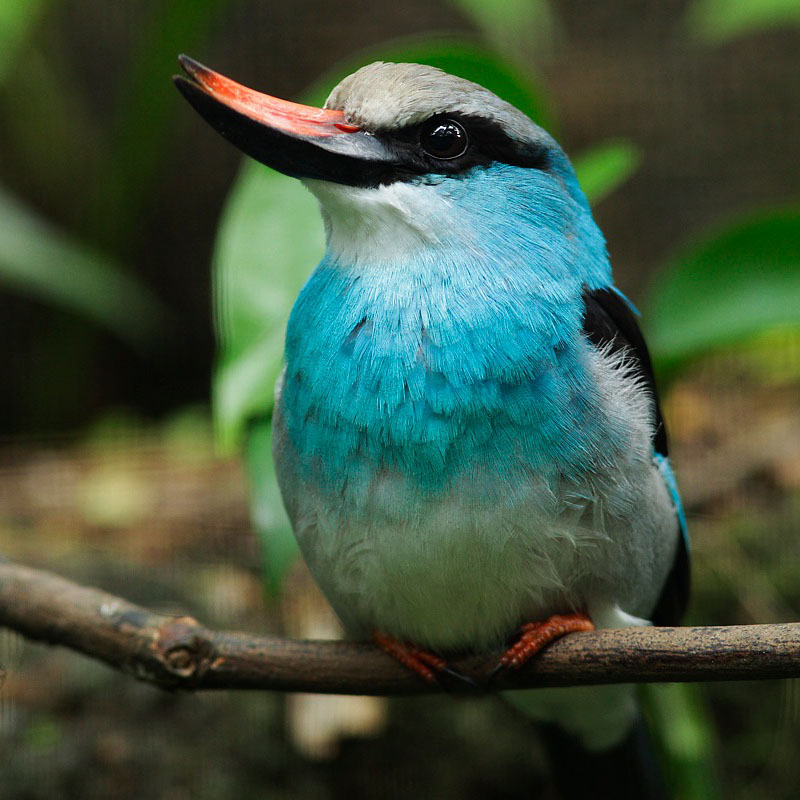 Source: Mandai Wildlife Reserve via Facebook
Facebook: Visit Here
Instagram: Visit Here
Website: https://www.mandai.com/en/jurong-bird-park.html
Address: 2 Jurong Hill, Singapore 628925
Operating Hours: Thu-Sun, PH, 8:30am-6pm
Let your wildside out at Jurong Bird Park! Adults and kids of all ages will love the "High Flyers" and "King of the Skies" shows; they have a special place in our hearts. You and your kids can even visit the Lory Loft to feed the lories and lorikeets yourselves (a personal favourite activity). They might even sit on your arm or head! There are so many species of birds, and so much to explore and learn here for both you and your children!
7. Fort Siloso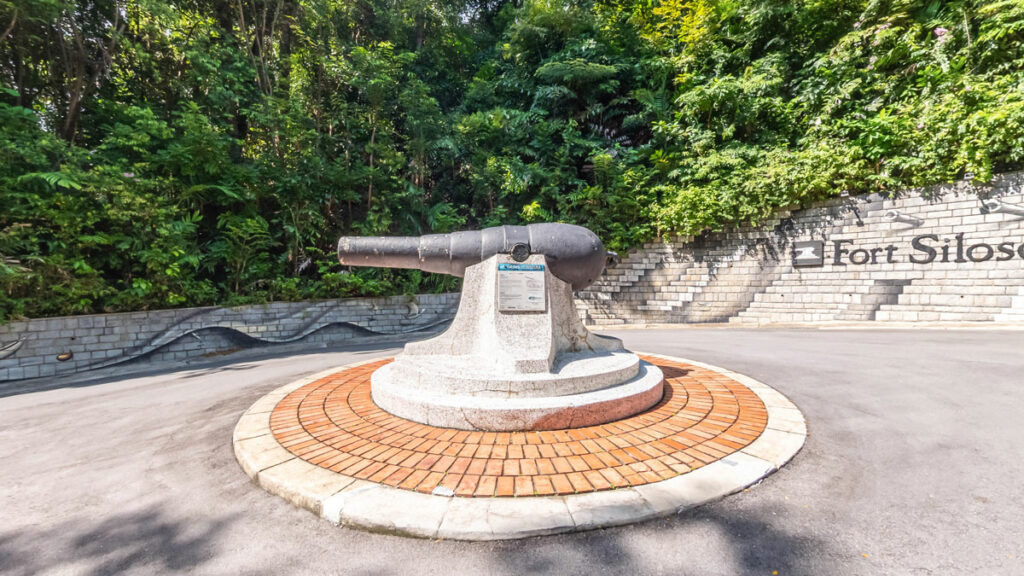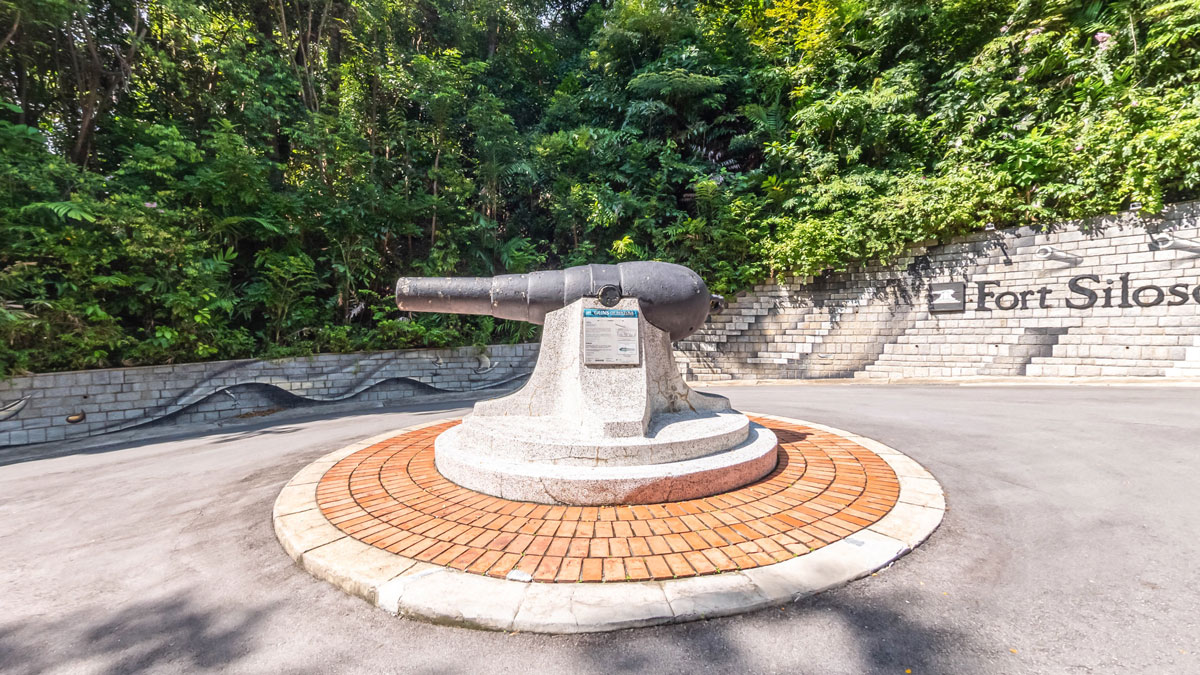 Source: Sentosa via theredmarker
Facebook: Visit Here
Instagram: Visit Here
Website: https://www.sentosa.com.sg/en/things-to-do/attractions/fort-siloso/
Address: Siloso Road, Sentosa Island, Singapore 099981
Operating Hours: Fort Siloso & Surrender Chambers: Daily, 9am-6pm | Fort Siloso Skywalk: Daily, 9am-10pm
Did you know… "Siloso" comes from a Malayan word that means "rock"?
Now the 74th national monument, the latest to be added, Fort Siloso is Singapore's only well-preserved coastal fort and a great outdoor activity for those history buffs. It's a goldmine of WWII memorabilia with guns, artillery batteries, fortified tunnels and even wax figures of soldiers! You can even take the 11-storey tall, 181 metre long Fort Siloso Skywalk trail for a treetop walk on the way to the fort. Get those beautiful vistas while exploring the past. While you're reading up on the interesting history of Fort Siloso, your kids are sure to be fascinated by the weaponry! Maybe they might learn something along the way too!
8. Coney Island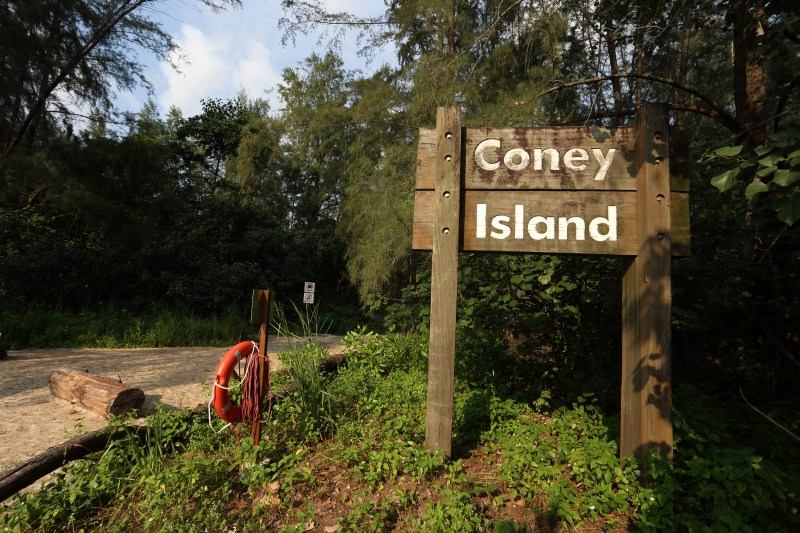 Source: NParks via website
Website: https://www.nparks.gov.sg/gardens-parks-and-nature/parks-and-nature-reserves/coney-island-park
Address: Punggol Promenade Nature Walk, Singapore 829325
Operating Hours: Daily, 7am-7pm
Family trip to an island that feels like untouched nature amidst a concrete jungle? Count me in! This outdoor activity's one for the nature and bird enthusiasts out there! Explore this rustic and ecologically sustainable island for an adventure! You'll find its rich biodiversity with many flora and fauna (some of which are considered nationally extinct in the wild).
Go cycling around the island, have a picnic or enjoy the sun on the beaches. Even if you don't manage to spot one of the 80 native birds or any monkeys, you're still sure to have a great time!
9. Marina Barrage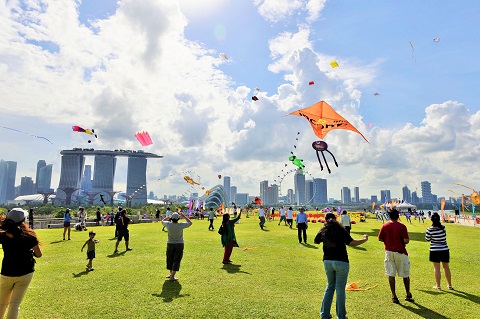 Source: PUB.gov via website
Facebook: Visit Here
Instagram: Visit Here
Website: https://www.pub.gov.sg/marinabarrage
Address: 8 Marina Gardens Dr, Singapore 018951
Operating Hours: 24/7 except these Attractions
Let those kites fly in this wide open space! With wind that perfectly blows your kites up, up in the air, Marina Barrage is the marvellous place to spend a lovely afternoon with your kids. The Green Roof even gives you a breathtaking view of the bay! Ooh, and don't forget a swimsuit or change of clothes for your little ones so they can cool off in the water playground! So if you're wondering what to do one sunny afternoon, grab a picnic basket and kites, and explore the beautiful scenery with your kids!
10. Dragon Playground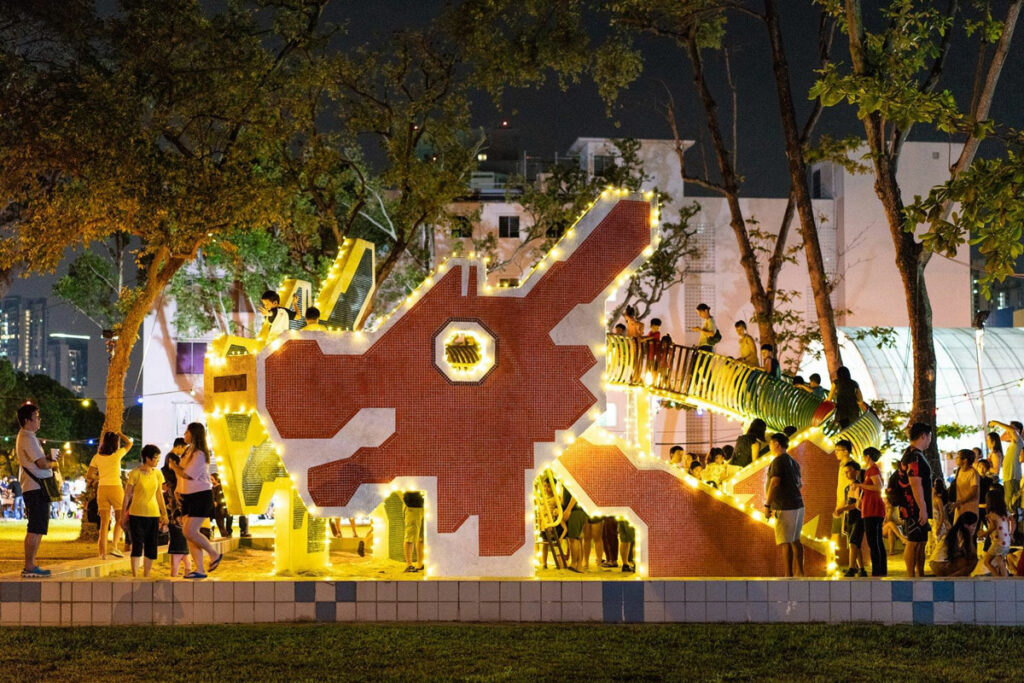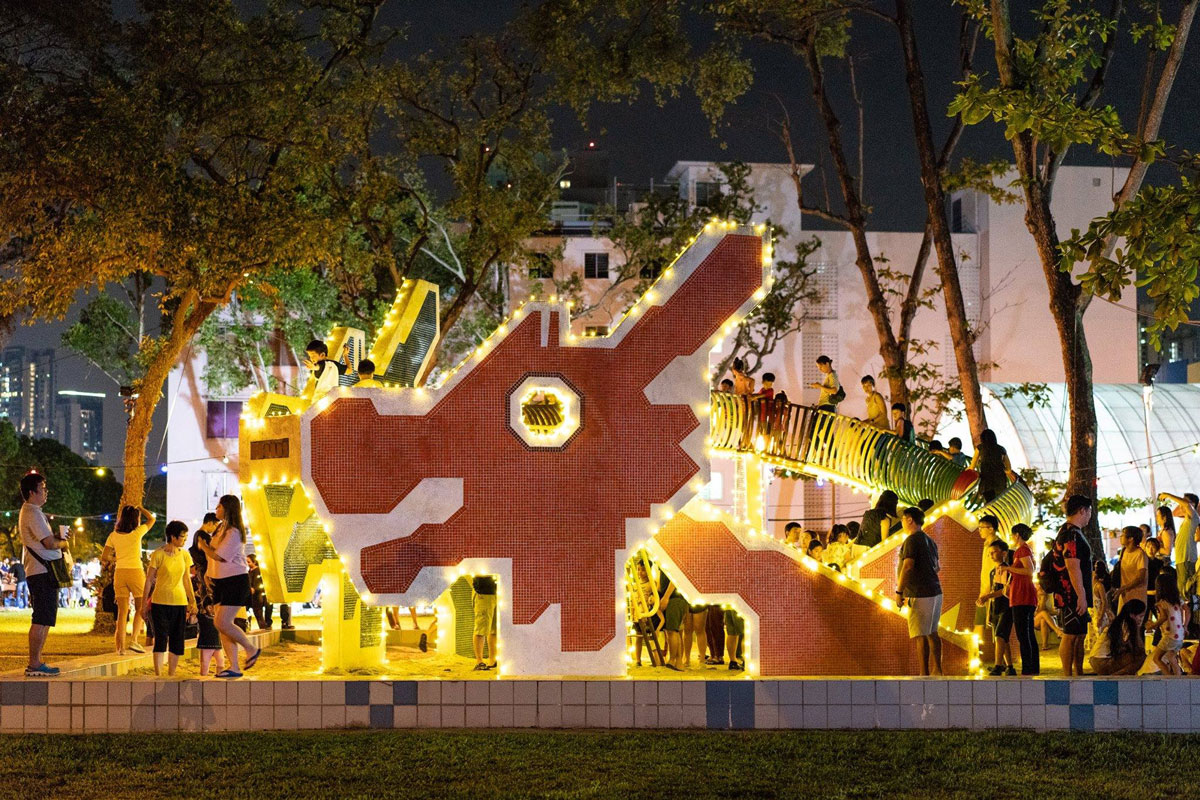 Source: Roots via website
Address: 28 Lor 6 Toa Payoh, Singapore 310028
This dragon playground in Toa Payoh was built in 1979! 43 years ago! One of the last heritage playgrounds in Singapore, nostalgia is sure to hit many hearts. But for the kids of the now, this themed playground will not only let them know a part of Singapore's history, but let them have so much fun! Also, how cool are dragons?! No kid's gonna pass up the opportunity to play on a dragon…
Conclusion
And there you go! Find your family's adventurous spirits with these 10 outdoor activities to do with your kids! Or just enjoy a nice day in the sun (well… before the rain showers come down)!
Interested in more exciting outdoor activities you can do (with and without kids)? Take a look at our recommendations for the best Outdoor Activities in Singapore for Ultimate Fun!
• Written by Adrija Chakravarti