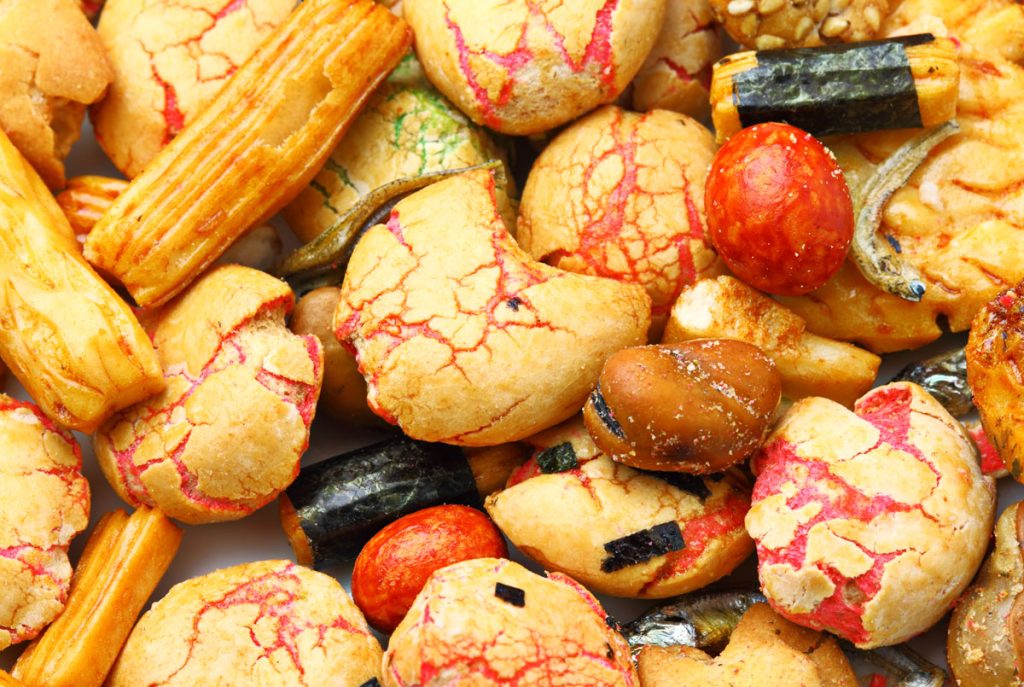 Konnichiwa! Have you also been scrolling through Instagram stories of people who are travelling in Japan and eating delicious food, wishing you were there? Did you know that now you don't have to go to Japan to enjoy those scrumptious snacks? We've got the right here!
Japanese snacks are known for having an extensive variety of flavours for their snacks, be it bizarre or the typical flavours that we all know and love which can only be found in Japan. However, over the years, with the increased love for Japanese culture, chains of Japanese supermarkets, stores, and online websites have started operating in Singapore, exporting their snacks over.  
Let's get into our favourite list of places that sell Japanese snacks that will give a taste of Japan on this little red dot.
Key Consideration Factors
Before you jump right in and begin exploring different Japanese snacks stores Singapore has to offer, here are some helpful things to consider for the best snack hunting experience!
Location:

For easy access and reduced commuting duration, ensure that the supermarkets/stores are within your area or conveniently located.

Availability:

Make sure that your snack of choice is readily available and accessible to you. Check their operating hours on specific dates.

Cost:

Make sure that your store of choice charges a reasonable fee for their snacks and is within your budget for a pleasant experience. 

Quality:

Research on the quality and variety of food and beverages provided by the store/supermarket and read online reviews and testimonials, if available.
Best Japanese Snacks in Singapore
1. Don Don Donki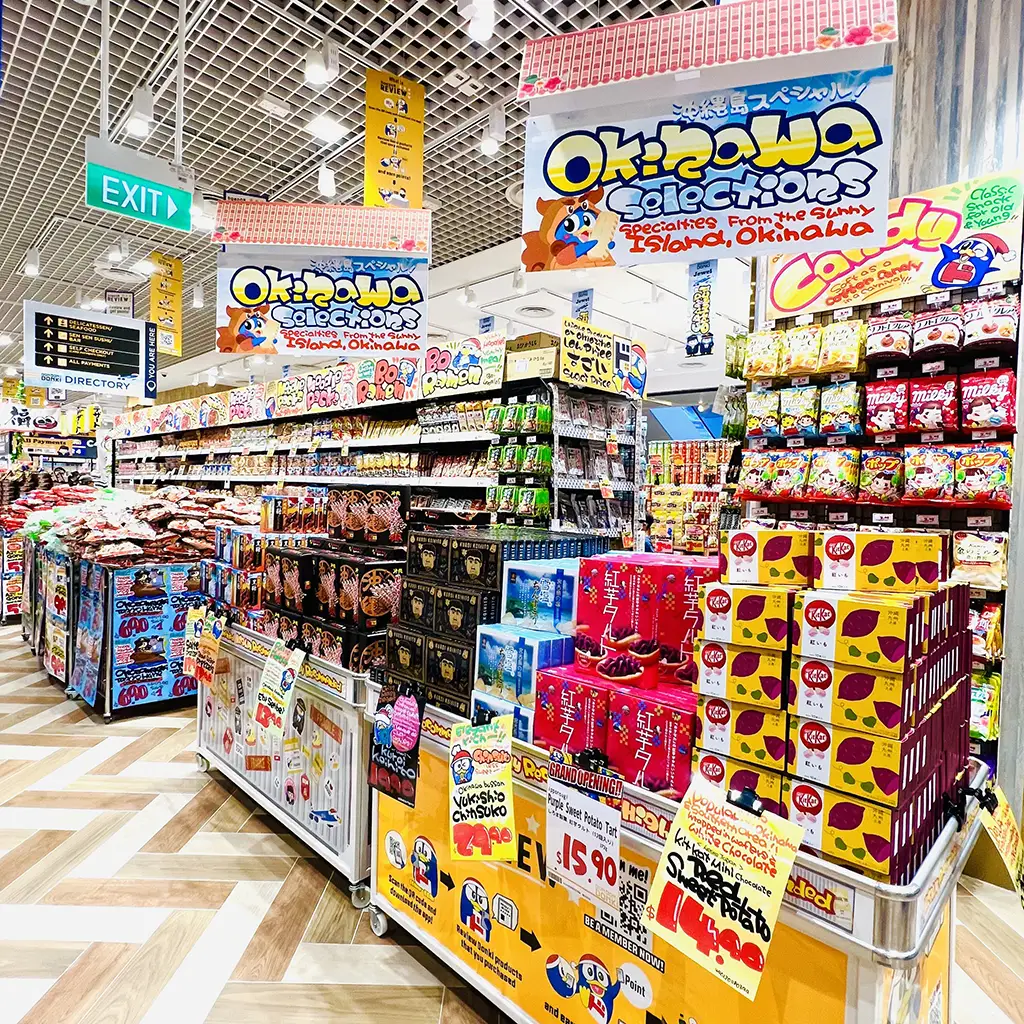 Source: Don Don Donki via Facebook – Japanese Snacks Singapore
Facebook: Visit Here
Instagram: Visit Here
Website: https://www.dondondonki.com/sg/ 
Address: Locations
Operating Hours: Locations
"Don Don Don Donnkkkkiiii~~~" sound familiar? Every Singaporean knows the famous Don Don Donki jingle by heart, no introduction required. Being Singapore's first 24/7 Japanese discount store offering a wide variety of fresh food and groceries, Don Don Donki also has a wide selection of Japanese snacks to choose from. From unique Japanese snacks like mini Daifuku flavoured Kit Kat to the famous Ichiran instant ramen, from sweet to savoury, you are sure to find Japanese snacks that suit your taste buds!
Customer Testimonial
" Unique Supermarkets that only sell goods imported from Japan. So if you didn't have time to visit Japan, you can go here to find some goods from Japan.They sell various items, from chocolate, snacks, even daily needs are available here. If you are hungry after strolling around the supermarket, you can go downstairs to eat some Japanese cuisine that is available here. "
– Frenky Wijaya
2. Daiso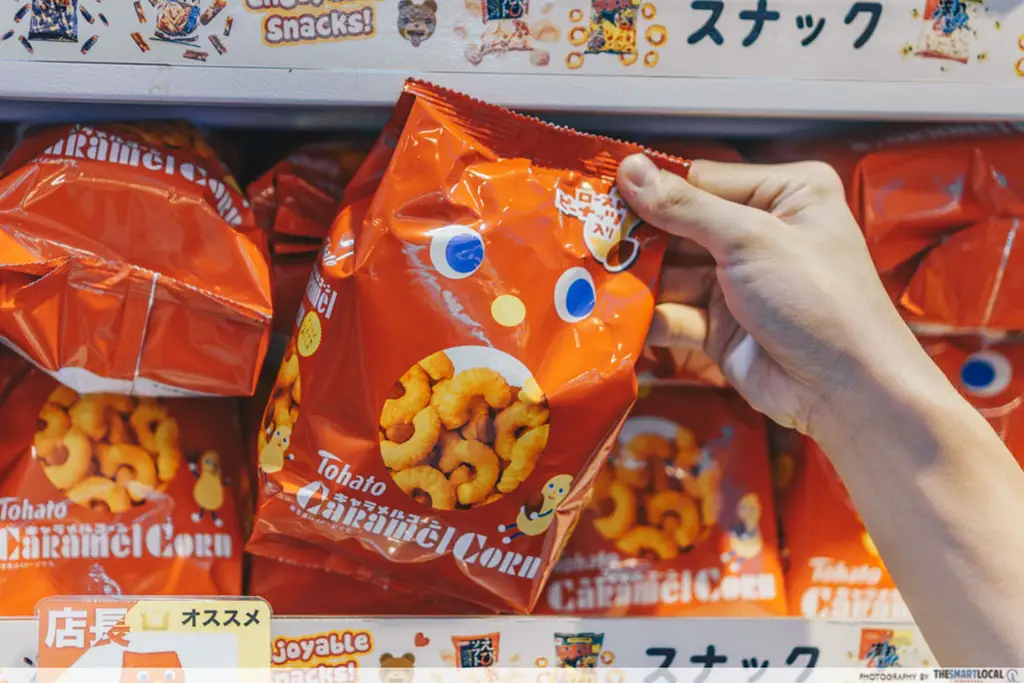 Source: TheSmartLocal – Japanese Snacks Singapore
Facebook: Visit Here
Instagram: Visit Here
Website: https://www.daisosingapore.com.sg/ 
Address: Locations
Operating Hours: Daily, 10am-10pm
Remember the store that sells everything at just $2? Yes! That's right, everybody's favourite $2 store has made it to the list (although it is no longer $2, yikes!). Daiso offers a wide range of Japanese snacks like the popular Tohato Caramel Corn and Riska Corn Potage as well as an extensive line of Japanese drinks like Orihiro Konjac Jelly Line and Kagome fruit juices and many more all at an affordable price of only $2.14. With 29 outlets scattered all around Singapore, head down to the nearest Daiso outlet to try out the snacks available!
3. Iroha Mart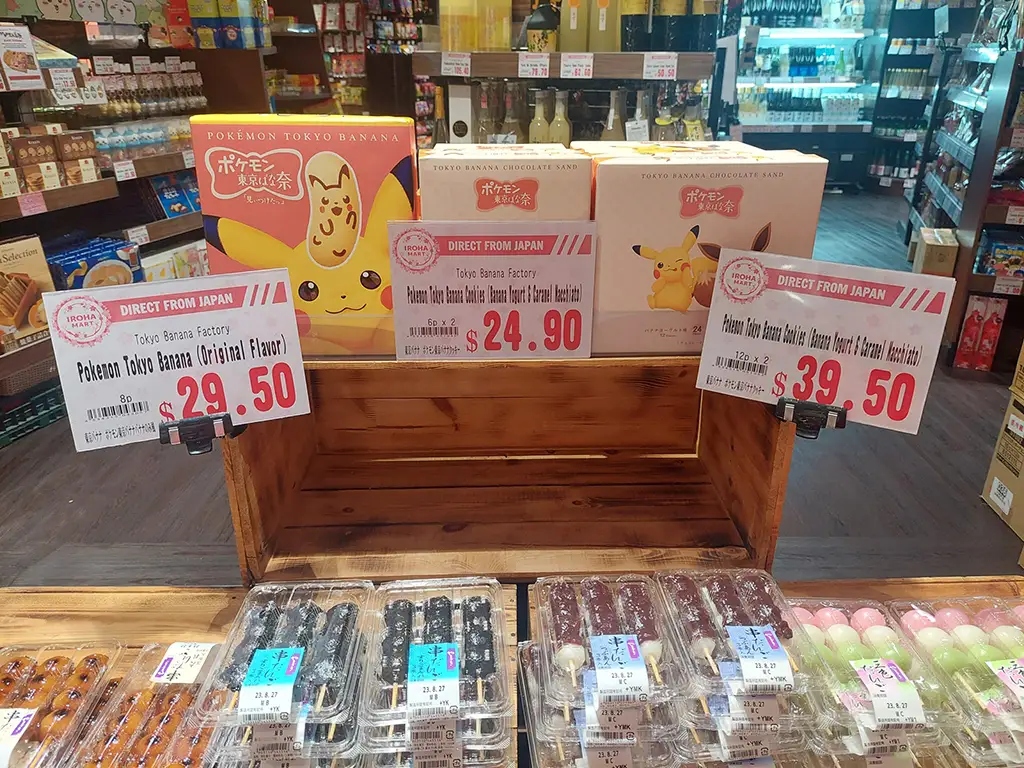 Source: Iroha Mart via Facebook – Japanese Snacks Singapore
Facebook: Visit Here
Instagram: Visit Here
Website: https://www.fairmart.app/store/iroha-mart?utm_source=GMB&utm_medium=GMB_Web&utm_campaign=Iroha+Mart_GMB_Web 
Address: 68 Orchard Rd, Singapore 238839
Operating Hours: Daily, 10am-10pm
Located right at the centre of Singapore, Iroha Mart offers a plethora of Japanese snacks for you to choose. Iroha Mart sources exclusive products from all across 47 regions in Japan. For Sanrio and anime lovers, Iroha Mart provides exclusive Japanese snacks like Fujiya's chocolate in various Sanrio character shapes, Sanyo Foods' Ichiban Noodles with different Pokemon designs and other known characters. Be sure to check these exclusive Japanese snacks at Iroha mart before anime and Sanrio enthusiasts wipes them out!
Customer Testimonial
" One of my favourite Japanese stores to get Japanese confectionery snacks and instant noodles. Iroha Mart regularly brings in new and latest items from Japan. Reasonable price and wide varieties of choices, very nice to shop around. Love to come here to hunt for unique instant noodles/ramen and potato chips. "
– SC SC
4. MoguShop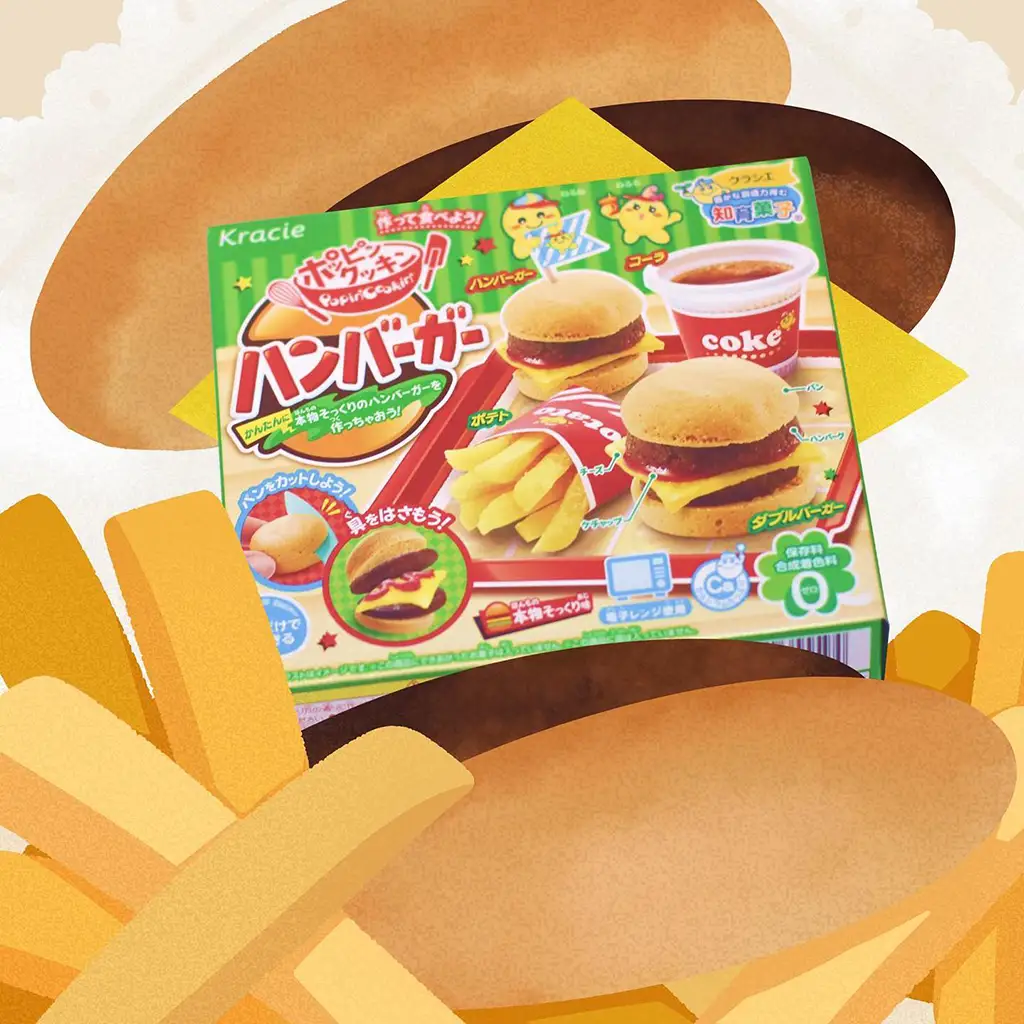 Source: MoguShop via Facebook – Japanese Snacks Singapore
Facebook: Visit Here
Instagram: Visit Here
Website: https://mogushop.asia/ 
Have you ever heard of Popin Cookin? Popin Cookin is a fun and exciting DIY Japanese snack especially for kids to foster their creativity and at the same time have fun doing it. However, unless you are in Japan, it is hard to acquire Popin Cookin even from Japanese supermarkets. Well, don't worry, MoguShop offers different types of Popin Cookin from creating candy donuts to hamburgers at only $6.50 along with a whopping 130 other unique Japanese snacks and produce for you to choose from!
Besides the plethora of Japanese snacks and produce, MoguShop also has great customer service where their website provides a live chat function where they answer immediately to your enquiries. On top of that, customers enjoy free delivery for orders above 10$ (how cool is that?!). With just a click of a button, MoguShop will deliver the product right to your doorstep, so hurry up and start adding items into your cart now!
Customer Testimonial
" Just got my first order… LOVING IT! Amazing selection, reasonable prices, functional online shop, pro and polite delivery guy! "
– Tomas Adam Laslo
5. Gokoku Bakery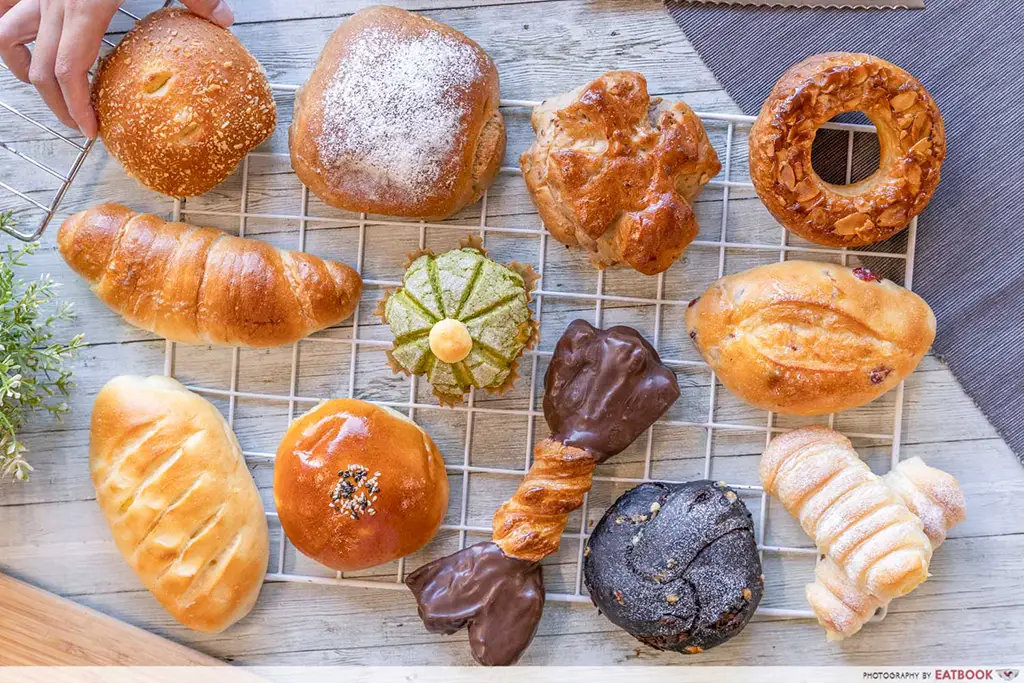 Source: TheSmartLocal – Japanese Snacks Singapore
Operating Hours: Daily, 10am-10pm
Craving for something buttery and savoury yet healthy at the same time? Gokoko Bakery has got you covered with their best seller – the Shichifuku Pan – made with 5 varieties of grains like oatmeal, malt, etc at $2.10. Gokoku Bakery also has a wide variety of different flavoured bread ranging from sweet to savoury like the Signature Hokkaido Red Bean Anpan and Mochi Mochi Cheese. There are also other unique flavours – matcha for matcha lovers as well. Who says that Japanese snacks are all about biscuits and crackers? Head down to Gokoku Bakery to try out their extensive line of freshly made breads!
Customer Testimonial
"Feel like a kid in a toy stall on Christmas eve. Every Bread looks so good. Maybe becoz I am sick of seeing the same breads in all those bakery chains all over Singapore. So spoilt for choices, I end up taking all those that I can't leave without."
– Gerald Chai
6. Kin No Mame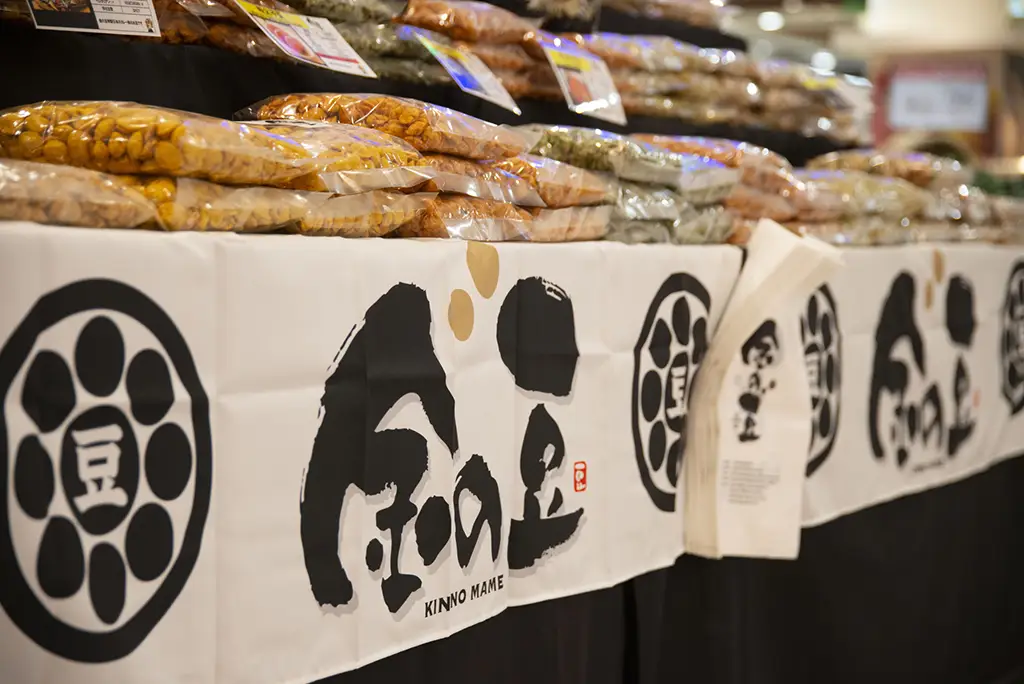 Source: Kin No Mame via Website – Japanese Snacks Singapore
Website: https://kinnnomame-eg.group-exciting.com/ 
Address: Locations
Operating Hours: Locations
Any bean lovers over here? Well, bean lovers will surely not want to miss this out. Kin No Mame which stands for Golden Beans which specialises in creating different flavour bean crackers to suit different tastes for any occasion. Kin No Mame does not play around as their beans are entirely made in Japan by top level Japanese specialists. These Japanese snacks are also hard to find in Singapore as Kin No Mame does not do wholesale of their bean crackers. (That's when you know it is serious business!) Bean lovers, what are you waiting for, hurry, head down to Kin No Mame and try out their bean crackers!
Customer Testimonial
" Today they had a stall in Cold Storage. Amazing vegetarian options are available. They also give sample pieces to taste. The person available behind this stall was very patient and kind and allowed us to pick our  choice of Chips. I would highly recommend this place. " 
– Ch Mu
Conclusion
Singapore offers a delightful array of options when it comes to buying Japanese snacks and produce. Whether you prefer the convenience of online shopping or physical stores, there are plenty of choices available. Be it renowned supermarkets like Don Don Donki or hidden gems like Kin No Mame there will always be choices that suit your taste buds. Equipped with the knowledge on where to buy japanese snacks in Singapore, prepare to go on an adventure searching for a taste of Japan on this little red dot. 
Still looking for great dining options here in Singapore? Click the links below:
• Written by Elvina Lee
Frequently Asked Questions (FAQs)
Q: Why are Japanese snacks so popular?
A: Japanese snacks offer many different options with more complex flavours then the typical more simple flavours like chocolate, peanut butter, caramel, etc. Most Japanese snacks are also considered healthier options as they are created with premium components.