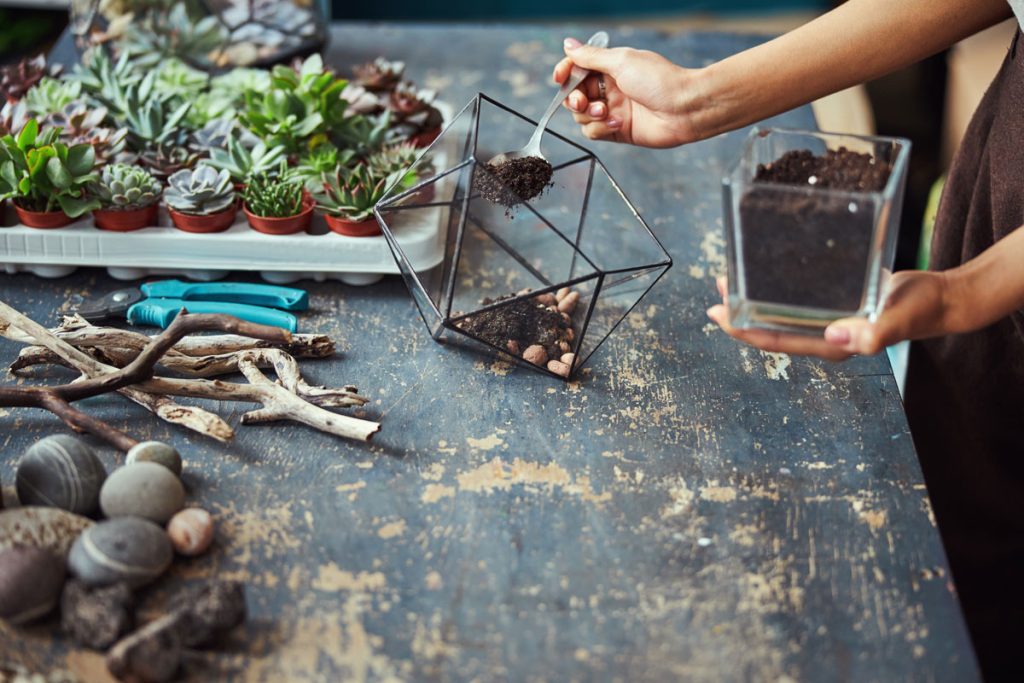 Nature-loving urbanites in Singapore have found a trendy way to bring the outdoors inside – in the form of terrarium workshops! In 2023, these workshops have become the go-to activity for those looking to unwind, bond with friends, and add a touch of green to their living spaces.  The art of terrarium making has transformed into a beloved  activity for individuals and groups alike. Whether you are a seasoned horticulturist or a curious newbie looking to expand your green thumb, Singapore is home to a myriad of workshops that offer a fun, engaging, and hands-on experience! 
So, embrace your inner botanist and dive into the world of terrarium-making and discover the joy of sculpting your own miniature garden!
Key Consideration Factors
Before you delve into the world of charming miniature gardens, here are some things you might want to consider before jumping right in. 
Location:

For easy access and reduced commuting duration, you may want to ensure that the workshop of your choice is within your area or conveniently located.



Availability:

Make sure that the program and shop is available and accessible. Check their operating hours and availability on specific dates. It is recommended to make reservations or bookings in advance to secure your preferred time slot to avoid disappointment.



Cost:

Make sure that the terrarium workshop of choice charges a reasonable fee for their services and facility and is within your budget.



Quality:

Research on the quality of training, plants and equipment provided by the terrarium shop, and read online reviews and testimonials if available.



Duration:

Consider the average session duration before booking and determine feasibility based on your schedule.



Expertise:

For the best experience, try to select a workshop that employs experienced members who are well informed about plants, indoor gardening and terrarium building. Staff should also be enthusiastic and patient, displaying good customer care.



Services:

Some terrarium workshops also provide maintenance services and additional decorative options, such as plant watering and/or pruning. This might influence your decision on which workshop to choose!
Best Terrarium Workshops in Singapore
1. The Green Capsule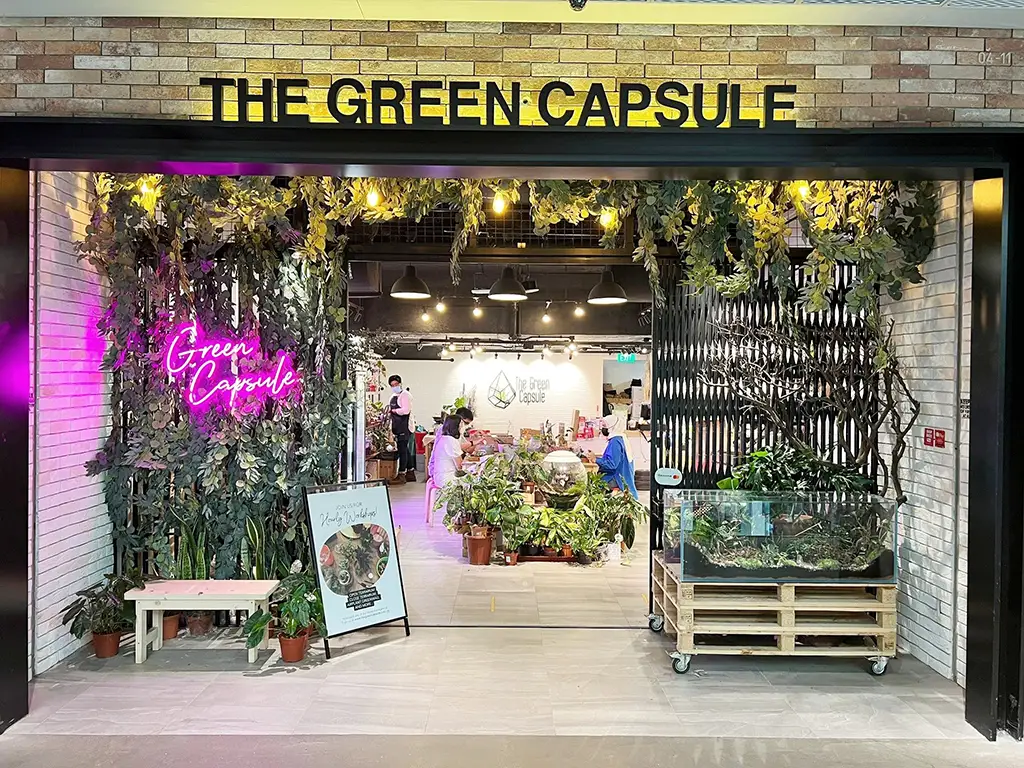 Source: The Green Capsule via Facebook – Terrarium Workshop Singapore
Facebook: Visit Here
Instagram: Visit Here
Website: https://www.thegreencapsule.com.sg/17-workshops 
Address: Locations
Operating Hours: Locations
Established in 2014 in Singapore, The Green Capsule has sprouted as an avant-garde terrarium hub. They've mastered the art of crafting boutique terrariums, offering everything from dainty egg designs to the expansive geo glasshouse. But, what steals the show? Their groundbreaking "air plant greenwall", an open terrarium set on frames that transforms greenery into wall art. Looking to wear the gardener hat? Dive into their workshops! They meticulously curate a learning experience, supplying all terrarium essentials, and nurturing creativity. Whether you're aiming for a pinch of green in your office or a DIY green sanctuary, The Green Capsule is your go-to!
2. A Tilly A Day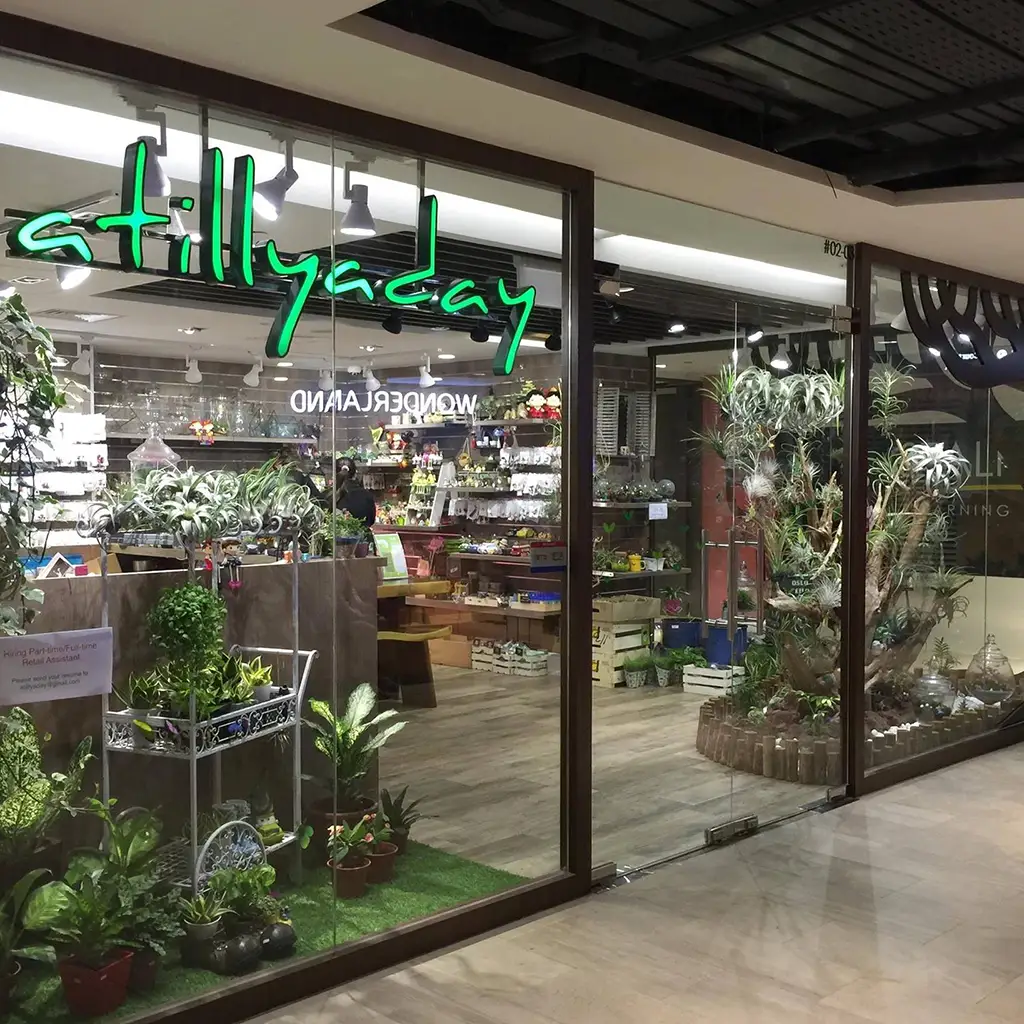 Source: A Tilly A Day via Facebook – Terrarium Workshop Singapore
Facebook: Visit Here
Instagram: Visit Here
Website: https://www.atillyaday.com/ 
Address: 1 Tampines North Drive 1, Singapore 528559
For those with a passion for green spaces, A Tilly A Day emerges as a terrarium paradise! Whether a novice or a seasoned enthusiast, they offer a plethora of choices from exotic plants to intricate accessories, allowing everyone to craft their one-of-a-kind ecosystem. If crafting isn't your forte, ready-made terrariums await. For beginners, $15 grants an entry with a mini terrarium kit, a fun endeavour for adults and kids alike. Beyond selling, they empower with knowledge. Their interactive workshops not only delve into the art of terrarium making but also provide insights into plant care, fostering a community of informed terrarium enthusiasts.
3. J2 Terrarium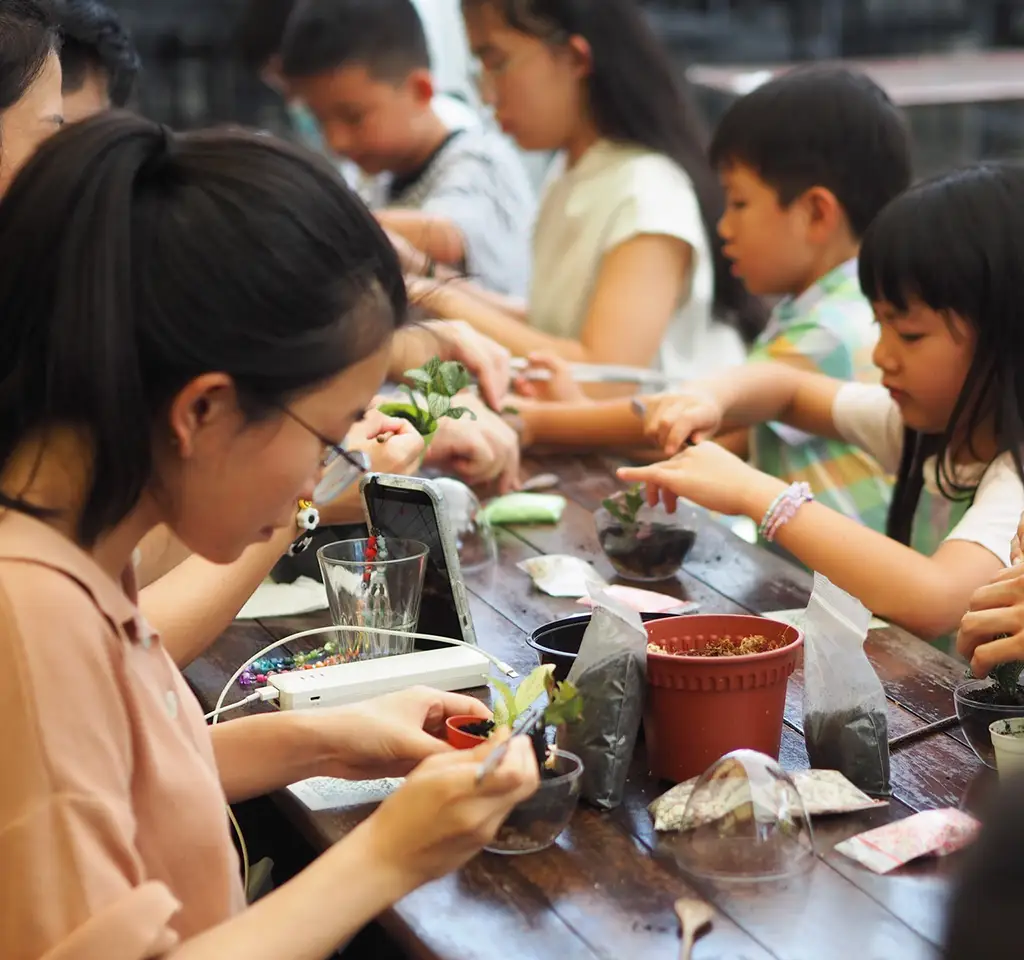 Source: J2 Terrarium via Facebook – Terrarium Workshop Singapore
Facebook: Visit Here
Instagram: Visit Here
Website: https://j2terrarium.com/ 
Address: 1 Yishun Industrial Street 1, Singapore 768160
Operating Hours: Mon-Fri, 8:30am-10:30pm | Sat-Sun, 11am-6pm (By appointment only)
Born from a couple's passion for nature, J2 Terrarium has flourished into a prominent terrarium shop and workshop hub. They not only supply top-tier materials for terrarium crafting but also guide enthusiasts in their immersive workshops! Participants enjoy hands-on experiences, crafting personalised terrariums nestled in diverse containers like glass pots and cubes. For those in a hurry, the shop boasts ready-made terrariums starting at $38, with some even featuring LED lighting. Fancy a tailored design? J2 Terrarium welcomes custom ideas, ensuring everyone walks away with a piece of nature they truly resonate with!
4. FunEmpire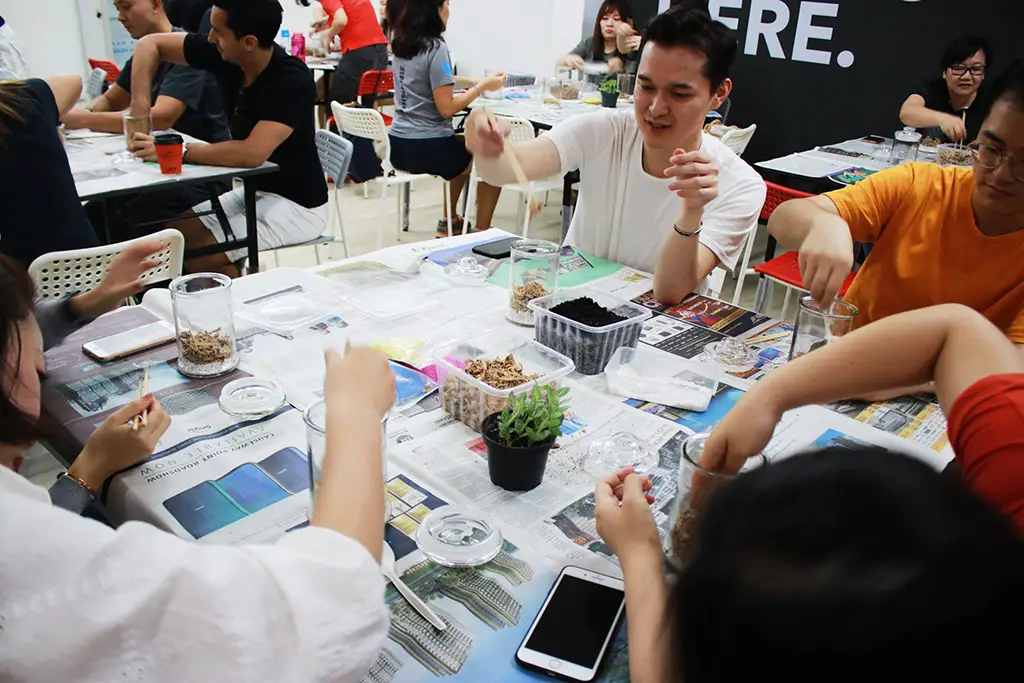 Source: FunEmpire via Facebook – Terrarium Workshop Singapore
Facebook: Visit Here
Instagram: Visit Here
Website: https://shop.thefunempire.com/products/terrarium-workshop-singapore 
Address: 60 Tannery Lane, Singapore 347803 (Workshop held elsewhere)
Operating Hours: Daily, 9am-10pm
The Fun Empire stands out as a leader in the realm of terrarium workshops in Singapore. Not only are they the largest provider, capable of hosting hundreds at once, but they also offer an unparalleled learning experience. Their Terrarium Workshop is carefully designed to merge theory with practice, culminating in a hands-on session where participants can channel their inner florist. It's more than just a craft class, it's a journey of patience, focus, and teamwork, making it an ideal getaway for couples or groups. Furthermore, FunEmpire's foray into virtual space allows enthusiasts to craft their terrariums comfortably at home, proving their adaptability and commitment to innovation.
5. Ecoponics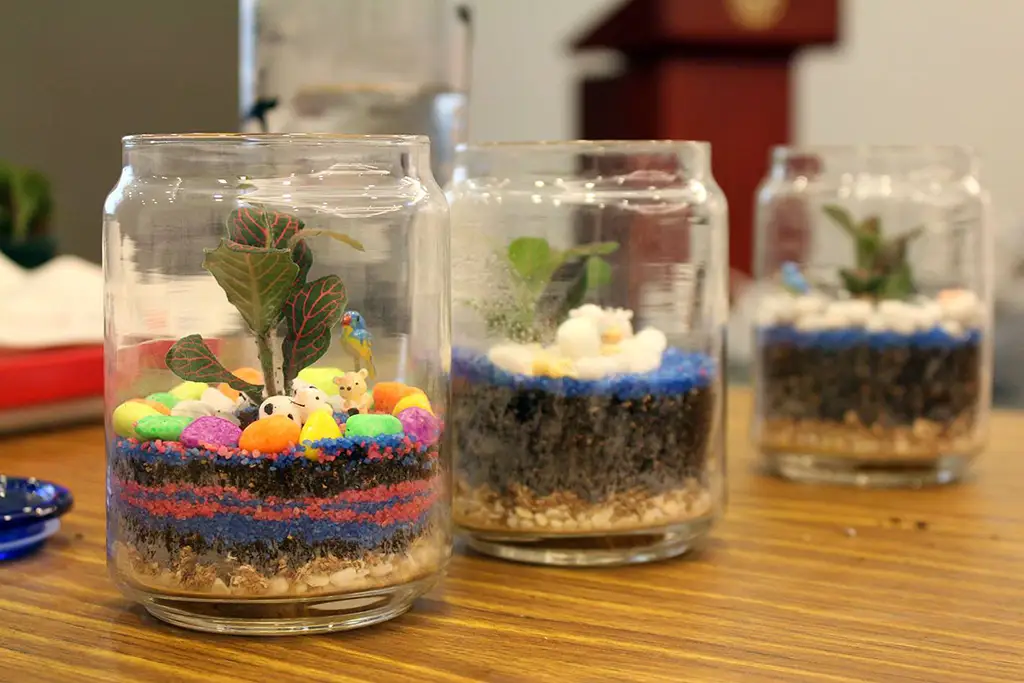 Source: Ecoponics via Facebook – Terrarium Workshop Singapore
Facebook: Visit Here
Instagram: Visit Here
Website: https://www.ecoponics.com.sg/terrarium-workshop-singapore/ 
Address: 37 Jalan Pemimpin, Singapore 577177
Operating Hours: Mon-Fri, 9:30am-6pm
Ecoponics, champions sustainable farming and indoor gardening. By offering enlightening workshops, they also specialise in sustainable indoor gardens, teaching many to cultivate plants using avant-garde hydroponic techniques and to craft personalised terrariums. These workshops, celebrated by both beginners and experts, promote self-sustainability while deepening bonds with the environment. Through their educational approach, Ecoponics not only introduces innovative agriculture but also nurtures a green-minded community.
6. Love In a Bottle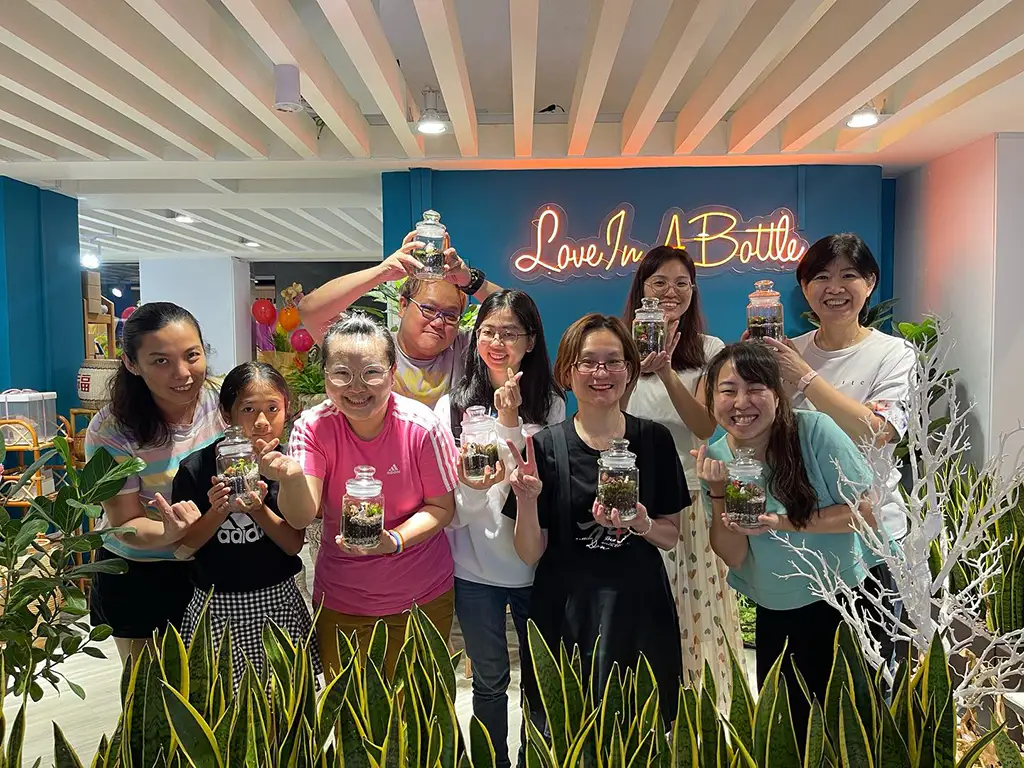 Source: Love In A Bottle via Facebook – Terrarium Workshop Singapore
Facebook: Visit Here
Instagram: Visit Here
Website: https://www.loveinabottle.sg/ 
Address: 6 Raffles Blvd, Singapore 039594
Operating Hours: Daily, 11am-9pm
Love In A Bottle crafts miniature worlds inside glass containers, merging nature and artistry. This unique vendor meticulously designs each terrarium to showcase nature's beauty indoors! Love In A Bottle's workshops are perfect for couples and families. Emphasising both creativity and personal expression, they specialise in crafting unique and personalised terrariums. Participants handpick from a diverse range of plants, decorative elements, and containers to forge a one-of-a-kind ecosystem. Whether seeking a distinct gift for a loved one or a captivating addition to personal space, Love In A Bottle's terrariums serve as enchanting, timeless treasures!
7. Crafts For Green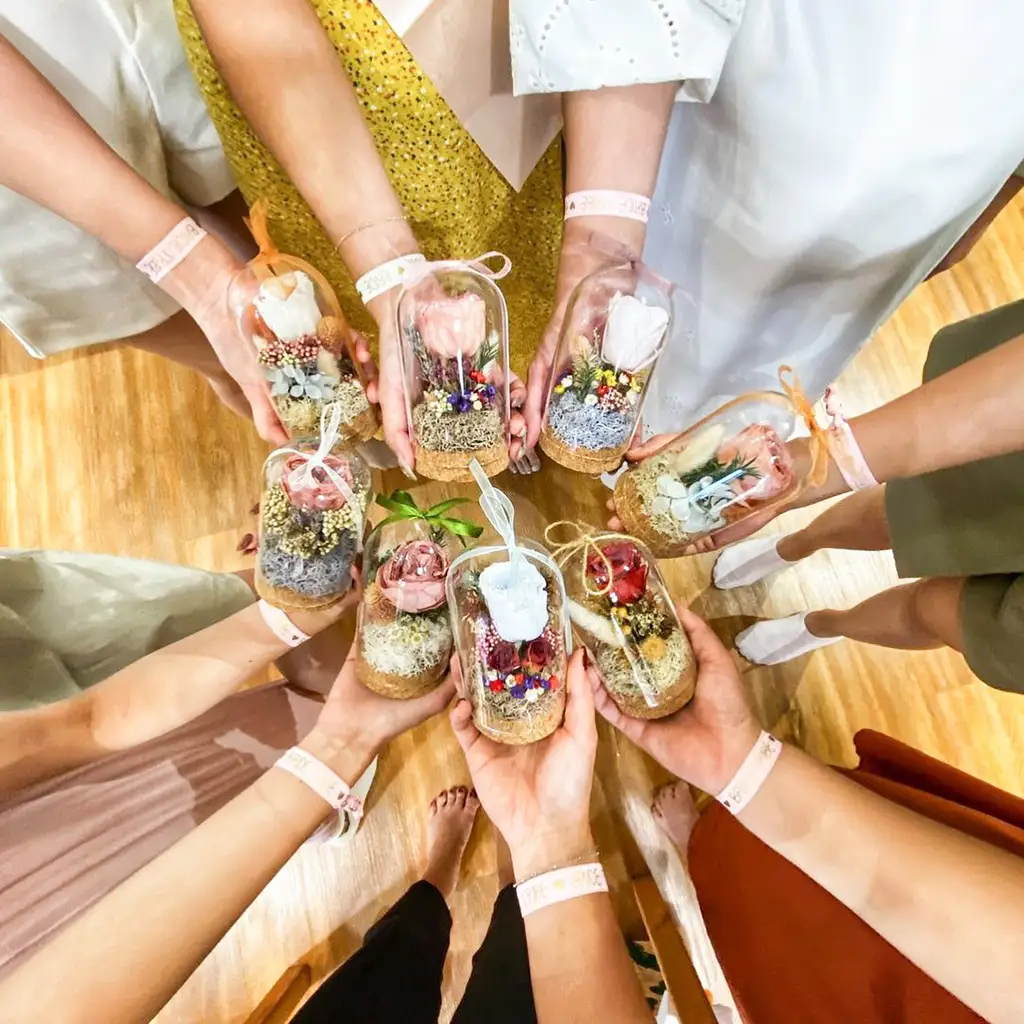 Source: Craftsforgreen Workshops via Facebook – Terrarium Workshop Singapore
Facebook: Visit Here
Instagram: Visit Here
Website: https://craftsforgreen.com/ 
Address: 41 Jalan Pemimpin, Singapore 577186
Operating Hours: Daily, 10:30am-6:30pm
In the heart of Singapore, Crafts for Green emerges as an eco-friendly oasis, promoting not just artistry but also sustainability. Offering wonderful hands-on workshops, participants of all ages can dive into the world of terrarium-making, picking from an array of plants, containers, and decor, guided by seasoned instructors. Oh, but they don't stop there! Crafts for Green champions sustainable living, urging crafters to embrace upcycling and green crafting techniques. From paper-making to creating eco-friendly jewellery, creativity intertwines with environmental consciousness! And for the younger generation? A special terrarium workshop awaits, promising a birthday filled with green thumbs and miniature gardens!
Conclusion
As 2023 winds down, Singapore's love affair with terrariums has reached its zenith. With so many delightful workshops on offer, budding horticulturists are spoilt for choice. Hopefully, now you are pumped and excited knowing there's a terrarium experience waiting to captivate your senses! So, why not immerse yourself in a green oasis of your own making? Dive into a world where you're the creator of lush miniature gardens, guided by expert hands and friendly hosts and bring a lovely piece of nature home with you! Remember, every tiny terrarium tells a tale!
If you are interested in getting down and dirty in the name of plants, art, fun and exploration, here are some awesome creative adventures you can embark on:
• Written by Jeremy Ugon
Frequently Asked Questions (FAQs)