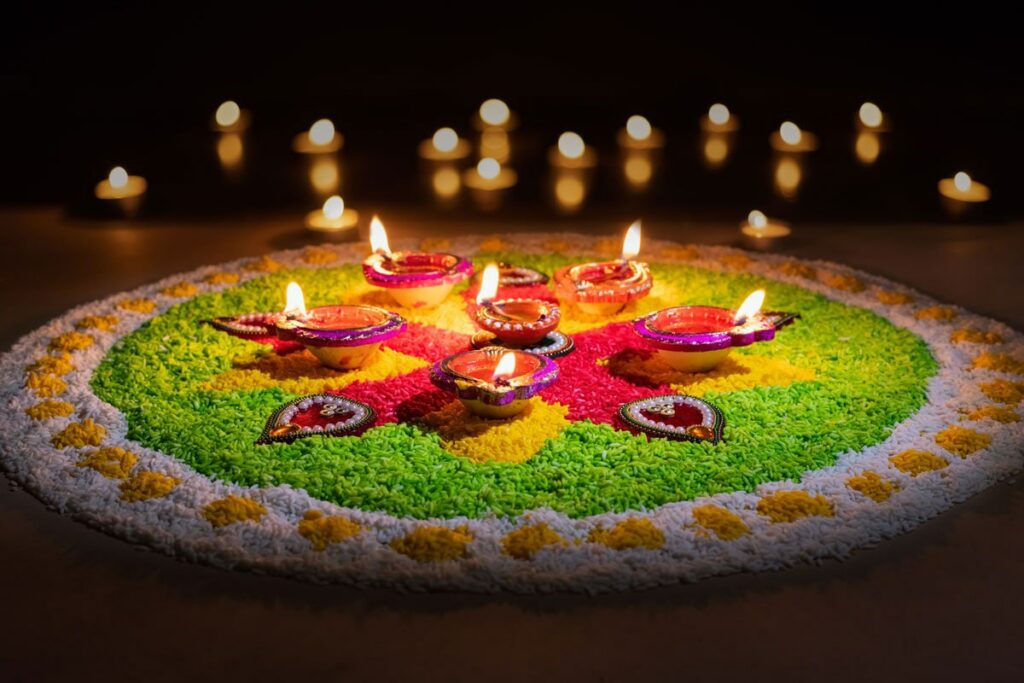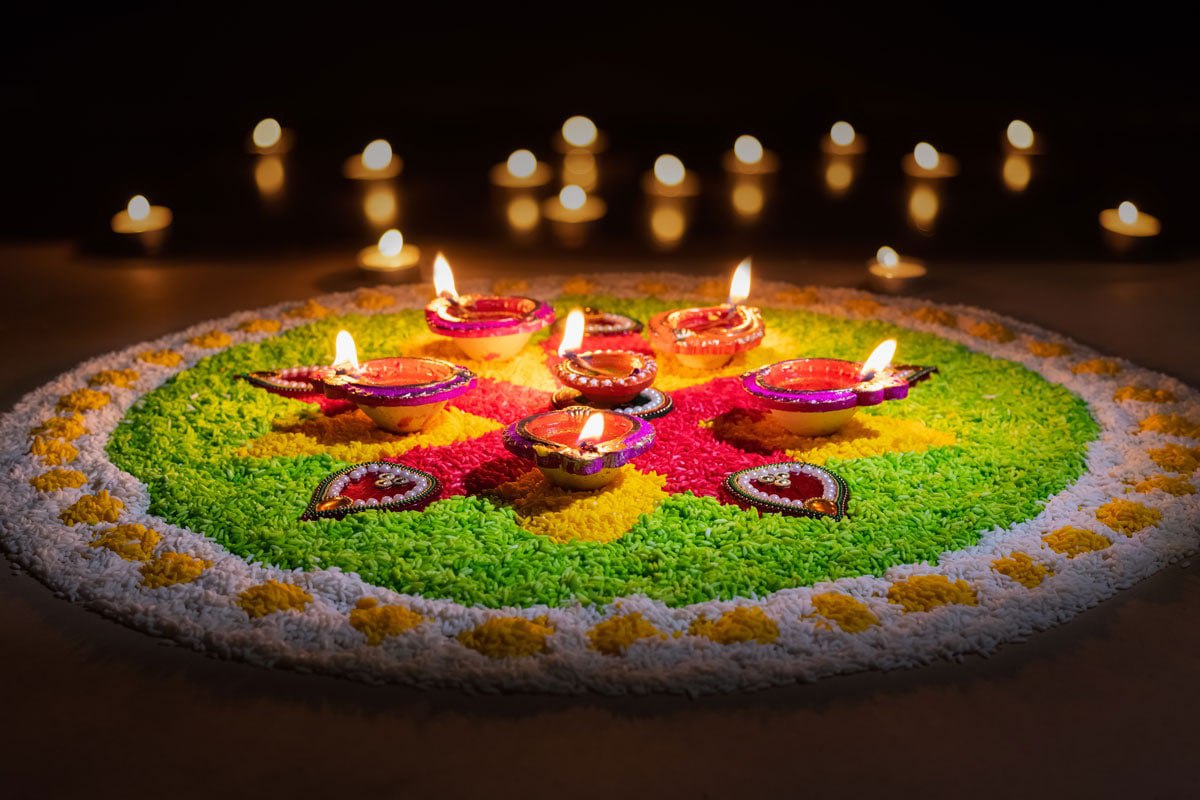 It's almost time for Deepavali (or Diwali) – 24 October 2022 – and we're getting ready. So get your beautiful sarees out, colourful rangoli decorating your doorstep and sparklers in hand, it's time to celebrate the Festival of Lights! Whether you're looking for the most delicious snacks, your perfect OOTD or supplies for festivities, we've got some of the best recs for where you can prepare for Diwali this year!
Best Places to Celebrate Deepavali
1. Deepavali Festival Village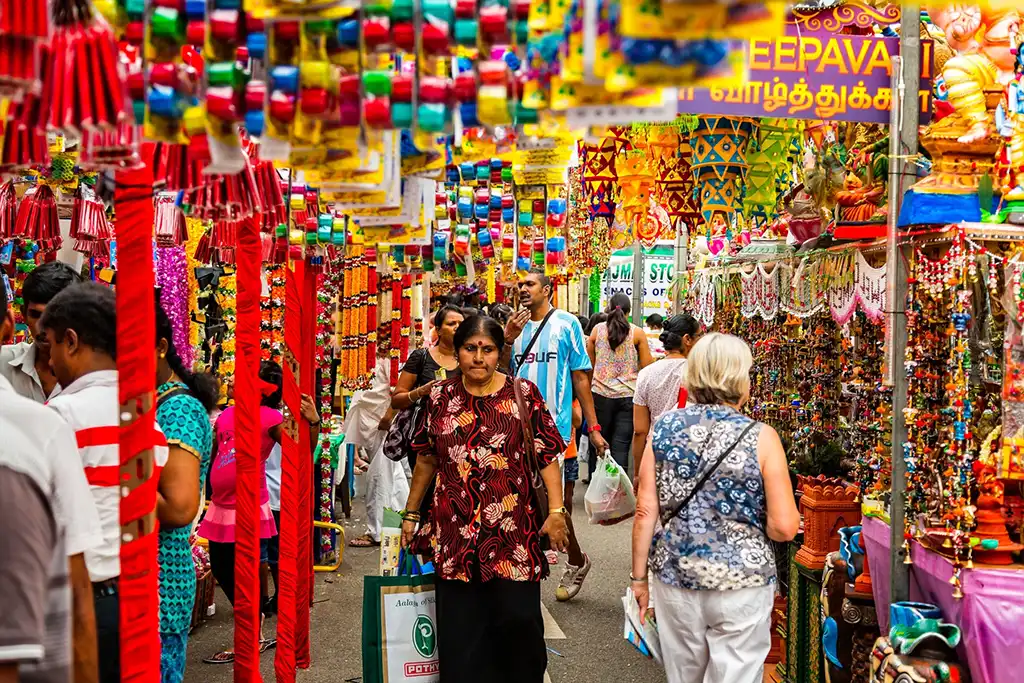 Source: Shutterstock – Deepavali
Delve into the colourful crowds on Campbell Lane, it's time for Singapore's annual Deepavali Festival Village! Expect a street full of shops selling everything you need to make your Diwali special, from Indian ethnic clothes to diyas, decorations, rangoli and even sparklers! This buzzing bazaar is perfect for browsing all things Deepavali and is definitely worth a visit. Keep an eye on your budget though, it's way too easy to get caught up because it all looks so eye-catching!
2. Moghul Sweets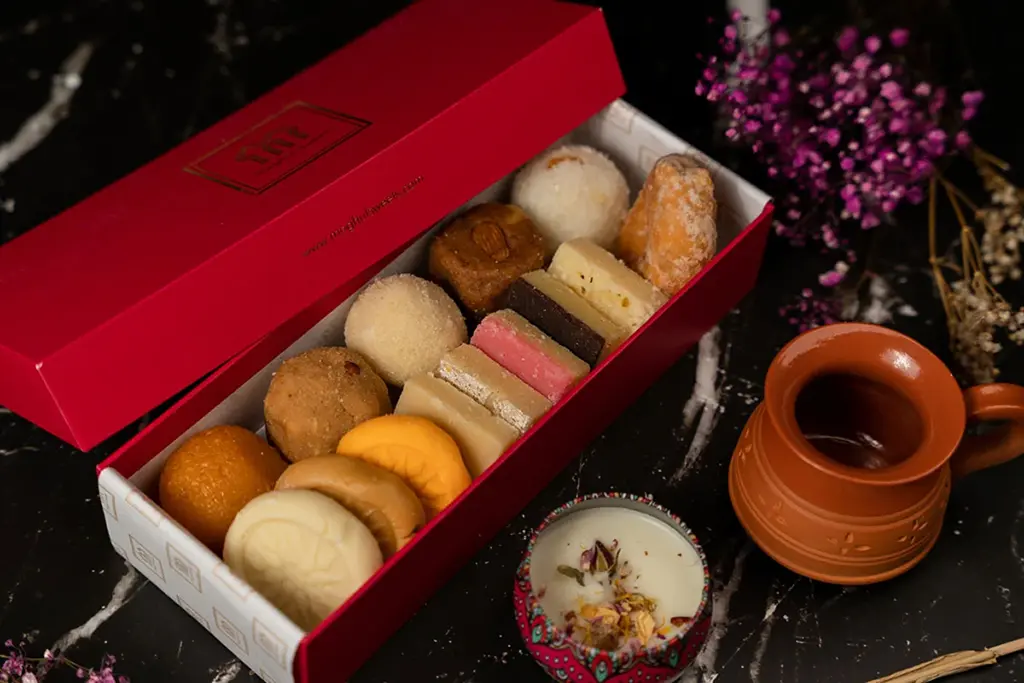 Source: Moghul Sweets via Facebook – Deepavali
Facebook: Visit Here
Instagram: Visit Here
Website: https://www.moghulsweets.com/
Address: 48 Serangoon Road, Singapore 217959
Operating Hours: Daily, 9:30am-9:30pm
Long heralded as one of the best and oldest Indian sweet shops in Singapore, Moghul Sweets has everything you need for a good Deepavali celebration! They've been making mithai (sweets) since 1996 – simple and authentic, just the way we like it. Some favourites include their Kaju Katlis, Milk Pedas, Rasgulla and of course, unforgettable Modaks for Deepavali. So if you're looking for that traditional sweet fixing, visit Moghul Sweets for treats your taste buds won't regret!
3. ADDA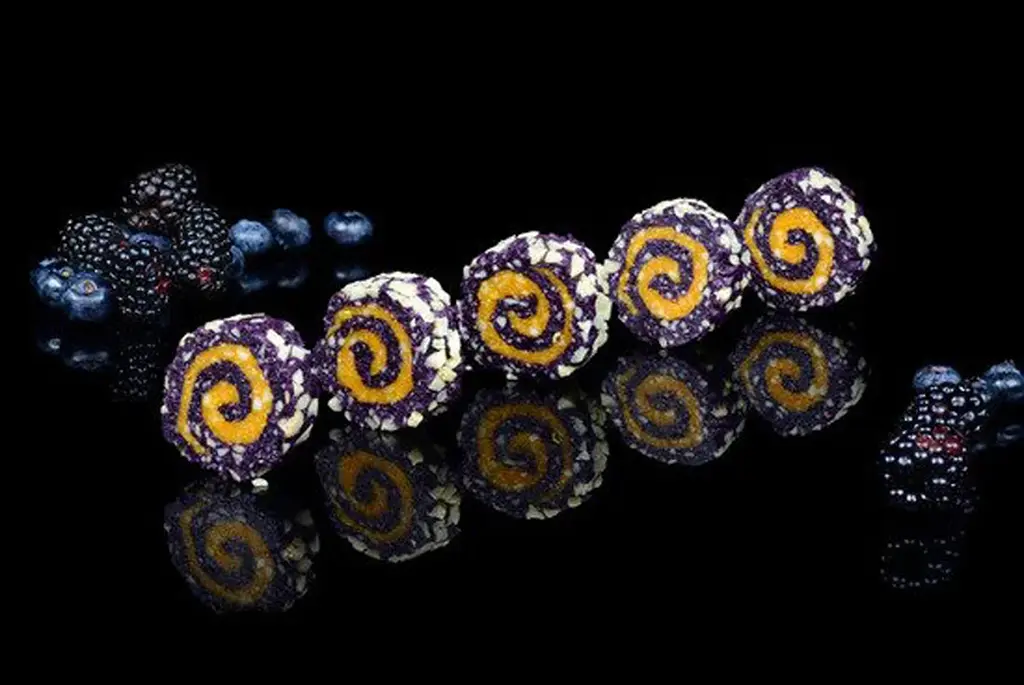 ADDA via Shopify – Deepavali
Facebook: Visit Here
Instagram: Visit Here
Website: https://thespiceadda.com/
Address: 7500E Beach Rd, Singapore 199595
Operating Hours: Daily, 12pm-3pm & 6pm-10:30pm
Devour a palette of handcrafted artisanal Diwali sweets to make your Deepavali just that much sweeter! In collaboration with Michelin star chef, Manjunath Mural, The Spice ADDA has created a limited edition collection of Premium Celebration Mithai! With a range of flavours made from the finest of ingredients, you'll find flavours like Lychee and Gulkand (rose compote) mithai and Gula Melaka and Coconut for a twist on a local classic. Order here now to get your hands (and taste buds) on some of these decadent treats!
4. Shahi Maharani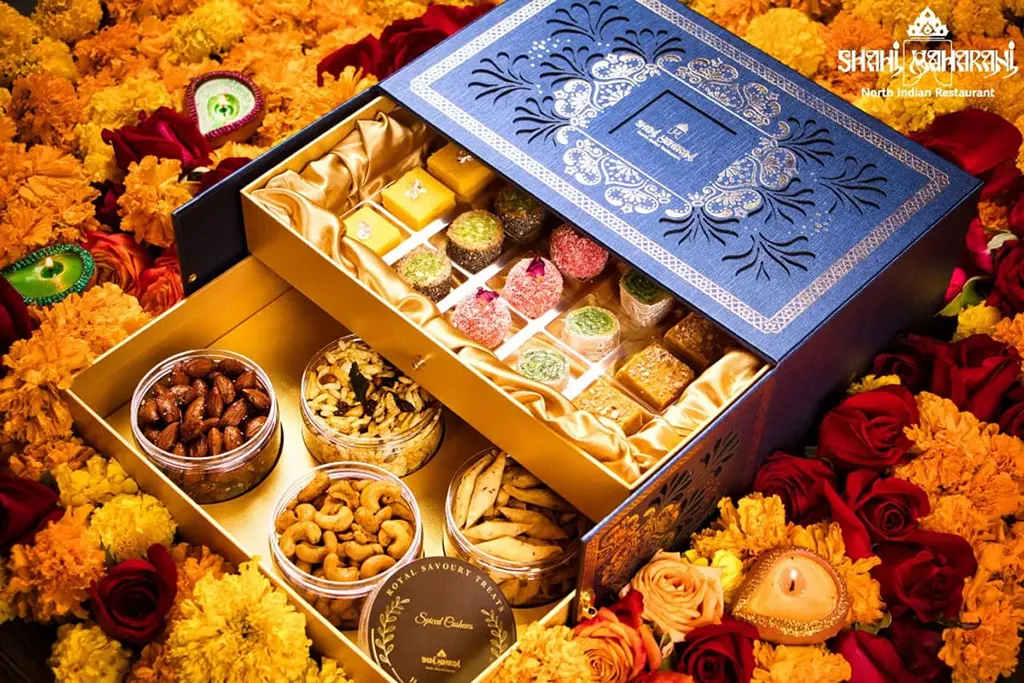 Source: Shahi Maharani via Facebook – Deepavali
Facebook: Visit Here
Instagram: Visit Here
Website: https://www.shahimaharani.com/
Address: 252 North Bridge Road, Singapore 179103
Operating Hours: Daily, 12pm-3pm & 6:30pm-11pm
Diwali may be the Festival of Lights, but it's a time for sweet beginnings. So have a sweet diwali with Shai Maharani's Diwali catalogue! Browse their fine selection of handcrafted, artisanal mithai perfect for the festive season. Plus, they're preservative-free, vegetarian-friendly and made fresh daily! Choose from their Celebration Box which is packed in shades of Rangoli, the Royal Festive Box, Treasure Sugar & Spice Box, Treasure Sweet Box and the Royal Savoury Treats Box! Either way, you can enjoy sweet and savoury treats to make your Deepavali a good one! Order early to avoid disappointment!
5. The Hamper Story
Source: The Hamper Story via website – Deepavali
Facebook: Visit Here
Instagram: Visit Here
Website: https://thehamperstory.com/
Address: 10 Ubi Crescent, Singapore 408564
Operating Hours: Daily, 10am-7pm
Looking for delicious gifts to pass to your friends and family (or yourself *wink*) this Deepavali? The Hamper Story is your one-stop solution for handpicked, luxurious gift baskets filled with goodies for every occasion. This year, they have 13 premium Diwali Hampers for you to choose from for those looking to level up their gift-giving experience. Filled with designer decorative sets, trays and boxes, silk ropes, floral decorations as well as delicious nuts and premium mithai, these hampers are a perfect gift!
6. Mangalam Shop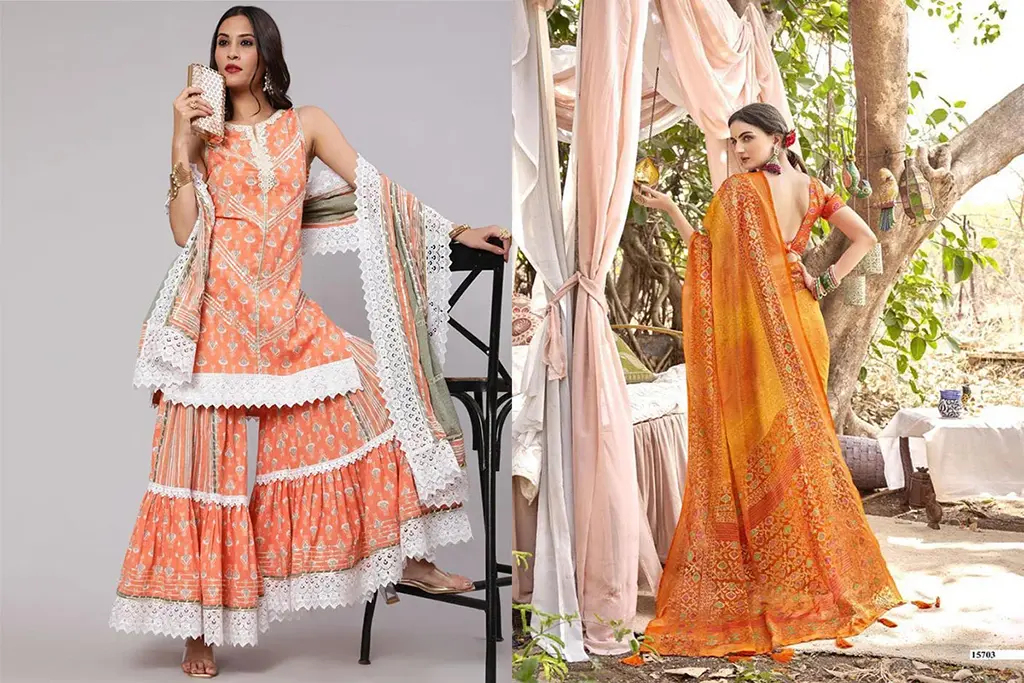 Source: Mangalam Shop via Facebook – Deepavali
Facebook: Visit Here
Instagram: Visit Here
Website: https://www.mangalamshop.com/
Address: 301 Upper Thomson Road, Singapore 574408
Operating Hours: Mon, Wed-Sun, 11am-6:30pm | Closed on Tue
Shop elegant and affordable Indian ethinic wear at Mangalam Shop, where they pair traditional with trendy to make collections that will make you feel amazing wherever you are. Explore both festive and casual sarees, salwars, kurtis, lehengas and of course, to make the outfit fab, jewellery! After all, Indian wear without jewellery is like a peanut butter and jelly sandwich without jelly, it doesn't work! With a bountiful amount of styles, colours and patterns, Mangalam Shop is perfect for your Deepavali shopping!
7. Jinder's
Source: Jinder's via Facebook – Deepavali
Facebook: Visit Here
Instagram: Visit Here
Website: https://www.jinders.com.sg/
Address: 153 Selegie Road, Singapore 188316
Operating Hours: Mon-Sat, 11:30am-8:30pm | Sun & PH, 12pm-7pm
Located in Singapore's vibrant Little India, Jinder's provides women with exclusive bridal couture, haute couture and made-to-measure ethnic wear for any occasion. With unmatched designs, bespoke customisation and a wide range of collections, Jinder's is your one-stop shop for casual and special Indian wear. Visit their store or website to explore sarees, lehengas, occasion wear and traditional jewellery for a Deepavali outfit that will make you feel fab. Plus, they cater to all sizes with in-house tailoring services to save you time and effort!
8. Jaypore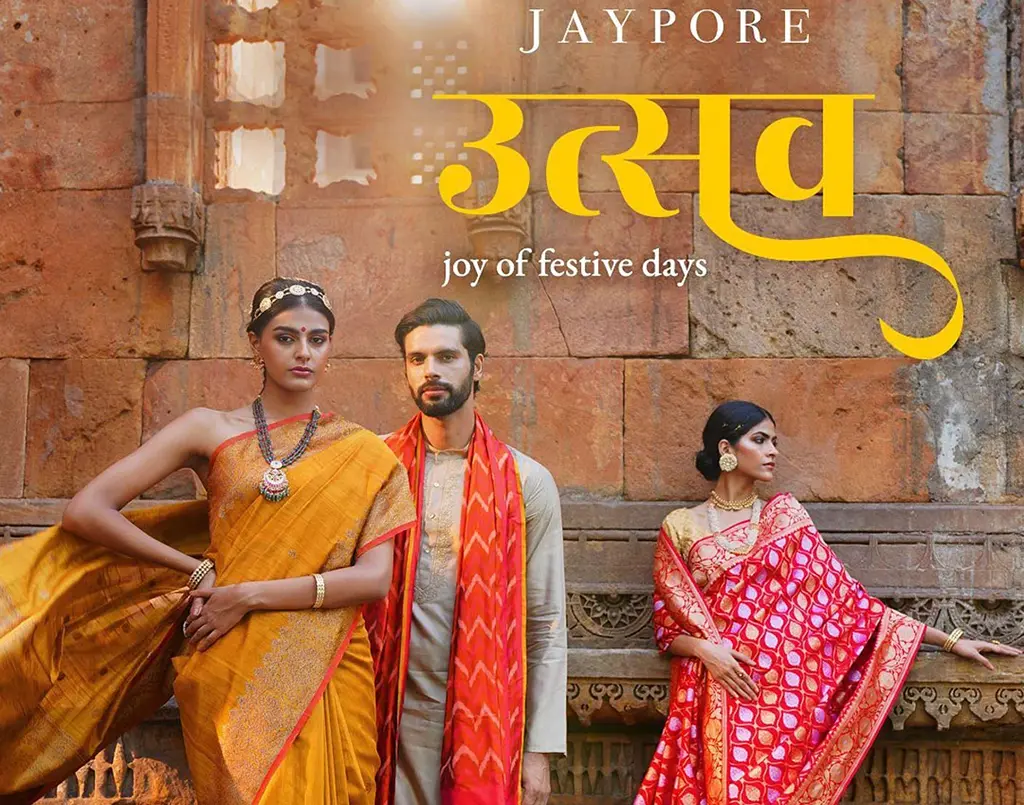 Source: Jaypore via Facebook – Deepavali
Facebook: Visit Here
Instagram: Visit Here
Website: https://www.jaypore.com/
If you're looking for that perfect festive wear, look no further than Jaypore's! Their curated collections include everything from woven, printed and special sarees to kurtas and churidars for both men and women. Finish off your outfit with silver jewellery, hair accessories, shawls, dupattas and footwear to match. Jaypore not only stocks their own brand but also features plenty of other brands for you to choose from, exploring festive fashion looks that suit yourself and your occasion.
9. Nalli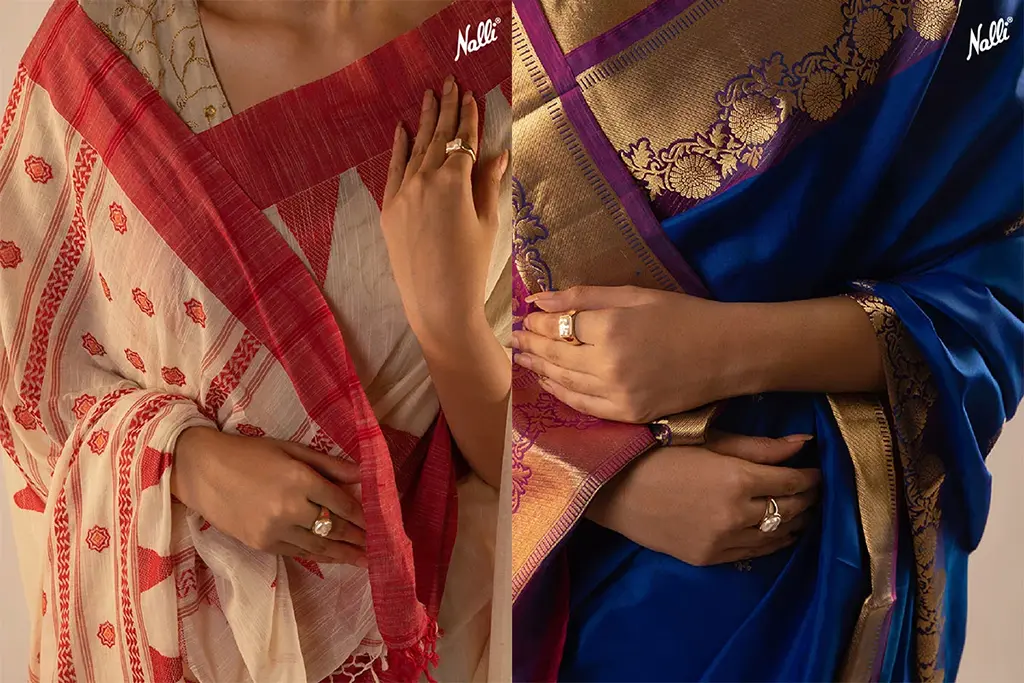 Source: Nalli via Facebook – Deepavali
Facebook: Visit Here
Instagram: Visit Here
Website: https://www.nalli.com/singapore-store
Address: 16 Buffalo Road, Singapore 219787 | 68 Serangoon Road, Singapore 217973
Operating Hours: Locations
Nalli, established in 1928, has been a leading textile and retail business for Indian ethnic wear for nearly a century. Their collections of pure silks and high quality traditional sarees have made them a household name in countries all over the world. So if you're looking for vibrant and colourful sarees to wear this Deepavali in Singapore, Nalli is just the place to visit!
10. Tekka Centre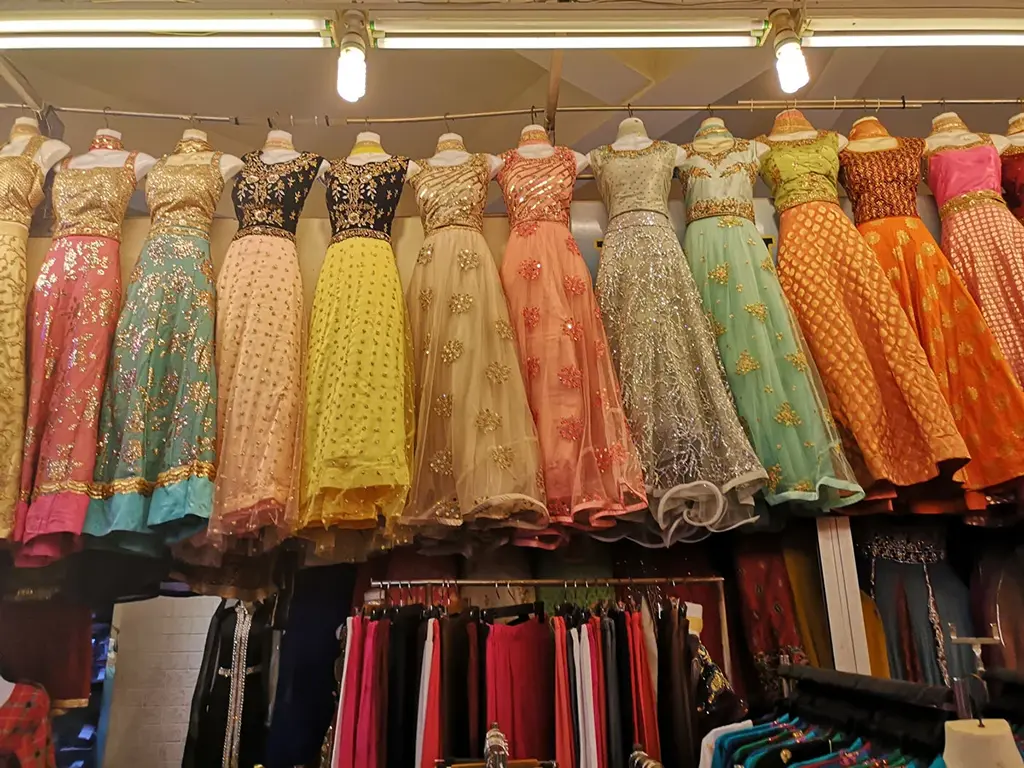 Source: Shutterstock – Deepavali
Tekka Centre on Buffalo Road is one of the best places to browse a vast array of inexpensive, traditional Indian clothes. With so many stores showcasing their wares, you may become a bit lost in all of the colourful ethnic clothes and beautiful decorations, but we're sure you'll find something to wear on Diwali here! Make a day of it and visit the ground floor hawker centre to enjoy Indian food served in the traditional way – on banana leaves and stainless steel platters. Plus, you'll probably be able to find some cool decor pieces to add to your home for Deepavali celebrations!
Conclusion
Are you ready for Deepavali 2022 in Singapore? Well, after you've taken a stop at some of these places, you're sure to be! We wish you a very happy festive season!
Interested in other festivities in Singapore? Get ready for upcoming Halloween, Christmas and New Year's celebrations!
• Written by Adrija Chakravarti