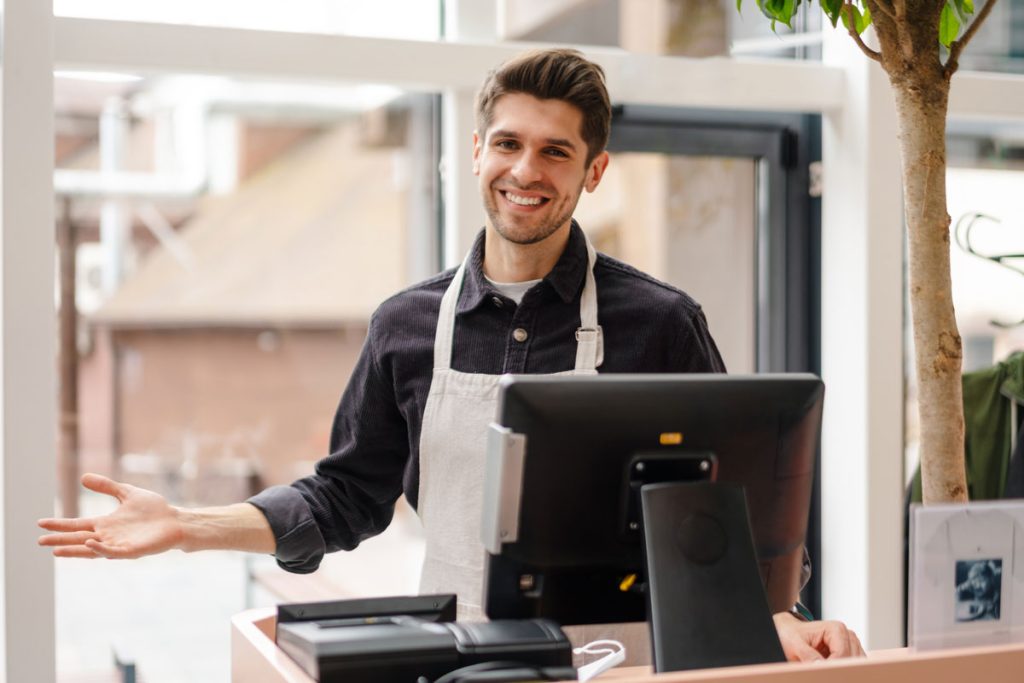 Imagine this: you're a business owner who's processing countless transactions everyday and managing day-to-day operations. You're writing down each transaction manually with paper and a pen. How could you possibly optimise this process? Luckily for you, there are indeed tools to help you: either a cash register or a Point of Sale system.
Many business owners do not know the difference between the two and while they use the terms interchangeably, they have several key differences. And these differences can impact what direction your business goes in and how it functions.
Don't worry, though, that's why we're here to help. In this guide, we'll deep dive through what a cash register is, what a POS system is, and how they are different. So, you can understand and make a better decision on which one suits your business needs more in the long run.
Cash Register VS POS System: What's the Difference?
1. What is a cash register?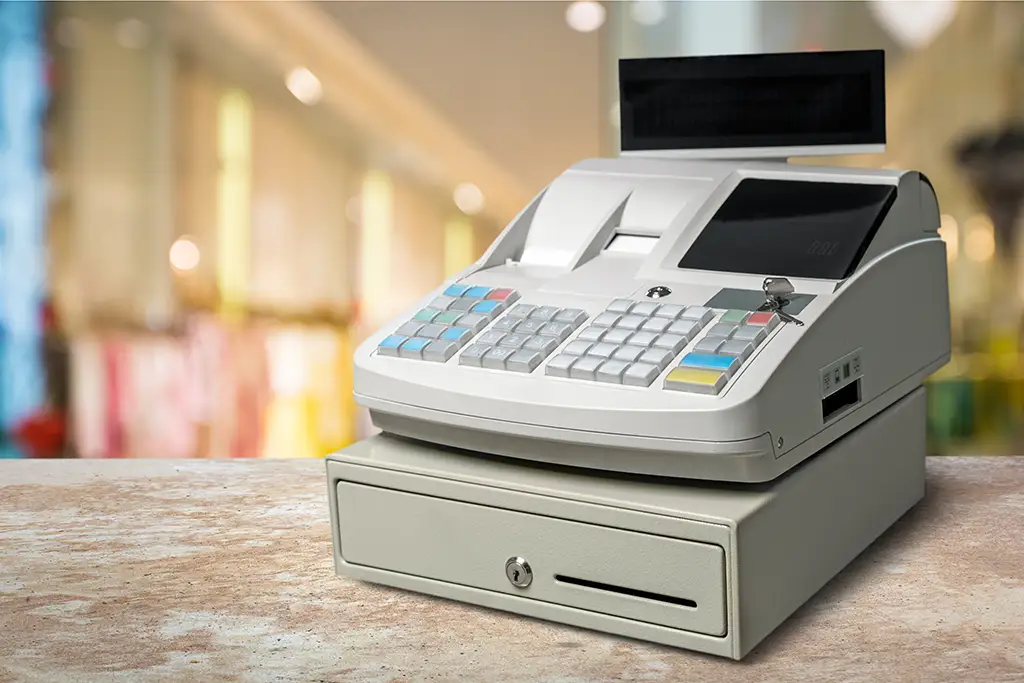 A cash register is defined as a "business machine that usually has a money drawer and is designed to record sales transactions," as quoted by Britannica. It is usually mechanical or electronic with keypads to input information. Cash registers also include hardware like a cash drawer, receipt printer, display for the transaction totals, and additional peripherals.
Cash registers were first invented by James Ritty in 1879. As a saloon owner in Dayton, Ohio, Ritty faced numerous occasions of employee theft by his bartenders, and so created a system to track his funds and sales, aka the cash register. There's no doubt that Ritty and other business owners faced much employee theft back in the day, but even businesses today are not safe from it completely. Hence, while it could only track income, not change, at the time, the cash register has since evolved to be a simple but very useful tool for businesses.
2. What is a POS system?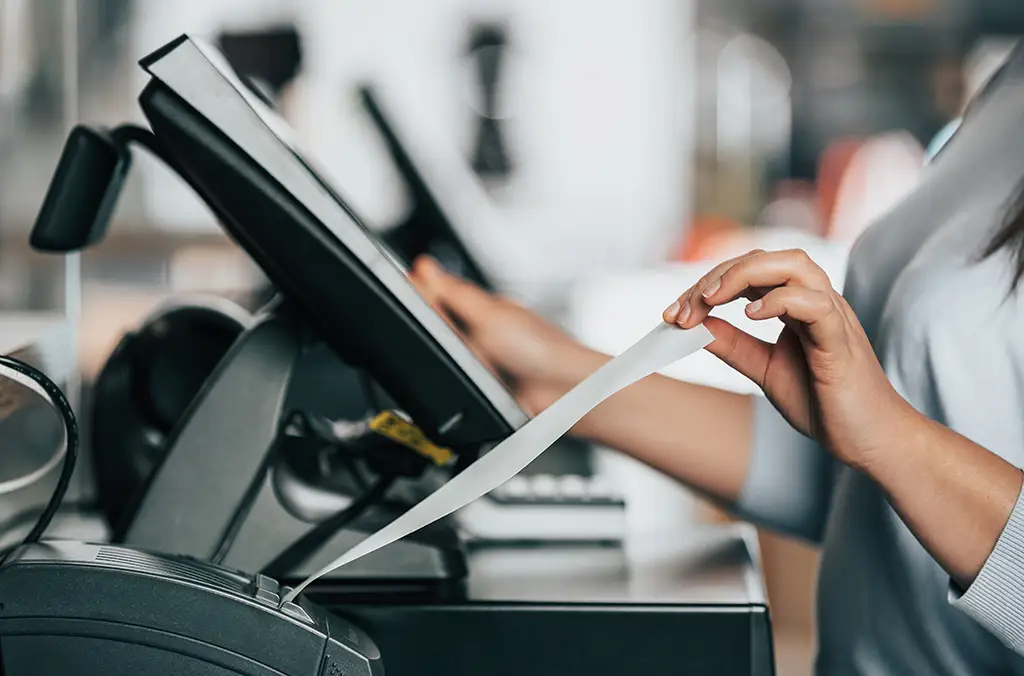 A POS system, often known as a Point of Sale system, is a type of computerised system frequently used in retail, food and beverage, and hospitality sectors to process transactions. It serves as the central hub for your business, combining all sales, inventory, customer, employee, and other information into a single system.
A POS system, which is made up of both hardware and software, enables you to conduct sales transactions, monitor inventory, design loyalty programs and promotions, provide reports, and analyse data. You may print receipts, scan barcodes, accept payments, and store cash with the assistance of peripherals like monitors, a cash register, a barcode scanner, and a receipt printer, among others.
Learn more about exactly what a POS system is in this comprehensive guide.
3. What are the differences between a cash register and a POS system?
While cash registers and POS systems share similarities in their primary function, there's more that meets the eye. And we're not just talking about their different appearances. Instead, there are 5 main differences between the two: flexibility, compatibility and customisability, features & functionality, integrations, and price.
Check out some of the differences at a glance: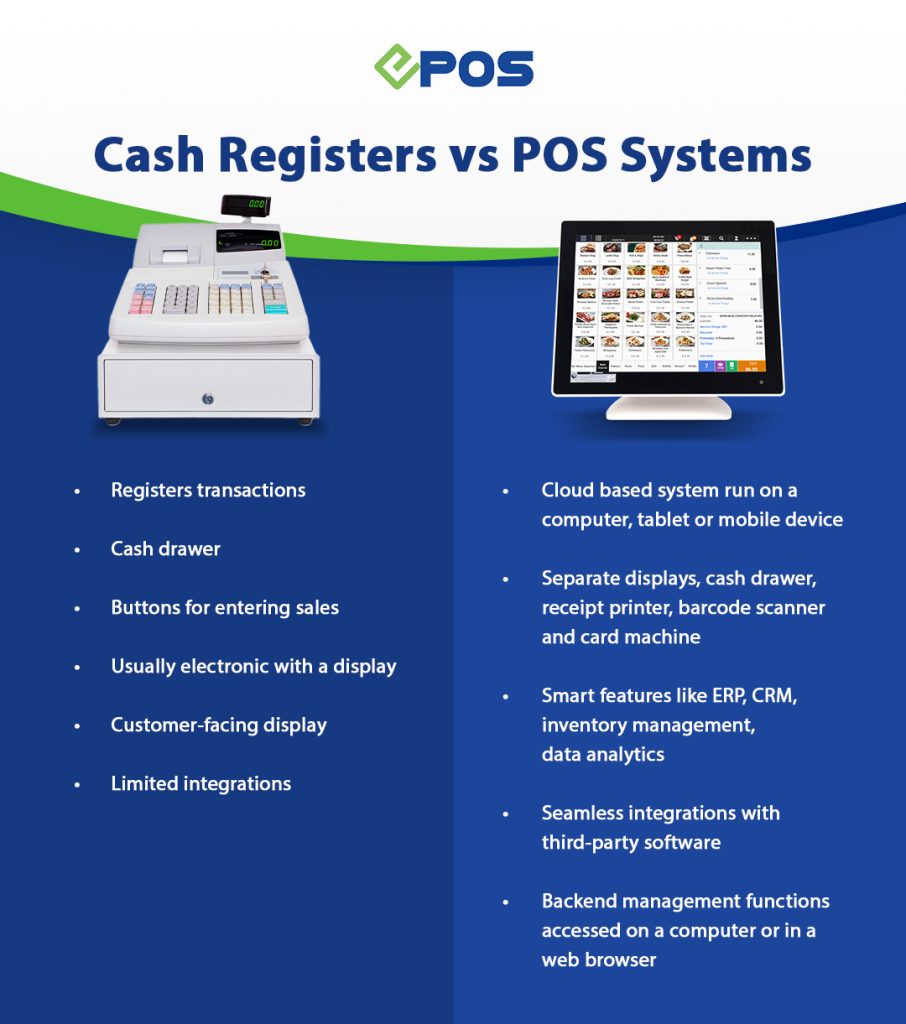 A. Flexibility
Flexibility is not something all businesses require, but one that can be highly useful at times. Unlike cash registers that can only sit on your counter, most modern POS systems are more portable and flexible. Some can run on any compatible device, whether it be a phone, tablet or computer, allowing you freedom. But even if you want a robust POS system at your c checkout counter, you can still do that too. 
Cloud-based POS systems can also allow business owners like you to access the backend and your information from any device, anywhere and at any time – as long as you have an Internet connection, of course. 
No matter if you're wanting to process sales at your brick-and-mortar store or on-the-go, a POS system may be the best choice for you.
B. Compatibility & Customisability
Customisability and compatibility with other hardware and systems is very advantageous for growing businesses. They allow your business to invest in a system that will not only suit your exact needs but help you become more efficient and streamlined.
But, cash registers often lack compatibility with different types of hardware and software, as they only perform basic functions. In that same vein, they are unable to be highly customisable to your business needs.
Having said that, POS systems are much more suitable to be customised with the hardware and software your business needs to thrive. With them, you can set access levels, easier workspaces and quick select buttons, as well as being able to integrate to the hardware and software you need.
C. Features & Functionality
Both cash registers and POS systems share the same primary function: processing transactions and tracking sales. In terms of reports, cash registers can only provide basic sales reports.
However, that's where a cash registers' functions end. If you want to manage your business in more aspects, a POS system is your better bet. Along with processing transactions, a modern POS system can also help you:
Manage your inventory

Collect customer information

Track employee performance

Generate accurate, up-to-date reports

Get analytical data on sales, inventory, customers and more

Run loyalty programs

Create promotions and personalised marketing campaigns
D. Integrations
Unlike cash registers, POS systems can integrate with third-party platforms and solutions. This is a great business advantage because it extends the POS system's capabilities by adding more tracking, reports and efficiency that your business can benefit from.
Some common solutions a POS system can integrate with include:
Accounting software

eCommerce platforms

Enterprise resource planning

Customer relationship management

Delivery platforms

Payment gateways and processors
E. Price
Price is where POS systems and cash registers truly differ. Cash registers run between $100-$800.  However, while they are excellent for those on a tight budget or those who don't require more than sales processing, they lack the additional features of a POs system.
In contrast, Point of Sale systems can be more expensive as compared to cash registers. They are typically $1,000 to $10,000, but also depend on the vendor, type of POS and features required. That being said, POS systems are an investment into your business. In the long run, the added features can save you other costs, and optimise your business processes for increased growth.
Conclusion
Now you know the differences between cash registers and POS systems. Cash registers are slowly being phased out in favour of more robust POS systems; however, they are still a useful tool found in a variety of businesses. If you're looking for an easy and/or cheap solution to processing transactions, then you may choose to invest in a cash register. But if you're looking for a solution that can handle high volumes of transactions as well as managing day-to-day operations for you, a computerised POS system can help you track your business more efficiently.
EPOS
If you're in need of a new Point of Sale system in Singapore, you're in the right place. For businesses seeking an ultra-seamless POS system that provides precise control and robust data analytics, nothing feels like an EPOS system. EPOS is one of Singapore's leading POS system vendors, providing powerful features designed to help your business thrive by improving efficiency, reducing costs and increasing profitability. Elevate your business today with EPOS! Get to know our system by signing up for a free, non-obligatory demo.
• Written by Adrija Chakravarti