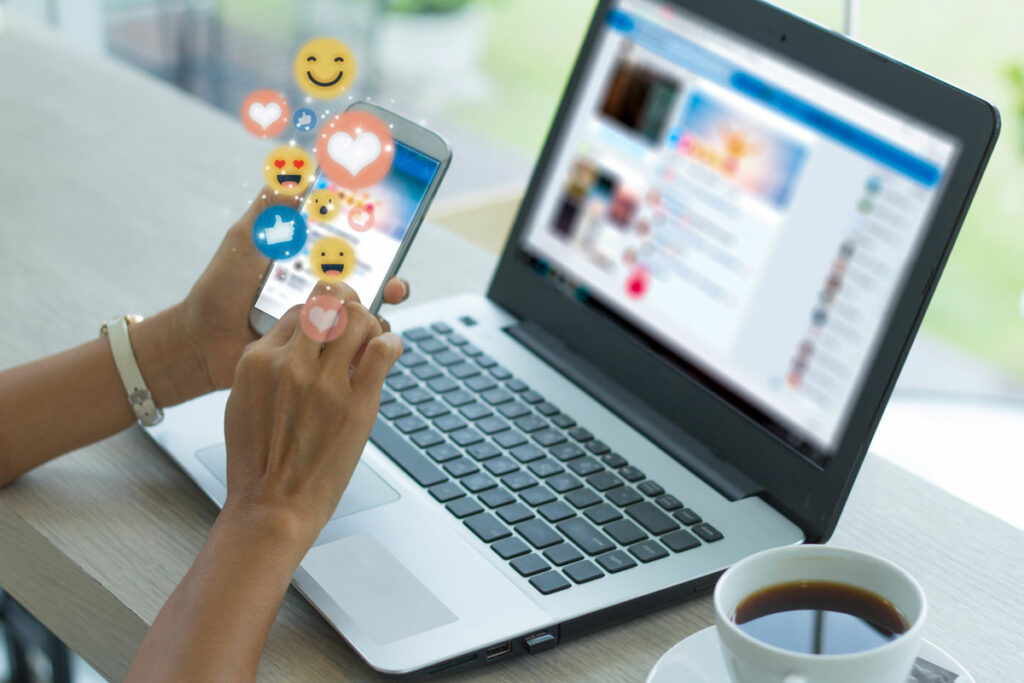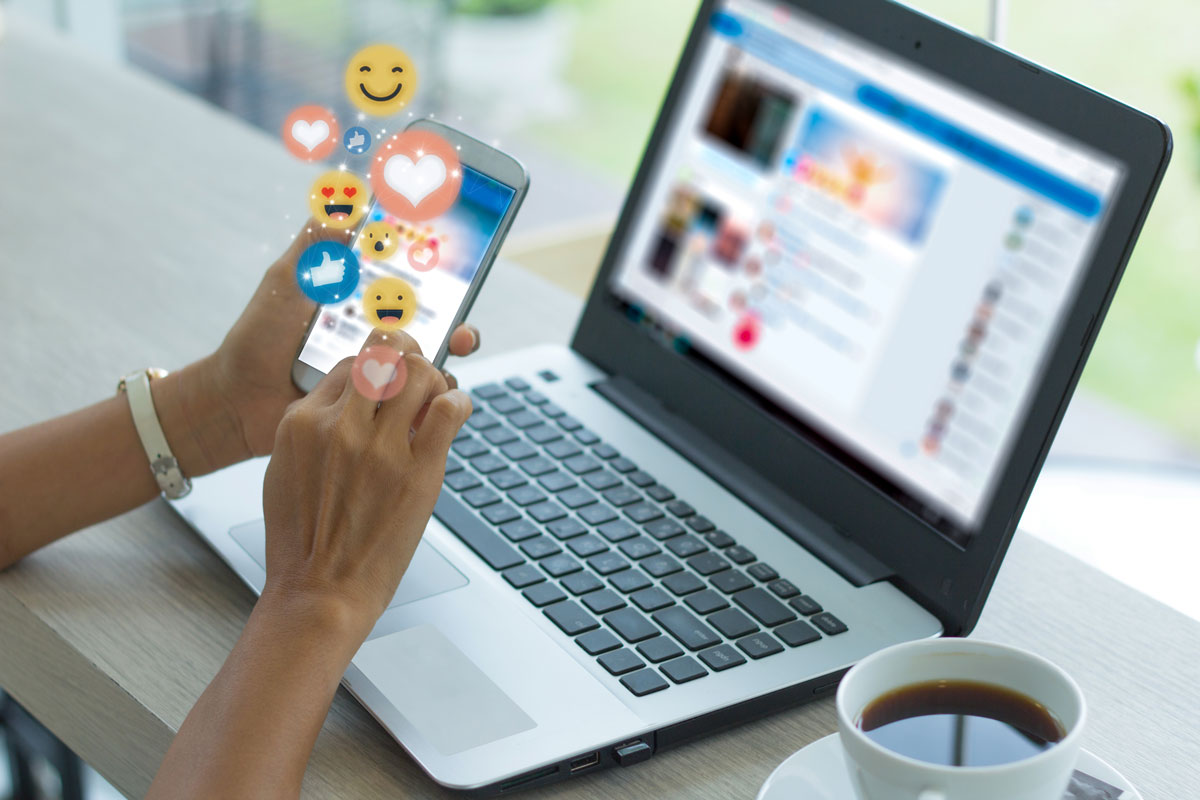 Trying to get your brand name out there? Of course you are, otherwise you wouldn't be reading this article. You've got your retail store up and running, now you need to up your digital marketing strategy to make sure your ideal customer base knows who you are and what you can do for them.
There's no doubt that the influence of digital marketing has shifted the way businesses approach marketing. Traditional marketing methods like flyers, billboards and television advertisements, while still very effective marketing techniques, are not as necessary. Instead, the Internet has made marketing both easier and more difficult, if you can imagine.
So how should you go about digital marketing? How do you still stay relevant and attract new customers? Don't worry, my friends, I've got you covered. These 5 digital marketing strategies can help you tackle the digital world and grab all of the potential it offers.
Fire up your digital marketing strategy
1. Social Media Posting
Difficulty: ★★☆ (Medium)
We're starting off hot with a little bit of social media marketing. Don't underestimate the power of social media, even for retail stores! Facebook, Instagram, TikTok, they're all useful tools that can get your brand out there. And you might even end up trending!
After all, I'm sure you've heard of the popular TikTok Made Me Buy It trend. If you haven't, this highly addictive trend creates hype for products that people want to buy after seeing it.
The key is to be engaging, be interesting. No one's going to follow a brand that doesn't show them appealing content, regardless of if they shop at your store or not.
What Can You Do?
Post images, videos, gifs, memes! Whatever you think will capture your audience's attention. No one knows your audience better than you, so use this opportunity to get to know them and push your brand awareness campaign into their interests. Some things you can do include showcasing your products to them so they can know what you're all about. You can also share relevant informational content! Or tell them about your new promotions or sales; let them get to know you as more than just a retail shop.
Are you still stuck? I get it, being completely original on the Internet can be challenging. If you really don't know what to post, take inspiration from your competitors. It's a valid strat, but be careful not to copy them completely. Remember, you want to create your own voice and brand presence on social media.
Psst! We're going to be sharing quite a few social media tips throughout, so keep reading!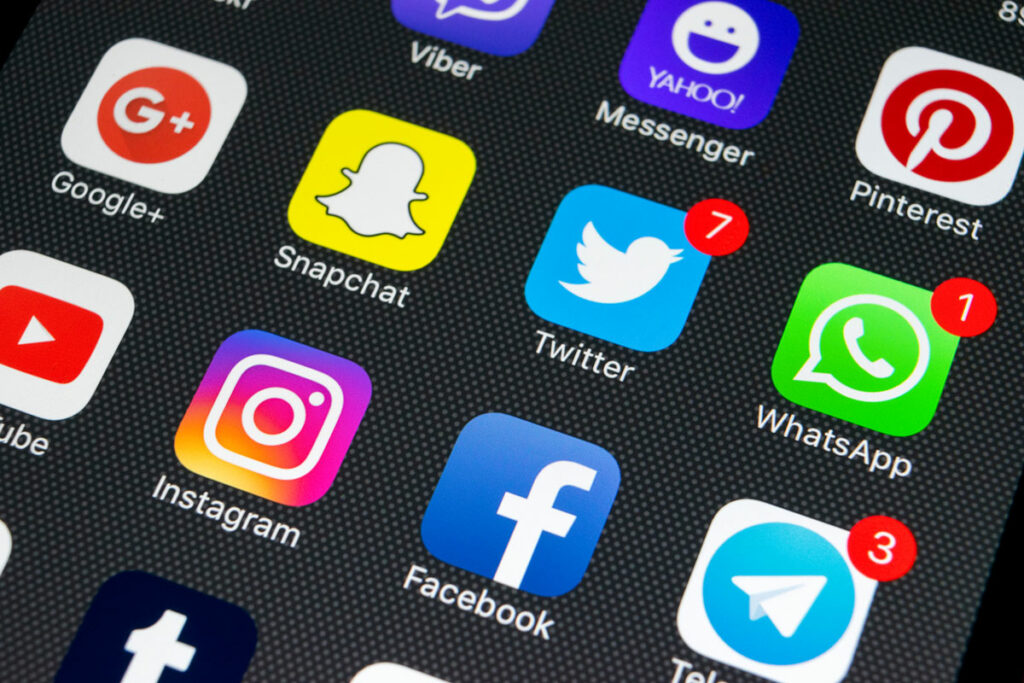 Difficulty: ★☆☆ (Easy)
Hashtags clump all digital content created on a specific topic together so people can enjoy similar content easily. So what happens when you create your own branded hashtag? You can potentially connect your customers to your products and your brand – with just a few words.
There are a few ways you can use branded hashtags to your advantage. One, this is one good way of encouraging user-generated content (UGC)! Two, to promote new products or an event. Moreover, you can use it to encourage or inspire your community for a greater cause! A collection of all posts related to your retail shop can also spread brand awareness to those who may not know what you have to offer.
Take Calvin Klein and their #MyCalvins Campaign for example. Using branded hashtags as their digital marketing strategy, their goal was to encourage people to post pictures in Calvin Klein underwear, and despite there being no incentives, this campaign still went viral!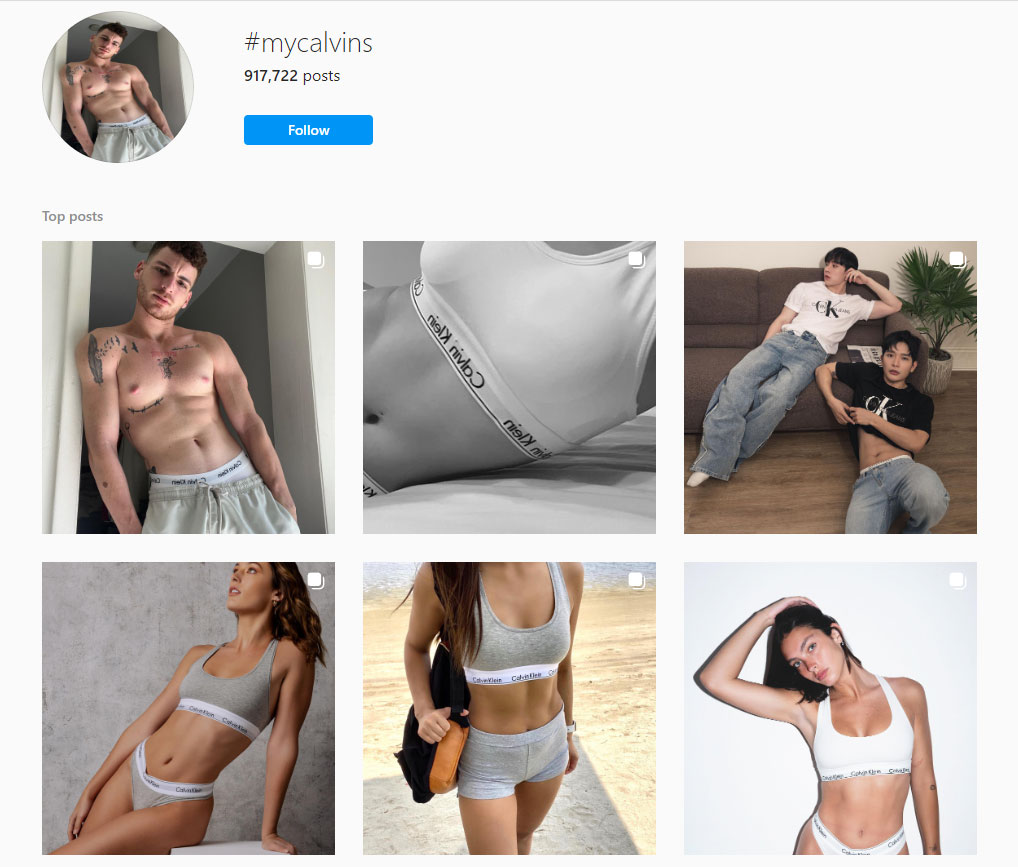 Source: Instagram via #mycalvins – Digital Marketing Strategy
What Can You Do?
Pick a unique hashtag that fits your brand and the community you want to build. Meanwhile, encourage customers and your audience to share their own posts using this hashtag! You can do this through campaigns, signs around your store, social media or emails. Hint: an incentive or a feature on your page could help push shoppers to interact with you even more, and keep the posts coming in.
3. Surveys, Polls and Quizzes
Difficulty: ★☆☆ (Easy)
Struggling to build a community online? Building upon the usefulness of social media, you'll need to create engaging and interactive content to promote brand visibility and engagement across your platforms. Engagement tools vary from social media platform to platform, but in the end, their core functionality is the same. If you use them right, they can help you promote your business and gauge its performance.
For example, Instagram Stories added stickers a few years ago and revolutionised the way businesses can use social media as a digital marketing tool. Hence, surveys, polls and quizzes are a great way to encourage people to respond to your posts.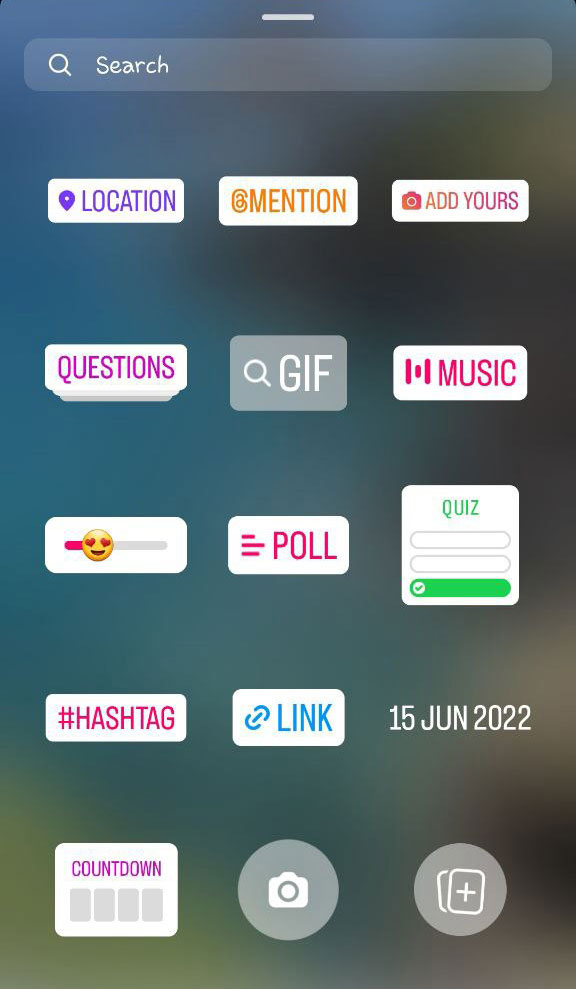 What Can You Do?
Post polls! Ask your audience relevant questions, like which product they prefer or what they want to see in your store. Play games with your customers to promote good relationships and a bond between them and our brand. Or put their skills and knowledge to the test in a quiz! Do they know your brand?
There are so many options to choose from, especially when it's made super easy with stickers in Instagram Stories and other creative tools. You might even get valuable feedback from your customers that can benefit your business. Plus, your customers will feel more involved and help you build stronger customer relationships!
4. Create Holiday Posts
Difficulty: ★☆☆ (Easy)
What's a better way of relating to your customers than celebrating holidays? Share the joy and meaning of a holiday with your customers! And I don't just mean Christmas or Halloween or Hari Raya. While those are exceptional ideas and you should definitely create posts for them, especially promotional content, it's common. Everyone does it. Instead, it's the little things that can make your brand stand out.
Celebrate the holidays that aren't public holidays or widely-recognised, but make each day special: social media holidays. Children's Day, World Book Day, Grandparent's Day, even something silly like National Hat Day or Pretend to Be a Time Traveler Day, there are so many little 'holidays' that you can use to build your brand image!
This handy list of some social media holidays, created by Hubspot, might prove useful!
What Can You Do?
Post images, videos, short clips or maybe even a challenge to encourage people to engage with your posts or share their own related content. Social media is extremely visual. Choosing relevant holidays to your own retail store may present an opportunity for marketing your products and help sales.
If you don't want to create a permanent post for these holidays, use Stories! You can post something simple for the holiday and it'll disappear in 24 hours. Not only that, but posting interesting content to your Stories can result in FOMO (fear of missing out). Your followers will make sure to check your Stories so as to not miss when you post.
5. Partner with Influencers
Difficulty: ★★★ (Hard)
Engaging with bloggers and influencers to promote your business is a highly effective growth strategy for any retailer due to the power of word-of-mouth marketing. Consumers tend to trust personal referrals from other people because they are real opinions made up from real experiences; hence, why good Google reviews are also crucial for your business.
For example, look at this Instagram post from one of Singapore's top influencers, Yoyo Cao, and her paid partnership deal with Jimmy Choo. While Jimmy Choo is not unknown by any means, this post garnered over 3,500 likes and achieved its goal of showcasing their products in a visual and attractive manner.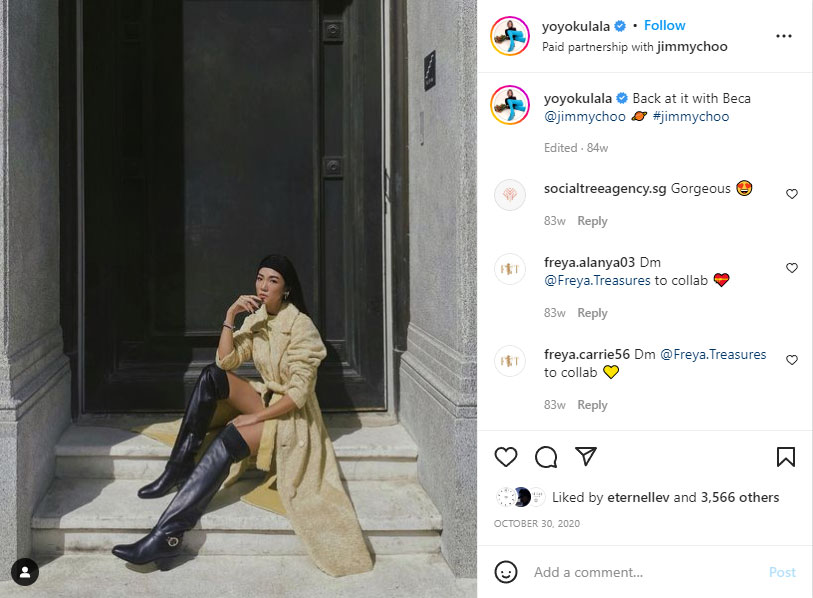 Source: Yoyo Cao via Instagram – Digital Marketing Strategy
Unfortunately, this isn't a very cost-friendly strategy. The price could range from a few hundred dollars to a few thousands or even hundreds of thousands. However, if you have the budget, the publicity and brand awareness you could get through influencers is very beneficial to your business.
What Can You Do?
Find influencers or bloggers who specialise in content related to your products and retail niche, and contact them to enquire about a potential paid partnership. At the same time, you can also figure out whether their price range is within your budget or not.
Conclusion
When working on your digital marketing strategy, remember to be consistent! Creating interesting and engaging content isn't enough if you aren't doing it consistently. There is no point in a couple good posts if people forget you exist in between them.
Want more digital marketing strategies that'll make your brand presence rise and growth soar? Read Part 2 of this series!
• Written by Adrija Chakravarti