For any retail store, figuring out your digital marketing strategy (or better yet, strategies!) can really set you up for success. There are limitless possibilities, especially with technology and the Internet constantly evolving. We're discovering newer and better ways to reach out and connect with audiences where traditional marketing methods may not work as well.
But before we get into that, If you haven't read Part 1 or Part 2 of this series yet, what are you waiting for? Take a little time to read through these articles for even more digital marketing strategies.
Now on with it!!
Boost your digital marketing strategy
1. Offer Complimentary Wi-Fi
Difficulty: ★☆☆ (Easy)
Everything's online nowadays, so why not offer a little bit of complimentary WI-Fi to your customers?
Providing in-store Wi-Fi proves to have many benefits for both the customer and the retailer. The customers will have the convenience of a faster network (and saved data charges), and an improved experience. You, on the other hand, will receive increased sales, insights into your customers, and possibilities for promotional campaigns.
Sometimes, you want your customers to make impulse purchases; however, other times, having them spend more time thinking logically can actually lead to more sales. Research shows that when providing complimentary in-store Wi-Fi, 62% of businesses report that customers remain in their store for a longer amount of time. Hence, they have more time to browse, logical decision making, increasing their chances for eventually purchasing your products.
Check out Shopify's excellent article on Wi-Fi marketing to learn more.
What Can You Do?
Offer complimentary Wi-Fi to customers in your retail store. You can allow them to freely and fully access the Internet or choose to limit them to certain websites or apps such as your own.
When providing this service, you may want to ask them to agree to terms and provide an email address. This will help you gather valuable information for your customer database, and potential marketing or retargeting opportunities.
2. Use Retail Apps
Difficulty: ★★★ (Hard)
Nowadays, we see people always staring at their phones, even while shopping. But instead of rolling your eyes or getting annoyed, why not make mobile phones work for you?
Using retail apps that range from simple digital reward systems to sophisticated in-store assistants, customers can easily earn reward points, sign up for membership, and also receive promotional offers due to their customer loyalty.
Furthermore, they can allow customers to view product guides, reviews and descriptions about your business. This way, your customers can see everything they would like to know, while also experiencing the best that physical shopping can offer in this digital age. Moreover, customers don't need to deal with any hard-selling or the (completely terrifying) act of asking your staff for help. Talking to people? No, thanks.
For example, take a look at Iuiga, a minimalist homeware retail store in Singapore. Their entire processes are cashless and paperless, all done through their own app. Shoppers must download the app, and can use RFID tags to view information and customer reviews, add items and pay! Bring online shopping to IRL shopping, it's the best of both worlds!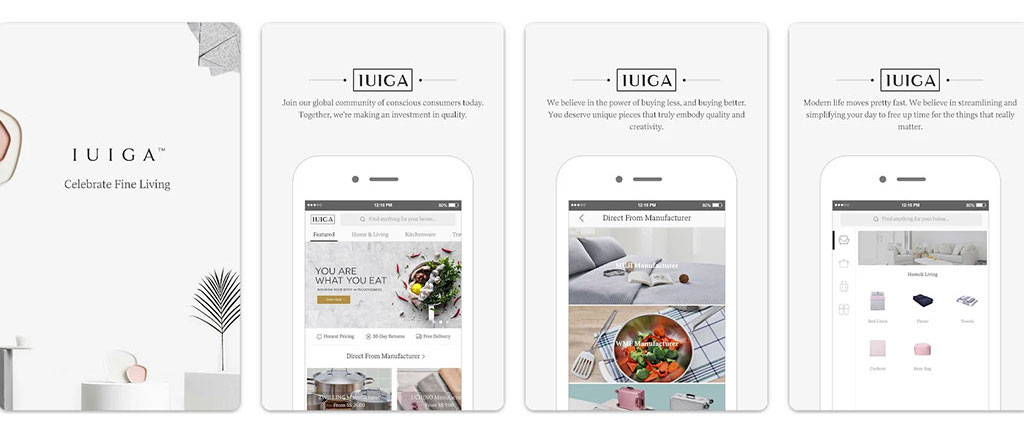 Source: Iuiga via Google Play Store
Every little bit of connection you make with your customers can help your business succeed. For more information on customer relationship management, read more on what you can do to improve customer loyalty.
Unfortunately, this can be expensive as you'll need to liaise with third-party retail apps or contact a developer to design and create one for your retail store. When considering this, consider your audience, your budget and investment, and future direction.
What Can You Do?
Create a retail app that allows customers to view information about your business such as reviews, product descriptions and pricing. Add value through advanced features such as augmented reality (AR), clothes modelling or images showcasing your products in various situations. Customers will then be able to envision the products in their own space, increasing buyability.
You may also partner with other similar apps to create point systems or membership accounts, if you don't want to create an entire app for your retail store.
3. Send Promotional Emails
Difficulty: ★★☆ (Medium)
People think email is dead, but it's surprisingly not. To make your marketing campaigns personalised to each customer, emails are still the best channel for digital marketing. Here's how you can personalise your email for your digital marketing strategy:
Separate and specify emails by customer segments

Include customers' names in the email body or subject line

Have dynamic recommendations based on their information, search and purchase histories
For example, take a look at this clothing retailer's email marketing strategy. Cotton On often sends promotional emails, reminders about points, rewards and items left in your cart. Not only that, but occasionally, they will use customer names in their subject line to create a deeper and more personal connection. Customers are more likely to click on such headers rather than sales pitches.
What Can You Do?
With email marketing, you can reach out for retargeting purposes. Emails allow retailers to retarget customers or potential visitors who may or may not have purchased something to browse your store again, prompt customers, send reminders on items in browser history or their cart, and send recommendations.
4. Design an Attractive and Functioning Website
Difficulty: ★★★ (Hard)
A website is your online digital storefront, the most official source of information your business can present on the Internet. A clean, well-designed and most importantly, professional website showcases what your retail store can do for your customers. As a digital marketing strategy, this is a key strategy for any retail store in the digital age.
When designing a website, make sure it's not too cluttered or distracting your customers' attention elsewhere. If your website is too hard or confusing to navigate, there's a high chance that people will just click off it before even looking into what you can offer. There are several amazing tutorials and courses online that can help you figure out what you want for your website!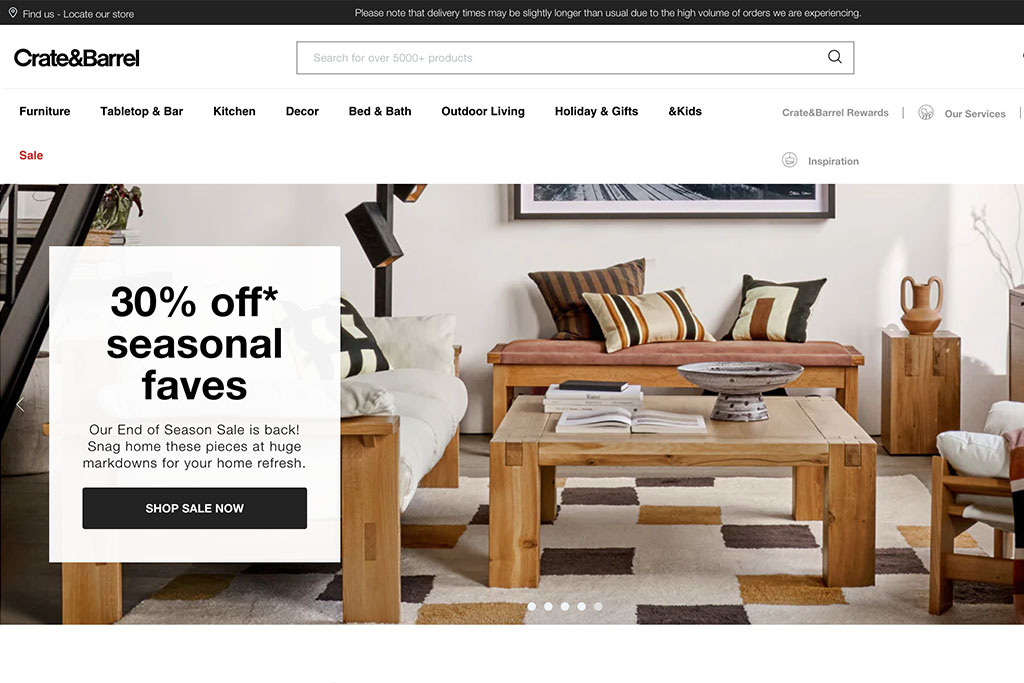 Source: Crate and Barrel via website
What Can You Do?
It's not easy to create a website, as I'm sure you can imagine. Luckily for you, there are plenty of user-friendly website-designing tools like Wix that use easy to understand templates and tools, so you can design your own website yourself.
Additionally, you can contact a freelancer or web-developing company to assist you in this process, from conceptualization, copywriting and designing to developing the final website. EPOS' partnered digital marketing company, Wolfgang Creatives, can help you with all of that!
Moving on, this ties into our next point about creating a fully-functional online shopping experience for your customers.
5. Enable Online Shopping
Difficulty: ★★☆ (Medium)
Now that you've created a website for yourself, you need to step it up with online shopping. Having a website doesn't necessarily mean customers can buy your products online, you'll have to enable that feature.
Furthermore, you can take one step further and enable in-store pickup. Nowadays, many people prefer buying online instead of in a physical retail store. However, in that process, it usually takes a few business days for purchases to arrive, which can be quite inconvenient and lead to impatience. With Buy Online, Pick Up In-Store, your customers can easily shop anywhere, anytime at their own convenience, and just pick it up at the store easily on the same or next day. Plus, they save on shipping costs, and that's always a win.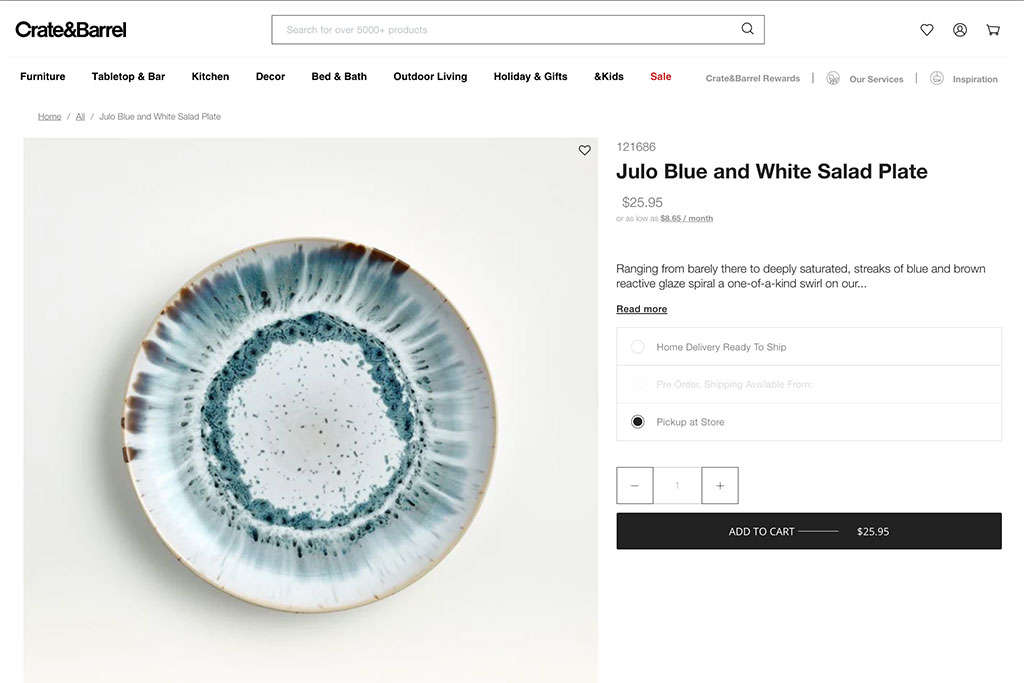 Source: Crate and Barrel via website
What Can You Do?
Create an online storefront and product pages. That way, you customers can browse the products you've listed on your website that are available for online purchase and add them into their cart for purchase or further consideration. Keep in mind that you don't have to list all of your products on your online store if you don't want to.
Conclusion
That's it! Our ideas for 5 digital marketing strategies that you can use to boost your retail business's brand awareness, sales and revenue!
What else can you do? If you've found other digital marketing strategies that have worked well for you, share them with us! We'd love to hear your success stories.
• Written by Adrija Chakravarti