Upon logging in and starting a shift on EPOS FRONTEND POS, users will be shown the main Sales Screen as the default page. The table below further describes each numbered balloon.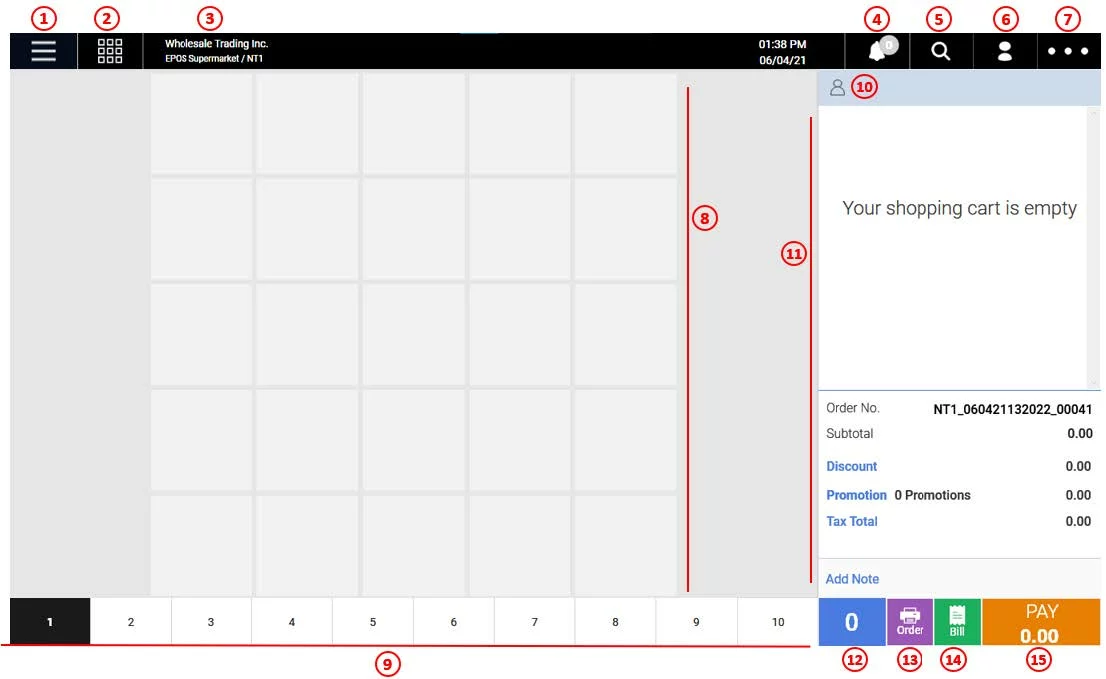 1. POS Menu
Shows different administrative functions for EPOS FRONTEND POS.
2. Table Management
Shows the table layout and table orders, See Operating the FRONTEND POS for F&B Services.
3. Company Name & Outlet Name
Shows the company name and outlet name as inserted in Receipt Template Setup.
4. Notification Tab
Shows the notification which requires users' actions. Mainly handles orders from Shopify and Web Ordering.
5. Search
Allow users to search for products.
6. Customer
● Allow users to search for customers.
● Allow users to create new customers.
For more information see How to Create New Customer and How to View Customer on Frontend POS
7. Order Menu
Displays a menu which allows users to perform order related actions.
8. Quickpicks
Allow users to add items/group of items to the main Sales Screen and add to cart in one click. See How to add products to quickpick page and How to add quickpick group for more information.
9. Quickpick Tabs
Allow users to add items to 10 different quickpick pages. See How to rename Quickpick tabs for more information.
10. Customer Information
Shows the information of the customer tagged to an order. For more information see How to view customer information on frontend POS.
11. Order Information
Shows the following information:
● Order Cart – Shows the list of products added to order
● Order No
● Subtotal
● Discount
● Promotion
● Tax Total
● Notes for the order
12. Number of items
Number of items added to the order.
13. Order
Allow users to send items to the kitchen printer manually. Can be enabled from EPOS BACKEND PORTAL.
14. Bill
Allow users to print the pre-settlement bill. Will be shown as long as the table management module is enabled for the users.
15. Pay
Allow users to checkout the current order and proceed to the payment page.