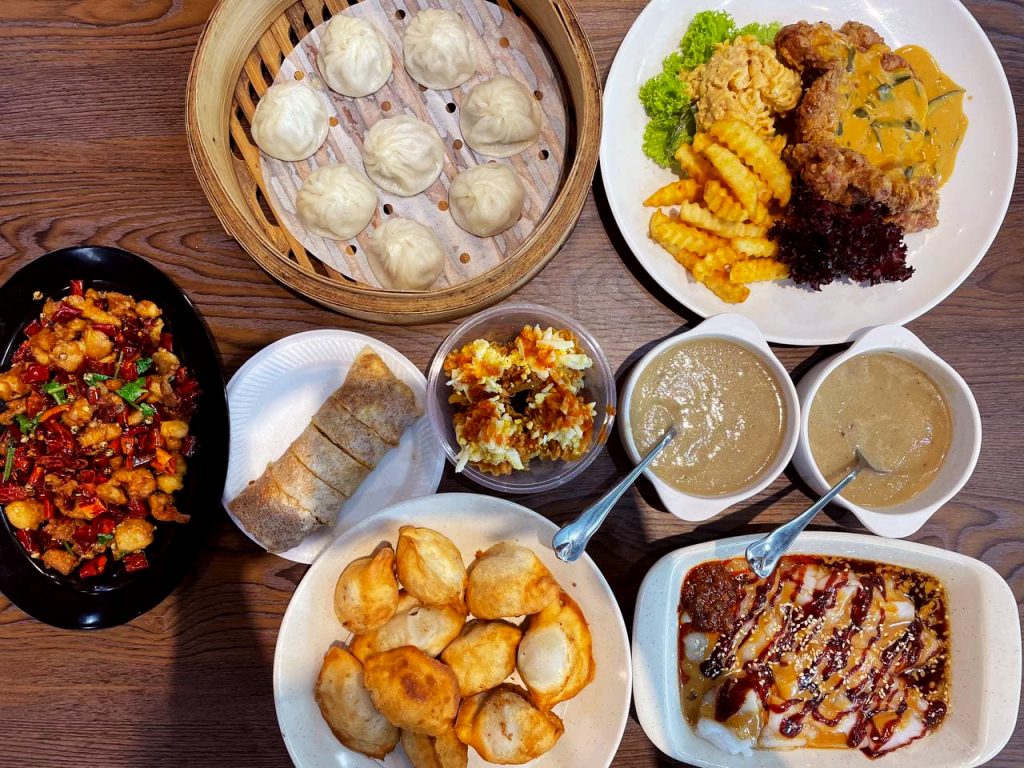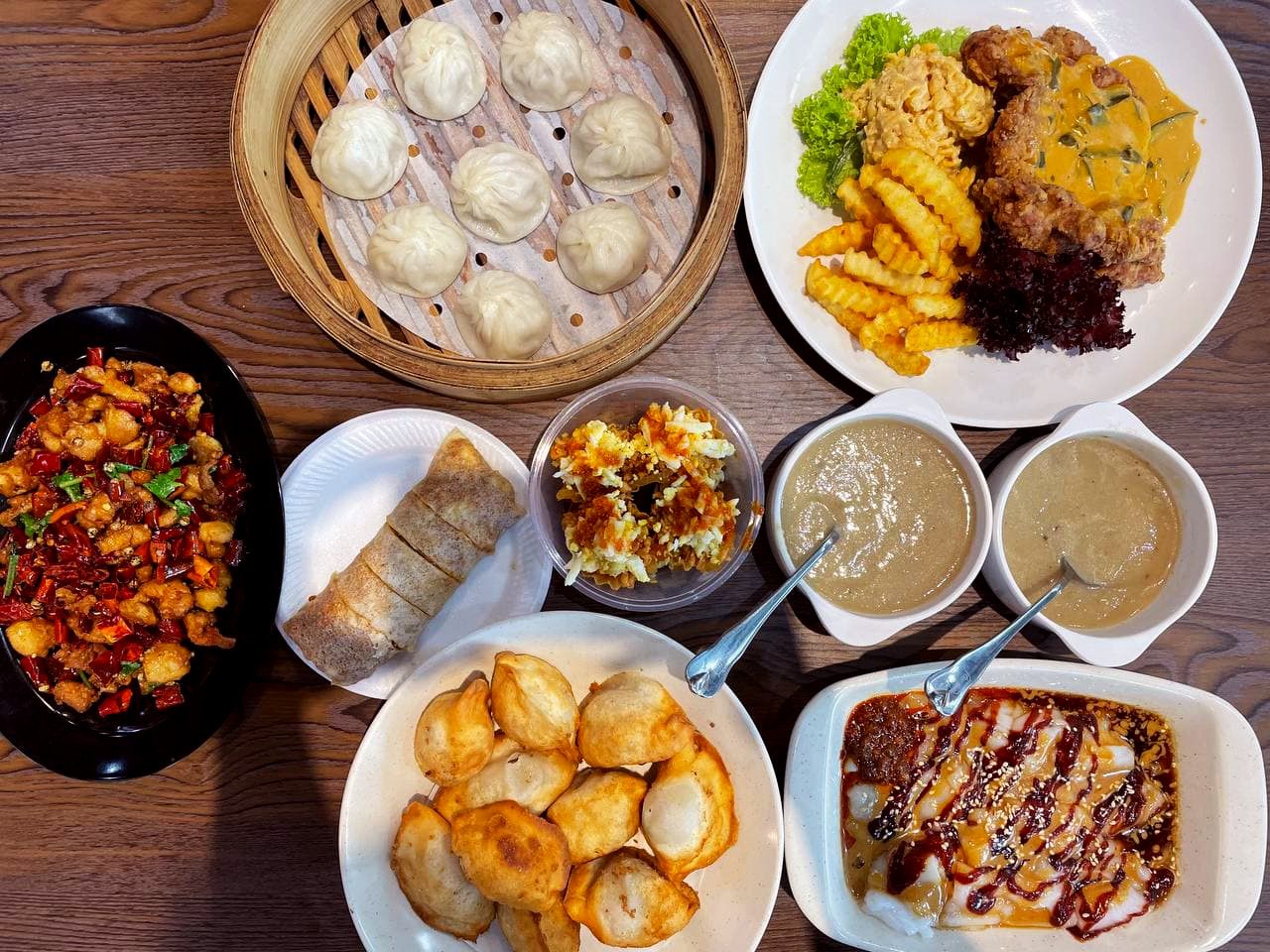 It is no secret that Singaporeans love to eat. We are those who live to eat rather than eat to live. Thus wherever we go, we are surrounded by a myriad of restaurants and eateries which satisfy our infinite cravings. Singapore has a strong hawker culture. For many years it has been the go-to food for Singaporeans from all walks of life. Our marketing team here at EPOS decided to go down to Bgain @ Lavender Food Court to interact with the store owners and try out some of the food there. Looking for a new place to eat? Here are some of our recommendations from the food court!
1. Char Grill Bar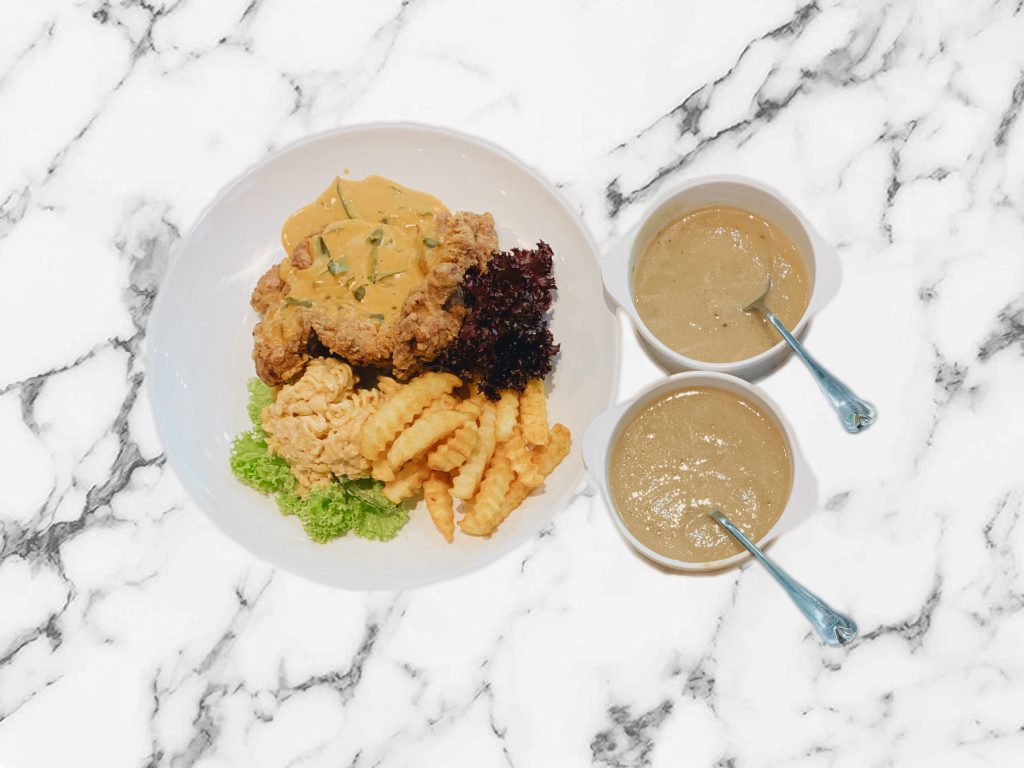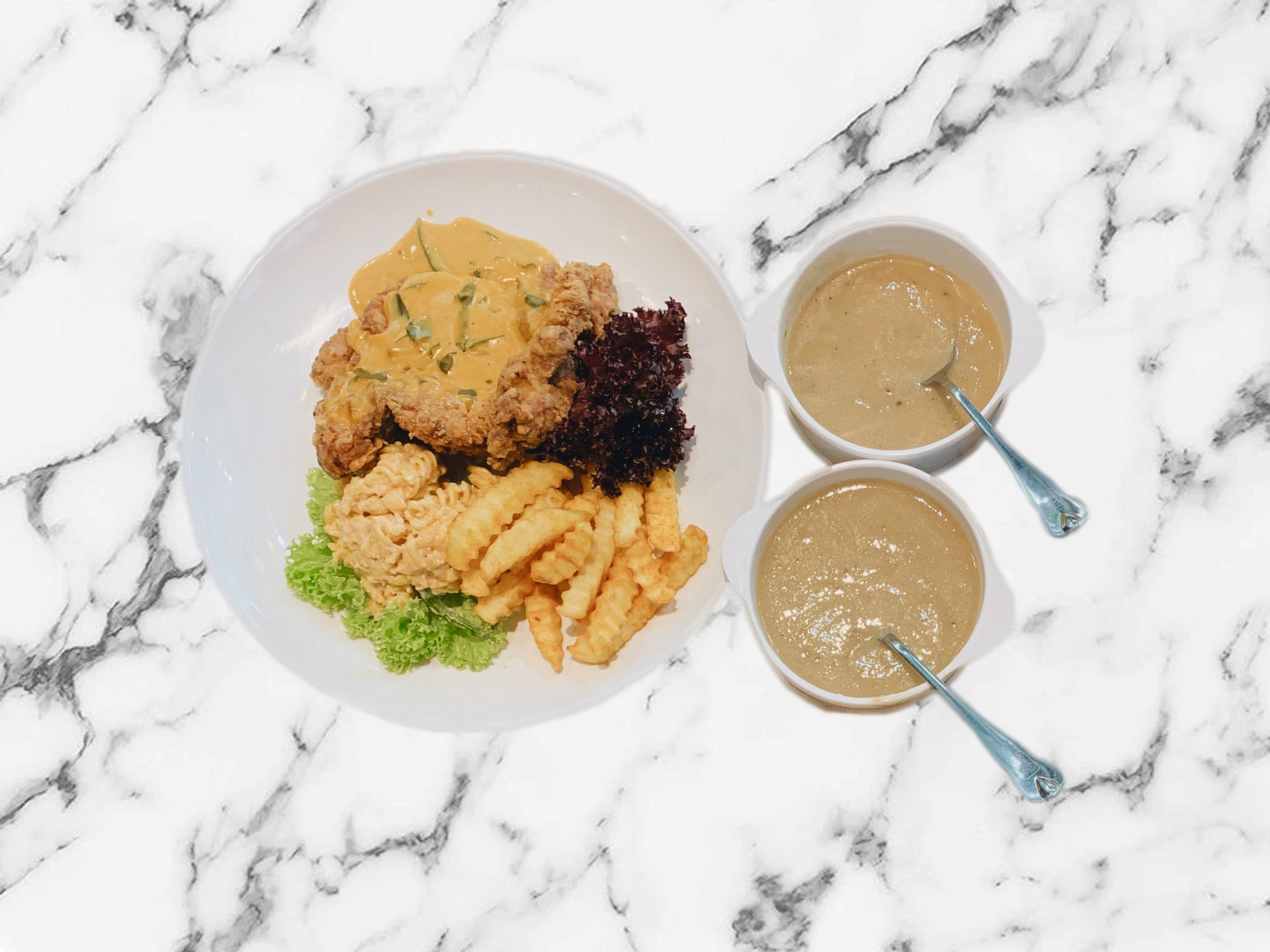 Salted Egg Fried Chicken ($8.50): The stall owner recommended this dish to us and it did not disappoint. Singaporeans love salted egg and it proved to be a great combination when served with fried chicken. The chicken had a nice, crispy outer layer and was tender on the inside. It was also well sauced, giving it a pleasant taste overall. As for the sides, the fries were well seasoned and crispy while the pasta was soft and mushy. They were also more on the spicy side rather than cheesy. Last but not the least, the salted egg had a thick consistency. Overall, we would highly recommend this dish as it's delicious and filling.
Mushroom Soup: This was on the house and even then it did not disappoint. The soup was thick, creamy and salty but just to the right levels. There were small mushroom bits in the soup which added even more flavour. Overall, we would most definitely recommend the soup and Char Grill Bar as a whole as it really gives you a good run for your money.
2. Happy Congee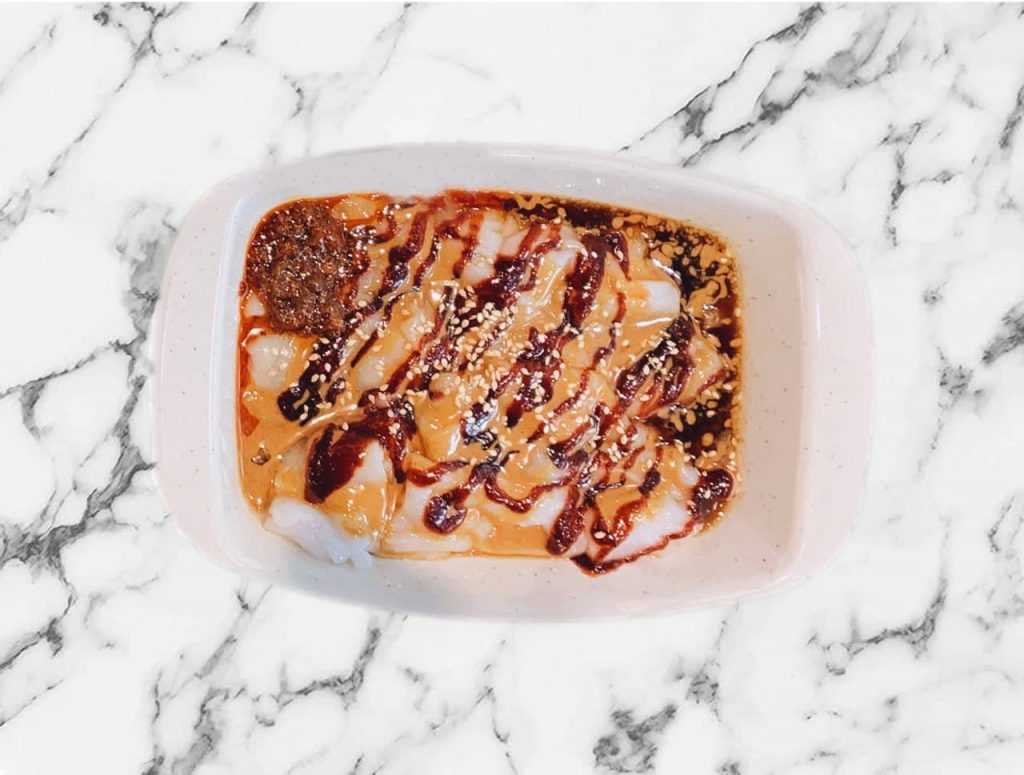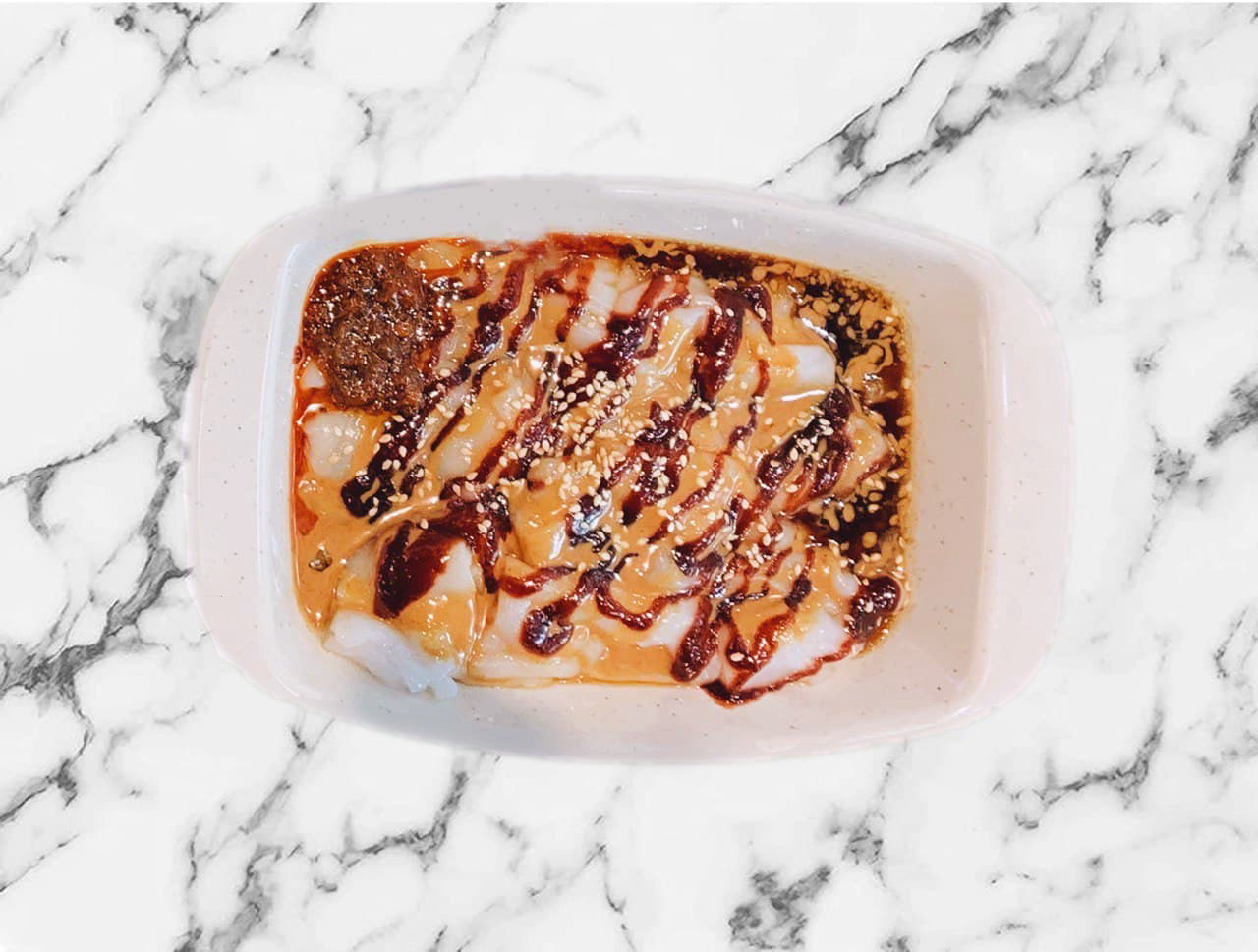 Triple Sauce Rice Noodle ($3.50): For those who are feeling adventurous and looking to try something different this dish is for you. It has a slightly sweet but puzzling taste that may cater to some taste buds. The rice noodle is soft and well cooked, giving the dish a nice texture. Overall we feel that this stall has a wide variety of food and food lovers will definitely find something to satiate their hunger.
3. Ann Chin Popiah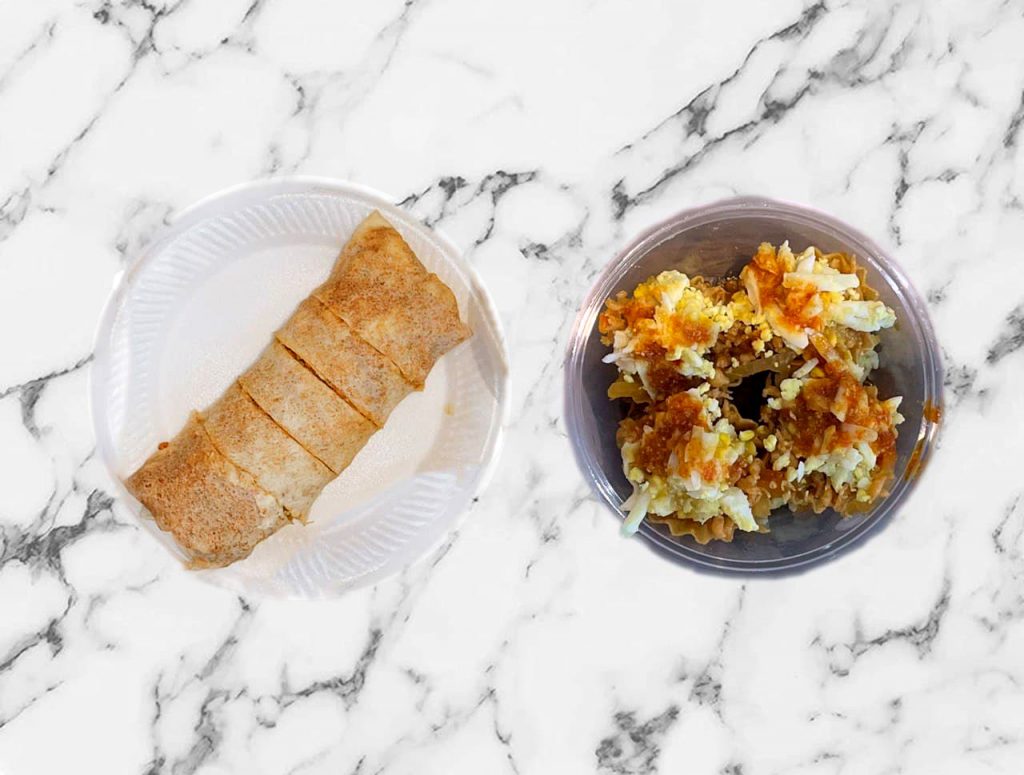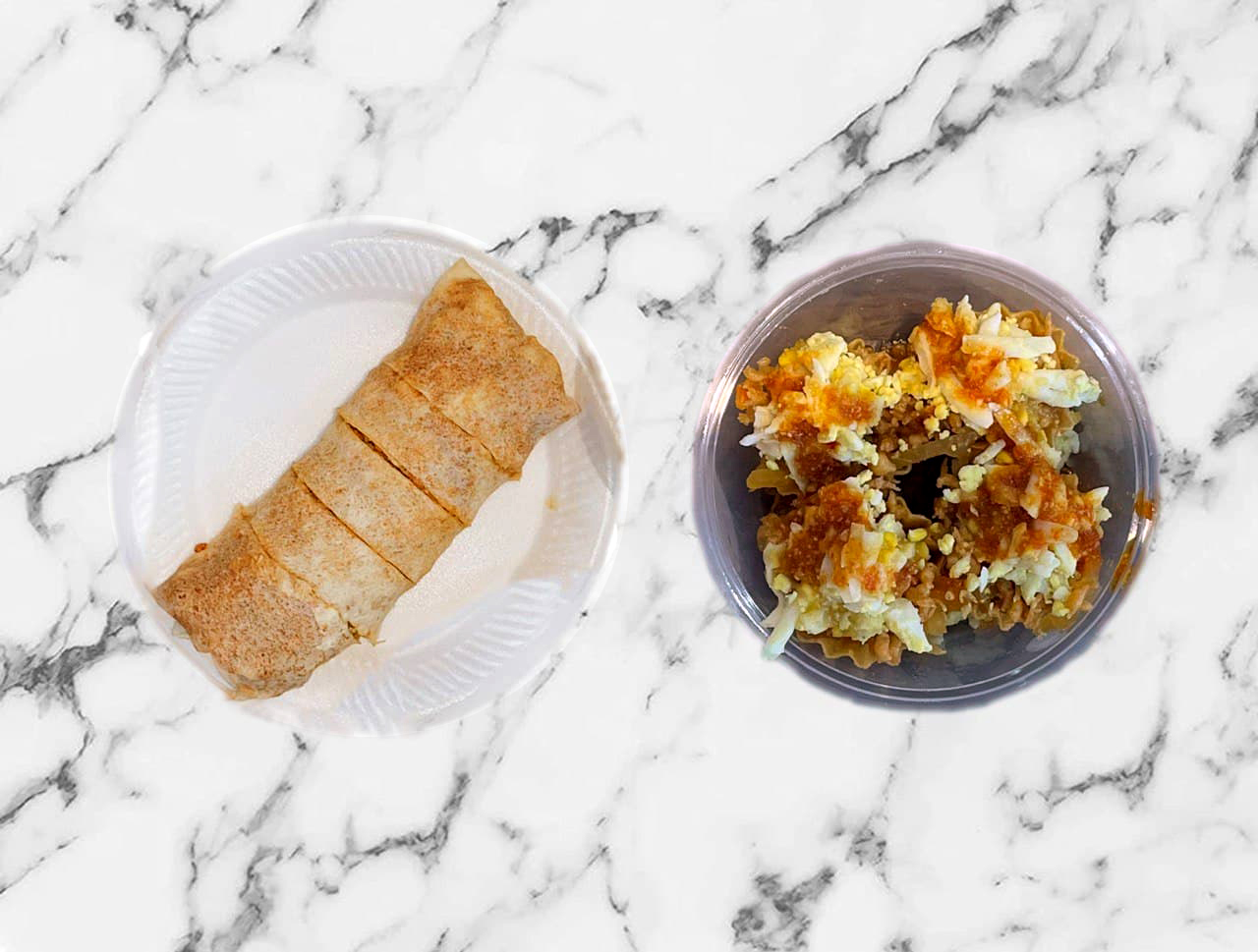 Handmade Popiah ($1.90): Popiah is a famous dish in Malaysia and Singapore and Ann Chin prepares it well. The skin is chewy, thin and tender but at the same time it does not break easily making the eating experience pleasant. The vegetables inside are crunchy and the sauce is sweet. Overall, I feel that this dish is definitely a bang for your buck and serves as a good snack.
Kueh Pie Tee ($3.80): Well presented in their crispy shells, the KPT was sweet overall with vegetables and eggs inside it. However it was a little too sweet for our liking and thus we wouldn't recommend the KPT. However, we would recommend Ann Chin as a whole if you are looking for something to stop the growling in your stomach at an affordable price.
4. Xin Peng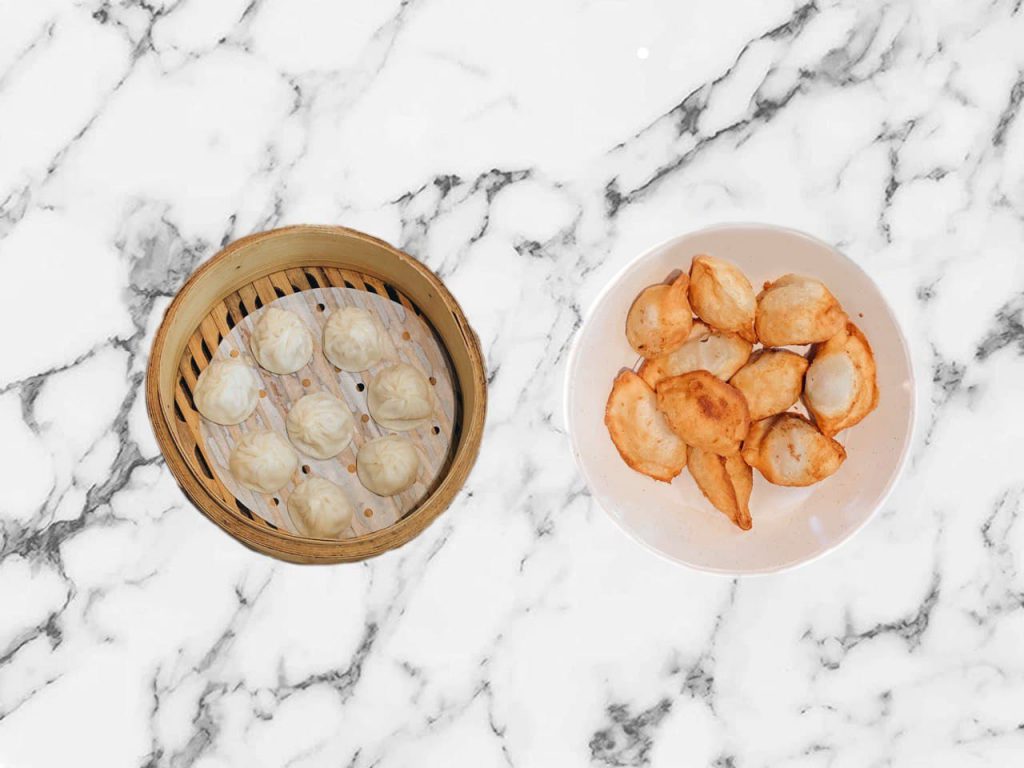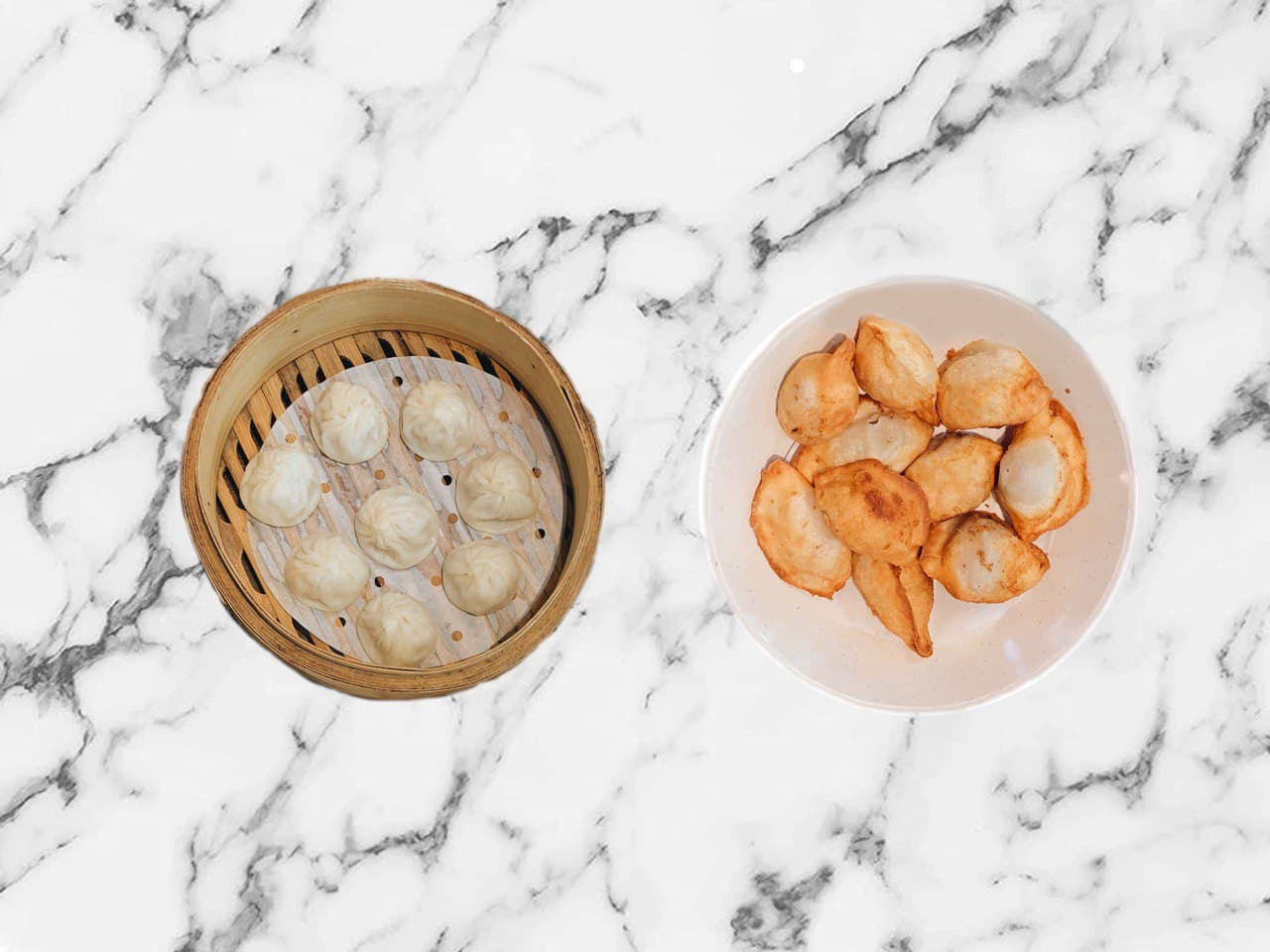 Xiao Long Bao ($5.80): Our favourite dish in this blog, we gulped it up in no time! The skin is of appropriate thickness and quite chewy. The meat inside is tender and the soup is well salted. Overall we loved this dish as it was sumptuous and rather affordable.
Guo Tie ($5): The Guo Tie was cooked appropriately and it was nice. It had an appealing golden brown colour, was evenly fried and crispy as well. Moreover the meat was tender and rather flavourful. Overall, we would recommend the Guo Tie to people who are avid dumpling fans and this stall in general for people who are looking to try something new and noteworthy.
5. Sichuan Cuisine Kitchen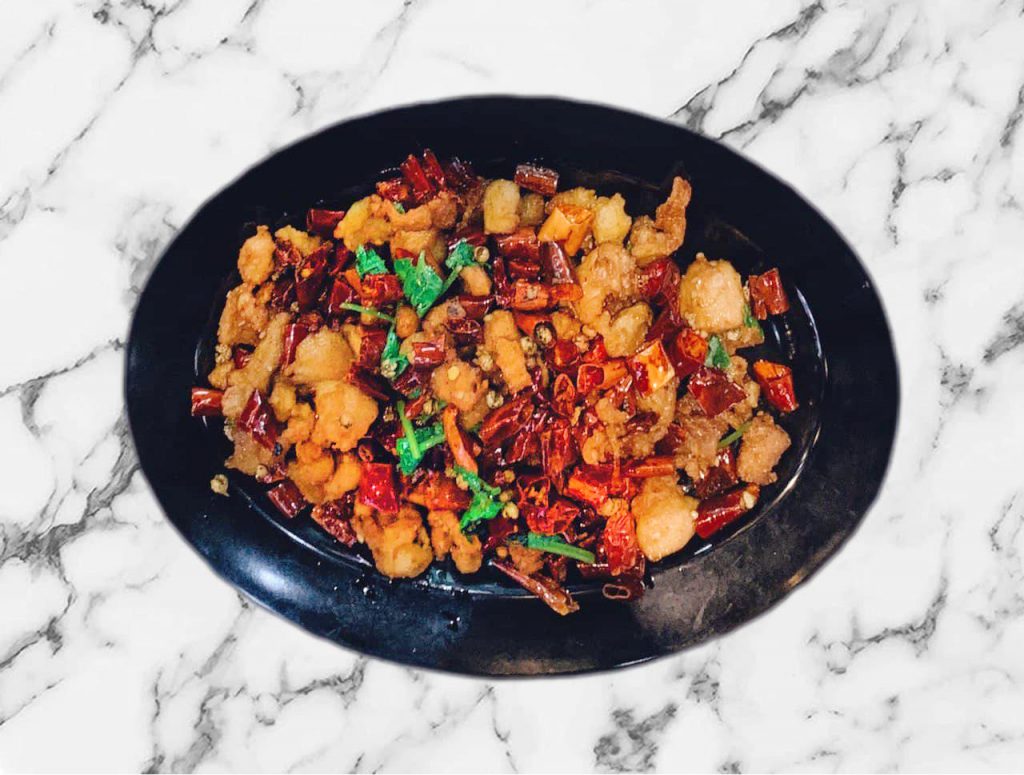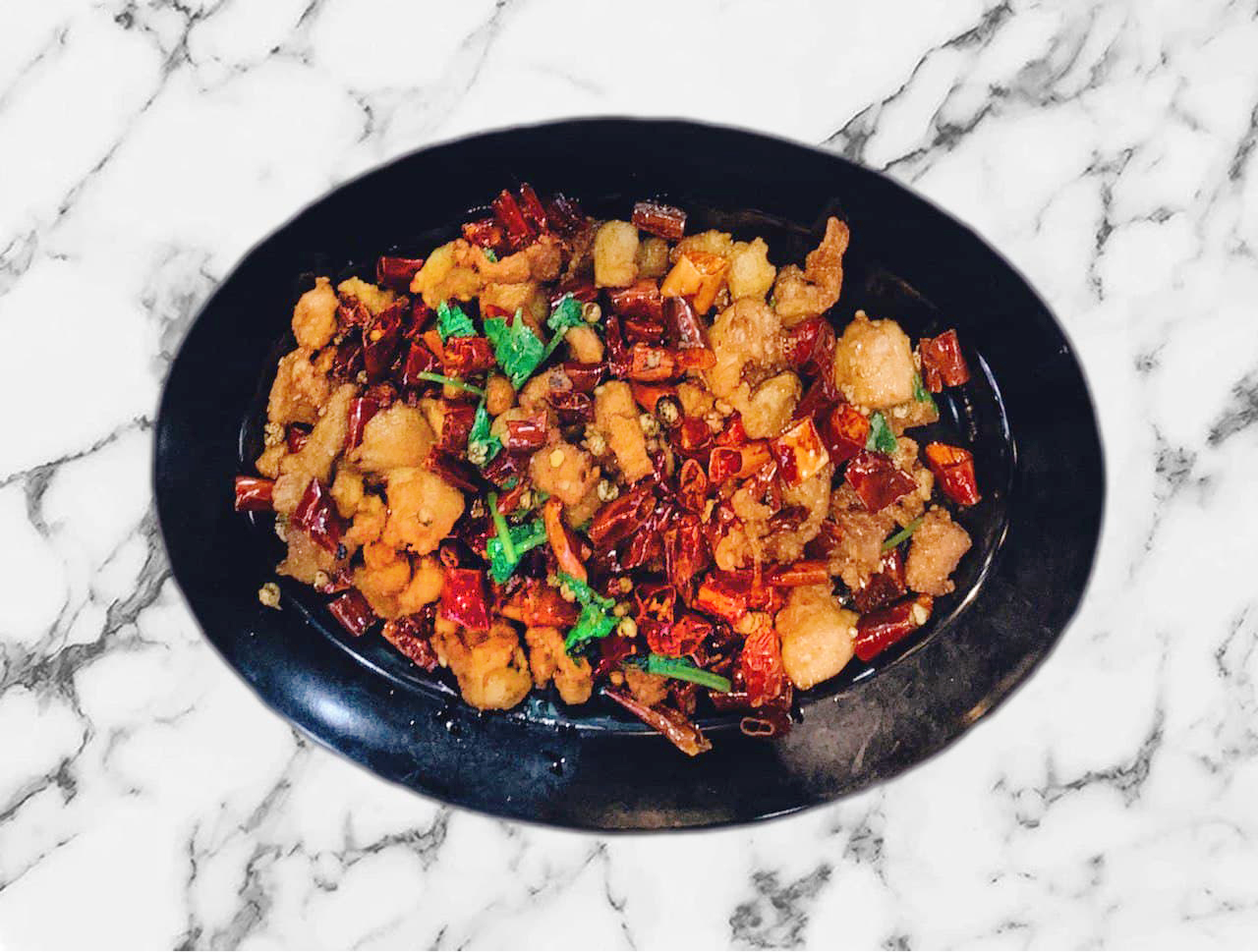 Spicy Mala Chicken ($12): Though the price may appear ominous at first glance, we feel that the taste partially makes up for it. It is crispy and juicy and the meat is quite tender. It is well salted and thus has a nice taste. We would recommend this dish to those who are not afraid to dig deep into their wallets to try food with a kick due to its exorbitant price.
Conclusion
Singapore has a wide variety of food and you are sure to find great food anywhere you go. However if you are feeling a little bold and adventurous and want to try out something new, feel free to try some of our recommendations at Bgain @ Lavender Food Court.
Are you in the market for an F&B POS system? If you are, then do consider EPOS, as our product is powerful, efficient and bustling with features that can help your business flourish. A few of our key F&B features include but are not limited to: Seamless tablet ordering, table management and report generation. To find out more about our features and gain an insight as to how our POS system can help your business prosper do check out our website at https://www.epos.com.sg/fb-pos-system/
Interested to see what EPOS POS system can do for your business? Fill in your contact details and we'll reach out to you to schedule a demo.