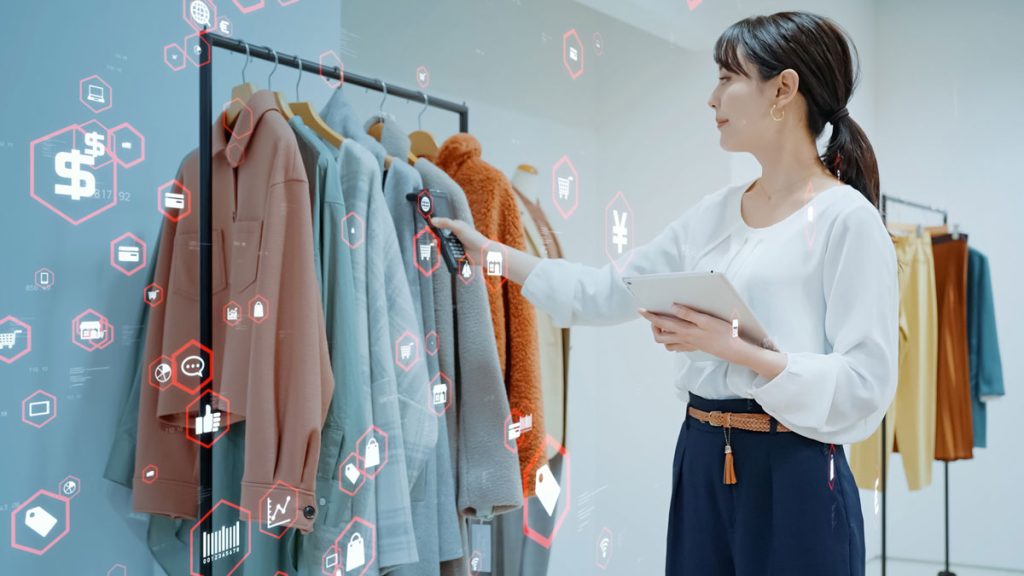 What is "the cloud"? You hear it all the time nowadays, but despite its prevalence, it can be quite confusing to pin down. "The cloud" refers to a network of servers accessed over the internet along with the connected software and database that run on the servers (Cloudflare). It allows users to store, access and manage data over the Internet from almost any device.
So how does that benefit businesses like yours? Well, technology has developed such that even POS systems have become cloud-based, leading to more efficient and seamless processes. In this guide, I'll be taking you through what a Cloud POS system is, what are its main components and the benefits of a Cloud POS.
What is a Cloud POS System?
1. What is a Cloud POS system?
Instead of a local device or network, a cloud-based POS system saves and processes data on remote cloud servers. You can view your cloud-based system and all of your data from any location and on any device as long as you have an internet connection.
With a cloud POS, all of your data is synchronised across sales channels, providing you with accurate reports, inventory management and streamlined business processes. Don't worry though, because all of your sensitive data is protected with robust and built-in security measures. 
Taking a look at the current trajectory of where digitalisation is headed, it's easy to see that cloud POS systems are seeing a rise in adoption. Most modern POS systems are predominantly cloud-based. As such, businesses are able to capitalise on the latest, up-to-date technology with frequent, automatic software updates, scaling up or down along with the business.
Check out these statistics about cloud POS systems that you need to know!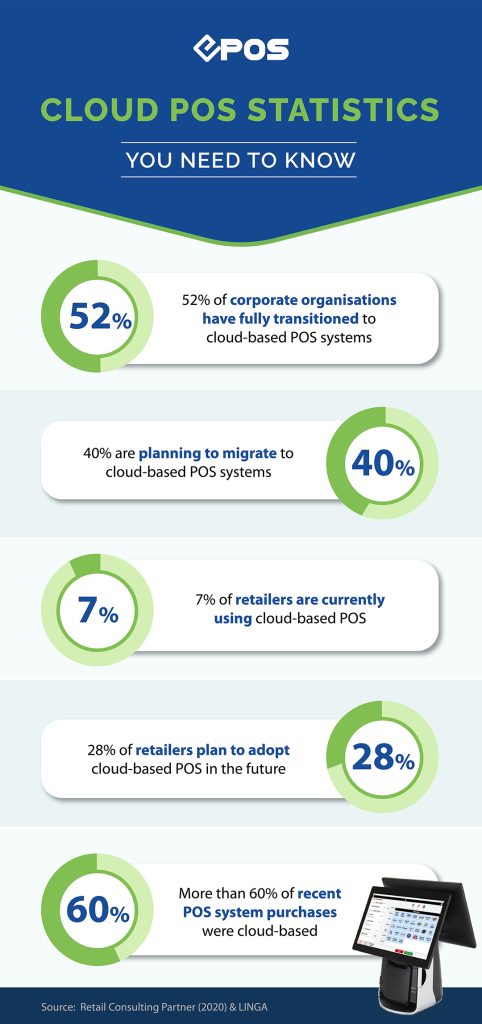 2. What are the components of a Cloud POS system?
Hardware
The biggest hardware a cloud POS has is a POS device or monitor. This is typically a touchscreen monitor that helps you view and use the Point of Sale. Of course, "biggest" doesn't necessarily mean in size; there are several types of POS devices you can use. From tablet or mobile POS devices to apps on smartphones to stationary POS terminals, you can choose the POS monitor your business needs.
There is also peripheral hardware that your cloud POS may include such as payment terminals, barcode scanners, cash drawers, customer displays, receipt printers and more. Read more here for a comprehensive list of POS hardware.
With Cloud POS systems, you are able to use a variety of different POS devices to streamline your business since all of your data is automatically synced. Take this example: you can have a stationary POS terminal at your main cashier while having tablets or mobile POS devices around the floor of your shop for easier payment processing.
Software
The heart of the system, software is necessary for the cloud POS system to work. POS systems can have a multitude of different features which allow you to manage your business seamlessly while increasing efficiency and improving customer service. Some of these POS features include payment processing, inventory management, employee and customer management, reporting, data analytics, and integrations with third-party applications along with others.
Find out more about the features your POS system can have here!
Wi-Fi
Well, with cloud-based POS systems, you're not getting far without Wi-Fi, so installing a connection in your business is key. As long as your POS is online, your sales, inventory, and customer data (and more) will be up-to-date. If poor connection is a concern for you, don't worry! Most cloud POS systems, including EPOS, have both offline and online functionalities, so you can still record data locally. Once the Internet connection is up again, that data will be uploaded into the cloud.
3. What are the benefits of a Cloud POS system?
As with anything, Cloud POS systems have their pros and cons, their benefits and disadvantages. 
Here's a summary of the pros and cons of a Cloud POS:

How can a Cloud POS system benefit you and your business? Along with improving your efficiency and cost-effectiveness, this type of POS system also has advantages like:
Accessibility. A Cloud POS system is accessible from any device that is connected to the Internet, from anywhere at any time.
Automatic updates. Keep your POS system up-to-date with the latest software automatically for smoother management.
Easy integrations. Integrate with third-party apps with no hassle and seamless data consolidation.
Scalability. A Cloud POS can easily scale up or down based on your business needs and growth with no loss in quality.
Data security. Keep your data secure on the cloud from any physical hardware damage, loss or theft.
Easy to get started. There's no lengthy process to getting started with a Cloud POS, and no steep learning curve to get over.
Learn more about why you should consider a Cloud POS system for your business in this article here.
Conclusion
Now you know everything you need to know about Cloud POS systems, are you ready to take your business to the next level?
Check out some of EPOS' guides to everything about POS systems, other types of POS systems, and essential POS features for more information.
EPOS
Looking for a new Point of Sale system in Singapore? You're in the right place. For businesses seeking an ultra-seamless POS system that provides precise control and robust data analytics, nothing feels like an EPOS system. As one of Singapore's leading POS system vendors, EPOS provides powerful features designed to help your business thrive by improving efficiency, reducing costs and increasing profitability. Elevate your business today with EPOS! Get to know our system by signing up for a free, non-obligatory demo.
• Written by Adrija Chakravarti