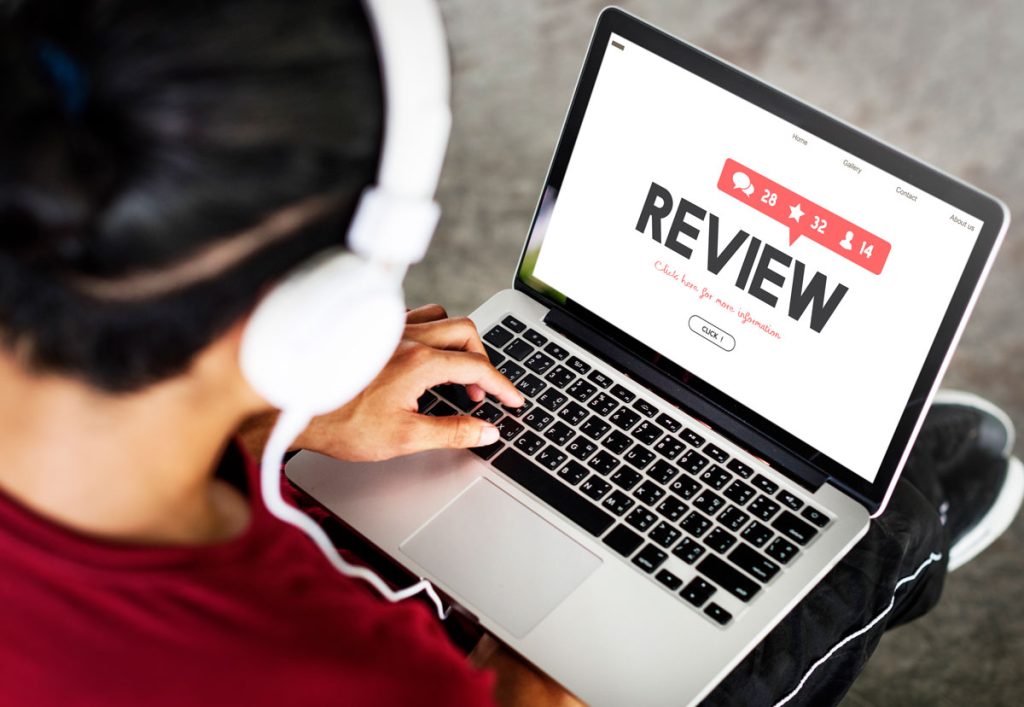 As the saying goes, "Your most unhappy customers are your greatest source of learning". No matter how successful or well your business is doing, customer feedback remains one of the most powerful information sources to help your business grow. Customers' feedback not only provides your business with an opportunity to learn, but also offers valuable insights into how to improve customer satisfaction and increase sales. 
Along with receiving customer feedback, responding to it is just as crucial as it could make or break your business. In this article, we've compiled a list of Do's and Don'ts for you to ensure your responses are received well by customers. 
The Do's of Responding to Customer Feedback
1. Do Express Gratitude
First and foremost, show your appreciation and say thank you. Expressing gratitude to your customers helps to let them know that they are heard, valued and appreciated. Thanking them at the beginning of the message helps set the tone and voice of the message, regardless of how positive or negative the review might be. For example, you can start by saying "Thank you for taking the time to leave us a review!" or "Hi, Thank you for your feedback and sharing!"
2. Do Acknowledge Criticism and Take Responsibility
As aforementioned, you want your customers to know that they are seen and heard. This is especially true when your customers have had a bad experience and leave a negative review. As a business owner, you should always acknowledge criticism and take responsibility for your mistakes. Instead of defending yourself, you should apologise, offer an explanation and provide assurance that similar issues would not happen again. In this way, you can show your customers that you're listening to their feedback and are sincerely striving to improve.
Below's an example of how businesses can acknowledge and take responsibility for when met with negative feedback!

Source: Google Reviews
3. Do Offer Solutions
Occasionally, there will be incidents that are more severe where simply apologising might not be enough. That's when you need to proactively offer solutions and perform service recovery, so that you don't lose your customer. This can include offering incentives, discounts or for restaurants, inviting them back for a complimentary meal or drinks to change their minds!
The Don'ts of Responding to Customer Feedback
4. Don't Argue and Defend Yourself
It can be frustrating to see negative reviews or feedback about your business, especially those that you might not agree with. However, the last thing you should do is to get defensive and argue with your customers over it. Posting such replies not only leaves behind a bad impression, but forms a negative image for others when they come across your response to the feedback.
Here's an example of how you SHOULD NOT respond to customer feedback.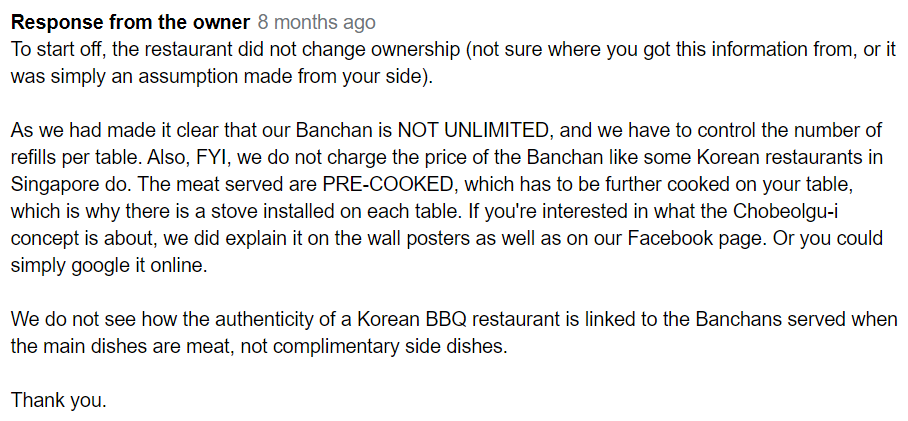 Source: Google Reviews
5. Don't take too long to Respond
When a customer leaves a positive feedback or review, you should respond quickly to show that you are always listening. Similarly, when faced with negative feedback, responding swifty helps to emanate your sincerity and commitment in wanting to do things right, letting your customers know that they are valuable to your business. As a general rule of thumb, you should make an effort to reply within 24 hours, so that any issues and concerns can be identified and addressed timely before it escalates.
6. Don't Lose Your Brand Identity
When responding to customer feedback, it is essential to ensure that your brand's voice, tone and personality stays consistent so that you don't lose your brand identity. Businesses are increasingly expanding their digital presence across various social platforms where some of which may seem less formal than others. It is therefore important to stay professional and not veer off-brand when communicating and responding to customer's feedback on these platforms.
Conclusion
The way a business responds to feedback often goes unnoticed, but it's something that actually makes a big difference in your business. After all, crafting a perfect response to customer feedback isn't as simple as it sounds, but with practice (and this article!), it will be easier to improve your customer experience and retention.
Interested in knowing more about improving your customer service? Learn more about how to build a strong community or how to deal with difficult customers.
•Written by Chu Ka Ying