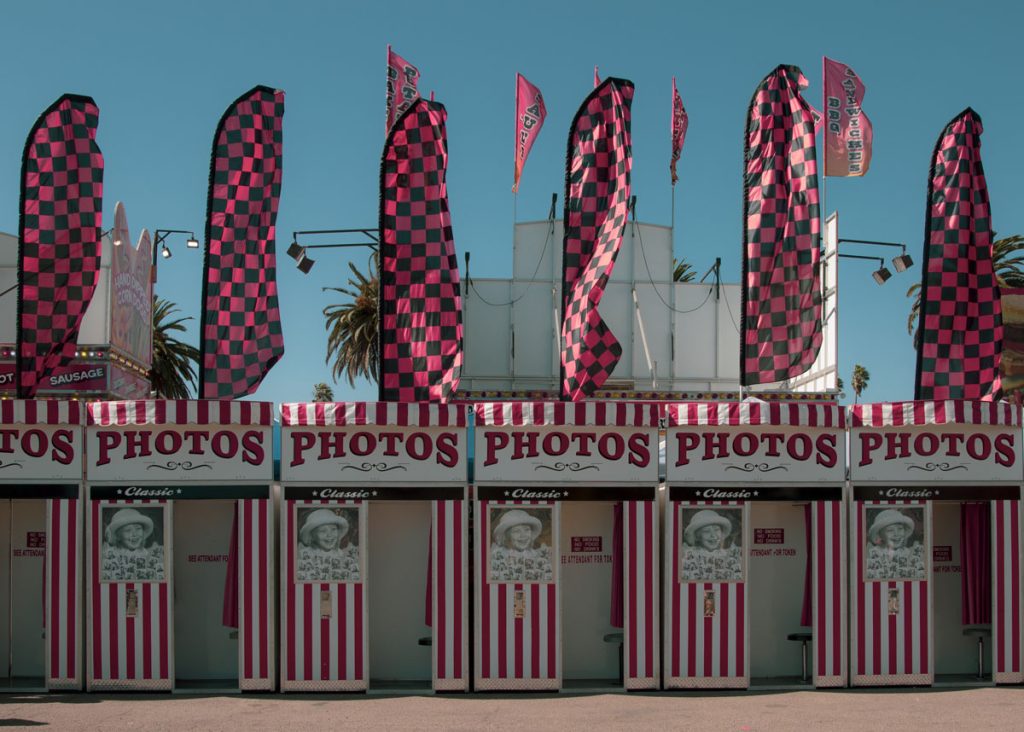 Lights, camera, and a whole lot of action! Get ready as we dive into a world where pictures speak a thousand words. For those who are still not caught up with the trend, photo booths are kiosks (sometimes with props) for you and your besties to snap pictures. In recent years, with photography's popularity steadily climbing up the charts, more and more photo booths and studios can be seen popping up around Singapore. Interested? Well, this article is the golden ticket in helping you navigate around some of Singapore's best photo booths. So, strike a pose, flash that smile, and come along as we explore the intriguing world of photography.
Key Consideration Factors
Hold your horses! Before we start snapping away, here are some things you might want to consider before choosing your photo booth of choice.

Cost:

Compare a variety of options online prior to determining the most suitable photo booths/studios. Search for photo booths/studios that fall within your budget range, this includes travel considerations and other chargeable things such as props and package deals offered.

Availability:

Ensure that the desired photo booths/studios are readily available and accessible to meet your needs. Check the availability of the photo booths/studios, including their operating hours and availability on specific dates. Make reservations or bookings in advance to secure your spot and avoid disappointment.

Accessibility:

It is crucial to prioritise accessibility, ensuring that individuals with different needs can fully participate. This includes those with physical, cognitive, or sensory impairments. Prioritising accessibility ensures that everyone, regardless of their needs or abilities, can participate and enjoy the photo taking session. 
Best Photo Booths and Photo Studios in Singapore
1. Photomatic Self Photo Studio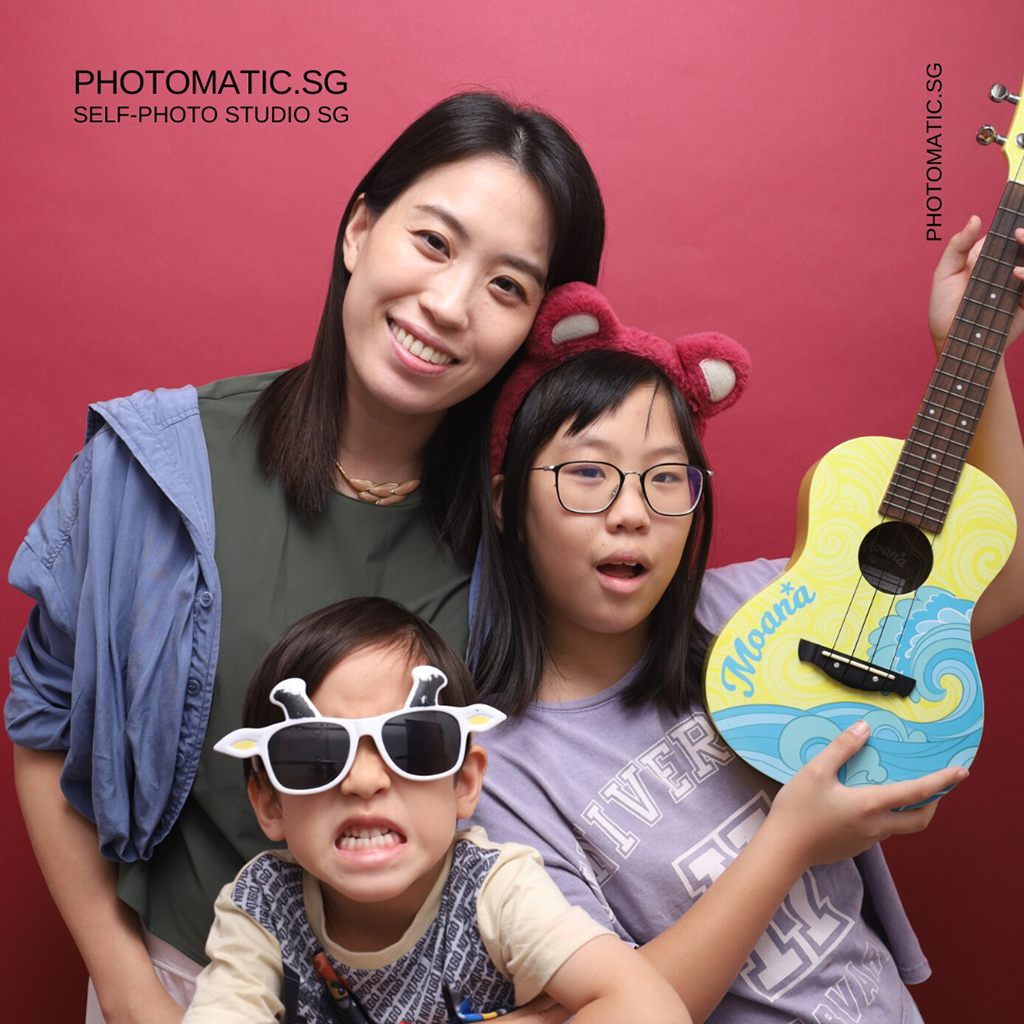 Source: Photomatic Self Photo Studio via website – Photo Booth Singapore
Facebook: Visit Here
Instagram: Visit Here
Website: https://www.selfphotostudio.sg/pages/photomatic 
Address: 107 North Bridge Rd, Singapore 179105
Operating Hours: Locations
On a hunt for a photo booth venue that offers high quality studio and photos at an affordable cost? Slow it down as Photomatic Self Photo Studio could be the perfect choice for you! At Photomatic, they offer private rooms filled with all kinds of photo tools and different concepts for you to choose! You can search for your preferred studio and even theme that suits your needs. There's not even any deposit and cancellation fees. What are you waiting for? Hurry, book a studio with Photomatic and have fun snapping away!
Customer Testimonial
"Finally have the time to review! it was so fun!! very affordable package😍 staffs were friendly and nice to explain what to do in details before shoot and after! would love to come back again! thank u for giving us the best experience😍"
– Anna Raihana
2. One Click Studio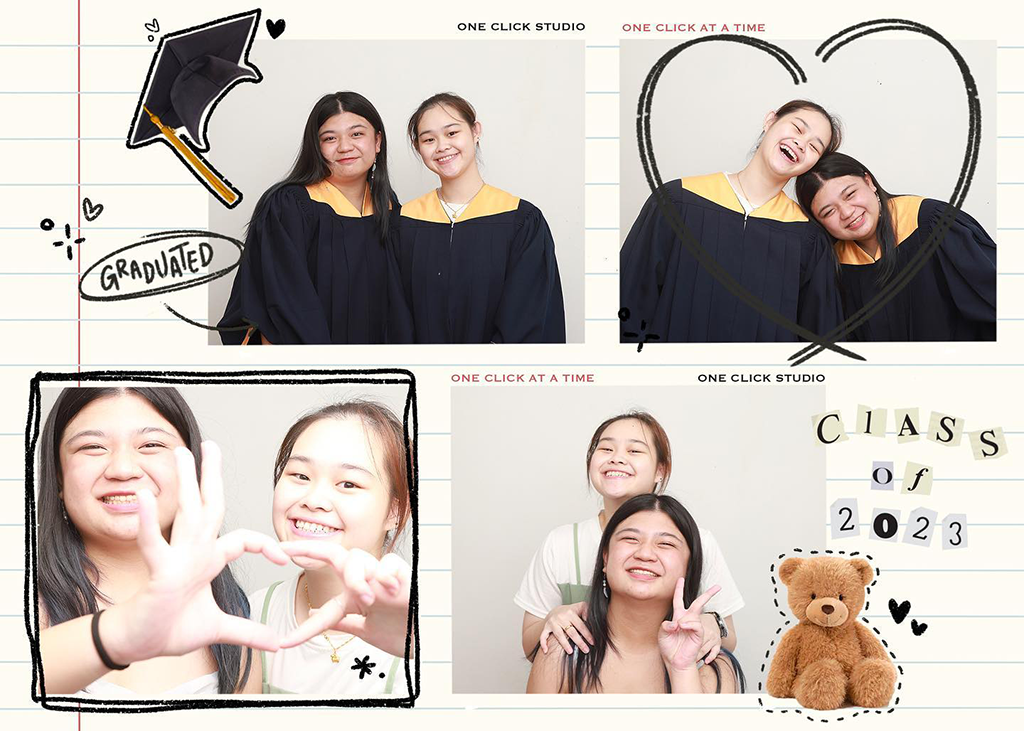 Source: One Click Studio via website – Photo Booth Singapore
Facebook: Visit Here
Instagram: Visit Here
Website: https://www.oneclickstudiosg.com/ 
Address: 33A Haji Lane, Singapore 189226
Operating Hours: Mon-Thur | 12pm-8pm & Fri-Sun | 12pm-10pm
Next on the list is a photo studio that you may have come across while scrolling through your Tiktok FYP. Yes, it is One Click Studio! Let's take a quick dive into One Click Studio's history, shall we? This famous photo booth in Singapore was created with the intention of comfort and the warm feeling of reminiscing good memories. They strive to make their space for guests to enjoy their time over there, hoping that they'll be able to take their piece of memory everywhere they go. They offer different packages at different price points to suit your preference. Want to make some amazing memories, one click at a time? Head over to One Click Studio now!
Customer Testimonial
"Went as a group of 8 for the premium package and the whole experience was very pleasant and enjoyable! The studio itself has very nice vibes and there were plenty of props for us to use in our pics. Ample time was given for us to get ready and the staff were really helpful and patient :-)"
– zixin
3. Solace Studio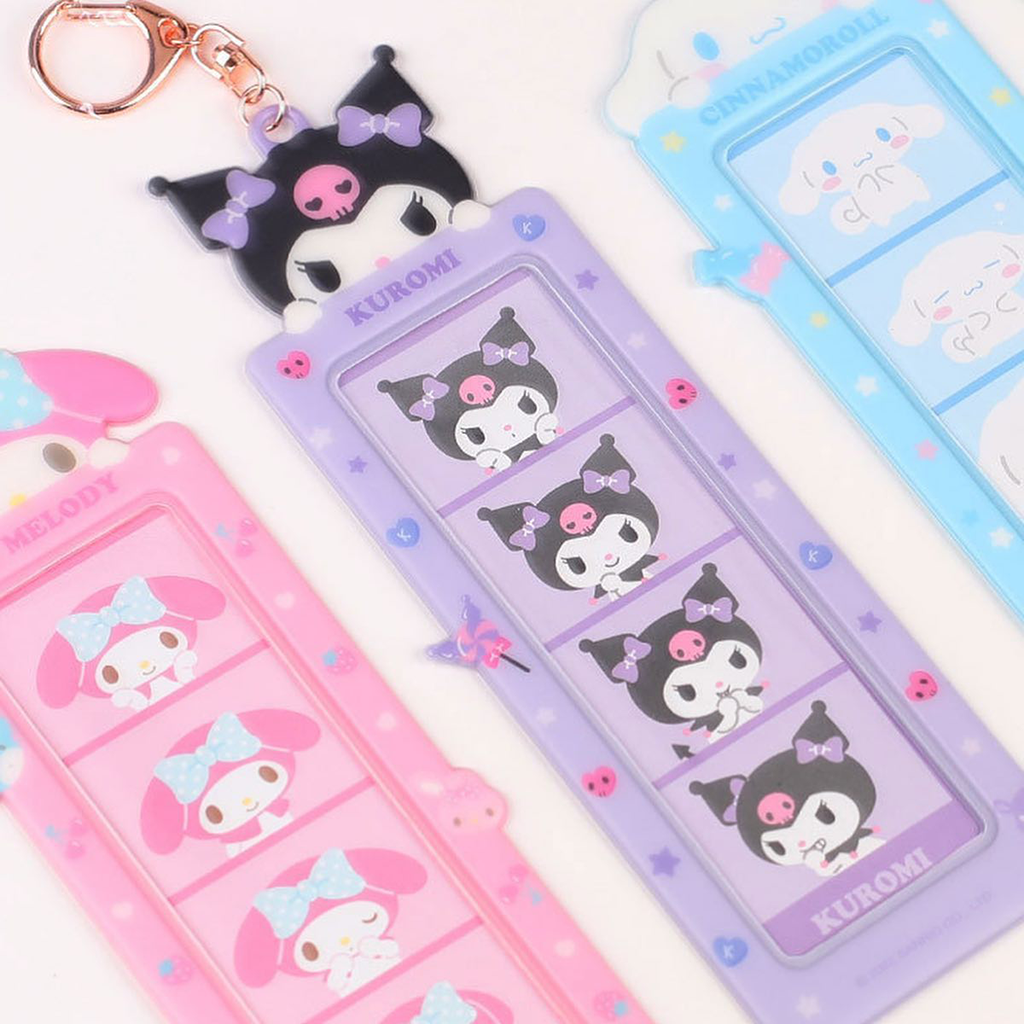 Source: Solace Studio via Facebook – Photo Booth Singapore
Facebook: Visit Here
Instagram: Visit Here
Website: https://t.me/solacestudios 
Address: Locations
Operating Hours: Locations
It's no secret that the Hallyu wave is taking over the world, much less Singapore. With Korean culture making its way to our shores in terms of food, entertainment and fashion, Korean inspired photo booths are also making themselves known on our little red dot! Solace Studios is a reputable, minimalist, Korean-inspired self photo booth that allows you to create memories at affordable prices. What stands out is you get to customise your photostrip designs with the different types of frames and how many cuts you want. (Of course, soft copies are provided as well!) 
On top of that, complimentary styling tools like straighteners are available for the girlies to look slay~~. Sooo, if you have nothing to do over the weekends with your friends, make sure to add Solace Studios to your list of activities! 
Customer Testimonial
"Great experience & cute props too! (me and my friend had a hard time choosing the props cause they were so cute 😆 especially the sanrio ones ) plus super affordable $ , was surprised to see hair straightener & hairdryer provided (really useful 💗). Overall, i would come again :)."
– chelzena
4. PIC UP!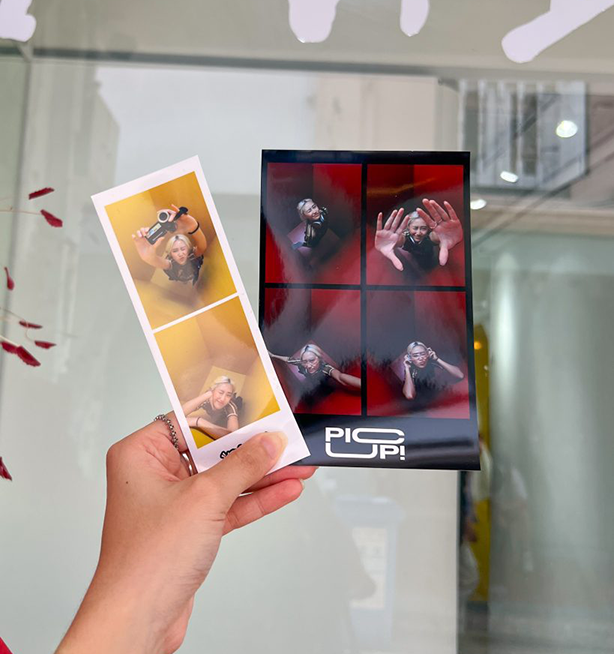 Source: PIC UP! via Confirm Good  – Photo Booth Singapore
Facebook: Visit Here
Instagram: Visit Here
Website: https://t.me/solacestudios
Address: Locations
Operating Hours: Locations
Have you been seeing the 0.5x trend all over your Tiktok's FYP? What if I tell you that there is a place where you can take 0.5x pictures in your comfort zone? Yes, PIC UP!, a sister company to Solace Studios, offers 0.5x wide angle in a more y2k setting for you to enjoy.
The 0.5x trend is a Gen Z trend where you whip out your phone, put your camera on 0.5x mode and take pictures of yourself. The trend has gotten more and more popular because taking a pic at 0.5x allows one to look slimmer and show more of the surroundings. Soo, want to experience a different type of photo booth in Singapore? PIC UP! is the definitely the way to go!
5. Life4cut – Korean Self Photo Booth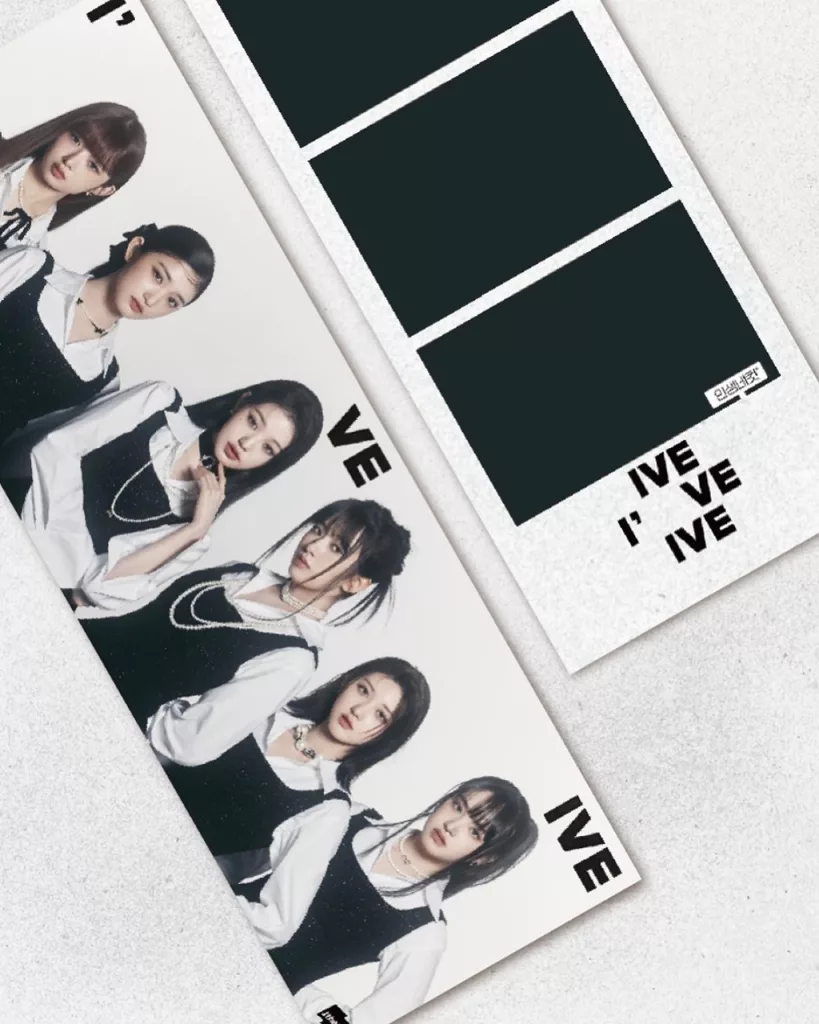 Source: Life4cut – Korean Self Photo Booth via Facebook – Photo Booth Singapore
Facebook: Visit Here
Instagram: Visit Here
Website: https://www.life4cutsg.com/ 
Address: Locations
Operating Hours: Locations
Calling all couples! Ran out of things to do on a special date night? I'm here to help! Head over to Life4cut for a fun and easy way to commemorate your special day with a variety of themed frames for you and your partner to discuss and select from! Don't have a partner? Don't worry, at Life4cut, they offer idol frames that you can choose. You can select your favourite idol and take a couple shots with them. Most recently, they offered famous girl group IVE's frames for their fans. With no reservation needed, head down to any of their 4 locations and spend your day snapping away!
Customer Testimonial
"Fun experience! It's pretty cool that they have many props and there's a video version of the photos as well so that's major plus points for me!"
– Wei Jie Yeo
6. Say Chunkie! Studio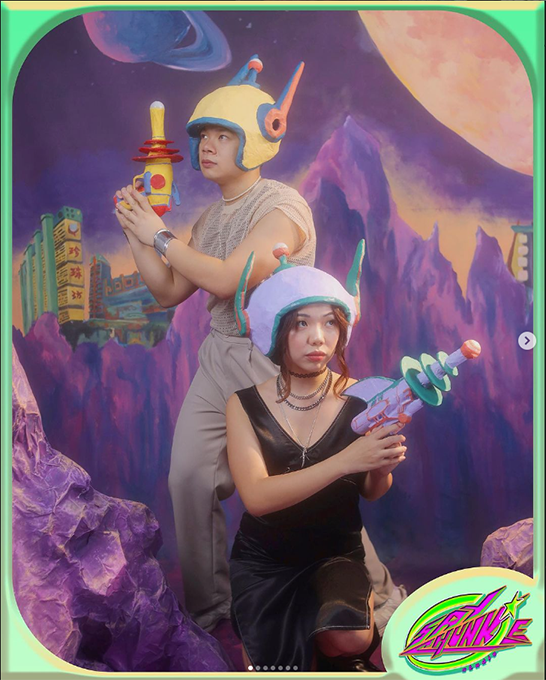 Source: Say Chunkie! Studio via Instagram – Photo Booth Singapore
Instagram: Visit Here
Website: https://saychunkiestudio.simplybook.asia/v2/# 
Address: 621 Aljunied Rd, Singapore 389834
Operating Hours: Fri, Sat & Sun | 11am-9pm
Recently making waves on Tiktok for its quirky props and unique style of pictures, Say Chunkie is another photo booth in Singapore to keep a lookout for. Say Chunkie! Studio is a seasonal photo booth that regularly changes its theme every few months. The latest theme was space themed with planet-inspired backdrops and many funky props! They also have 80's themes and CNY themes. Apart from the themes, another thing that stands out is the soft, ethereal effect edited onto their picture. 
Sooo, want to experience a photo booth session like no other? Keep an eye out on the next theme appearing on Say Chunkie! And hurry, snatch your slots!
Customer Testimonial
"The BEST place in Singapore to get quirky, one-of-a-kind portraits done! Super creative and professional, adored this season's theme (sci-fi!). The painted backdrops and props are SO cool and wacky. The team instantly makes you feel very comfortable, and they're more than ready to help realize whatever your vision is for the photo shoot. The photos turned out phenomenal and I couldn't be happier (also I've never had so much fun during a photo shoot, the music and the general vibe of the studio is so encouraging) <3 Will be back for future seasons!"
– Jamie Uy
7. Hong Ray Photography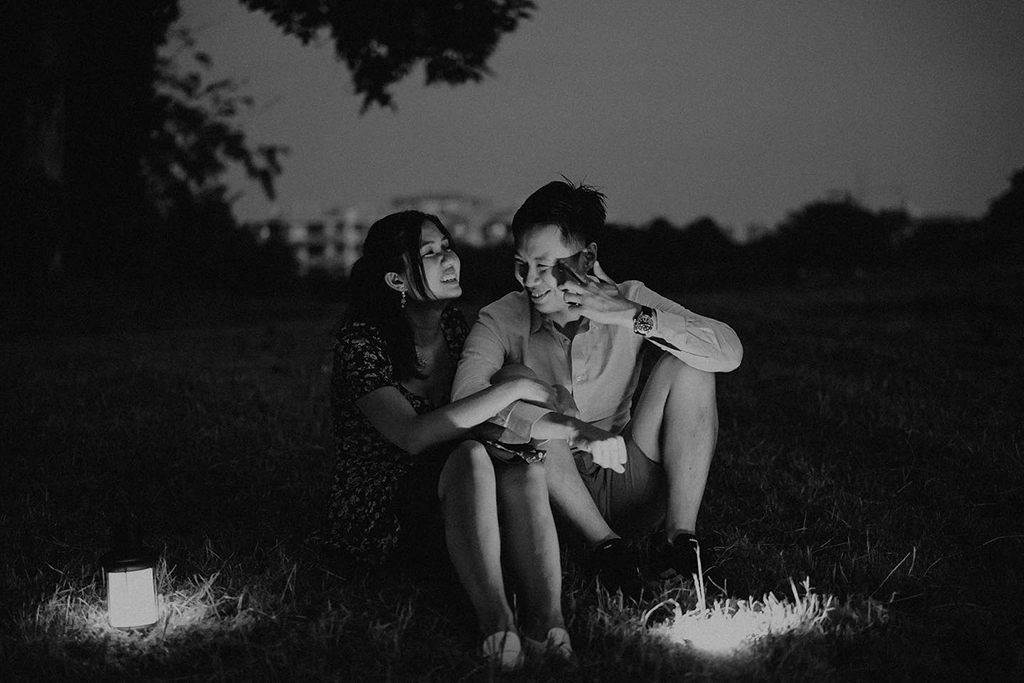 Source: Hong Ray Photography via Facebook – Photo Booth Singapore
Facebook: Visit Here
Instagram: Visit Here
Website: https://www.hongrayphoto.com/ 
Address: 50 Bukit Batok Street 23, Singapore 659578
Operating Hours: Daily | 11am-11:30pm
So far down the list we've been going through affordable, self clicking photo booths. Now, we are moving on the heavy hitters in the photography world. Couples who are in search of taking wedding pictures, we've got you covered! Hong Ray Photography is a renowned photo studio that specialises in taking wedding photos. But! It's not just any wedding photos, they specialise in capturing candid moments that wake up your emotions each time you look at the pictures. (Pssssttt, bonus, you get to play with cats in the studio!)
So, if you are still looking for a wedding studio or photographer, make sure to add Hong Ray Photography in your list of choices!
Customer Testimonial
"Hong Ray was very accommodating and his service and quality was top notch. I was desperate to take a couple last minute photos and he opened his studio for me. Once inside, he was absolutely professional and didn't make me feel bad about arriving super late. He even made me and my father in law some tea, and we played with his 4 beautiful cats. The studio set up was great too. Go take your photos with him! Go hang out with his cats! And let him make drinks for you :)"
– katrina adrianne
8. Lightedpixels Photography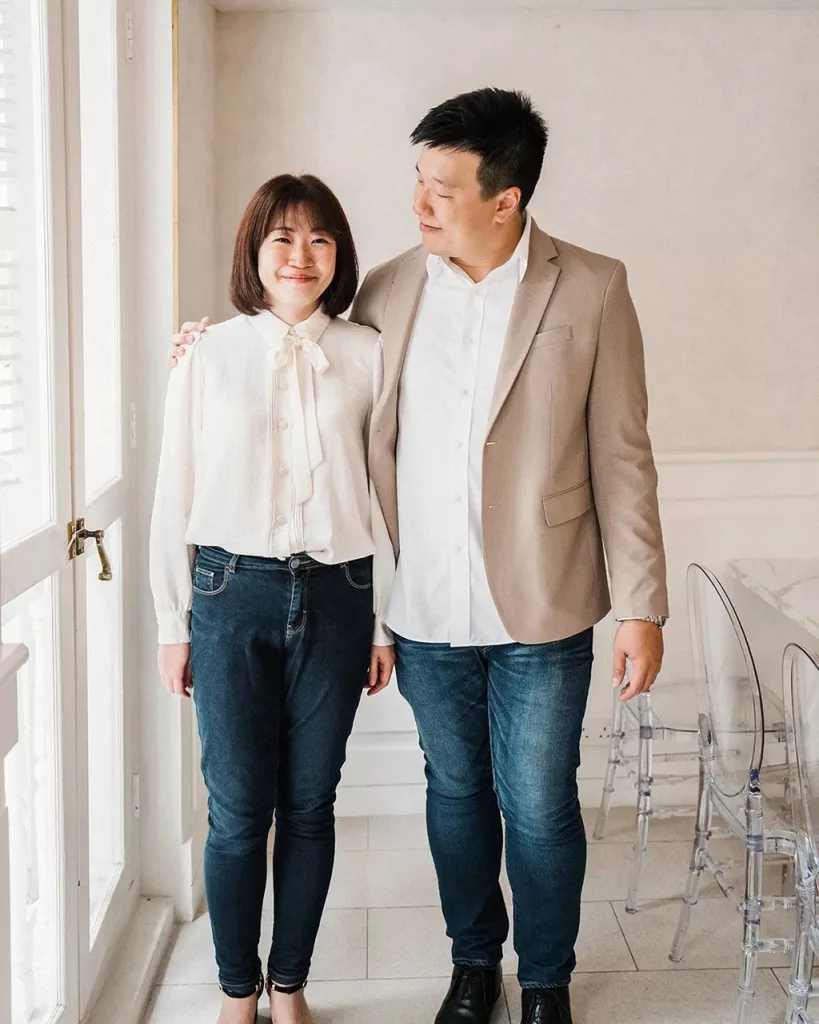 Source: Lightedpixels Photography via Facebook – Photo Booth Singapore
Facebook: Visit Here
Instagram: Visit Here
Website: https://www.lightedpixels.com/ 
Address: 2 Redwood Avenue, Singapore 276712
Operating Hours: Tue-Fri | 11am-6pm
Another option for you couples to consider is Lightedpixels Photography. Being one Singapore's most sought after wedding photography studios, they believe the best images are taken when at ease. Lightedpixels Photography captures real moments and emotions, ensuring your pictures never feel forced. Because of this, they remain as one Singapore Tatler's Best of Singapore list for 13 consecutive years (wow!)
What's special about Lightedpixels, you might ask? Well, photographers from Lightedpixels are experienced in taking overseas wedding shoots. That's right! So if you are deciding to head overseas for your wedding shoot, you can definitely consider them as one of your choices. When it comes to your special day, you can definitely trust Lightedpixels Photography to get the job done!
9. White Room Studio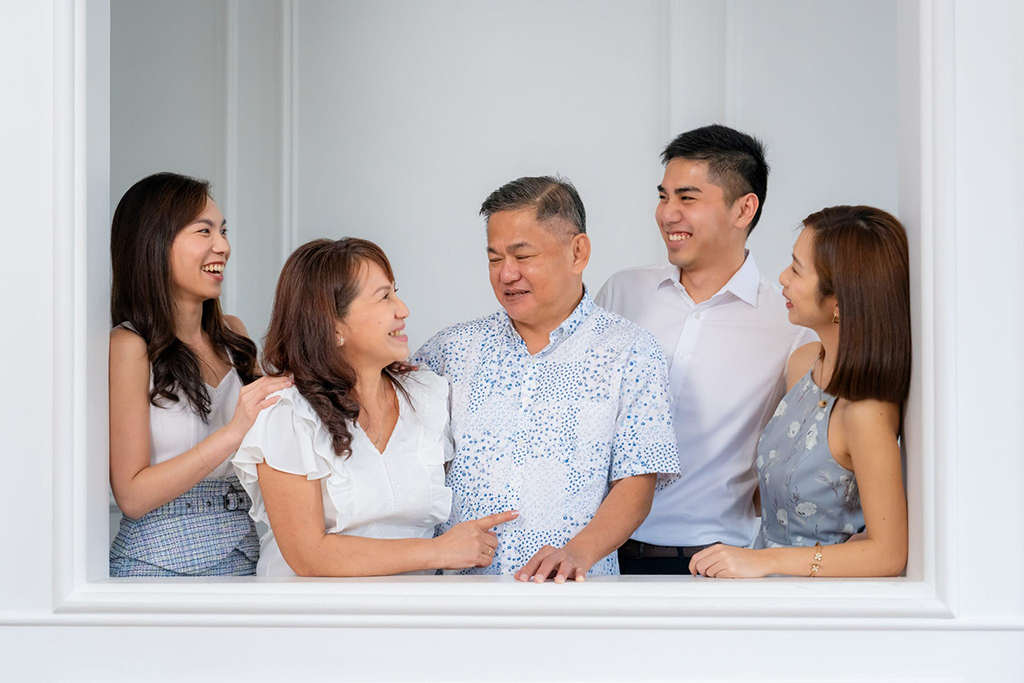 Source: White Room Studio via Facebook – Photo Booth Singapore
Facebook: Visit Here
Instagram: Visit Here
Website: https://www.whiteroomstudio.com.sg/ 
Address: 219 River Valley Rd, Singapore 238277
Operating Hours: Locations
Nestled in the historic enclave of River Valley, White Room Studio is the perfect place to explore all sorts of creative angles that make great lifelong family keepsakes. White Room Studio prides itself on creating a welcoming yet unique natural light shophouse-studio that is thoughtfully designed for maximum artistry, bringing photographers' vision to life. From family and kids, graduations, first year birthdays, newborns, pets, couples, pre-wedding shoots, whatever you can think of, White Room Studio photographs all these important moments for you!
Customer Testimonial
"Studio has great lighting, several beautiful backdrops and nice changing room. Did a mother-daughter photoshoot on 2 levels with 2 outfits with our photographer Justin, who was really enthusiastic and energetic throughout the shoot. I could tell he was attentive to details, advised us on our outfit pairings, gave a lot of clear directions so there was hardly any awkward moments or poses, and I like that he asked me if we had a 'good side'/whether we preferred our left or right profile. I also appreciated that in between the shoot, he would give us short breaks, allow us to review the photos and asked if there was anything else we wanted to try. Thanks Justin for making the experience comfortable and pleasant for us. We like how the photos turned out as well :)"
– Hui Ting Teo
10. Tomato Photo Studio SG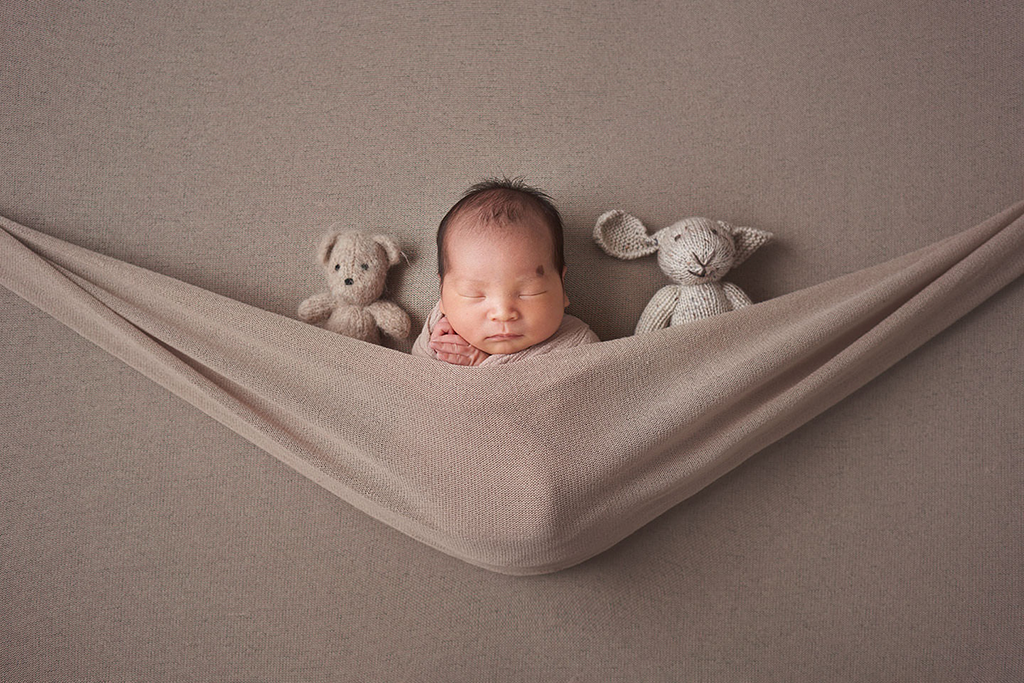 Source: Tomato Photo Studio SG via Facebook – Photo Booth Singapore
Facebook: Visit Here
Instagram: Visit Here
Website: https://tomato.sg/ 
Address: 62 Ubi Road 1, Singapore 408734
Operating Hours: Daily | 8am-5pm
Any parents scrolling on this list? Well, don't scroll away, I've got something just for you! Tomato Photo Studio has been redefining the standard of professional family and newborn photography studio in Singapore since 2007. How? They have taken care of every miniscule detail needed to make it easy for your family. From ample and sheltered parking in the building, a studio that is purposely built for easy accessibility for strollers and wheelchairs to ensuring a master photographer takes care of your photo shoot, they've got you covered from head to toe! Of course, needless to say they are also a photo studio that is decorated with many awards and have been featured on many places like Mediacorp, Tatler, Gardens by the Bay and so much more. 
Still unsure of where to take your baby's picture or a family picture? Well, Tomato Photo Studio can surely be added into your list of considerations. 
Customer Testimonial
"Worked with Hart for the first time this month for a newborn and family shoot. Hart was able to communicate with my toddler who cooperated on posing photos with us and our newborn. The photos that came out were really nice, candid, and professional – everything that we expected from the shoot. The session also was not draggy and everything was done quickly with really good photos. The photos were also well edited quickly and we received the preview within a day. Thank you Hart!"
– Fong Yee Chye
Conclusion
There we go! We have closed the curtains on our quest to find the best photo booths in Singapore. However, you are just getting started! Explore these photo booths because they are not just boxes; they are also portals to a world of fun and creativity. Whether you're striking a pose for the 'gram or snapping the moment for a lifelong memory, these top picks will definitely frame your moment with style. So, strike a pose and let the magic unfold!
Still looking for other activities to do during the weekends? Here is a list of other activities for you to choose from!
• Written by Elvina Lee
Frequently Asked Questions (FAQs)