The school holidays are a time of joy, exploration, and endless fun. It's a special period when both children and adults can unwind, relax, and create memorable experiences. But how can we make the most out of this precious time? From exploring lush landscapes to diving into the vibrant local culture, here are the top 36 ways to celebrate the school holidays in Singapore. Buckle up, as you will be in for a wild ride!
Key Consideration Factors
Here are some things that you might want to consider while having fun during the school hols.
Safety:

Safety is always the first priority

. Review the online ratings and testimonials of any activity provider prior to engaging in the activity or adventure to ensure their credibility and commitment to safety. It is also crucial to have a proper understanding of the provider's policies and guidelines. Doing so helps ensure a smooth and enjoyable experience.



Weather:

For optimal planning of outdoor events and excursions, it's recommended to monitor the weather forecasts in advance. This allows for coordination around days marked by sunshine and favourable conditions. Additionally, make sure to establish appropriate alternative arrangements in case of inclement weather conditions. 



Location:

Consider selecting activities that align with your location to optimise your time by minimising commute durations. For those travelling from abroad, it is advisable to explore various transportation options for reaching your intended destination swiftly and conveniently.



Cost:

Compare a variety of options online prior to determining the most suitable activity. Search for activities that fall within your budget range, this includes travel considerations, chargeable experiences such as amusement parks or exclusive tours and even cost-free attractions.

Accessibility:

It is crucial to prioritise accessibility, ensuring that individuals with different needs can fully participate. This includes those with physical, cognitive, or sensory impairments. Prioritising accessibility ensures that everyone, regardless of their needs or abilities, can participate and enjoy the activities.

Age Groups:

Look for activities that cater to a variety of tastes and age demographics, ranging from families with small children to individual explorers seeking a cultural immersion. Singapore offers a diverse array of attractions, from exceptional art exhibitions to picturesque parks, ensuring a fulfilling experience for all. 



Best Ways To Spend The School Holidays In Singapore
Explore the Great Outdoors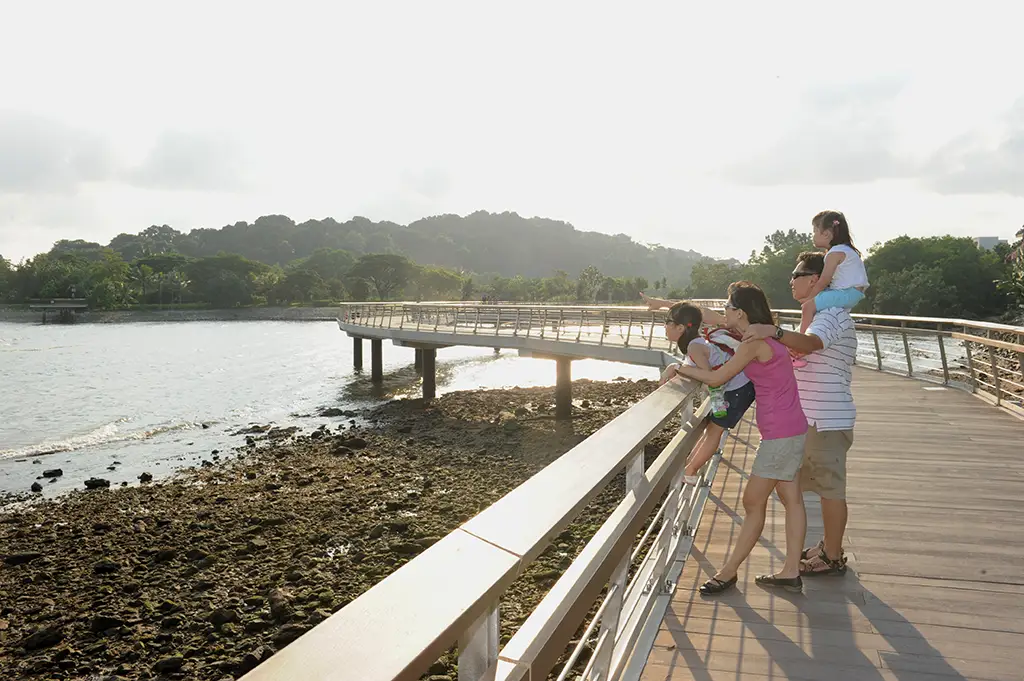 Source: Labrador Nature Reserve via NParks website – School Holiday Singapore
Singapore is a city teeming with natural beauty. Get outside with the best kid-friendly outdoor activities to let your kids have a blast of a time or the best outdoor activities for ultimate fun!
1. Nature Parks & Trails
Of course, no outdoors adventure is complete without a picnic at the park or a good hike at any of the best hiking trails Singapore has to offer! 
Why not kick off the holidays with a bike adventure on Pulau Ubin? Be whisked away from the city's concrete skyline, immerse yourself in nature, and catch a glimpse of the wildlife that call this humble island home. Then, switch gears and pedal through the rustic trails of Coney Island, Singapore's eco-friendly paradise. Want to discover the city's hidden gems? Take a scenic beach stroll across Lazarus Island, a haven for nature lovers. Enjoy the serenity of nature by exploring the winding interconnected PCNs.
Switch your sneakers for magic shoes and step into Pandora at Gardens by the Bay's Avatar: The Experience, where you'll witness and encounter the stunning bioluminescent flora and fauna from the blockbuster movie.
2. Obstacle Courses & Thrill Rides
More of an adrenaline junkie? Start your fun at Forest Adventure, where you can swing, glide, and climb through its heart-pumping obstacle courses. Or, rev up your engines at The Karting Arena, perfect for speed enthusiasts seeking a thrill ride.
3. Prawning
We are also calling all aspiring anglers to check out these best places for prawning in Singapore for a fun filled day of prawning, where you can even grill what you catch!
Dive Into the World of Art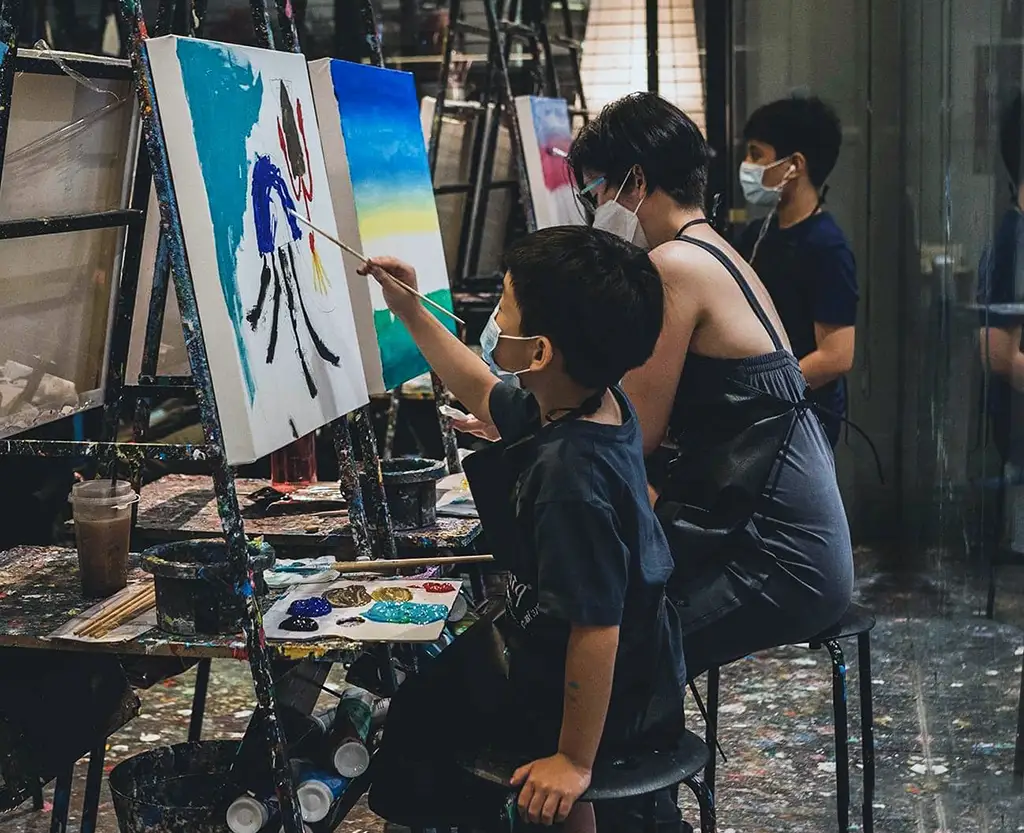 Source: Arteastiq Tea Lounge via Facebook – School Holiday Singapore
Art has a unique way of opening our minds and nourishing our souls. Diving into the vibrant art scene during the school holidays in Singapore 2023, there's a rich palette of activities that are perfect for fostering creativity and nurturing a love for the arts.
4. Art Classes & Workshops
Art classes for kids and adults are abundant, providing your little ones and yourselves with the chance to dabble in various mediums, from painting to sculpture, and tap into your inner Picasso.
Explore your artistic skills freely away from the stresses of school or work with the best art jamming studios in Singapore, which offer a perfectly relaxing yet stimulating environment. Stepping into the world of clay, pottery classes are also an excellent option for hands-on learning. The tactile nature of the craft not only helps develop fine motor skills but also encourages patience, focus, and precision. Besides, who wouldn't love to bring home their very own handcrafted ceramics?
5. Singapore Art Museum
The theatrical experience isn't forgotten either, with numerous theatre programs running during the holidays. The Singapore Art Museum offers an array of captivating events during school holidays that can inspire both young and old. Here, you can explore the world of drama, take on various roles, and express themselves in new and imaginative ways. It's a magnificent way to boost your kid's confidence while having fun.
6. Green Workshops
Are your kids interested in gardening or plantlife? The Green Capsule introduces a fresh spin to creative pursuits with their eco-friendly art workshops. It's a fantastic opportunity to learn about sustainability while indulging your creativity. Participate in workshops such as terrarium making, which seamlessly combines art and nature, fostering an appreciation for the environment in young hearts.
Embark on Indoor Activities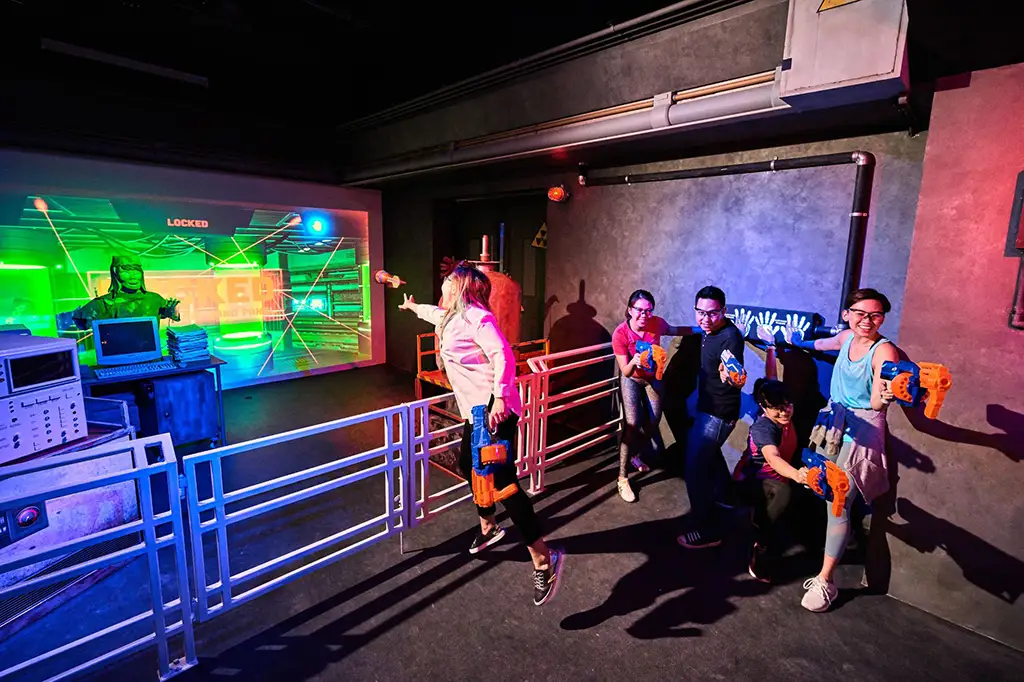 Source: NERF Action Experience via Facebook – School Holiday Singapore
Who says you need to step outside for an adventure? When the tropical weather of Singapore pushes you indoors during the school hols, a thrilling world of adventure awaits. 
7. Adventure Parks
Begin your exhilarating journey at Bounce Singapore, where trampolines aren't just for kids but a playground for the young at heart. From free jumping to slam dunk, this is where you can defy gravity. Next stop, Katapult Trampoline Park, featuring an epic Ninja Warrior course that challenges agility and strength. Then, for the fans of foam dart battles, Nerf Action Xperience is your arena, a playground designed to elevate the classic backyard Nerf game to new thrilling heights. At Adventure HQ at HometeamNS, explore four stories of adventure, complete with a sky-high indoor slide and the city's tallest indoor artificial climbing wall.
8. Puzzles and Escape Rooms
Are escape rooms your kids' thing? The enigmatic puzzles of X-scap8 are calling you for an immersive experience that requires wit and teamwork. Then, test your climbing skills at Jumprocks, a rock-climbing paradise for climbers of all levels.
Alternatively, if solving fun puzzles at home with the whole family sounds like a plan, you can subscribe to Project Enigma's Sparkbox. With a couple clicks, your family can enjoy handpicked puzzles to your doorstep based on your family's preferences.
9. Singapore Science Centre
For budding scientists, the Singapore Science Centre brings science to life with interactive exhibits and captivating shows. Enrol your kids in many of the amazing activities and enrichment programmes available during this school holiday at KidsSTOP™ (for younger children) or even bring your child stargazing at the Singapore Science Centre Observatory!  
10. Snow City Singapore
For a cool change of pace, step into a winter wonderland at Snow City Singapore, offering an escape from the tropical heat. Experience real snow, build your snowman, and enjoy thrilling rides down snow slopes.
11. Bowling Alleys
Challenge your friends to a match at one of Singapore's state-of-the-art bowling alleys. Whether you're a pro or a beginner, the pulsing energy, glowing lanes, and the satisfying clatter of pins will make for an unforgettable day.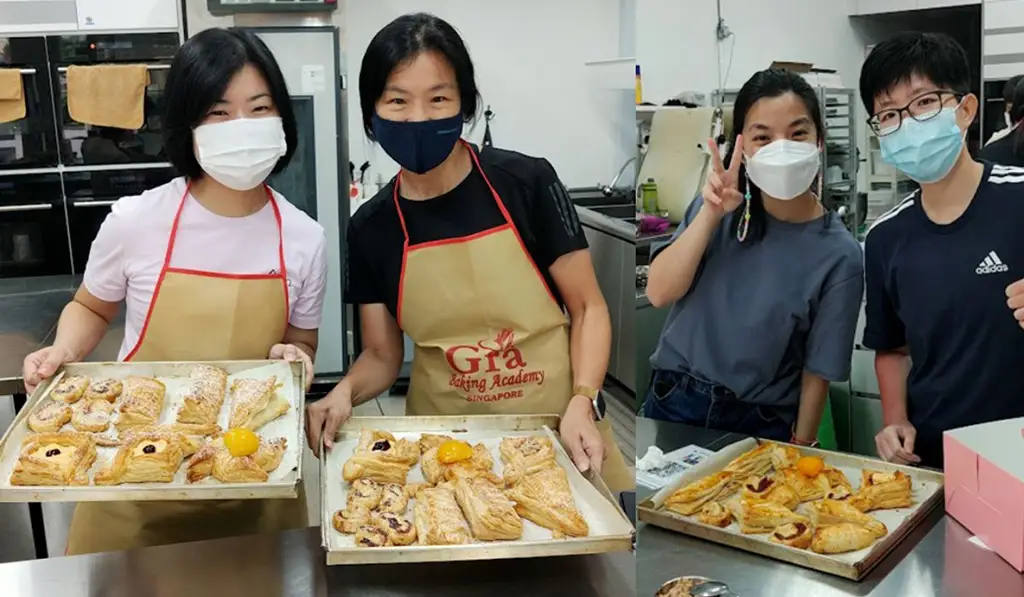 Source: Gra Baking Academy via website – School Holiday Singapore
Why not try your hand at cooking during the school holidays in 2023? It's a fun and rewarding way to spend time at home, and you get a tasty treat at the end. Turning to the fragrant art of cooking and baking is a delightful bonding opportunity and perfect way to learn about different cultures through cuisines!
12. Baking Classes
One such hotspot is the renowned GRA Baking Academy. Known for its hands-on baking classes, it offers a unique platform for children and parents to navigate through the world of sugar, spice, and everything nice, together. The Academy's motto, 'Learning through fun', truly comes to life as the families build not just delicious dishes but also precious memories. Equally compelling is Bake King Singapore, a crown jewel of Singapore's culinary scene. Offering more than just baking classes, it provides a complete culinary experience. Each class is tailored to be an interactive, fun-filled, learning experience! The unique selling point of Bake King lies in its wide variety of courses, ranging from artisan bread making to gourmet Asian cuisine.
13. Cooking Classes
As families continue their culinary exploration in Singapore during the school holidays, Tomato Cooking School emerges as a popular destination for young chefs aged 6 to 14. There, in a dynamic and encouraging environment, children can enjoy a 5-day adventure, taking exciting cooking courses under the tutelage of experienced and friendly chefs.
Rather than being a conventional cooking school, Food Playground is a cultural culinary experience that goes beyond teaching recipes. At the heart of Singapore's Chinatown, they blend storytelling and local insights into each session, making the experience more immersive and enlightening. Here, families can not only cook authentic Singaporean dishes like Laksa, Curry Chicken, and Char Kway Teow in a fully-equipped kitchen, but they also learn about the multifaceted food culture and history of Singapore!
These holiday adventures in the kitchen are not just about the final product; it's the joyous journey of creation that makes them truly special. They are edible adventures that suit every taste and preference, making them a hot favourite among families during the school holidays.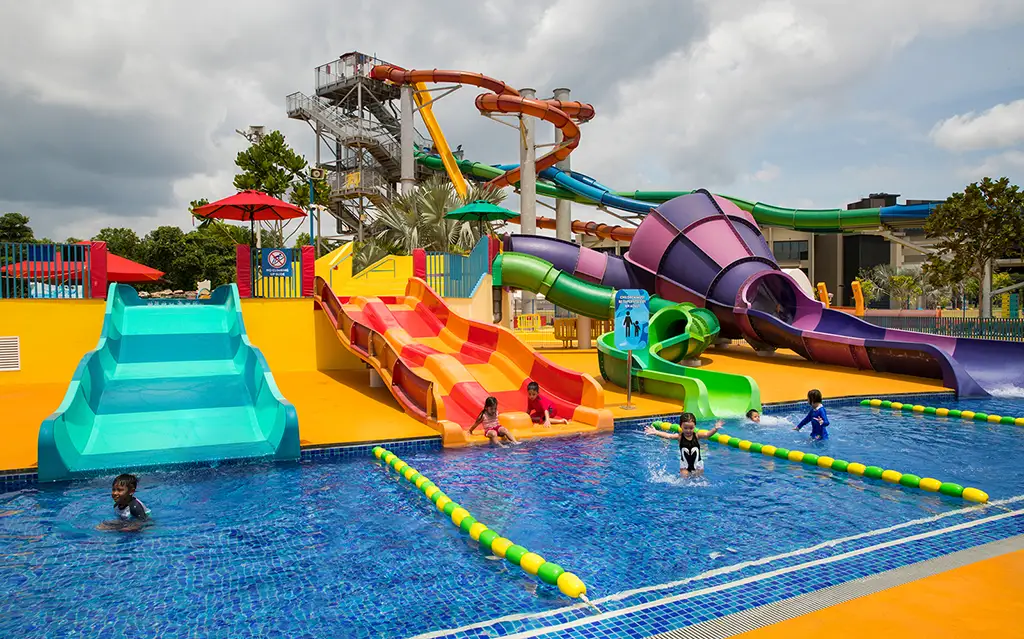 Source: Wild Wild Wet via website – School Holiday Singapore
14. Water Playgrounds
Children and adults alike are invited to embark on a thrill-packed journey of amusement parks, virtual reality, waterparks, and indoor playgrounds that guarantee a heart-pumping school holiday experience. Amidst the sizzling heat, Wild Wild Wet, one of Singapore's largest water parks, presents itself as a delightful retreat. With a perfect blend of adrenaline-rushing slides and gentle wading pools, this park serves excitement for every age.
However, if marine life and splashing fun are the order of the day, then Adventure Cove Waterpark is your playground. Not only does it flaunt a stunning array of aquatic slides, but the Rainbow Reef also lets you swim along with 20,000 colourful tropical fish!
15. Theme Parks
On Sentosa, there's Universal Studios Singapore, the crown jewel of the Island. Its seven movie-themed zones, from the fairytale-like Far Far Away to the exhilarating rides in Sci-Fi City, are sure to transport children and their parents into worlds beyond their wildest imaginations.
For those yearning for a taste of cutting-edge technology, look no further than Headrock VR. Considered one of the biggest virtual reality theme parks in Southeast Asia, it serves up a feast of immersive experiences. With eleven attractions spread across three zones, visitors can scale snowy mountains, battle terrifying zombies, or even ride a hair-raising virtual roller coaster.
16. Indoor Playgrounds
Last but certainly not least, when the heat becomes a bit too much to bear, the best indoor playgrounds across the city provide the perfect haven. These fun-filled sanctuaries offer a smorgasbord of activities from soft play areas for toddlers to challenging climbing walls for older kids. No moment of the holiday feels dull!
In short, the school holidays in Singapore 2023 offer an unparalleled tapestry of holiday adventures, blending traditional amusement with high-tech thrills to deliver an unforgettable experience for the entire family.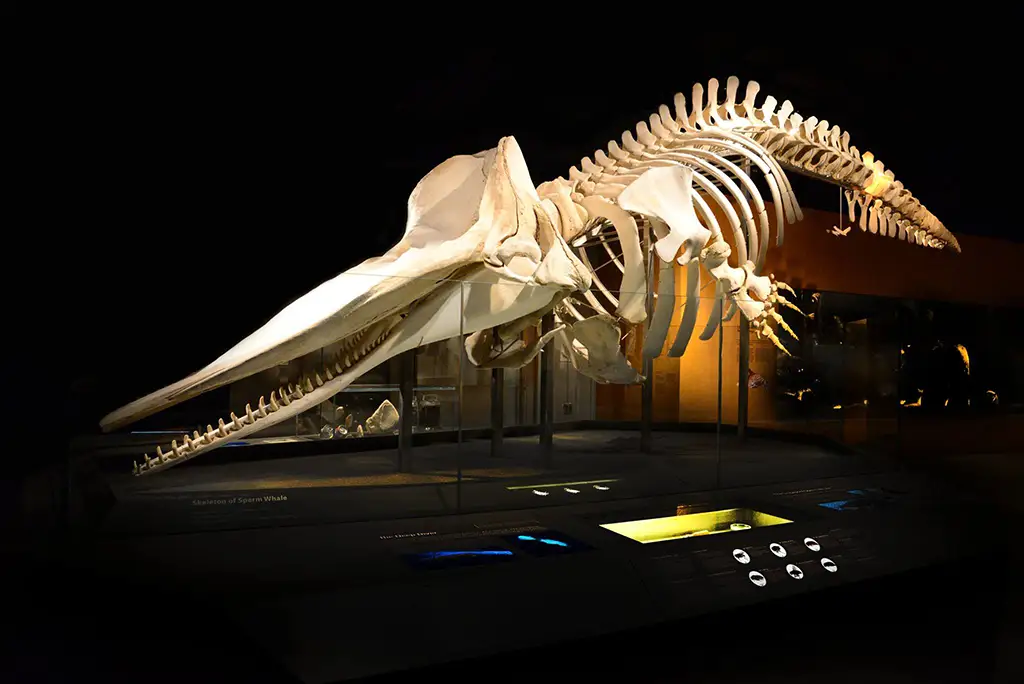 Source: Lee Kong Chian Natural History Museum via Facebook – Museum Singapore
17. Historical & Cultural Museums
Turn the school holidays into a treasure hunt through Singapore's cultural wealth of the most intriguing museums and libraries. Kick off at the Peranakan Museum, a living tapestry of Straits Chinese history. Or step into the vibrant colours of Van Gogh's masterpieces at the immersive exhibition on Sentosa Island. Immerse yourselves in diverse contemporary narratives at the Singapore Art Museum. At the Children's Museum Singapore, young minds can engage with hands-on exhibits and workshops, transforming learning into a thrilling escapade.
Meanwhile, the Singapore Art Science Museum, with its Future World exhibit, takes you on a spectacular voyage where art and technology converge. You can journey back in time with the kids at the Lee Kong Chian Natural History Museum, walking beneath towering dinosaur fossils!
18. Interactive Museums
For a truly unique experience, explore the vibrant blend of real and illusionary in Singapore by stepping into the magical world of Madame Tussauds Singapore. Come face-to-face with life-like wax figures of your favourite celebrities and historical figures. Grab a pic for Instagram and off you go! Your journey takes a surreal turn at the Trick Eye Museum Singapore. Step into amazing 3D artworks, where optical illusions turn the floor into a cliff edge, and walls hide secret passages to another dimension. It's more than just sightseeing, it's a full-on sensory adventure that lets your imagination run wild!
19. Libraries
Dive into the ocean of stories at Singapore's leading libraries, each offering unique spaces for learning and exploration. The National Library Board in Singapore has a whole hoard of books for you and your kids to read, learn and enjoy. It's a playground for the curious and a sanctuary for keen learners!
Engage in Community Activities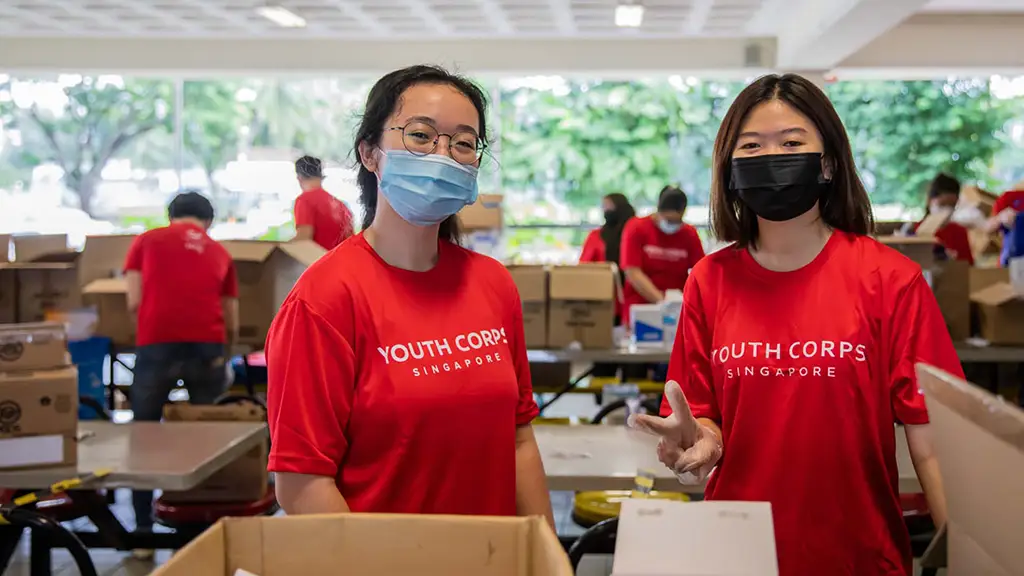 Source: Youth Corps Singapore via website – School Holiday Singapore
School holidays are not just about fun and games but also growth, connection, and a sense of purpose. From youth volunteer programs to local community events, the city brims with enriching experiences that teach, inspire and entertain. Participating in local community events is a great way to connect with others and make a positive impact. Keep an eye out for upcoming events in your neighbourhood!
20. Youth Corps Singapore
First on the itinerary is the transformative journey of volunteering. Youth Corps Singapore is an organisation that encourages youngsters to contribute to society through various programmes. These young hearts can choose from a range of activities, be it mentoring the underprivileged, participating in environmental projects or helping the elderly. The volunteering experience is not merely about giving back but also about developing leadership skills, compassion, and a broader perspective of the world. The sense of satisfaction and fulfilment from making a difference? That sure is something you can't find just anywhere!
21. Local Community Events
How about local community events? Picture the vibrant 'Geylang Serai Ramadan Bazaar' or the enchanting 'Mid-Autumn Festival' at Gardens by the Bay. These events are a sensory extravaganza, but more than that, they offer a platform for intercultural understanding and strengthen the community bonds. The selling point here? A chance to revel in the diversity that is Singapore, all while having loads of fun!
Whether it's lending a hand through volunteer work or immersing oneself in local festivities, the school holidays in Singapore 2023 promise to be a journey of learning, discovery, and joy. The city invites you – come, be a part of the tapestry and weave your own colourful thread!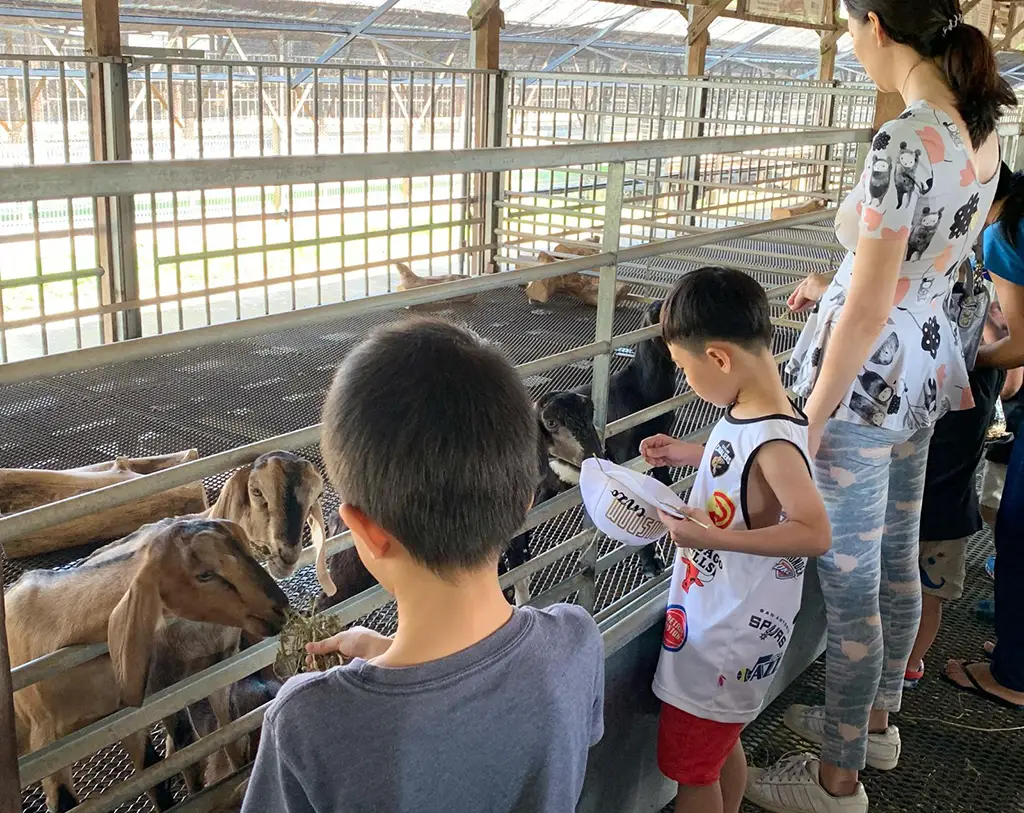 Source: Hay Dairies via Facebook – School Holiday Singapore
As the school holidays of 2023 approach, let your family awaken to a world of animal-centric adventures that await them.
22. Mandai Wildlife Reserve & Zoo
Starting with the iconic Singapore Zoo, this lush haven houses a myriad of exotic species for you to see. But the animal adventures in Singapore don't stop when the sun sets. In fact, they evolve into a different realm entirely at the Night Safari. As the world's first nocturnal wildlife park, it presents a unique sensory experience, immersing visitors into a thrilling world of animals under the cover of darkness. While the River Wonders offers an unforgettable Amazonian experience right in the heart of the city, housing aquatic and terrestrial creatures in breathtaking naturalistic habitats.
23. Mandai Bird Paradise
Mandai Bird Paradise (formerly Jurong Bird Park), the newly upgraded bird park, is a feast for the senses, where countless bird species dwell. The park is a true paradise for bird enthusiasts and families alike, offering a kaleidoscopic view of avian life in all its grandeur.
24. Turtles and Tortoises
Who doesn't love turtles and tortoises? The Live Turtle and Tortoise Museum in Singapore serves as a gentle reminder of the slow, humble pace of life that these ancient reptiles represent. Boasting the world's largest turtle and tortoise collection, you'll be swept off your feet as you witness these adorable shelled creatures wandering freely. Whether you're a young adventurer or an animal enthusiast, you're in for a treat. Get ready to hand-feed and cuddle them, it's the perfect fun-filled, wholesome outing for the whole family!
25. S.E.A. Aquarium
For offshore island adventures, Singapore's underwater worlds are equally mesmerising, the SEA Aquarium Sentosa is an oasis of marine life where children can marvel at the vibrant colours of tropical fish and the gentle giants of the deep sea.
26. Animal Farms
On another end of the spectrum, ACRES and Hay Dairies offer close encounters with the city's domesticated and rescued animals. ACRES stands as a sanctuary for animals in need, underlining the importance of compassion and conservation, while Hay Dairies offers the unparalleled experience of goat-milking, a truly rural indulgence in this urban landscape.
27. Fish & Frog Farms
Qian Hu Fish Farm and Jurong Frog Farm bring the spotlight to often overlooked members of the animal kingdom. The fish farm, with its vast array of ornamental fish, is a tranquil spot, while the frog farm offers unique insights into the life of these amphibious creatures.
28. Horse Stables
The equine experiences provided by Gallop Stable and Singapore Turf Club promise an engaging day for horse lovers. From learning about horse grooming and care to exhilarating horse-riding lessons and thrilling race events, enjoy unique encounters with these majestic animals. 
Make your school holidays of 2023, an adventure that combines education, entertainment, and heartfelt connections with animals and nature!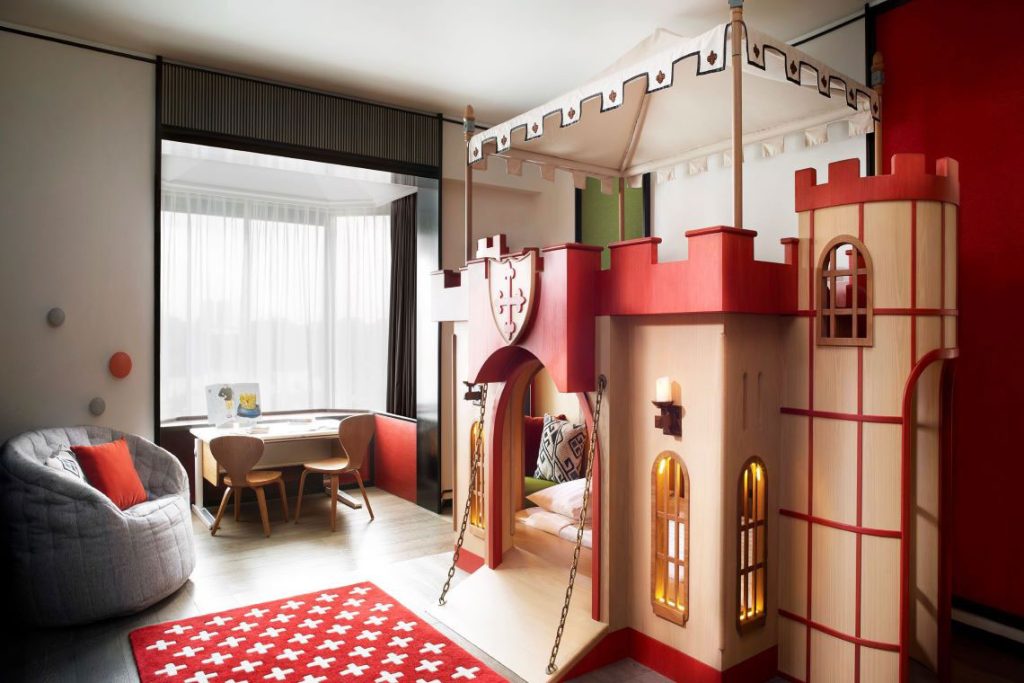 Source: Shangri-La via Facebook – School Holiday Singapore
As the school holidays roll around in Singapore in 2023, there's no need for busy parents to sigh over shelved travel plans, for an enchanting island escape awaits right at your doorstep. Think Bali, but without a passport!
29. Sentosa
The shimmering jewel of Sentosa island is the star of the show, promising a thrilling week-long extravaganza that might just make you extend your staycation. From the giddy thrill of cable car rides to the blockbuster fun at Universal Studios, and the inviting sandy beaches. You might need more than a day to do justice to this island haven!
30. Shangri-La
Take your staycation up a notch by immersing yourself in the luxury of Shangri-La Rasa Sentosa. This kid-friendly hotel puts a fun spin on the staycation experience with an animal-themed Water Park, sprawling playground, and numerous activity centres guaranteed to keep the kids entertained for hours.
Alternatively you can consider Shangri-La Singapore. The hotel rolls out the red carpet for families, offering three uniquely curated holiday experiences. Will it be the Fun Family Playcation, with a playful spree at buds by Shangri-La and Splash, or the Picnic Family fun amidst the hotel's lush gardens? No matter the choice, rest assured that a spacious and tranquil Garden Wing Deluxe Family Terrace room awaits you at the end of each fun-filled day.
31. Marina Bay Sands
Immerse yourselves in the architectural marvel of Marina Bay Sands, with its distinctive three towers crowned by the stunning SkyPark. As if having the world's largest rooftop infinity pool at your disposal isn't enough, your family can marvel at the breath-taking panoramic views of Singapore's cityscape from 57 levels above! Explore the Shoppes at Marina Bay Sands to enjoy a world-class shopping experience for the young and old alike. For foodies, the culinary journey is just as impressive, with a choice of celebrity chef restaurants to casual eats.
32. The Fullerton Hotel
Meanwhile, The Fullerton Hotel Singapore offers a completely different, yet equally charming staycation experience. Housed in a neoclassical landmark that was once the General Post Office, this hotel in Singapore blends historical charm with modern elegance. Educational heritage tours are a unique attraction here, enlightening young minds about Singapore's rich history.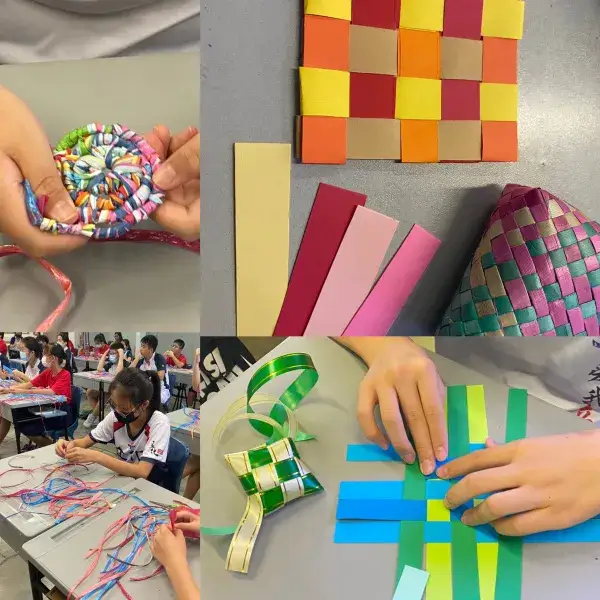 Source: Kamal Arts, Singapore via website – School Holiday Singapore
Holidays provide the perfect opportunity to pick up a new skill or hobby. Whether it's learning a musical instrument, trying out a new sport, or dabbling in photography, the possibilities are endless.
33. Music
A trip to Yamaha's flagship store in Plaza Singapura will make for an exciting day out, where your child can try out the instrument and embark on a musical journey.
34. Photography
For the budding photographers, Leica offers photography classes specifically tailored for beginners. At Leica Store Singapore, children can learn the art of capturing precious moments and stunning sceneries, making each photograph a work of art.
35. Paper Crafts
Turning towards more delicate and meticulous skills, children can be introduced to the Japanese art of origami. Or try your hand at the art of quilling, where strips of paper are rolled, shaped and glued together to create beautifully decorative designs. Get inspired with Kamal Arts Singapore or find hobby shops located at Haji Lane offering workshops where your child can learn these fascinating crafts and bring their imagination to life with intricate paper folds and coils.
36. Bookstores
Let us not forget the joy and knowledge that books bring! A visit to the best bookstores in Singapore, are an adventure all on their own! With extensive sections of every kind filled with engaging and educational reads, it's the perfect place to cultivate a love for reading in yourself and your child. So grab a book, listen to your favourite music, or simply sit back and enjoy the moment. After all, holidays are also about relaxation and rejuvenation.
Conclusion
The school holidays in Singapore offer a myriad of exciting opportunities for kids and adults alike. From outdoor adventures to indoor escapades, from cultural experiences to personal growth, the possibilities are endless. So, go ahead, plan your holidays, and make every moment count. After all, isn't that what life's all about?
Don't want the fun to stop but don't know what else to do during the school holidays? Check out these articles: 
• Written by Jeremy Ugon
Frequently Asked Questions (FAQs)
Q: When are the school holidays in Singapore?
A: The school holidays in Singapore 2023 start between terms 1 and 2 from 11th march to 19th march. Again between semesters 1 and 2, from 27 May to 25 June. Between terms 3 and 4, from 2nd September to 11th September and finally the End-of-School-Year holidays begin on 25th November and end on 31st December.
For additional information, click here to read up on school terms and holidays for Singapore 2023.
Q: What is the best age to take kids on holiday?
A: As a general rule of thumb, five to eight years old is a good time to begin. Since at this age, children are generally old enough to form lasting memories but still young enough to be excited by new experiences.